For most Americans living at the time, 1969 was a life-altering year. Between an influx of music and culture, changing world politics, and Neil Armstrong walking on the moon, it was impossible not to be impacted in some form.
For veteran singer-songwriter Steve Earle, who will perform Saturday night at the Barrymore Theatre with his band The Dukes, hearing the late country singer-songwriter Jerry Jeff Walker for the first time reshaped his view of being a songwriter and performer.
At the time, Earle lived in Texas, and was already growing increasingly interested in becoming a musician. When he was 14 years old, his high school drama teacher gave him a copy of Walker's 1968 album "Mr. Bojangles." He asked Earle to learn how to sing and perform the title track, a classic ballad about an extraordinary character the song's narrator meets in a New Orleans jail, for a play. He instantly fell in love with Walker's earnest, authentic writing style.
"With 'Mr. Bojangles,' there's so much information in that song about this moment when he meets this guy and then the guy starts telling his whole life story," Earle said during a recent interview. "The whole thing happens in less than four minutes. And that was mind blowing to me. It was one of the first songs that I started trying to emulate."
"There are not many songs like that," he continued. "In all of pop music, I bet there's 20 songs like that or less. It's a big deal, that song…It's a big part of who I am."
Earle was similarly impressed by the rest of the album. So much so that he purchased Walker's next few albums. He started following his career from New York to Texas, and later formed a friendship with Walker when he was older.
"I was just really lucky to get to know him and he was funny, and he really knew how to connect with audiences and that was what I paid attention to and what I emulated," says Earle.
After he died last year, Walker's wife Susan Streit asked Earle to join a tribute concert in Luckenbach, Texas. It featured an all-star cast of musicians including Jimmy Buffett, Keith Sykes, and Michael Martin Murphey.
"There's no Jimmy Buffett without Jerry Jeff Walker," says Earle. "Most people don't know that, but they were friends, and it was Jerry Jeff that drove Jimmy Buffett to Key West for the very first time. Buffett's from Alabama. But they had met in Nashville years before. And he popped up in Florida when Jerry Jeff was living in Coconut Grove and Jerry Jeff drove him down to Key West and the rest is history."
"Jerry Jeff got kicked out of Key West. I don't know how you do that, but he did, and he moved to Austin, and he lived there for the rest of his life. I've just been lucky. I met all those people when I was pretty young, and it's helped me have a pretty clear perspective on how to get started and where I come from when I do my job now."
The concert inspired him to team up with The Dukes to pay tribute to his musical hero, covering ten classic songs for the new album "Jerry Jeff," which came out digitally earlier this year.
"They're fun for us to play as a band," he says. "My band's custom built for that."
"Jerry Jeff" completes the trilogy of album tributes honoring his musical teachers and heroes, which began with tributes to Townes Van Zandt and Guy Clark. He said it was a fun opportunity to look through their catalogs on a deeper level and cover their songs. Covering Walker was particularly special as he played many of these songs before they met.
"I believe in honoring voices of experience, acknowledging who my teachers were," said Earle. "I was really lucky. I had a real old world style apprenticeship under some masters, and I like to acknowledge that."
Those songwriters have impacted Earle's style, who has dabbled in Americana, bluegrass, rock, and country.
"I've done a lot of things," he said. "I've made bluegrass records. I've made what I consider to be rock records, but…it's been unapologetic country rock for the last several records. And I'm okay with that, for the time being."
The Capital Times caught up with the songwriter to find out about Walker's lasting impact on his songwriting and how he kept busy in recent years.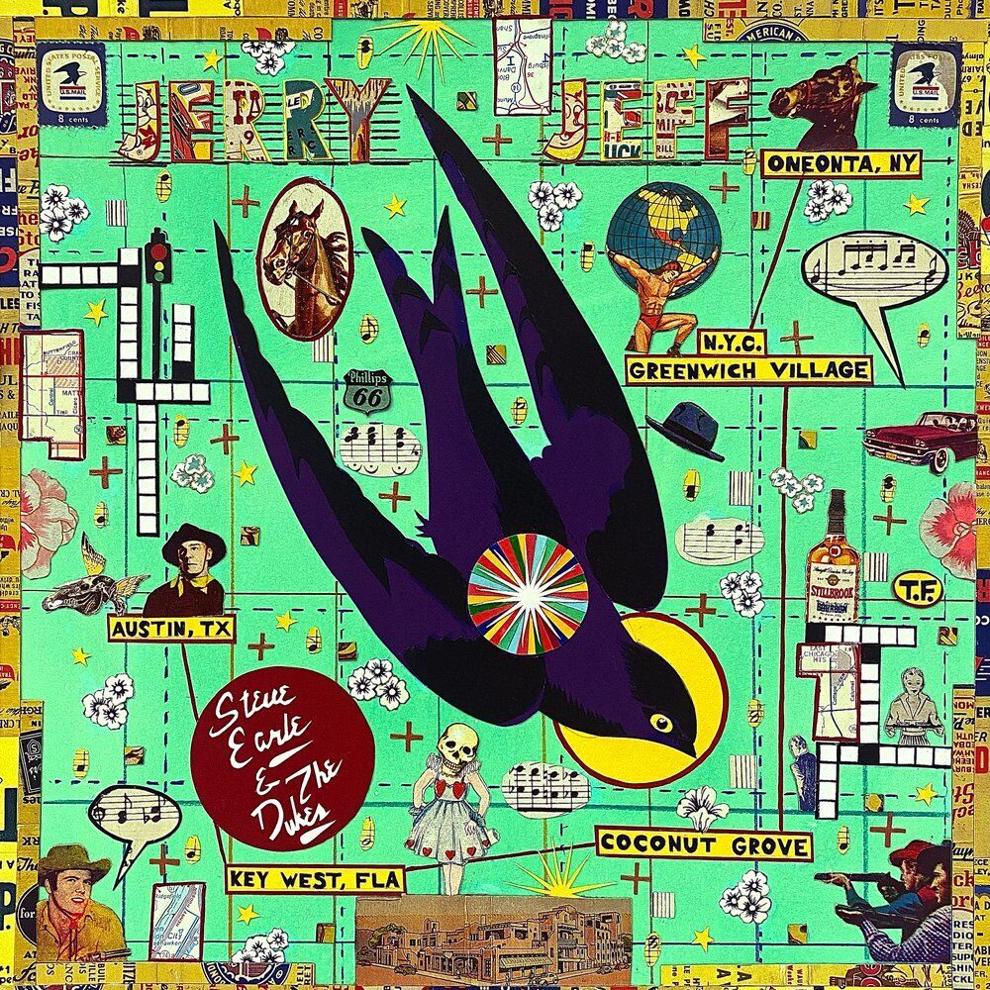 How did the tribute concert for Jerry Jeff Walker inspire you to do this album?
The way Susan had put it together, it was about geography. It was about New York, Florida, Texas. And that's how I approached this record because I wanted it to be all his songs. I heard a lot of them that day. He was just as famous for interpreting other people's songs. And then he wrote this one song that overshadows everything else, because it's such a great song, but that doesn't mean he didn't write a lot of really great songs.
I stayed pretty close to his arrangements on some of them. Some of them I tried to take to a little bit of another place, but it was just different, it depended on the song. And I'm proud of the record and I'm very proud of my version of "Mr. Bojangles," which is a big one to tackle. I've been singing that song longer than almost any other song.
What was your strategy in narrowing down which songs to cover?
The map (on the album cover). I wanted to do New York stuff and just follow his path around to that moment in Texas, which was the peak of his career in the mid-seventies. And I saw that band, the Lost Gonzo band, which had been Michael Murphey's band before. I saw them play with Michael Murphey for several years before they became Jerry Jeff's band, and I saw them a lot. And they were great.
Even back in (Greenwich Village) before I knew him, people said the same thing about him, he was the best performer around. He was better at connecting in an audience than any of those other guys were. It was different with him. Jerry Jeff, he wasn't going to let an audience get away. He just went out and got them, whatever he had to do to do that. And I learned to do that partially from him.
It was almost like it was a one-on-one conversation with you. Because he started in coffee houses, he learned how to translate that to larger audiences.
What are some of your favorite interactions with him over the years?
He used to show up in Tennessee and in Nashville after I was not touring with Guy Clark anymore and he'd need a driver. He needed somebody because he was afraid to drive in Nashville because he'd been pulled over and we all drank a lot in those days. I became his designated driver whenever he was in Nashville for several years.
He picked me up one night and he says, "Hey, I want you to play a song for Neil." And I didn't know who the hell Neil was. And then we got to the Spence Manor Hotel, and it was Neil Young, but he didn't want me to play one of my songs. He knew that I knew a David Olney song called "Illegal Cargo" and he wanted me to play that for Neil. It kind of hurt my feelings a little bit, but I love David Onley, so I played it for him. And I got to meet Neil Young, so it was a pretty good deal.
He called me years later out of the blue because his son Django was moving to Nashville and he said, "Hey, I want you to help Django get settled into Nashville." And I said, "Jerry Jeff, I just moved to New York." But I gave him some numbers and stuff and talked to Django and helped him get set up with a few people.
And from that point on, we stayed in touch for the rest of his life, so I was grateful, because we'd been out of touch for several years. Not because anybody was mad at anybody, but I lived in Nashville and then later in New York and he lived in Austin. Once he settled in Austin, he stayed there.
How do you think you were able to balance honoring the original arrangements while adding your own spin?
It's a Steve Earle & the Dukes record. My band is my band, and I don't have to think about that very much anymore. The band just does what we do, and we just start playing them. They'll take the material and listen to it and start from there and make charts. So, they come pretty prepared so we can just start playing and see where it goes.
Sometimes it's there as soon as we start playing it. Sometimes it requires a little more work and a little more time, but it's not hard. We didn't labor over anything. It came pretty naturally to all of us because it's all music that they grew up with, most of them, and especially the three Texans in the band. And I had known about him for even longer than they had, I was there. So, it was pretty easy.
You've been pretty busy of late with a variety of projects, including books, plays and hosting a radio show. What's it been like staying so busy?
It keeps me out of trouble. Sometimes I think I need to learn how to say "no." But most of it is stuff I want to do, and I volunteer to do. It gets to be a lot sometimes. All the things that I do inform the main thing I do, which is write songs and everything from visual art to acting. I hadn't done any acting in a while, but I was performing in this play. I just want to just try to keep things going, trying to keep it interesting, more than anything else.
Have you been writing new songs lately?
Yeah, I've been writing songs. Most of the songs I've been writing have been for "Tender Mercies," a musical based on that movie. Horton Foote who wrote the original screenplay, he's been gone for quite a while, but his daughter and I are writing a musical of "Tender Mercies." So that's where the new songs have been going.
It'll be a couple years before you hear those because we're looking at trying to get it up for the '23, '24 season. Theater takes a long time to make.