At the University of Wisconsin-Madison, addressing the climate crisis begins at the Office of Sustainability. But what, exactly, does "sustainability" mean?
It's a broad concept, but the idea is simple: being sustainable means taking actions that preserve Earth's natural resources for future generations, like biking to work instead of driving a gas-powered car. When executed correctly, sustainability balances economic needs with a healthy environment and social equity.
UW-Madison's vision is to be a "living model for sustainability, exemplifying values and actions that demonstrate our commitment to stewardship of resources, respect for place, and the health and well-being of the broader community," according to the Office of Sustainability's website.
But student sustainability activists say Wisconsin's flagship university has significant ground to gain if it hopes to live up to its ideals.
Every two years, UW-Madison files a Sustainability Tracking Assessment & Rating System (STARS) report. This report evaluates all aspects of the university's sustainability strategy, including greenhouse gas emissions, academic curriculum and community engagement, to calculate a comprehensive score from zero to 100.
In its latest report from this spring, the university scored 59.88 points, earning it a modest "silver" rating. But when the Cap Times compared UW-Madison to 19 of its peer institutions, as defined by the university itself, it ranked dead last.
UW-Madison scored below average in nearly 60% of sustainability metrics and ranked in the bottom three of each overarching report category — academics, engagement, operations, and planning and administration.
Its largest shortcomings were concentrated in academic coursework, infrastructure and sustainable investments.
University data provided to STARS reveals only half of academic departments offer sustainability courses, and just 24% of students graduate from a program that expects students to study how humans impact the environment. Both of those numbers measure at or near 100% for UW's top-performing peer schools.
Office of Sustainability spokesperson Nathan Jandl acknowledged UW trails its peers. But he noted the university improved its score by 14% within three years despite significant leadership changes and pandemic uncertainties. Several other BIG 10 schools have yet to file an updated report.
"UW–Madison is working vigorously to analyze its sustainability gaps and address them in an impactful and cost-effective manner," Jandl said. "Though there is much improvement yet to make at UW–Madison, the Office of Sustainability — alongside many students, staff, and faculty members — is leading the effort to bring the university to a place of leadership among its peers." 
Yet sustainability activists on campus, including Office of Sustainability student engagement liaison Maya Barwick, want to see stronger leadership from university officials.
"We need to be the inspiration for other institutions to take action and echo our state motto; move forward, not backwards," Barwick said. "Not doing so, in my opinion as a student leader, is clearly irresponsible to everyone at this university."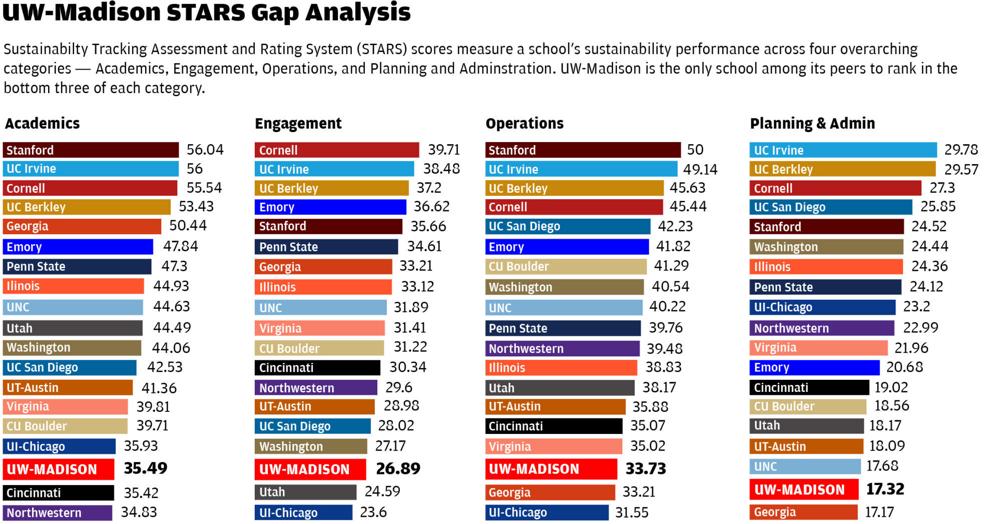 Seeds for success
After UW-Madison filed its first STARS report in 2019, university administrators assembled a team of staff, faculty and student leaders to address scoring gaps.
That group was named the Sustainability Advisory Council (SAC). Its mission, Jandl said, was to build a comprehensive strategy report that addressed sustainability as a "holistic, systemic concept."
The SAC released a draft strategy plan in August 2021. The report included over 30 pages of detailed steps to implement the university's sustainability vision.
"The recommendations span a lot of different kinds of scales, costs and so on," Jandl said. He added that the report included feedback from public listening sessions designed to identify the "best options" for improving the university's sustainability strategy.
Since then, UW-Madison introduced a "Sustainability Chats" networking event series where students, staff and faculty can share project and research ideas. Meetings began this spring and will continue into the fall.
The university also co-founded the Midwest Climate Collaborative with 15 institutions earlier this year to accelerate cross-campus climate solutions. Another 25 institutions have joined the collaborative since its launch.
Academics and research improvements include adding sustainability programs to student and staff orientation and expanded research funding. The university also furthered its lead in water use and commuting patterns management.
Another success area is greenhouse gas emissions, which were reduced by 46.6% per building square foot since 2007. Jandl added that the university is currently developing a target net-zero emissions date.
As part of its transition to clean energy, the university partnered with Madison Gas and Electric to construct the O'Brien Solar Fields in Fitchburg. The solar panels opened in summer 2021 and are expected to add 20 megawatts of clean electricity to the Madison power grid, half of which will be sold to UW-Madison.
"This collaboration with local partners will meet 5% of UW-Madison's annual electricity use, contribute to our STARS scoring, and serves as a model for future opportunities," UW sustainability analyst Alex Frank said. He added that plans are already in the works for another solar array at the university's Kegonsa Research Campus in Stoughton.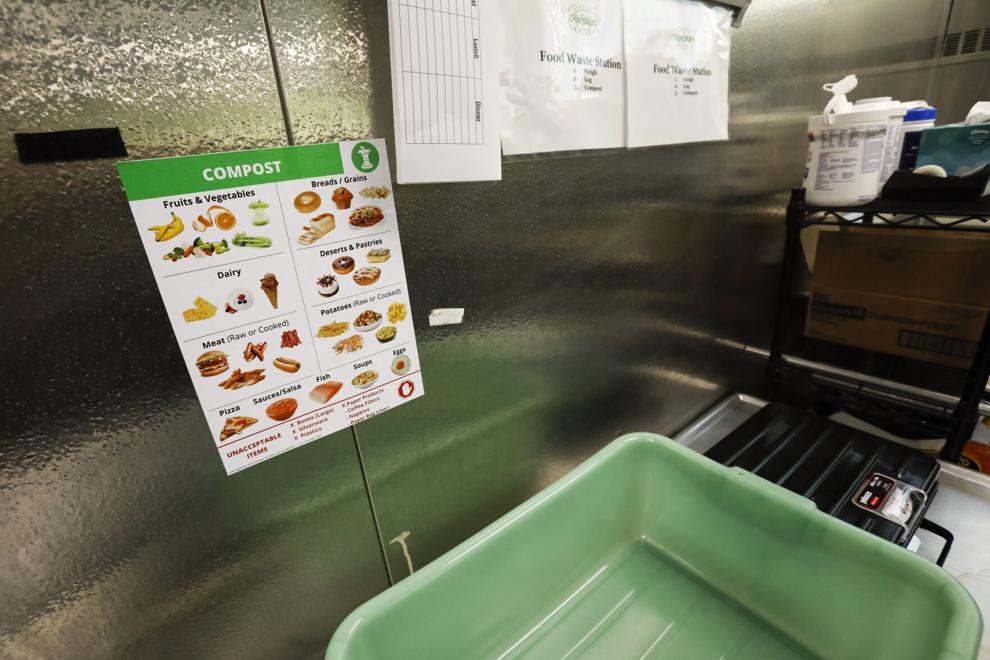 Working through obstacles
As an advisory body, the Sustainability Advisory Council's recommendations are non-binding. Instead, Jandl explained, enforcing recommendations is a "ground-up" operation where campus decision-makers collaborate on initiatives outlined by the council.
But with coordinated effort needed from multiple groups, some goals have hit roadblocks.
A key SAC draft recommendation was establishing a "sustainability hub" to connect research, academics, athletics, student clubs and other climate action initiatives in a centralized location to maximize collaboration. The idea models "sustainability institutes" at better-performing BIG 10 schools like the University of Illinois and the University of Pennsylvania.
The council identified sustainability hub planning as a short-term goal. One year later, the idea remains a "conversation" about feasibility, resourcing and strategy between the Chancellor's Office and other university leaders.
"It's at the recommendation stage, so it's a concept that we're working on," Jandl said. "There's no building identified, there isn't a home for this yet."
Getting the campus vehicle fleet to net-zero campus emissions was another SAC short-term goal. However, just three of UW-Madison's 912 campus fleet vehicles are plug-in electric vehicles as of April, and the university has yet to announce an electrification target date.
According to UW Facilities Planning and Management spokesperson Lori Wilson, transportation leaders are "currently evaluating" the necessary steps for electrification.
"Current efforts include an analysis of vehicle use patterns to inform prioritization of fleet electrification and, following that, a planning effort to scope the charging infrastructure needed to maintain an electrified fleet," Wilson said.
The university faced another challenge last summer when its food scraps recovery vendor changed ownership, forcing UW Housing and Dining to shut down composting operations.
That meant dining hall food waste was sent to decompose in the Dane County Landfill, where it produced methane gas that's 25 times worse for the environment than carbon dioxide, according to the city of Madison. With student activists growing impatient, the Office of Sustainability and UW Housing scrambled to find a new vendor.
"It was very difficult to find a vendor who could accept our big compost stream," UW Housing sustainability coordinator Malorie Garbe said.
It finally secured a deal earlier this year with the West Madison Agricultural Research Station, which began processing food scraps from Gordon's and Four Lakes Dining Halls in mid-July.
Now, staff are getting training and food waste audits are underway to measure the full volume of UW's food waste as part of their mission to achieve net-zero waste on campus.
Where does the SAC go next?
Despite being finalized and submitted a year ago, the SAC's recommendations remain a draft report. Frank, the sustainability analyst who oversees STARS reporting, said the decision was made intentionally to create a "living document" amenable to updates.
"It's an opportunity to shift away from strategy development and instead check-in on how we're doing, help us identify barriers and ways around those barriers," Frank said.
For sustainability activist and rising junior Ashley Cheung, though, the document's draft status reflects a history of inaction.
As sustainability chair for the Associated Students of Madison (UW-Madison's student government) during the 2021-22 school year, Cheung also sat on the SAC. She said the council was supposed to finalize the report and begin pursuing its plans last fall, but that changed when then-Provost John Karl Scholz asked for a "definition of sustainability."
Cheung felt that request added unnecessary administrative burden. "I don't really know why you need a definition of sustainability," she said. "You can look it up on Google."
The council completed that task, according to Cheung, but made minimal progress on the action groups and implementation processes in the draft report.
"There was basically nothing else that happened, even though we were supposed to get everything through, start the action groups, and get things implemented," Cheung said. "We did not meet that goal at all."
Jandl acknowledged the "pause" in SAC activities but added that defining sustainability and refining smaller details with administrative leadership, including Scholz, was an important process step, especially after Chancellor Rebecca Blank announced her departure this past October.
"There's been a lot of leadership turnover in the last few years, and we have the new chancellor (Jennifer Mnookin) who we're really excited to get to know better," Jandl said. He expects to speak with Mnookin about the SAC's recommendations once she's settled in her role.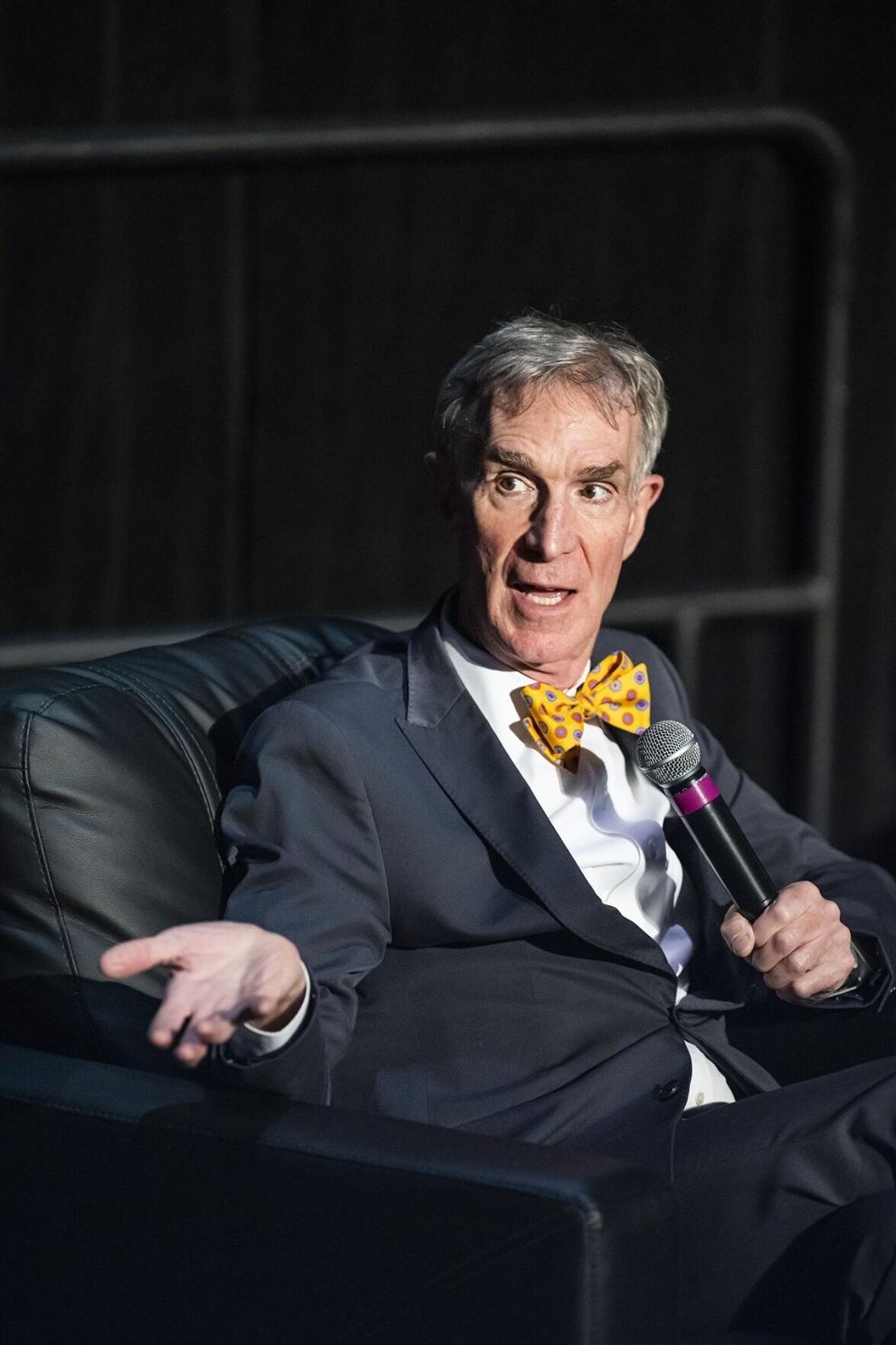 Fear for the future
Still, students worry change isn't happening fast enough and that student voices are being ignored.
Climate activists, including Cheung and rising junior Dayne Tallier, have spent years fighting for larger climate commitments. One of their most divisive demands, fossil fuel divestment, would require the Wisconsin Foundation and Alumni Association to move all oil, gas and coal investments in its $5 billion university endowment fund to other financial assets.
At least 30 U.S. colleges and universities have partially or fully divested, including Harvard and the University of Minnesota, according to Politico. Even Bill Nye, host of popular educational program "Bill Nye the Science Guy," voiced support for fossil fuel divestment during a speech at the Kohl Center last spring.
"We are the leading research institution in our state and one of the state's largest employers," Tallier said. "It's important for this university, specifically, to divest because its actions are huge in the public eye…(and could) lead to more institutions divesting."
As of the 2017-18 school year, the WFAA had nearly $125 million invested in fossil fuels. The WFAA claimed their current holdings are "negligible" but refused to disclose specific numbers to the Cap Times due to investment privacy concerns.
Both UW-Madison's student government and Faculty Senate passed resolutions calling for fossil fuel divestment in the past three years. But since the WFAA is an independent nonprofit, campus leaders cannot dictate how the WFAA manages alumni donations.
The only remaining alternative for students, according to UW-Madison law professor Steph Tai, is persuading the Board of Regents to support divestment. But they said the board is likely to remain on the sidelines over fears of political – and financial – backlash from alumni donors.
"We have some alumni who work in the fossil fuel industry, and they would be reluctant to donate," Tai said. "But if the regents already came forward and made that strong stance, I think the alumni would already see that and so in a sense, it would take away that concern."
Students don't feel supported by university administrators, either. Cheung recalled calling for divestment at a UW-Madison Faculty Senate meeting where then-Chancellor Blank was in attendance.
"I was literally sobbing," Cheung said. "When I was done, (Blank) came up to the mic and was essentially like, 'Alright, next person for questions?' It was embarrassing to be dismissed like that."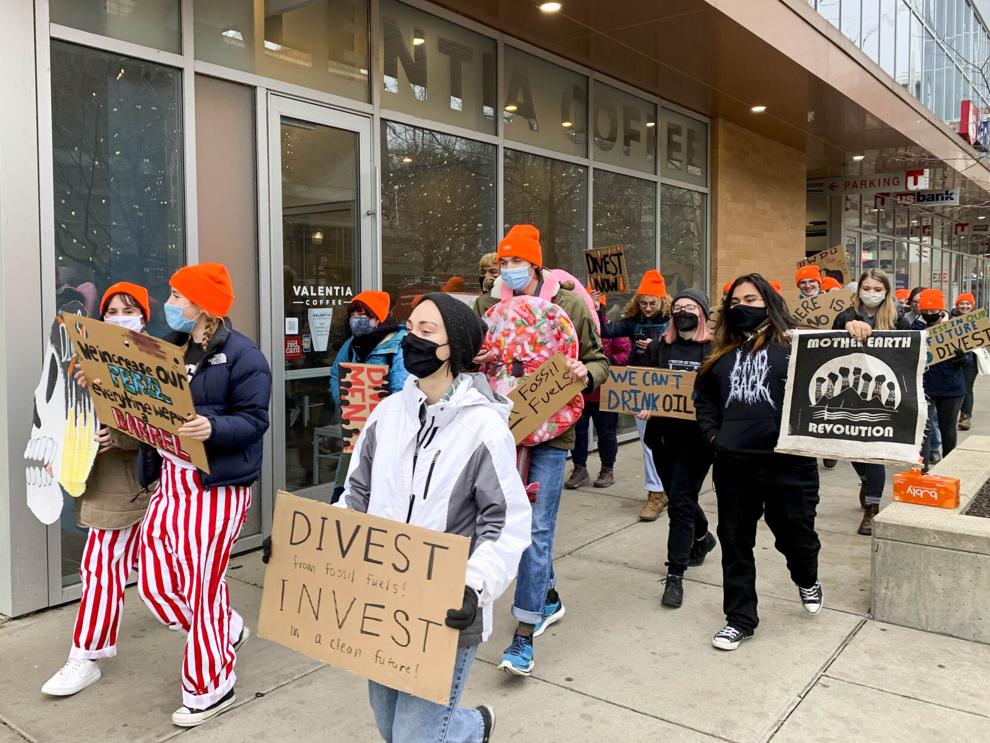 Students take the lead
Frustrated by the pace of change with university bureaucracy, students and staff are searching for other ways to improve campus sustainability.
Barwick, the Office of Sustainability student liaison, created a website where students can submit feedback to the office. She hopes the project, which launched Wednesday, will incorporate more student perspectives into campus sustainability priorities.
"This will help students engage with the OS more and feel that their opinion is being taken into account when very important decisions regarding sustainability are being made, which I think is something that students are entitled to considering how important this university is to our lives," Barwick said.
The Office of Sustainability has found success in similar, student-led initiatives. Its most notable example is the Green Fund, which began in 2017 as a way to offer financial resources and professional support for student-led sustainability projects.
Students submit project proposals each semester. Green Fund program manager Ian Aley then reviews the applications and awards qualifying projects money from the program's $50,000 funding pool.
"Students are the ones who are proposing the ideas and helping make things happen," Aley said. "(They're) meeting with project partners, building managers, electricians and plumbers, and navigating the approvals process to figure out what the impact might be."
Since its inception, the Green Fund has backed projects that installed new water-efficient toilets, mobile water bottle refilling stations, and a solar array on the roof of Gordon Dining & Event Center.
A recent Green Fund's project was "Electric Eats," a plug-in electric food truck that serves up sustainably-sourced snacks. The food truck, which is student-run with funding from UW Housing, handed out free apple cider and donuts when it launched last winter.
"There's a closeness to those who are eating and those who are serving, and there's this kind of a dialogue in that," Aley said. He added that Electric Eats plans to sell locally sourced food on a regular schedule this semester.
The Green Fund has also recently expanded resources for student clubs like Re-Wear It Wisco, a student organization that organizes monthly fashion swaps where students can trade unwanted clothes for new items instead of throwing them away.
Since Re-Wear It's events are free, the club doesn't raise much money on its own. But thanks to support from the Green Fund, the club plans to buy sewing machines for mending damaged clothes and establish a permanent clothing swap shop in Science Hall this year.
"Thrifting is a bit inaccessible for the average college student here," Re-Wear It president Ashley Dureke said. "Having that permanent space will give people the opportunity to swap at least five days a week instead of just the two days a month."
'Connecting the dots'
Campus leaders have noticed the Green Fund's success and are looking to invest. This year alone, the Green Fund received the UW-Madison Class of 2022's senior gift and a sizable cut from a $3.2 million campus-wide investment in solar energy projects.
The program was also a STARS report highlight, contributing to a perfect score in the "Campus as a Living Lab" sustainability metric.
"The Green Fund contributes in many ways to the teaching and learning, the student engagement side of things," Aley said. "It helps connect the dots."
Its student-oriented focus and emphasis on direct action represents a growing trend toward collaborative climate action. Together with community-based learning, student advocacy organizations, and other campus departments, the Green Fund has forged connections between students and project leaders with minimal administrative intervention.
"Students who propose Green Fund projects might find themselves meeting staff on a rooftop to assess the potential for rainwater harvesting, running greenhouse gas emissions savings calculations or filming videos to tell the story," Aley said. "It taps into the creativity, research, passion, observations and expertise of the full campus community."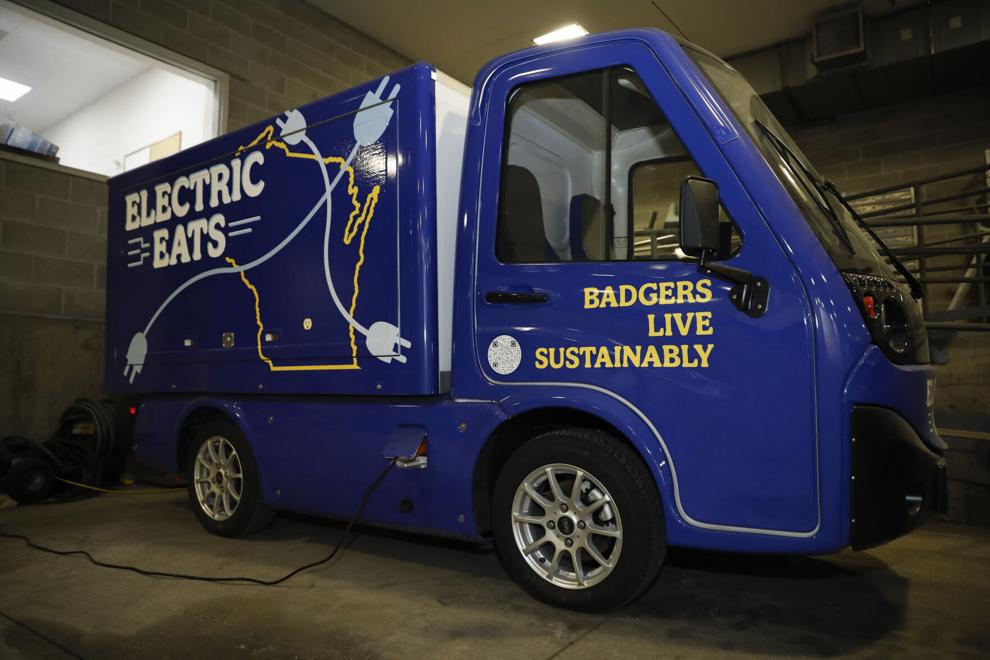 New chancellor, new outlook?
Though the Office of Sustainability recognizes "there is much progress yet to be made," its leaders are optimistic about its future.
"The range of initiatives and projects happening across campus is really impressive. We are also seeing increasing, meaningful interest in sustainability from all members of the campus community," Jandl said. "We are headed in the right direction."
The office is hoping for renewed passion under incoming Chancellor Mnookin, who said it's "clear" that UW-Madison can do more on sustainability.
"In the two weeks since I joined UW-Madison as chancellor, it is already clear that sustainability is a strong value of this university," Mnookin said in a statement to the Cap Times. "I look forward to listening to and learning from our students, staff, and researchers in refining and implementing strategic sustainability priorities for the coming years."
Students, however, are proceeding with caution.
Barwick, who is also a member of UW Campus Leaders for Energy Action Now (CLEAN), got a chance to speak with Mnookin during her first week in office. She asked the incoming chancellor if her administration would fulfill CLEAN's biggest request — a campus-wide commitment to 100% renewable energy by 2035.
Mnookin responded by emphasizing sustainability's importance but focused on a "systems-wide" approach to tackling environmental issues.
"I'm not sure if this was an attempt to brush off what I was saying, or if she did not want to mention anything concrete, but needless to say it did take me aback," Barwick said.
Yet for Barwick, Cheung and other students who see days growing hotter and species going extinct before their eyes, giving up isn't an option.
"It's almost addicting because I'm working so hard at this," Cheung said. "(But) at some point, there's a win, like getting to talk to Mike Knetter at the Faculty Senate meeting, when Bill Nye said 'divest is a yes' and when students spoke on sustainability at the Board of Regents. These small wins give me hope to keep going."
EDITOR'S NOTE: The author of this story is a member of the Associated Students of Madison during the academic year. As part of that role, he also worked on a UW-Madison student subcommittee that provided feedback during the Sustainability Advisory Council's draft report development process. However, that author neither worked on the committee's primary draft report nor voted on its approval.