Bear Cunningham — a tattoo artist and co-owner of the queer, Indigenous tattoo and art collective giige — first learned about the term "pretendian" from a former co-owner, whom Cunningham knew at the time as nibiiwakamigkwe. 
Since at least 2017, nibiiwakamigkwe had claimed to be Indigenous, publicly identifying with a number of tribes and heritages: Onyota'a:ka (Oneida), Anishinaabe (Ojibwe), Métis, Cuban and at one point Austrian Jewish. The activist and artist took on an Ojibwe spirit name and uses they/them pronouns, identifying as two spirit, an umbrella term for Indigenous people who have both male and female spirits or are nonbinary.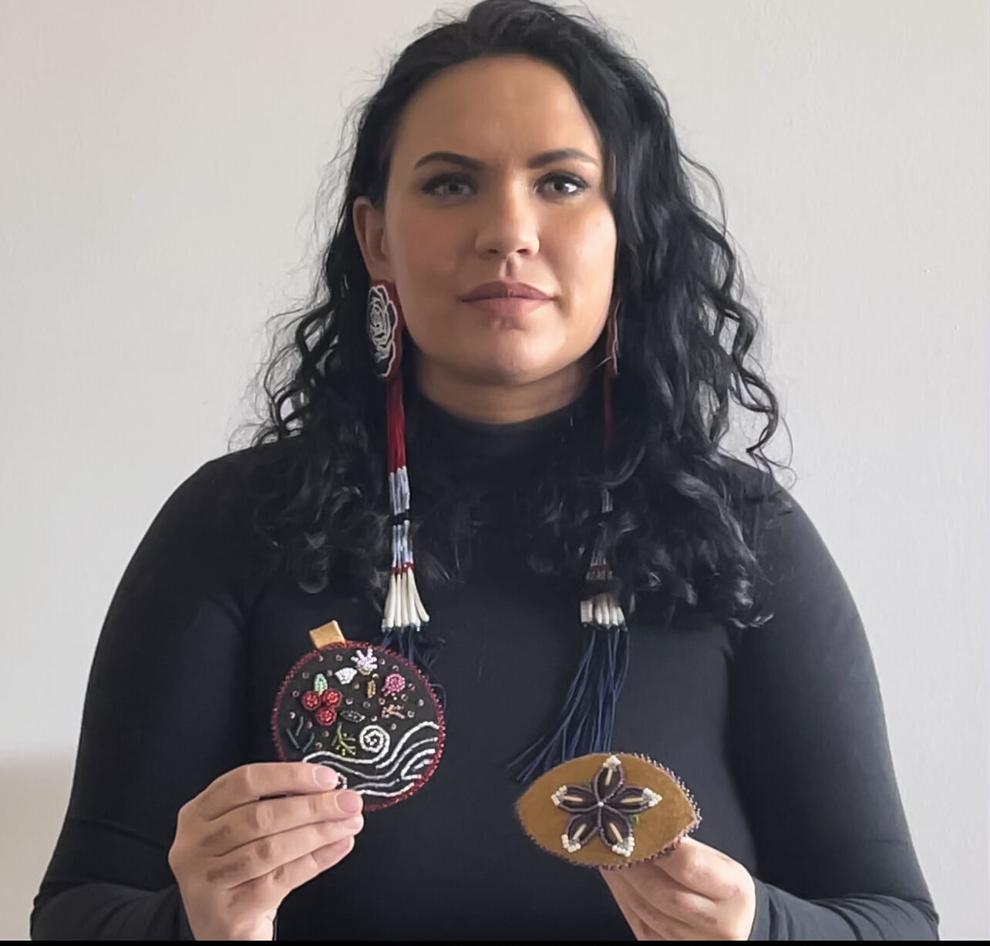 To Cunningham, nibiiwakamigkwe seemed to be "obsessed with pretendians" — people who falsely claim Indigenous identity. But as Cunningham said they later found out, their fellow co-owner's obsession "was a projection."  
In late November, an anonymous user — whose Indigenous heritage has been verified by the Cap Times — posted on the New Age Frauds forum refuting many of the claims nibiiwakamigkwe has made about their identity. Their legal name, the user learned, is Kathryn Le Claire, who also goes by Kay or Katie LeClaire. 
Through an estimated 48 hours of research into public records, the "hobbyist genealogist" traced LeClaire's genealogy, finding their family is of German descent with some Swedish and French Canadian ancestry. LeClaire was not born and raised in northern Wisconsin, as they told the Cap Times in June 2021, according to the research. They grew up in Sussex, a village outside of Milwaukee, and graduated from Hamilton High School in 2012. 
"The biggest thing was the amount of groups that (they) claimed," the user, who does not have connections to LeClaire and asked to remain anonymous for fear of retribution, told the Cap Times. "A trend among fakes is they tend to really heap on the marginalized identities." 
Yet LeClaire had profited off their supposed Indigenous identity for years. And as allegations challenging their heritage have come forward, the Native community in Madison is reckoning with what they see as mass deception and a widespread betrayal of trust. 
"They got away with this for five years," said giige co-owner Nipinet Landsem. "They figured out how to weasel into the community, they took advantage of everybody's trust, they did it on purpose — and they were good at it."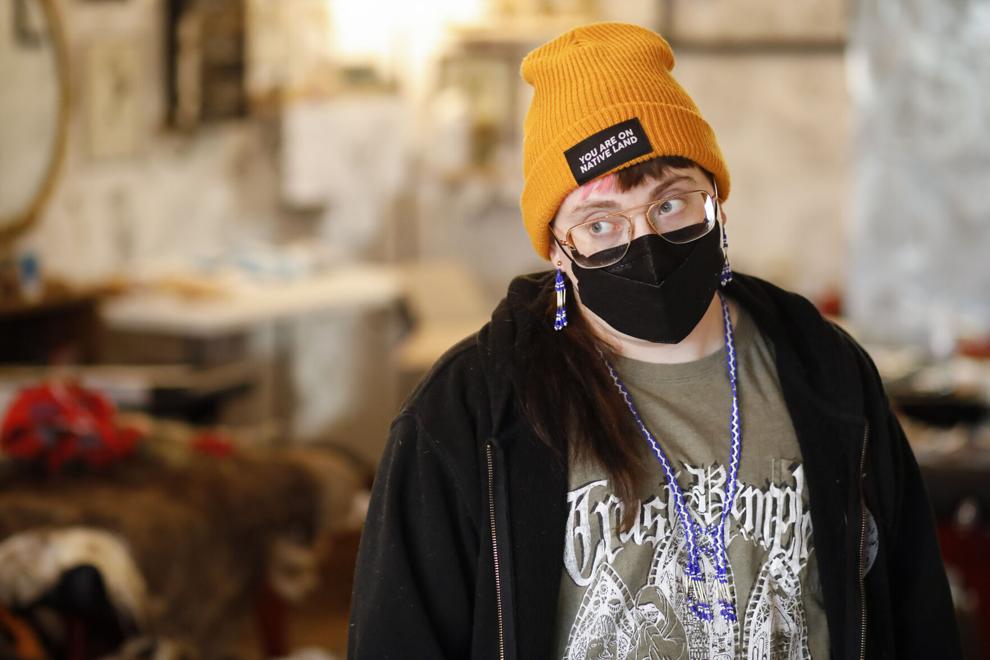 Reached by text, LeClaire declined to be interviewed but provided an apology and statement also given to Madison365, which first reported the story. 
"I am sorry. A lot of information has come to my attention since late December," LeClaire said. "I am still processing it all and do not yet know how to respond adequately. What I can do now is offer change." 
LeClaire added they will no longer use "the Ojibwe name given to me and am removing myself from all community spaces, positions, projects, and grants and will not seek new ones." 
LeClaire's far-reaching platform
In Madison, LeClaire had built an activist platform on issues specific to Native communities. They held a place on the state's Missing and Murdered Indigenous Women Task Force. They were featured on panels across Madison and surrounding areas — some of which were paid opportunities — providing perspective on topics from food sovereignty to Indigenous queer identity. They spoke out against colonization and cultural appropriation in outlets like Tone Madison, Our Lives Wisconsin and the Cap Times. And in 2020, LeClaire rallied white owners to change the name of their music venue, initially named The Winnebago and now called The Bur Oak. 
"Most Ojibwe are pretty understated about coming off like we know everything about our culture," said the New Age Frauds user. "Kathryn was very showy in the way that (they) did it, which is a bit antithetical to who we are." 
LeClaire was also involved in the Indigenous arts scene, serving as a co-owner of giige. In 2022, they held a position as a "community leader in residence" at the University of Wisconsin-Madison through the School of Human Ecology's Equity and Justice Network. 
On Dec. 29, LeClaire voluntarily resigned from that job two days before it was slated to end, according to a Wednesday statement from the university. The job at SoHE's Center for Design and Material Culture paid $4,876 in private gift and grant funding, and according to a description, was to help others "understand the stakes of cultural appropriation for Indigenous communities." 
"There is a long and painful history of erasure and cultural appropriation in the U.S., which has had an immense impact on the lives of Indigenous people," the university said in its statement. "These latest allegations are a disturbing reminder of how this persists today."
LeClaire additionally performed traditional throat singing and jingle dancing alongside other Native artists. They sold Indigenous artwork, some of which those in the Native community have now alleged were created by others, and nabbed displays in various Madison galleries, including the Overture Center and the Collateral Damage Project. One biography claimed LeClaire had works "exhibited or in private collections" across 18 states, four Canadian provinces and seven countries.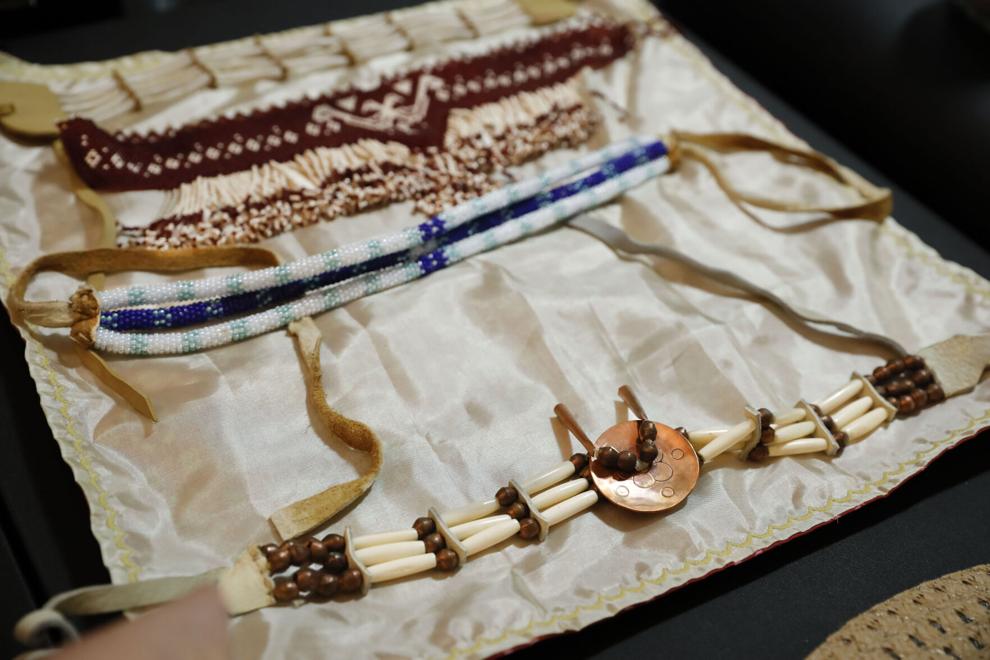 Anastasia Tomanek, LeClaire's former throat singing partner, said LeClaire told her they learned to throat sing at a wedding where their cousin married into an Inuit family. Excited by the prospect of educating others on the traditional art, Tomanek and LeClaire first performed together at the Madison New Music Festival in 2021. Other venues and organizations took notice, Tomanek said, leading to grants and gigs in places throughout the Midwest, including Chicago, Minnesota and North Dakota. 
"It was very hurtful to find out that a lot of that was tainted," Tomanek said. "Some of the things that I've been so proud of and so excited by are now associated with this sourness." 
In 2021, the Overture Center also displayed a jingle dress which LeClaire claimed to create for its "Everything COVID" gallery, an exhibit featuring art from 60 local artists. In a statement, Overture Center communications officer Emily Gruenewald said the organization is "investigating the issue" after finding out that another artist created the dress. 
"We have contacted the person who made the dress and are working with them to ensure they receive the proper credit and compensation for their work," Gruenewald said. She also confirmed LeClaire was compensated "less than $1,000" for the piece as well as for participating in an educational video and presentations about the dress. 
"We were shocked and disappointed by the evidence that an artist misrepresented themself and their work," Gruenewald said. "While we are diligent in our efforts to research artists, it appears that this person went to great lengths to deceive Overture Center and ultimately our community." 
Initial suspicions 
Friends and colleagues of LeClaire said they initially put complete faith into who the artist claimed to be. They had relationships with others in the Indigenous community, Tomanek said, providing a sense of legitimacy to their identity. 
"They made it seem like they had so many good relationships with people that I also very much respected," she said. "I felt like it was almost offhand for me to question things, which also just proves how widespread the bamboozling was." 
Over time, giige co-owner Landsem said, people began to notice what appeared to be LeClaire's self-tanned skin and dyed black hair. Landsem's questions about those qualities were met with explanations like their abusive mother "forced them to skin-bleach" when they were young. Their hair, LeClaire's former friend Sam Giguere recalled, was dyed black because they had some gray hair. 
That appearance, the New Age Frauds user added, could also explain why people believed LeClaire. "(They were) in a costume and that's what people want us to be," the user said. "I think that's why Kathryn LeClaire was so successful — (LeClaire) gave people what they expected to see." 
Giguere, who is affiliated with the Haida Nation, said he realizes now that LeClaire "put on 'brownface,'" which felt like the "ultimate act of betrayal to the community." 
LeClaire had been a close friend to Giguere since 2021. They bonded over both identifying as two spirit and confided in one another. Giguere said he's gone through the stages of grief, at first hoping the accusations against LeClaire were all a bad joke. 
The artist, he said, was someone whom he wanted to learn from and eventually get tattooed by. 
"Now it just all feels wrong," Giguere said. "After putting it all together, I just felt really sick to my stomach and betrayed." 
"Losing Kay and learning that (they're) actually a white woman feels like I've lost a relative that I'm not sure ever existed," he added. "It feels like the community lost something that was very special to us even if it wasn't ever the person we thought."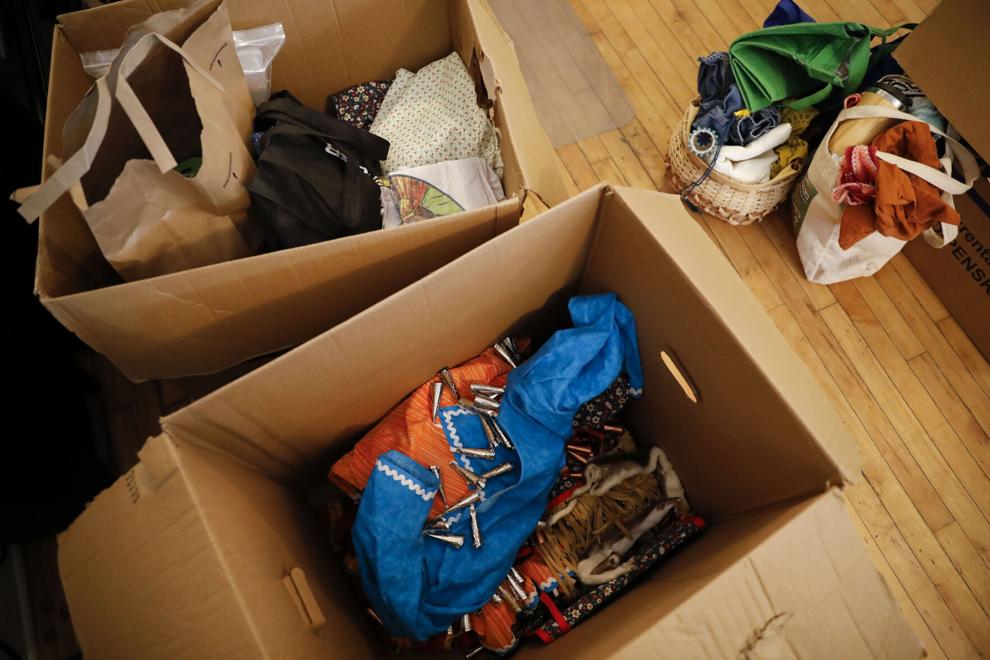 Moving on
After learning of the allegations against LeClaire, Giguere said Madison's Indigenous community feels gutted, vulnerable and on edge. Going forward, he hopes other non-Natives will use LeClaire's story as a lesson. 
"This is a good opportunity for allies to really understand why pretending to be an ethnicity that you aren't is such a problematic thing to do, and how it does have lasting impacts and leaves scars on people," Giguere said. "Kathryn could have been a great ally, a great person that just supported us from the sidelines." 
While Giguere said LeClaire has additionally brought on trust issues within the community, he believes the situation has also brought the community together. 
"The connections made between Indigenous folks are real, authentic and strong," he said. "We're just looking to hold each other close during this tough time, to undo some of the damage that Kathryn has done, to heal ourselves from Kathryn and to unite together."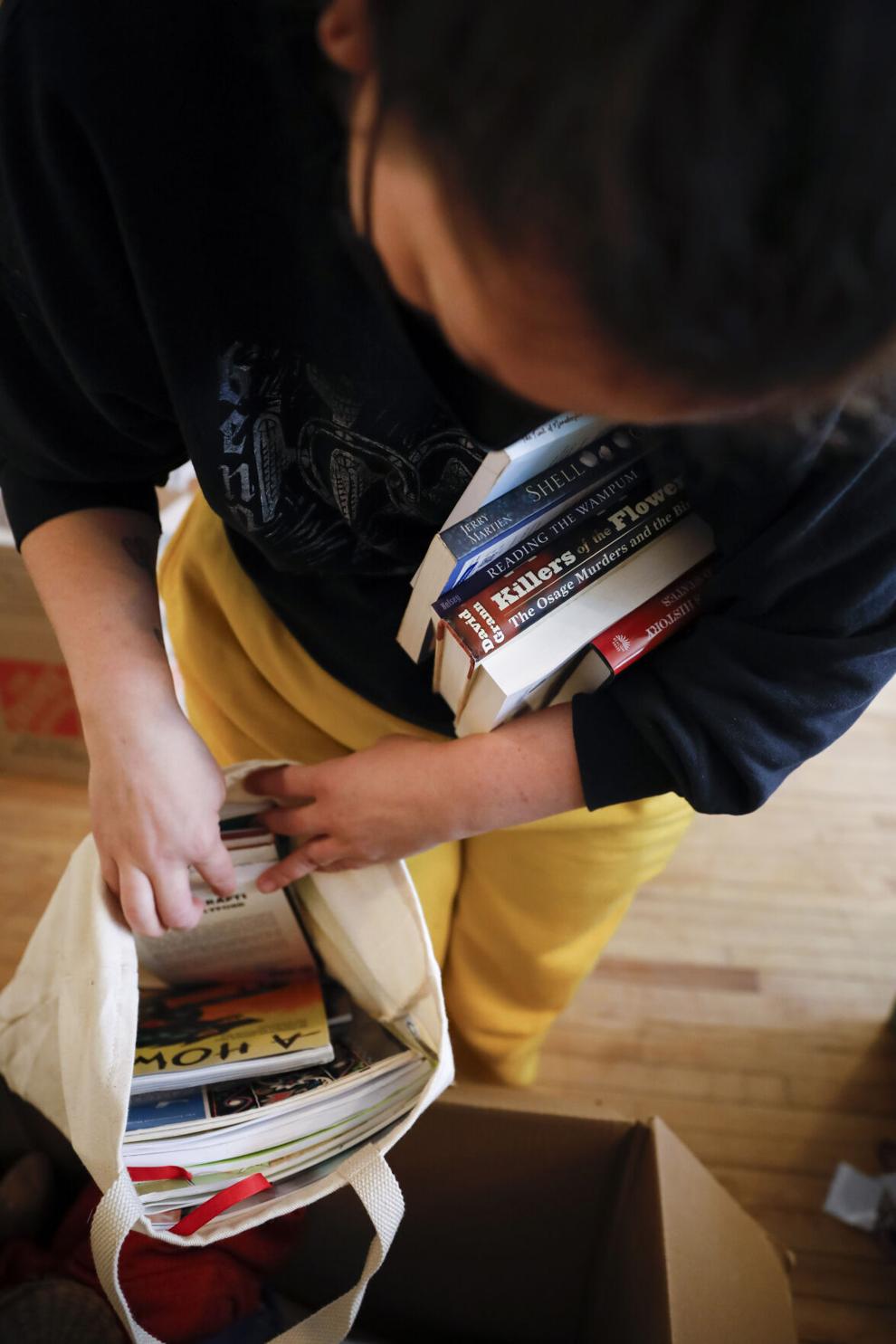 Rummaging through bags and boxes of cultural items LeClaire has returned to giige, co-owner Cunningham pulled out a stack of books on Indigenous communities: "An Afro-Indigenous History of the United States," "Decolonizing Diet Project Cookbook," "Memories of Lac du Flambeau Elders." 
"They certainly have done their research," Cunningham said. "We could have our own library." 
Amid the fallout, giige has parted ways with LeClaire. The staff has removed them from ownership, which they had been trying to do since October for interpersonal problems unrelated to LeClaire's identity. The business is moving on, Landsem said, and will soon have a new name. 
The co-owners aren't pursuing a lawsuit, but they acknowledge that LeClaire's sale of items that aren't Indigenous could be a violation of the Indian Arts and Crafts Act of 1990. The law prohibits misrepresentation in the marketing of Native art and craft products. 
Staff of giige are also returning the items to their original owners, selling some of the art with permission, or giving them away to local tribes. There's even a pile of items to burn, which included the giige sign that once hung on the front of the building. 
"The entire community is cleaning up Kay's mess now," Landsem said. "But that's what we always have to do whenever somebody gets outed as a race faker. It's the people that they hurt who are left to pick up the pieces."