As the only butterflies known to make a roundtrip migration like birds do, migratory monarch butterflies are used to traveling. Those that live in the Midwest migrate thousands of miles each fall to the Sierra Madre Mountains in Mexico, returning in spring. 
But last week, the migratory monarch found itself in a brand new and less desirable place: in the "endangered" category on the Red List of Threatened Species. Maintained by the Switzerland-based International Union for Conservation of Nature (IUCN), the list currently includes more than 147,500 species. Of them, more than 41,500 are, like migratory monarchs, "threatened with extinction."
The news came as no surprise to Karen Oberhauser, director of the University of Wisconsin-Madison Arboretum. A globally recognized expert on monarch butterflies, Oberhauser has been studying the species for nearly 40 years. 
When she first began studying monarchs in 1985, butterflies of the migratory subspecies were plentiful. But over the last 10 years alone, the eastern migratory monarch population has declined between 22% to 72%, according to the IUCN. The western population, which spends the winter in California, has declined between 66% to 91%.
Oberhauser was part of a team of scientists from across the country who wrote the assessment that ultimately landed monarchs on the Red List. They reviewed prior studies of the changing counts and compared those with the numbers that would be needed for a sustainable population, finding that migratory monarchs are at "an unacceptably high risk of becoming extinct in the short- to medium-term future."
The fact that the animals are now on this list is both good and bad news, Oberhauser said. "Certainly it's negative that monarchs have reached this point where they need to be listed. But it's positive that they have this recognition and that, hopefully, this will bring more people on board to do what we can to preserve monarchs."
Still, Oberhauser noted, this list is a purely scientific category. It provides no legal protections for the species, and it does not require that anyone behave differently. "It's an awareness-building exercise," Oberhauser said.
She and her colleagues previously tried unsuccessfully to add migratory monarchs to the U.S.-specific Endangered Species list, which would have conferred legal protection under the Endangered Species Act. In 2020, the U.S. Fish and Wildlife Service ruled that monarchs were sufficiently at risk to warrant protection, but that they were "precluded" from the list because they were not at as much risk as some other species. 
"Listing any species really involves a lot of ongoing work on the part of federal agencies … so they can't do that for every single species that meets the criteria for the designation," Oberhauser said.
Indeed, even among insect species, monarchs aren't the only ones whose populations are declining precipitously. They're just one of the ones scientists have studied the most, and one that catches the public eye. Fortunately, what's good for monarchs is good for lots of other species too. 
"In some ways monarchs are a representative species," Oberhauser said. "When we do things to protect monarchs, other species will, in a sense, come along for the ride."
More prairie, please
For years, many Madison-area residents have been taking action locally to boost the monarch population. For some, that means planting their yards with plants that monarchs depend on, especially milkweed, the only food that Wisconsin monarchs can eat as caterpillars, and hence the only place a monarch butterfly will lay her eggs. 
There are 12 varieties of milkweed that grow in Wisconsin, Oberhauser said, and she recommends planting a variety, as some will do better than others in any given year.
Those looking to create a welcoming habitat for monarchs should also plant a variety of flowering plants, looking for ones that bloom at different points throughout the season so that when adult monarchs emerge from their chrysalises, they have plenty of nectar to eat. Those flowers don't have to be native, but native plants tend to fare best and tolerate drought well. 
Oberhauser would like to see such pollinator habitats replace lawns, which she describes as "basically a monoculture of an invasive plant."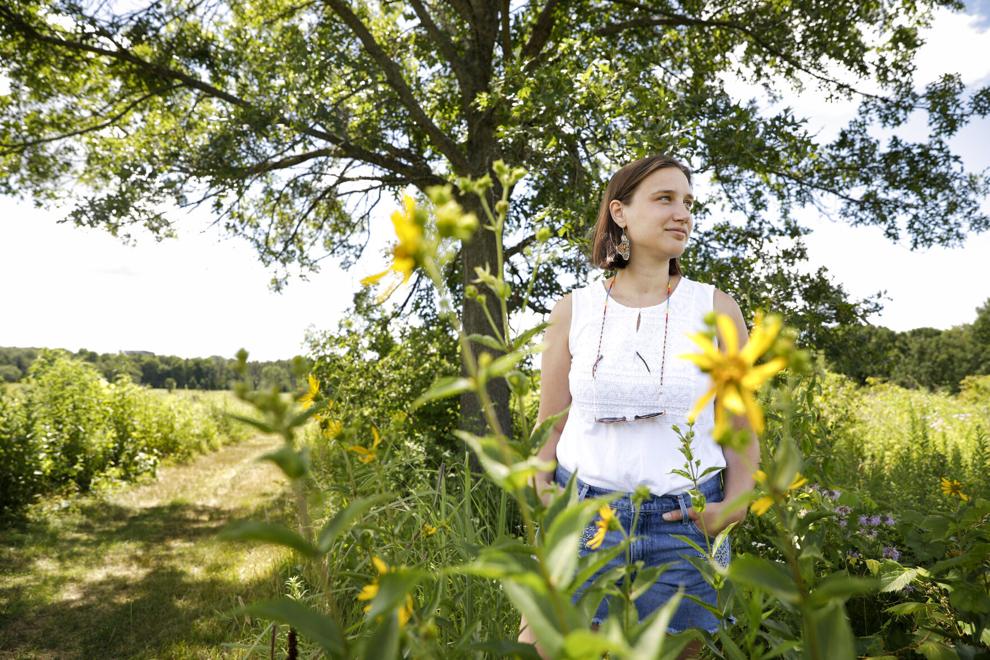 Sam Harrington, a climate journalist, began her own such effort in 2017, converting a stretch of land beside her parents' Middleton home into a prairie of native plants. The plot, roughly a quarter of an acre, is owned by the homeowners' association. 
What started with just a few plants – yellow coneflower, royal catchfly, butterfly weed and purple prairie clover – has since grown to include more than 60 species. Harrington keeps a spreadsheet where she tracks, among other things, what she plants, whether it survives and what animals she spots near it. On the morning she spoke to the Cap Times, she spotted two monarchs on her patch of prairie.
Harrington knows that her plot alone won't save a species, but that doesn't stop her. "There's so much uncertainty about the future, and it can get really big and scary. So to have such a small thing, that I'm going to plant this in the fall and we're going to see what happens in the spring … It feels like an investment in the future – one that I want to live in, one that's full of pretty flowers and butterflies and (where) I have a good relationship with the land of the place where I'm from."
She also hopes to have a wider impact through her work as a volunteer with Plant Dane, an initiative of Dane County's Land & Water Resources Department. The county program mails native plant seeds to volunteers like Harrington, who plant them in covered milk jugs and leave them outside over the winter to germinate. In the spring, volunteers transplant the seedlings before returning their plants in August so county staff can distribute the plants to schools and community organizations.
"It feels connected to the community," Harrington said. "Now school kids potentially are planting (those) plants and learning about why they're important."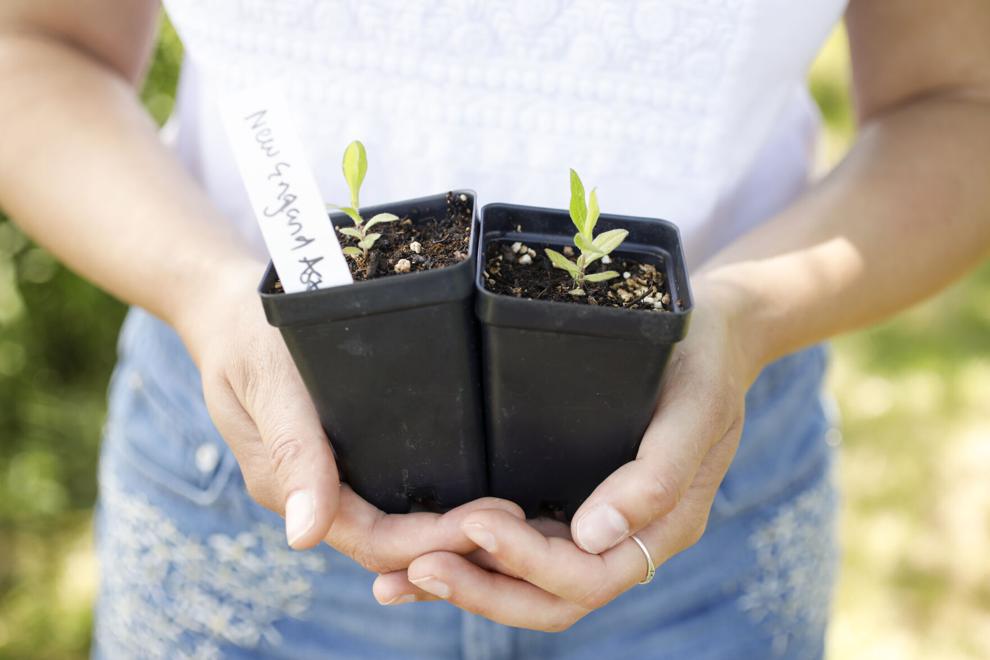 City land joins the pollinator cause
Another opportunity for native planting: the more than 1,600 acres of city of Madison land that are used for managing storm water. In 2018, the city's Engineering Department hired Maddie Dumas as its first Greenway Vegetation Coordinator, tasked with making sure the city's retention ponds and greenways are planted with native plants, and that those plants get the care they need.
"I think there was an understanding that just throwing down native seeds wasn't enough to get these areas to the kind of habitat that we really need. That's just the first step in the process," said Dumas, explaining that she and her colleagues maintain the lands to ensure that the intended mix of milkweed and flowering plants continue to flourish. 
"All of our urban space has to serve double, triple, quadruple duty," Dumas said. "It can't just be storm water land … it can be recreational space for people and habitat for wildlife."
Dumas is especially proud of the large retention pond at Raymond Road and South High Point Road on the west side, and the greenway along Broad Creek Blvd. on the far east side. But she thinks there's also a lot of value in much smaller gardens, like the planters in front of the Madison Municipal Building at 215 King St. downtown. Those planters held annual flowers until her department replanted them with native plants, adding signs to teach the public about pollinators and native plants.
"The environmental impacts might be somewhat limited because of their size, but I think the educational and public awareness impact is heightened because of where they are," Dumas said.
Residents can also choose to bring such projects to their own neighborhoods. Through the city's Terrace Rain Garden program, those whose streets are being reconstructed can request that a rain garden be placed in a section of their terrace. The gardens include a mix of plants chosen with monarchs and other pollinators in mind. 
"There's no reason why every single terrace rain garden in the city can't have at least some milkweed," Dumas said.
Butterflies up close and personal
For other local residents, helping the monarchs also means finding and raising monarch eggs. Most years, Michelle Martin is one of them. 
In July, she scours the milkweed plants in her garden and her Williamson Street neighborhood until she finds a monarch egg. She carefully cuts out that piece of leaf, carries the egg home, and places it on a fresh milkweed leaf in an aquarium or a small, enclosed tent made just for butterflies. When the egg hatches into a caterpillar, she regularly adds fresh milkweed leaves. About two weeks later, she adds sticks to the enclosure, so the caterpillar can hang and form its chrysalis when it's ready. After about two more weeks, the adult butterfly hatches. She gives it a day or two to ready its wings, then releases it.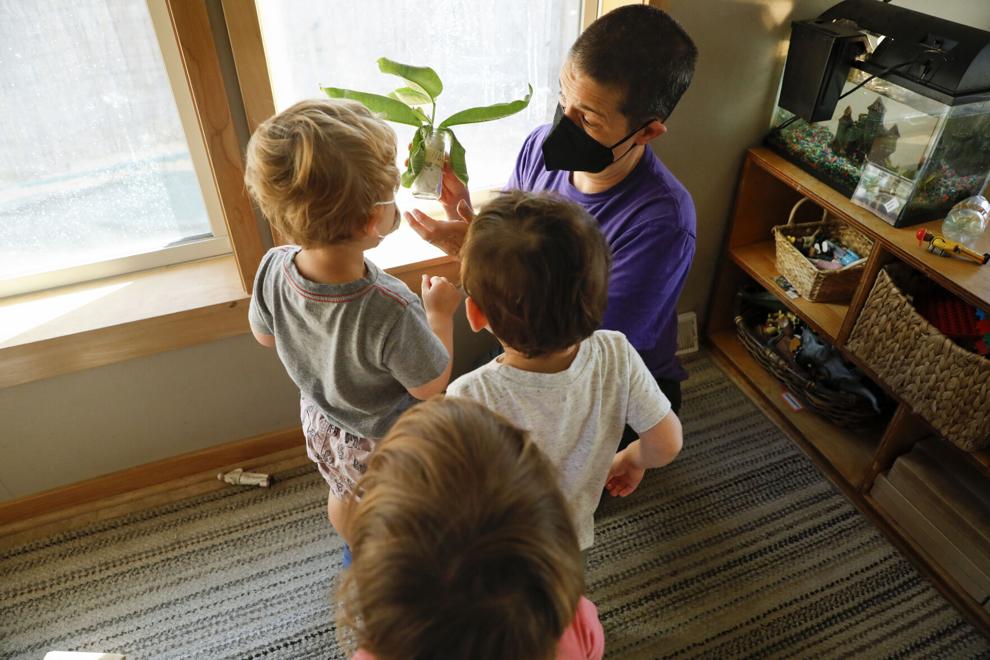 But Martin doesn't raise the butterflies alone. As a lead teacher for 2-year-olds at Big Oak Child Care Center on Madison's near east side, she's got a dozen tiny observers checking the monarch's progress each weekday. They're the reason she does it.
On a recent morning, Martin gently lifted the jar of milkweed leaves from the tiny aquarium in her classroom. Several toddlers gathered around, hoping to spot this year's caterpillar, Hope, who they've been watching grow since she arrived as an egg about two weeks ago. 
"Do you remember last week she was so tiny we could not even see her?" Martin asks.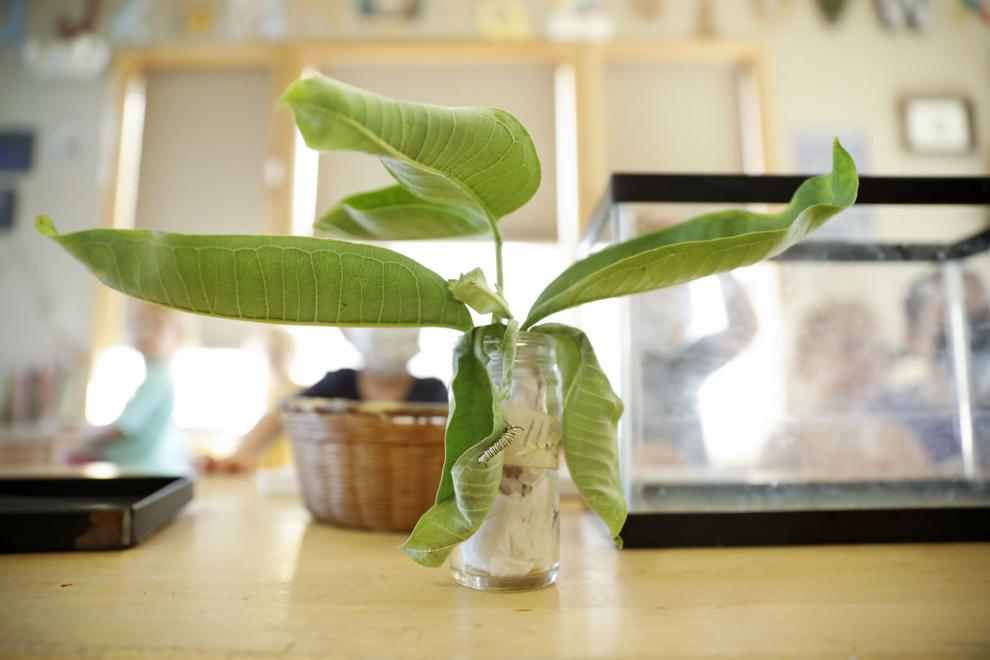 Martin, who's worked early childhood education for nearly three decades, knows young children tend to touch things in order to understand them. She reminds them to look with their eyes only, explaining that even she won't be touching the caterpillar. "You do not want to squish her. She does not have any bones," Martin cautions. 
This, Martin hopes, will get the toddlers excited about insects and their key role in the ecosystem, even if they don't yet understand words like "endangered." When Martin and the children walk around the neighborhood, they visit gardens and look for butterflies and other insects. Martin reminds them that the butterflies they see outside are connected to the caterpillar back in their classroom.
"Kids understand better what they get to directly experience," Martin said. "You can read all the books you want, but to a 2- or 3-year-old child, that's very abstract. What they experience becomes very real and concrete."
To rear or not to rear?
Oberhauser, the monarch expert, has studied such butterfly-raising efforts with her University of Wisconsin-Madison students. 
The practice is controversial, she said. Some experts believe it causes more harm than good, especially if the person raises many monarchs at once — which can increase the risk of disease — or doesn't know the right way to do it. Some states, like California, won't let residents raise monarchs without a permit.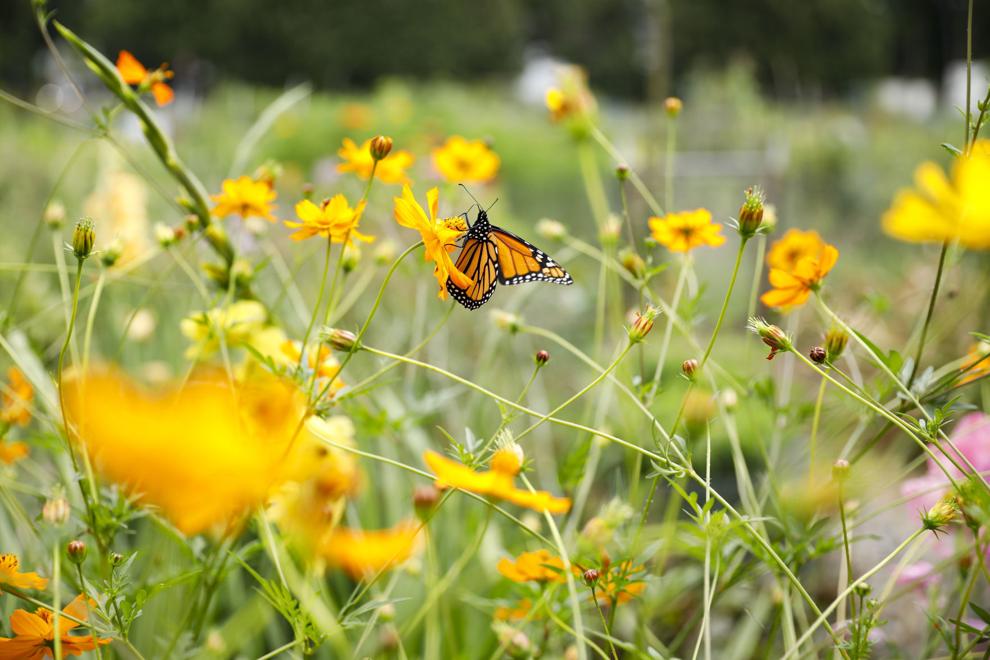 But Oberhauser, who's currently raising half a dozen monarchs at home, takes a "middle of the road" stance. "From the perspective of the individual monarch that people bring in to rear, they are probably saving their lives, because only about 5% of them (survive) in the wild," Oberhauser said. 
"But from a population perspective, the number of monarchs that people can rear in their houses is not going to make a difference. It takes a lot of time and has to be done really carefully. People would be better off spending that time working on habitat for the monarchs, because if we raise a lot and there isn't habitat for them outside, it doesn't really matter."
For those who do want to raise monarchs, she offers the following advice:
Raise only a few at a time to avoid transmitting diseases between monarchs.

Keep monarchs outdoors, as those raised indoors appear to be less able to survive and migrate.

Track the outcome of each egg through citizen science projects like the Arboretum's Monarch Larva Monitoring Project. That lets scientists learn about survival rates (both in captivity and in the wild) and track parasites that can kill monarchs..

Understand that this effort alone likely won't help the monarch population.
She also recommends a variety of ways to help monarchs without raising them, including the following:
Plant a variety of milkweed varieties, and plant flowering plants that bloom throughout the season.

Avoid pesticides and herbicides that can harm monarchs and other pollinators.

Reduce your carbon footprint, as climate change brings hot and dry conditions that are harmful to both monarchs and the plants they depend on. 

Participate in citizen science projects like Journey North, where volunteers report the milkweed, monarch eggs, caterpillars and adult monarchs that they see in the wild.
Asked how optimistic she feels about the future of monarchs, Oberhauser said it's complicated. As a conservation biologist, she said, it's her job to figure out if a population or habitat is declining and why, and then motivate people to take action. 
In other words, she said, it's "the science of hope." 
"I see all the problems, and that's my field to really understand what these problems are," Oberhauser said. "That's pretty depressing some days, but it gives me hope that a lot of people care."