A flurry of news stories about Foxconn's Wisconsin project was sparked recently when senior Foxconn executive Louis Woo told an interviewer that a factory in southeastern Wisconsin was off the table. The prospect for a fully integrated television production operation — including a huge, state-of-the-art "10.5 generation" flat screen liquid crystal display factory — had previously been tempered, but this was the first official word that the interim promise of a smaller "6.0 generation" LCD plant was dead as well.
By way of background, over time, LCD manufacturing has moved to larger and larger glass substrates, allowing for bigger TVs and lower costs. Most advanced today is the 10.5 generation factory that uses giant, thin sheets of glass the size of two ping-pong tables pushed together. The glass is too large and fragile to ship; the glass factory has to be on site. A 6.0 generation plant works with glass about a quarter that size, which can potentially be shipped. When Foxconn suggested downsizing to a 6.0 plant, it was apparently admitting the glass would be shipped in, not made in Wisconsin. But now it looked like the central idea behind Wisconsin's billions in incentives for Foxconn had evaporated.
Woo was clear in his Reuters interview. "In terms of TV we have no place in the U.S.," he said. "We can't compete."
Woo's stark announcement provoked two reactions. From Foxconn critics came relief that former Gov. Scott Walker's $3 billion in state subsidies might never be triggered. Foxconn might just go away. Meanwhile, project boosters retrenched, pointing to Foxconn's continued assurances that it would meet its $10-billion capital expenditure projections and create 13,000 jobs. They might not be making LCD panels, boosters admitted, but Foxconn was a huge, diversified company and will make something else.
Then came news of the subsequent phone conversation between President Trump, who had taken credit for the Foxconn-Wisconsin deal, and Foxconn Chairman Terry Gou. Gou assured Trump that a flat panel LCD factory was back in the works, albeit for the smaller screens. Boosters were relieved.
Gov. Tony Evers, who inherited a contractual agreement with Foxconn that was widely opposed by his fellow Democrats, faced a difficult situation even before Foxconn's flip-flopping announcements. "I'm comfortable that they're still committed to the state, that they're committed to this generation 6.0 technology," he told reporters. He then cited Foxconn's lack of transparency and consistency, and promised that "we'll continue to encourage it." A touch of frustration came through when he added that there was "no limit to the skepticism if the messaging isn't consistent."
Part of this frustration was no doubt related to the lame-duck legislation in December 2018. During the campaign Evers had been critical of the billions of dollars of Foxconn incentives and the quasi-public economic agency, the Wisconsin Economic Development Corporation, which had landed and negotiated the deal. The legislation protected WEDC and moved the state's liaison with Foxconn from the Department of Administration within the Evers administration to WEDC. Assembly Speaker Robin Vos, R-Rochester, made it clear that one of the goals of the December bills that reduced Evers' authority was to protect the Foxconn deal. Evers introduced a provision in the state budget on Thursday that moderates these measures, including moving the Foxconn job back to the DOA.
Throughout these gyrations, boosters have pointed out that Wisconsin's $3 billion in incentives are linked to job creation and capital expenditures. The state, they said, is protected if Foxconn disappoints. Overlooked is how the Taiwanese company has been deeded close to 1,000 acres of prime Wisconsin farmland, much of which has been bulldozed. The state has committed years of staff time and uncounted dollars to make the deal happen. Moreover, Mount Pleasant, the southeastern community in which Foxconn is sited, and surrounding Racine County, are spending $911 million in infrastructure costs via debt ultimately backed by state taxpayers.
Experts have characterized Foxconn as the most opaque and secretive company in its industry. That appears true regarding its evolving and mysterious Wisconsin plans. Meanwhile, in Mount Pleasant, homeowners have been removed, some under the threat of eminent domain, their houses razed, their basements filled.
The municipalities of Mount Pleasant (population 26,000) and Racine County are already hundreds of millions in debt building multilane highways, laying the pipeline for up to 20 million gallons a day of Great Lakes water, and creating the substation and power lines necessary to provide electricity to what they had envisioned to be the largest factory in Wisconsin — almost a mile long.
While the public infrastructure is impressive, Foxconn's contribution has been considerably less so. To date Foxconn has built one "multi-purpose" warehouse-like building, not big enough to fit a Costco store. Its hiring in Racine County has been anemic. The projected 10,000 construction jobs have been counted as 854 as of the end of 2018, most of them hired by taxpayers, not Foxconn. This winter's heavy infrastructure work is driven by government, not Foxconn. Recent reports indicate that Foxconn has yet to file for permits for its long-planned and more ambitious second building, making a spring construction start unlikely.
For boosters celebrating the smaller LCD plant promised to Trump by Gou, experts urge caution. Harvard Business School professor Willy Shih, a close observer of Asian business practices, saw Gou's gesture to Trump as fitting a pattern. Writing for Forbes he noted, "In China, they have a term for this type of project: a 'state visit project.'" He describes it as a sort of publicity stunt in which both parties can share the initial glory, citing the iconic picture of Trump, Gou, Walker and then-House Speaker Paul Ryan with shovels in the Wisconsin farmland as another example. In Asia, whether the project proceeds is left to the economics.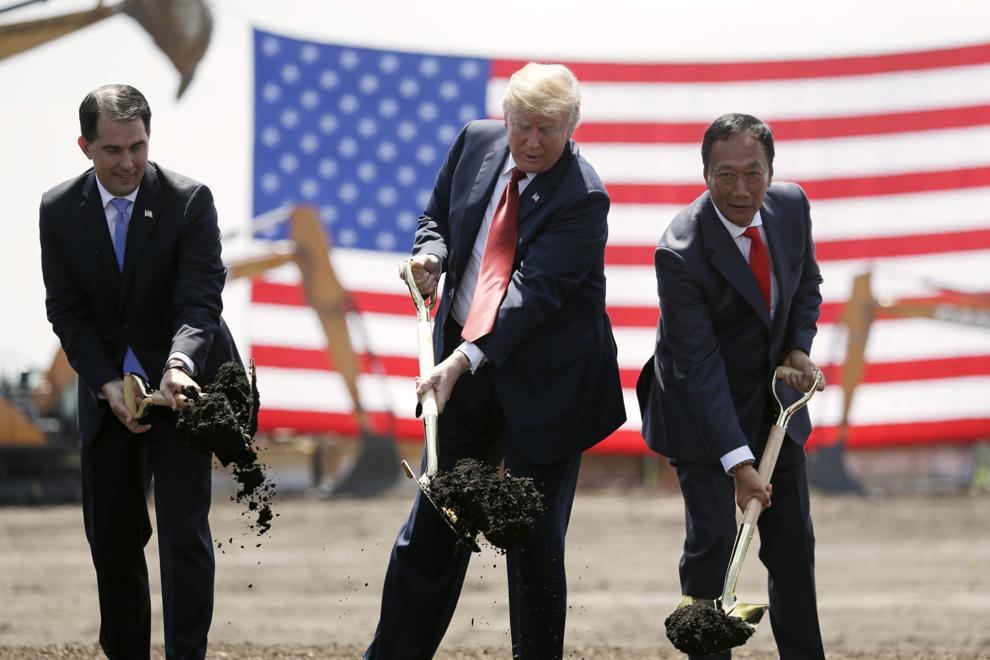 Cultural gap
The latest grand promise by Gou exemplifies how a cultural gap can lead to misassumptions. This problem goes back to initial negotiations with Foxconn in spring 2017. A Harvard Law School program in negotiations teaches this tenet in international dealings: "Enlist an advisor from your counterpart's culture." Wisconsin's original negotiating team was Walker, who lacked relevant business experience, DOA Secretary Scott Neitzel, whose background was utility regulation, and WEDC's secretary and CEO Mark Hogan, an experienced banker. None had business experience in Asia or LCD production knowledge.
How Chinese business negotiation practices might have tripped the inexperienced hands on Wisconsin's team was detailed in a paper by Lieh-Ching Chang, associate professor of business at Hsuan Chuang University: "When negotiating, they (Chinese executives) are used to double-dealing or saying one thing while doing another." Moreover, he wrote, "they will frequently go back on their word or set traps for their opponents."
Another aspect of cultural difference was the focus of an article from the Journal of Business Studies Quarterly in 2013: "Doing Business in China: What is the Use of Having a Contract?" It details how contracts in China lack the same binding effect as in the West. For instance, in China, where Gou has placed the vast majority of Foxconn assets, Chinese businesses expect terms to be renegotiated when economic conditions change.
Deb Weidenhamer, an American with extensive business experience in China, wrote a column for The New York Times suggesting contracts are only a starting point for the typical Chinese executive who believes "a win-win deal is considered impossible." The Chinese believe "that there can only be one winner and one loser — and that foreigners aren't as clever or as capable."
Chief negotiator Hogan told Bloomberg Businessweek that he and the team didn't do a deep dive into Foxconn's past practices or corporate history, let alone Chinese business culture, because, "in the end, we got to know these people so well." Hogan did not respond to requests to elaborate on this point.
Did Foxconn ever intend to build a 10.5 LCD factory in Wisconsin? According to Asian business experts, that's not the right question. Harvard Business School's Shih said American business executives are like the traveler who plots every hour of every day of a vacation; the Chinese way is to just get in the car and start driving. As reported in Racine's Journal Times, Bill Mitchell, a Foxconn vice president, told a manufacturers conference in Milwaukee on Feb. 21 that "we're building the airplane while we're flying and we're redesigning it."
Foxconn's shifting strategy has inspired speculation regarding its purposes. Perhaps it was all masterminded by China's leadership — with whom Gou is close — as leverage against Trump's tariffs, according to some international trade analysts. Some environmental groups have suggested it was all to gain access to Great Lakes water. But when reached for comment at Harvard, Shih wasn't at all swayed by such theories: "It's what I tell my students. Never confuse blundering with master intent."
When reached for an update this past week, industry expert Bob O'Brien of Display Supply Chain Consultants spoke of the changing dynamics driving Foxconn's shifting plans for Wisconsin. The market is glutted by flat screens. He said a new Foxconn LCD plant anywhere appears unlikely. Even Foxconn's 10.5 plant being built in China has been put on hold until flat panel pricing improves.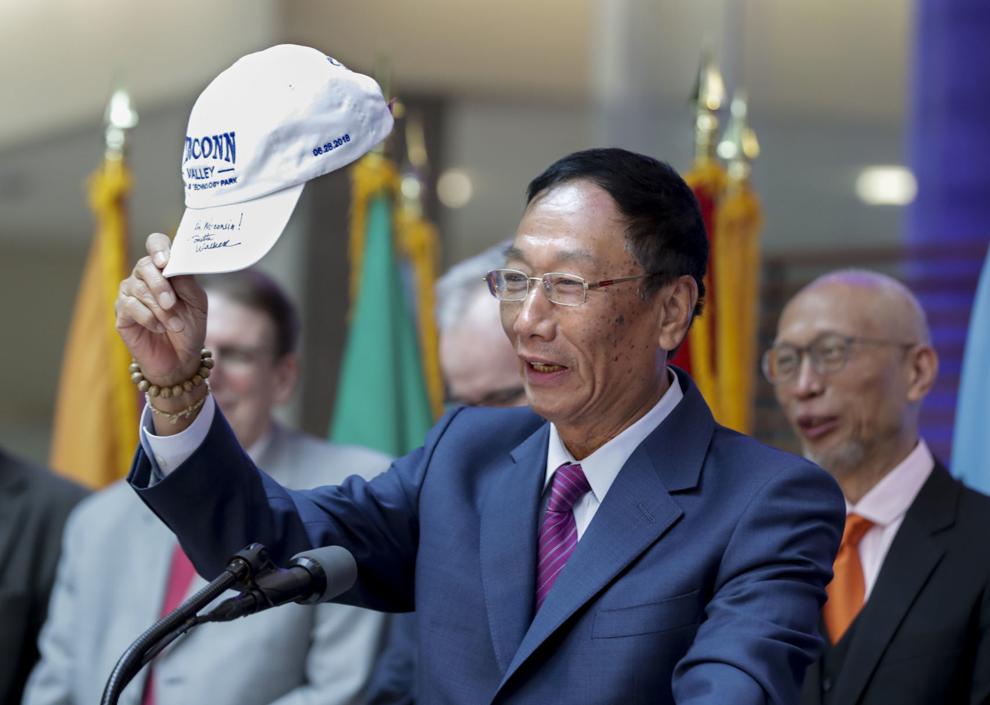 Manufacturing LCD screens – where are the jobs?
Foxconn went public about downsizing from a 10.5 plant in Wisconsin in May 2018, but the news had leaked abroad as early as August 2017 in an interview with an employee of a Foxconn subsidiary in The China Post. Yet industry experts have thus far seen no orders for needed fabrication equipment that, once ordered, can take years to be produced and delivered.
Then there's the matter of jobs. Much of the original excitement about landing Foxconn was focused on blue-collar manufacturing jobs. A 6.0 plant similar to the one Gou promised Trump opened in Japan in 2016. It began operation with 250 technicians and engineers. There were virtually no blue-collar workers. In fact, human presence is antithetical to LCD production, which is an entirely mechanized process. In LCD manufacturing, humans are bundles of dust and shedding skin, like cartoonist Charles Schultz's Pigpen character. Workers sit at computers behind glass walls; the few on the production floor are tightly wrapped in white protective gear. These roles do not seem to fit the thousands of "family supporting" manufacturing jobs for hard-working high school graduates that Walker's team promoted in late 2017.
Statewide, Foxconn is well behind its job creation targets, failing by 82 to hit the minimal 260 target by the end of 2018 needed to trigger the first $9 million state payment to Foxconn. The company appears to be making little progress in hitting the threshold minimum of 520 qualifying jobs by the end of this year.
Here's the problem for Foxconn: the only way it appears practical to create those jobs is to initiate some aspect of its core business and expertise: assembly work. With a worldwide workforce of about one million, this might seem like a modest goal. After all, Foxconn runs assembly lines for computers for HP and Dell in Indianapolis and Houston. Why not just move the 900-person assembly operation from Indiana to Wisconsin? The reason is compensation. For Wisconsin assembly jobs to qualify for state incentives, they have to pay $30,000 or more a year, about $15 an hour. In its current U.S. operations Foxconn is known to pay around minimum wage, about half of the threshold salary. Overseas the pay is even less.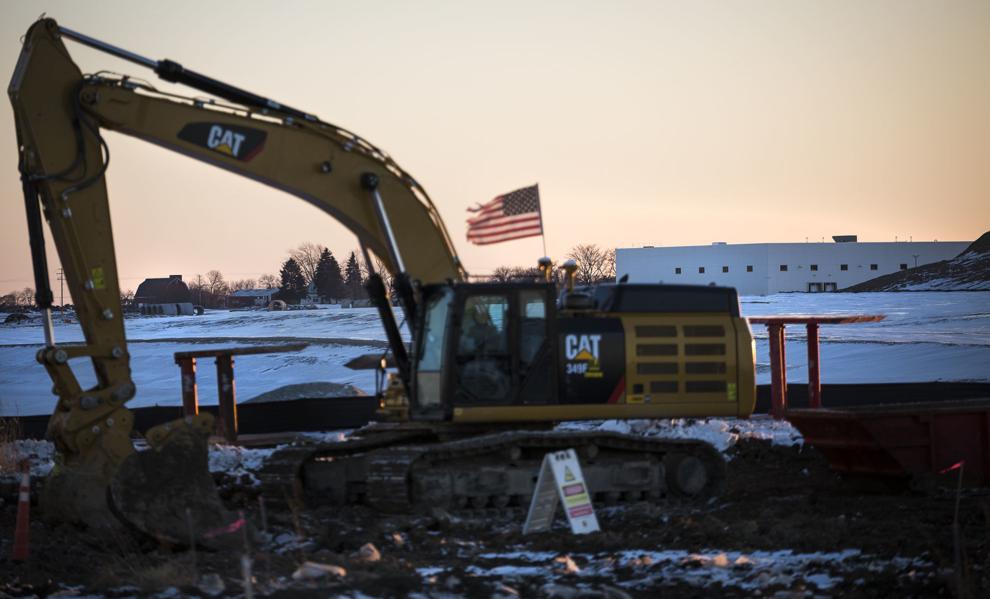 Realities in Racine County
So what about the corporate campus touted by Walker and his boosters? Long after the $8 billion, 10.5 plant had been abandoned, Foxconn and the Walker team continued to promote the giant campus that would have surrounded it via an elaborate model and video featuring autonomous cars weaving among campus lakes. The research-based concept for the Mount Pleasant site that emerged from Foxconn prior to the switch back to the 6.0 plant now seems improbable. Marc Levine of the University of Wisconsin-Milwaukee's Center for Economic Development scoffed at the idea of Foxconn attracting 10,000 researchers to rural Wisconsin. It makes little more sense to imagine such a giant facility anchored by a 250-job 6.0 LCD plant.
The picture painted by boosters like the president of the Metropolitan Milwaukee Association of Commerce, Tim Sheehy, of 150 factories including a $1-billion Corning glass works, co-located in Mount Pleasant and feeding the LCD factory, now seems especially fantastical. When reached for an update, Sheehy expressed his current optimism for a bustling industrial complex, albeit anchored by a 6.0 LCD factory with "less of a footprint" and fewer co-located suppliers.
In some ways, the status quo may simplify things for Evers. It seems unlikely that Foxconn will hit its employment or capital targets any time soon, meaning the state will be hanging onto the $2.85 billion in contracted subsidies linked to jobs and spending.
Should Foxconn surprise with some other sort of large development and employment expansion triggering incentives, things might get complicated. The contract between Wisconsin and Foxconn, signed by Walker and Gou, is specific: Foxconn is committed to building a 10.5 generation flat screen factory. The same commitment is in the tax incremental financing contract Foxconn signed with the Racine County governments. As reported by Bloomberg News, there was at least some discussion at WEDC as to whether abandoning the 10.5 plant was a breach of contract. Hogan, the WEDC director, declined to comment on this report, replying via email only that "the company is in compliance with the contract."
For Racine County, the situation is more pressing. It continues to build the infrastructure for a $10-billion industrial complex that seems destined to be smaller. The total county cost was recently projected at $911 million, a liability of more than $10,000 per county household. Attempts to interview Claude Lois, Mount Pleasant's Foxconn project director, members of the Mount Pleasant Board of Supervisors, and other municipal officials and Foxconn officials were either unanswered or referred to Foxconn's public relations firm.
For sense of scale, how does Mount Pleasant's project compare to other TIF projects nationally? Greg LeRoy, of Good Jobs First, a Washington, D.C. nonprofit that tracks corporate subsidies, the Foxconn TIF is in a virtual tie for the second largest TIF project in U.S. history. So a village of 26,000 has a TIF with a total cost of about 90 times the village's recent annual budget. The result is massive bond issuance — a level of debt for Mount Pleasant and Racine County that far exceeds Wisconsin's so-called "statutory prudence" level. The 2017 Foxconn agreement was given an exemption from that standard, and the state was obligated to back 40 percent of the bond valuations plus the remaining interest payments. The credit rating for Mount Pleasant and Racine County has been dropped once already.
How will Mount Pleasant and Racine County pay this debt? The plan, like all TIF projects, expects public reimbursement through higher property taxes on improvements within the TIF district. If Racine and Mount Pleasant have to pay 4 percent a year to bond holders of $900 million, that would suggest a $36 million a year liability. The Foxconn property would need to be valued at $1.89 billion to produce matching property tax revenue. If Foxconn were to actually invest $10 billion, that would create a windfall, at least in the early years of the TIF. Ignored in all of this is the steep depreciation in values of tech facilities. In 2016, Gou upped his stake in Sharp's 10.0 LCD factory in Osaka, Japan, at a value of less than $1 billion, seven years after it cost at least $4 billion to build. That's a 75-percent depreciation.
Despite the state spending $37,500 for a private jet to take Walker, WEDC's chief operating officer, Neitzel and Walker's security detail to visit the plant in Osaka that Gou had acquired, WEDC reports that "WEDC did not receive financial statements specific to the operations of the Osaka plant." Such statements might have detailed its history of losses and steep drop in value.
Depreciation aside, a clause in the TIF agreement states that Foxconn's property will be valued at a minimum of $1.4 billion beginning in January 2023 and continuing for 24 years, creating a potential tax flow of about $26.6 million per annum, an impressive sum, but short of the potential debt service on bond issuance.
One of the expectations locally is that ancillary developments will improve the tax base: supply chain initiatives, new housing construction, motels, strip malls, medical services. A big jump in such activity, minus the supply chain development, has been seen over the past year.
The local situation may be even worse than the tax revenue calculation suggests. The TIF contract states that the TIF authority will pay Foxconn a bonus of $10 million a year for 10 years beginning in 2024. In addition, the widely reported $60 million that Foxconn dropped into Mount Pleasant's treasury for land acquisition has less widely been reported to be an advance. It has to be paid back should Foxconn meet certain obligations. So, in effect, the locals are into Foxconn for a potential additional $160 million.
Some sense of this strain is already evident as Mount Pleasant recently issued a special assessment on Foxconn of approximately $10 million a year for the next 20 years.
Should the Foxconn development fall far short of its self-projected $10 billion valuation, and should ancillary commercial development disappoint, or worst of all, should Foxconn balk at paying its contractual obligations, it will be hard for Mount Pleasant's population and the rest of Racine County's population of 170,000 to pick up the slack.
The state has contractually backstopped this debt, threatening a drain of hundreds of millions on the state treasury over coming decades.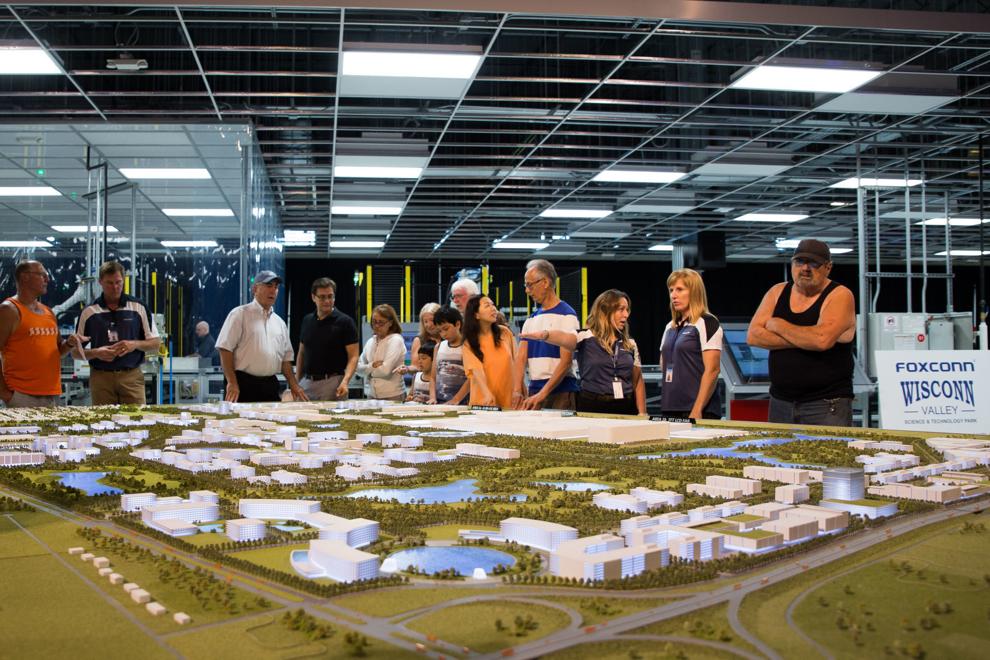 If Foxconn doubles down, should the state accept?
This doesn't mean Foxconn will likely be pulling up stakes in Wisconsin. They've been advanced a large swath of land with a lot of expensive infrastructure on the promise of future payback. In the meantime, Foxconn appears to be busily expanding its portfolio in Wisconsin, with initiatives across the state.
While critics of the project suggested the "research and innovation" centers in Eau Claire and Green Bay were political window dressing, Foxconn recently closed on a $2.3-million building in downtown Eau Claire and a $9.2-million building in Green Bay. Foxconn has invested in a U.S. headquarters building in downtown Milwaukee, although it recently leased half of it out to financial services firm Baird. Still, Foxconn will have employees at the Milwaukee building and has job listings for more.
In fact, Foxconn has listed up to a couple hundred jobs, but few of them seem related to anything like LCD manufacturing. Most are in the medical device industry and health care. Some jobs are Madison-based, including ones linked to a San Diego medical device firm called Sotera, in which Foxconn has a major investment. One of these jobs was for a national sales manager, suggesting that Foxconn is considering moving some operations of this company to Wisconsin. Calls to Sotera were not returned.
Another theme to this hiring is server design and engineering, suggesting Foxconn is thinking of moving into the server business. Could a server farm be located at Mount Pleasant? One of the needs for such large installations, the backbone of the rapidly growing cloud computing industry, is heavy cooling requirements, a potential use for Great Lakes water.
Foxconn seems to be searching for business traction in Wisconsin. Foxconn and its public relations contractors will be working over the next months and years to improve the company's image.
An example is the $100-million "grant" to the University of Wisconsin-Madison, which is actually a matching program with as yet undisclosed benefits for Foxconn. The reported skepticism by professors and graduate students over the arrangement indicates the kind of problems that might keep major donors from putting their legacy and possibly the resulting intellectual property into the hands of a foreign corporation.
One scenario is for Foxconn to proceed as China experts have predicted. It could cite its good-faith effort to work in Wisconsin, benefiting from whatever it has engineered in research centers, health devices, server technology, or whatever other opportunities emerge in the future. It could make the case that the business and economic climate has changed: The days of 10,000-worker factories is over. Foxconn might explain that for the next thing in its Wisconn Valley Science and Technology Park, the original contract will need to be modified. With Wisconsin's sunk costs approaching $1 billion, primarily via local infrastructure, Foxconn would appear to have serious leverage.
This same conclusion was reached by researchers at the nonpartisan, independent Budget Research Project in a report published on Feb. 23: "Both the state and Foxconn have strong reasons to want to renegotiate the contract, but Foxconn has the greater incentive to strike a new deal... If Foxconn truly intends to go ahead with revised plans for the Mount Pleasant facility, it will probably seek a new contract that helps it qualify for a larger portion of the nearly $3 billion of cash payments authorized by Walker and the Legislature."
Would Evers and legislators be inclined to renegotiate, or would they let Foxconn walk away? Will it be possible for the local governments to enforce provisions that require 24 years of property tax payments on a $1.4 billion property assessment?
The state and TIF contracts put any legal disputes into Wisconsin courts, but as the East Asia-expert lawyers at the China Law Blog put it, "(Our) response on taking U.S. judgments to China is that there is no reason to do so because they have no value there." It seems apparent that fighting Foxconn in court would be a particularly onerous and uninviting prospect.
Based on an examination of Foxconn's corporate history, Asian business practices and the stark realities of the LCD panel production industry, the likelihood of a flat panel factory in Mount Pleasant seems unlikely any time soon — if ever. Neither does the prospect of anything close to 13,000 "family supporting" jobs. Instead the Evers administration may face some tough decisions as Foxconn uses Wisconsin's sunk costs as leverage to renegotiate a deal that from the beginning was based more on wishful thinking and political ambition than facts and business realities.
Madison-based writer Lawrence Tabak has been following the Foxconn story since its announcement in July 2017. His three in-depth Foxconn stories for Belt Magazine were recognized as a "Best of 2017" by Longreads.com. His investigation into Foxconn was published in The American Prospect in September 2018.  His work has appeared in The New York Times, Fast Company and The Atlantic.