In any other year, Carolyn Kallenborn would have spent this past week arranging wooden shadow boxes that celebrate the lost loved ones of around 200 Madison area residents. 
A professor in the University of Wisconsin-Madison's Design Studies Department, Kallenborn began the Community Altar Project in 2014, inviting the public to celebrate the Day of the Dead by turning wooden shadow boxes into altars to those they've lost. In a typical year, she'd have displayed around 150 altars in the Design Gallery at UW-Madison's School of Human Ecology.
It's a local adaptation of the Mexican tradition of inviting the dead to return for one night each year. Children return on Nov. 1, while adults return on Nov. 2. Different regions mark the holiday differently, but celebrations often include decorating sugar skulls, parading in costume or building public or private altars. Kallenborn, a textiles artist who grew up in St. Louis and has collaborated for nearly 20 years with artisans in Oaxaca, has taken special inspiration from the way the holiday is celebrated there. In addition to creating home altars, families adorn their graves with flowers and candles, packing the cemeteries to picnic and play music beside their loved ones.
But in both the U.S. and Mexico, the COVID-19 pandemic has transformed celebrations, cancelling parades and making parties a risky choice. This time, when Madisonians picked up their wooden boxes to decorate for the Community Altar Project, Kallenborn instructed them to send her photos or videos rather than returning the boxes for an in-person gallery exhibit. 
['It is what's right': Panel address inequities in school discipline]
The project is accepting photo and minute-long video submissions through Sunday, and small number of boxes are still available for pick-up, though participants can remember their loved one in any material or media they choose.
So far, Kallenborn said, around 50 people have said they plan to send photos or videos, but she anticipates far more may join. The submissions she's received so far include photos of altars and videos honoring the departed through collages and voiceovers. 
A rotating selection of submissions will be projected onto the windows of the Garver Feed Mill from 5 p.m. to 9 p.m. each evening through Nov. 15 — though most visible after dusk — and the complete collection will be projected in larger form onto the side of the building each evening from Friday, Nov. 6 to Sunday, Nov. 8. Kallenborn hopes the large projection will be awe-inducing, but viewers can also take in the exhibit in a more intimate way online through the project's Facebook page, where she hopes to feature one altar a day for the coming months. 
Altars on display
One advantage to the virtual approach, Kallenborn said, is that people can contribute to and view the project from anywhere in the world, as long as they have internet access. So far, submissions have come in from as far away as Brazil and Canada. 
Gloria, a Madison resident who gave only her first name, sent photos of an altar she'd made in honor of "my godmother, my aunt and my friend," a woman she calls Cayoyita. "The woman who taught me how to embroider is inside this altar," Gloria wrote, explaining that she'd filled the space with her own colorful threads, hoops and delicate embroidery ("my lessons from her") and a few of Cayoyita's gifts to her.
John Hitchcock, a UW-Madison art professor, printmaker and collaborator on the project, sent a video, along with a note explaining that he wanted to honor his grandparents "for teaching me how to live a creative life" through their beadwork and singing. The camera pans across one colorful print after another as he tells of his grandfather's passing and how his Comanche grandmother held him, singing traditional songs, as he died. In the background, a woman's voice sings in another language, then says, "That's my song, John. You must learn it." 
[Using virtual tools, students get out the vote on UW-Madison campus]
Madison resident Amy Noble sent images of her altar, which included a mirror on which she'd attached a photograph of her mother's body. "Many people have never spent time with a human body after the life has left it," Noble wrote. "Being with my mother after she passed was a gift. Our culture denies death and creates such fear, but there was so much peace and love in that room, I wanted to use the mirror to put the viewer in the room with her too."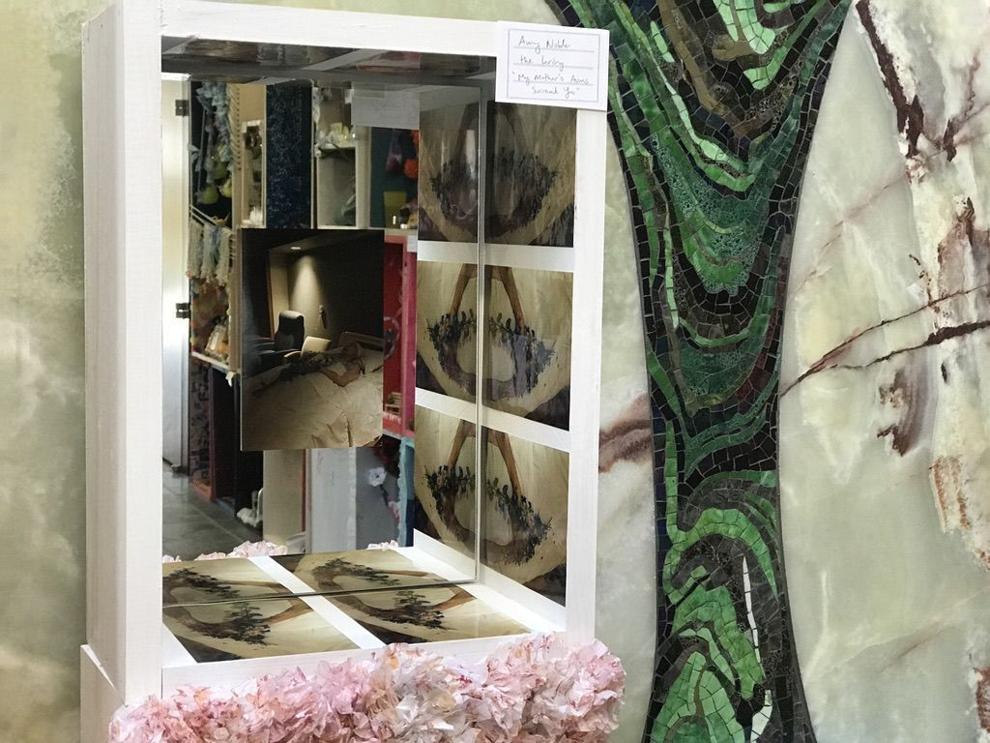 In conjunction with the altar project, Kallenborn and artists from UW-Madison and Oaxaca created an art installation visible from the outside of the Chazen Museum of Art. On display until Nov. 28, "Crossings: Remembrance and Celebration," covers museum windows with art by a variety of artists. In the large windows of the bridge connecting the museum to the Humanities Building, window stickers inspired by papel picado, an intricately-cut tissue paper art, show a giant falcon surrounded by smaller figures.
And at 7 p.m. on Nov. 7, the Center for Material Design and Culture will host a virtual viewing of Kallenborn's documentary "La Vida y Los Muertos: Day of the Dead in Oaxaca, Mexico," followed by a panel discussion with Oaxacan artisans Anna Paula Fuentes, Miriam Campos and Erasto "Tito" Mendoza about how the coronavirus has changed local celebrations. The discussion will be Spanish with simultaneous English interpretation, something Kallenborn said likely wouldn't have been possible if the event were held in person.
"We've all lost somebody"
The holiday is about celebration, not mourning, said Roberto Torres Mata, a UW-Madison graduate student studying printmaking, who teamed up with Kallenborn on this year's Day of the Dead celebration. The son of Mexican parents, his family celebrates his grandparents each year by cooking the foods they'd cook and thinking about the things they did. 
"I still cherish that," he said. "It's even hard to explain. It's a very emotional thing."
When Kallenborn launched the Community Altar Project in 2014, she built an altar with her mom and dad to honor her grandparents. As her dad flipped through photographs of his parents, he began to cry. "They're all gone now," he said. Two years later, Kallenborn found herself making an altar for him. 
But, she said, celebrating the holiday has helped her recognize and embrace that cycle. By encouraging people to dedicate a specific set of days to fondly remembering their loved ones, invite them back into their lives, and then let those memories go until the following year, Kallenborn said, the holiday helps people manage their grief.
"There's all these things to remind you that you don't want to carry this with you all the time because it's too heavy of a burden to always be thinking about them being lost," she said. Knowing that you'll celebrate them again next year, the loss might not loom over you, she said. "It's not that it hurts any less, but I think that it's a healthy psychological way to deal with what's going on."
[See all the Cap Times Idea Fest 2020 videos and stories]
She's glad for the opportunity to build that tradition, in its own form, in Madison, turning private losses into collective celebration.
"How many of us as humans have this thing that we're carrying that's actually very similar and yet completely unique from one person to the next?" she said. "We've all lost somebody… The one thing everybody's got in common: We were all born and we're all gonna die." 
Such celebrations, and the attitudes they teach about death, are especially important now, she said. The COVID-19 pandemic has directly or indirectly led to the deaths of around 300,000 people in the U.S., weighing heavily on the minds of the living. 
"I think everyone's feeling their own mortality," she said.
Torres said that for those who've lost someone to COVID-19, their grief might be accompanied by feelings of guilt or anger as they wonder whether the deaths could have been prevented. But he hopes the project can lighten the load just a bit.
"It's doing some good in remembering people who've passed away from COVID… We'll honor them, remember them and celebrate them."