COVID-19 has shown Ronda Schwetz just how much the Madison community loves the Henry Vilas Zoo.
The executive director of Dane County's free zoo says she and the zoo's 37 full-time staff members, including 16 zookeepers, have been excited to make the zoo a fun, safe place in the midst of the pandemic.
"I feel so fortunate to live in this community. This community is so generous and so giving. To have a free zoo at a time like this, it's like nothing I've seen and I've been in a few different places across the country," Schwetz said.
"We so appreciate all of the support and the donations and visits and we want you to know that we take that very seriously and we take excellent care of our animals and we love our animals. We want to make sure we're doing right by the community."
The Henry Vilas Zoo is one of about 230 zoos in the country accredited through the Association of Zoos and Aquariums, AZA, a national nonprofit which promotes animal conservation, education and science through their zoos and use donations and entrance fees to support such causes. It is one of only nine out of that group that are completely free to the public.
Less than 10 percent of the 2,800 wildlife exhibitors licensed by the United States Department of Agriculture under the Animal Welfare Act have AZA accreditation, according to the group.
The Cap Times spoke with Schwetz, who formerly worked at Disney's Animal Kingdom and is also an orangutan expert, about how things have been going since the zoo reopened in June.
What did it look like for the zoo to shut down for the first time in its history earlier this year?
Shutting down the zoo was a really difficult decision, but it was clear that it was the safest and the right thing to do for everyone — from the visitors, to our staff, and for our animals.
From the day we shut down in mid-March, we were working with the county and other AZA facilities in the same situation on what reopening would look like. We were excited to open on June 18 knowing we had a safe plan in place. Our animal keepers are basically the only ones who can take care of the animals, it is a highly specialized job. Whoever could stay home, stayed home. We still needed to bring in our animal care staff. They came in the entire time. We put measures in place, making sure everybody worked in a separate area. Everyone wore masks and PPE from the beginning and we had staggered start times so they didn't all come to work at the same time. We were able to manage that for three months and it went really well.
How has reopening gone and do the animals seem affected by the closure?
We did a one-way path for reopening and it went really well. We closed the Lake Wingra entrance and have a separate entrance and exit at the front of the zoo. We have staff and volunteers to greet the guests as well as signs and ropes helping to guide people. 
It's been really interesting. A lot of our frequent visitors have said they prefer the one-way path. It's a 28-acre zoo and so there's plenty of room to stay well beyond 6 feet apart. All buildings are closed so there are no high-touch areas. We tried to eliminate as many of those as possible.
You could tell (closing) was strange for the animals as well. Our animals were missing people. You could tell because with anyone walking by they would come up to the cage. Our lions are just kind of hysterical. You can tell, about half an hour after people come in, the lions start roaring. It's definitely tied to the people coming in and started when people returned. Everyone is just so happy when they come in to see the animals and it's such a positive atmosphere. We're happy to be a place that is free to everyone, for people to be happy to come outside in this beautiful weather and get out with their family and feel safe and secure. We're really excited to be that place for everyone.
So the animals recognize people?
The animals know who the visitors are versus volunteers and staff and especially their keepers. The animals and the keepers form a really strong bond. Our keepers do training all the time with the animals and the training is done to help them with their care. The big cats are trained to put their backs up against the mesh netting to do vaccinations and blood draws.
They enjoy visitors just as much. Especially the orangutans. They love watching people. Our oldest female, Chelsea, just loves little kids. Chelsea will come right up to a little kid.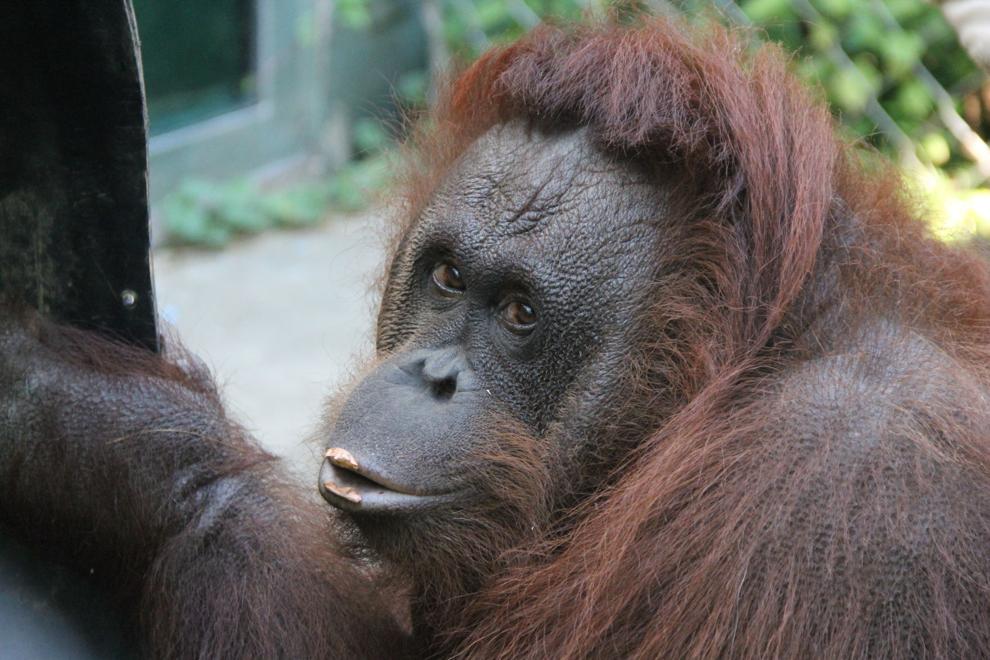 Has attendance been down, how has that affected donations and your ability to operate? And the zoo's future plans?
It is down about 50 percent from what we would normally see. We are very weather dependent and so we had some more days between 2,000 and 3,000 people. It's not crowded with that number. It's interesting because all the zoos and aquariums are sharing their (COVID) experiences and what we're experiencing seems to be on track with others.
The nice thing about us is we're always planning for the next improvement. We're never done. We have what we call our "zoo master plan." It's really a guideline and what we want to work on. We were really hoping that we could take a serious look at the heart of the zoo, so the front entrance and the middle of the zoo with the cats, the giraffes, things like that. But obviously with everything that happened we have to focus on animal welfare first and foremost.
(The improvements) are something that we can do when the time is right. We have been very lucky the community has been so generous with us and so supportive. We really rely on that so that we can take the best possible care of our animals.
We are a county zoo so we have support through the government and we also get support by donations. Even though we have had less people give, they have given more and we have noticed that. We still have a long way to go, but the community has really stepped up. Our (revenue) projections will definitely not be met but having said that, we are incredibly grateful for the support we have gotten.
How does conservation efforts work there? How do you approach those who might look down on captivity as a part of that?
We are definitely passionate about getting the word out that these (zoos) are about animal conservation and we love animals as much as anyone else does. There is a constant education piece to that that we are always doing because we want people to understand why we're doing what we're doing.
Since the change over last year, we revamped our membership program, so if you are a member, 50% of the membership fee goes to the zoo and zoo animals and the other 50% goes towards conservation. We also host Conservation Days throughout the year. When we raise money for conservation we're very clear about where it's going and what we're doing with it.
We also give our time. We volunteer in Asia for many orangutan rehabilitation and rescue centers. Part of that is training professional animal care takers and medical staff. We work with them to bring over medical supplies that they desperately need. A lot of times it's medication and medical equipment and we work towards getting that for them as well.
Hopefully one day everyone will realize when you come to the zoo you're helping the conservation of animals and also having great guest experiences.
What's the latest on COVID transmission to animals? Do you test the animals for COVID?
There have been tigers who have contracted COVID at a New York zoo. To my knowledge that zoo was the only one that had any positive zoo animals. We've been told badgers, otters and our skunk are more vulnerable, so those are animals that we ensure there is way more than 6 feet separation between them and the visitors so you probably can't see them all that well at the moment.
We have not had to test our animals for COVID. We monitor for the symptoms and that would be why we would test. From what I understand, with cats, they get the same type of dry cough. We haven't had any staff or animals or anyone have any issues. I believe a lot that is partially due to the fact that we're so good in using personal protective equipment in our day-to-day anyway.
So how does one become a zookeeper? What was your path, and how was working at Disney's Animal Kingdom?
I'm from McFarland and grew up with this zoo. I remember being 5 years old and saying I wanted to work with zoo animals. I started my career here as an intern in the early '90's. There are a lot of different ways to get here.
A biology degree, even psychology degree can be great for animal training. Generally speaking, you do need a four year degree but that is not always the case. Some zoos will take apprenticeships. There are also two year technical college programs that are 100% towards zoo keeping. I went to UW-Stevens Point and did a captive wildlife management minor.
If you want to work in this field you have to be willing to move to where the job is. I kind of went around the country basically to learn everything I could about the zoo business. When Disney's Animal Kingdom Kingdom opened in 1998, it was the coolest thing ever. It was an exciting time. It was the epitome of showing how zoos are evolving and changing towards conservation. It was really fun and I guess the only reason I left Disney was because of hurricanes in 2004. I went over to the Denver Zoo as a primate supervisor and that's where I really fell in love with orangutans.
Just saying 'yes' to opportunities as they come is how I've gotten to where I am.
What specifically draws you to orangutans?
When I first started at the Denver Zoo, I had not worked with any orangutans and gorillas. My twins were 2½ and I remember going down the hall and I would see the gorillas running away and making noise and running around and they reminded me of my toddlers. But then I would go down the hallway where we had a very specific male orangutan, Robin, and he would just sit there with you and he would look deep into your eyes. They just have such a gentle air and dignity about them. I just fell in love with them. They're just so smart and so adaptable and they read us as much as they read them. I find them just fascinating.
Last week there was National Orangutan Day, right? What kinds of things are threatening them in the wild?
There are a lot of things. It's because of deforestation. They're cutting down the rainforest for timber for palm oil. It's a little complicated but you can sustainably source palm oil. Cheyenne Mountain Zoo has an app about where you can get sustainable products with palm oil.
I'm the leader of the Organization Save Animals From Extinction, SAFE, program for orangutans which is saving orangutans. We work with research centers in Borneo and we have done replanting of trees. There is this project where you put trees back in the corridors of Borneo. The zoo is a place where you can go and see the animals in a family friendly place, but we're also trying to save those species. So the animals are kind of the ambassadors for their cousins in the wild.