"Mobile office, activate!"
Satya Rhodes-Conway sat in her car, parked just off of the Capitol Square in downtown Madison. She pulled her laptop out of a work bag, which she jokingly referred to as an extension of her kitchen-table campaign office, and connected to a wireless hotspot through her phone before spending about 15 minutes responding to emails and approving digital ads.
The date was Friday, March 22. Eleven days remained until Election Day.
Rhodes-Conway was not quite halfway through what would end up being a 10-hour day packed with endorsement meetings, a speaking engagement at a community center, a Facebook Live chat and many phone calls. She would also take a few minutes to vote early at the Central Library, which ended up being an emotional experience.
It was a relatively relaxed day of running for mayor.
"If you're going to put your name on the ballot, you have to be serious about winning and you have to do what it takes," Rhodes-Conway said. "Not in a cutthroat way, but in a put-in-the-hard-work-and-hours kind of way. That's what I'm doing."
Rhodes-Conway would go on to oust incumbent Mayor Paul Soglin in a landslide, claiming nearly 62 percent of the vote. She won in over 50 voting precincts that Soglin and other challengers claimed in the Feb. 19 primary.
She did it with a positive campaign, leading with the message that Madison should be a place where everyone can thrive. Her strategy was to connect, personally, with as many voters as she could, knocking on doors and introducing herself at candidate forums and community gatherings.
"It's very representative of who I am, a very grassroots approach, so it works well for me as a candidate," Rhodes-Conway said. "It works well in terms of dynamics in that I'm up against somebody who has name recognition, so having real people show up at real people's doors and say, 'I'm for her and here's why,' I think is effective."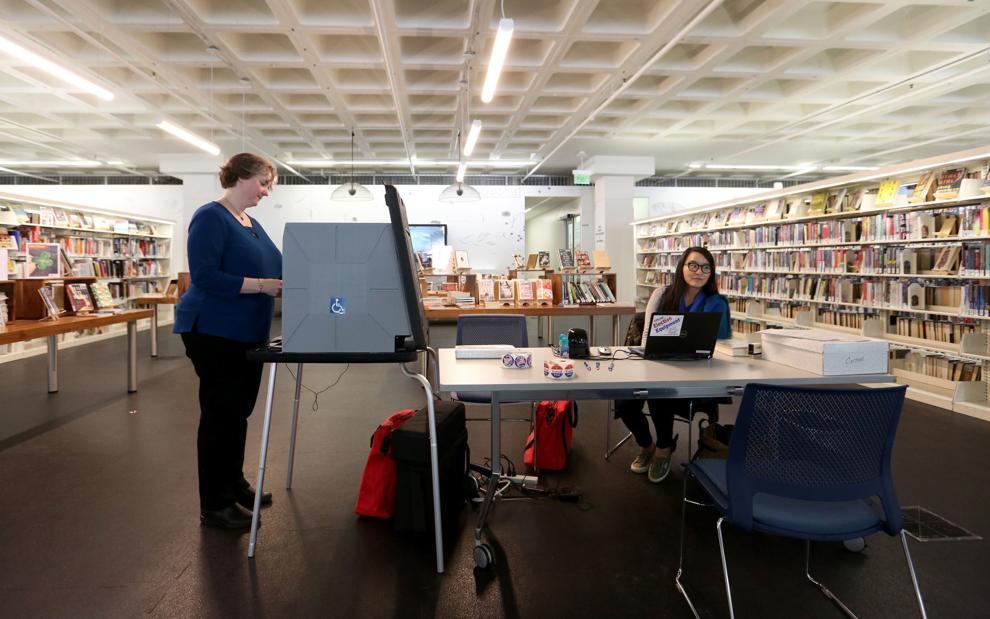 Ground game
As a former three-term member of the Madison City Council who has remained active in public life by serving on the city's Food Policy Committee and Oscar Mayer Strategic Assessment Committee, Rhodes-Conway entered the race last May with some citywide name recognition. She spent the last 14 years working as director of the Mayors Innovation Project at the Center on Wisconsin Strategy, which helped bolster her case as a formidable challenger.
But she was looking to unseat Soglin, running for his third consecutive term. Soglin served 22 years as mayor spread over five decades. His nickname, "Mayor for Life," isn't much of an exaggeration.
"Every part of the city knows Mayor Soglin," said Michael Jacob. A volunteer adviser to the Rhodes-Conway campaign and the former elections chair for Progressive Dane, he has played a role in about three dozen local campaigns. "People take their city leadership seriously. We need to give them a good solid reason to turn in a different direction from someone they have known for a very long time. That is just not going to happen through a 30-second spot or a Facebook ad."
After finishing just 323 votes behind Soglin in the primary, Rhodes-Conway had to convince the thousands of voters who voted for opponents Mo Cheeks and Raj Shukla — as well as those who didn't turn out in February — to choose her on April 2.
According to the Madison City Clerk's office, 79,453 people voted April 2, 40,700 more than the primary turnout.
Knocking on doors and distributing literature by hand is known as a campaign's "ground game." It helped that focusing on connecting with individual voters was a deliberate choice that reflected Rhodes-Conway's priorities.
Throughout the campaign, Rhodes-Conway appeared at numerous candidate forums and community events. Supporters organized house parties that were more focused on introducing her to neighbors rather than soliciting funds. She cut her days at work down to one per week to devote time to campaign. At forums, Rhodes-Conway purposefully worked the room and introduced herself to those attending.
Rhodes-Conway and hundreds of volunteers went door-to-door in neighborhoods across the city, talking to potential voters and dropping campaign literature.
"There was nowhere she wouldn't go to talk to people," said Ald. Rebecca Kemble, who served as the campaign's treasurer.
Their efforts worked.
On April 2, Rhodes-Conway collected 47,915 votes — 61.9% — compared to Soglin's 29,150, or 37.7%. She broke into Soglin's former strongholds on the east and west sides of the city, areas her campaign canvassers targeted.
Rhodes-Conway was knocking on doors on Election Day in the Cherokee neighborhood, an area won by Soglin in the primary that Rhodes-Conway flipped to her favor in the general.
"That says to me that it made a real difference for people to be out there at people's doors having the one-one-one conversations," Rhodes-Conway said.
It also confirmed to Rhodes-Conway that building relationships with voters — the aspect of campaigning she enjoys most — is valuable.
"It's actually really reassuring to me that canvassing and a field plan still matters even at this scale of a race because that's what politics should be about," Rhodes-Conway said. "It should be about personal connections and the conversations." 
Knocking on doors allowed Rhodes-Conway to understand the "contours" of issues like affordable housing and allowed her to connect with Madison residents.
"The more people you talk to, the more you understand what is the spirit of a neighborhood, what's the soul of a city," Rhodes-Conway said. 
Jacob said about 240 volunteers were required to cover 229 literature distribution routes. The campaign set up four "lit drop" stations — including one on Rhodes-Conway's porch — strategically located on the east and west sides of the city.
Rhodes-Conway flipped 45 precincts that Soglin won in the primary, including nine precincts where more than 1,000 votes were cast in the general election. She also swept the 16 precincts where Cheeks and Shukla won in the primary.
Of the 24 precincts with 1,000 or more voters, Rhodes-Conway won 23. She dominated the isthmus and near east and west sides and stacked up wide margins in many large turnout districts. In the near east side's District 6, she secured 4,716 votes to Soglin's 1,253 — more than three to one.
Soglin won 15 precincts, but by modest amounts.
Winner by ward

Rhodes-Conway
Soglin

---

50-52%
52-54%
54-56%
56-58%
58-60%
>60%
Spending money at the right time
Prioritizing the ground game over big media buys before the primary election wasn't just a philosophical decision for the campaign. There were financial concerns, too.
"You have to make choices and you make those choices based on what do you think works best in the place that you are, the district that you're in or what are your resources," Rhodes-Conway said. "We made the choice early on that field (campaigning) was going to be really important for us."
Jacob said canvassing was critical pre-primary because the campaign did not have the funding for a television ad at that point. From Jan. 1 through Feb. 4, Rhodes-Conway's campaign raised $31,020 and spent $45,967, finishing the period with a cash balance of $10,149.
Jacob also said that Madisonians were "having a tough time making a decision" and felt a door-to-door strategy would be more productive.
"The ability to talk through whatever nuance the voter wanted to get into is a relationship with the voter that you can't have through TV or social media and that paid off," Jacob said.
But once she made it through the primary and more cash started flowing, the campaign did not shy away from the airwaves. Rhodes-Conway raised $125,754 in the weeks before the general election to Soglin's $77,265. Between July of last year and March 18, Rhodes-Conway raised a total of $210,085 compared to Soglin's $189,294.
Thinking about how much her supporters donated to her campaign made Rhodes-Conway emotional. Knowing that people who have never met her contributed to the campaign is "humbling" and carries with it an obligation.
"The money represents belief," Rhodes-Conway said. "It's not just the money, it's the people who are willing to walk door-to-door for me and that belief is a sense of responsibility for me that I have to take this very seriously because there are a lot of people counting on me."
Rhodes-Conway released her first broadcast television ad March 15, more than a week before Soglin's started running on March 25. From March 15 through the election, the Rhodes-Conway campaign spent about $80,000 on broadcast TV ads. The campaign also advertised on social media and other digital media platforms.
Zach Brandon, president of the Greater Madison Chamber of Commerce, said beating Soglin to TV in March allowed Rhodes-Conway to establish the issues in a race where the two candidates were relatively aligned.
"Being out first allows you to define yourself and not be defined," Brandon said. "That ad allowed her to come through and show off her thoughtful side and showed she understood the issues."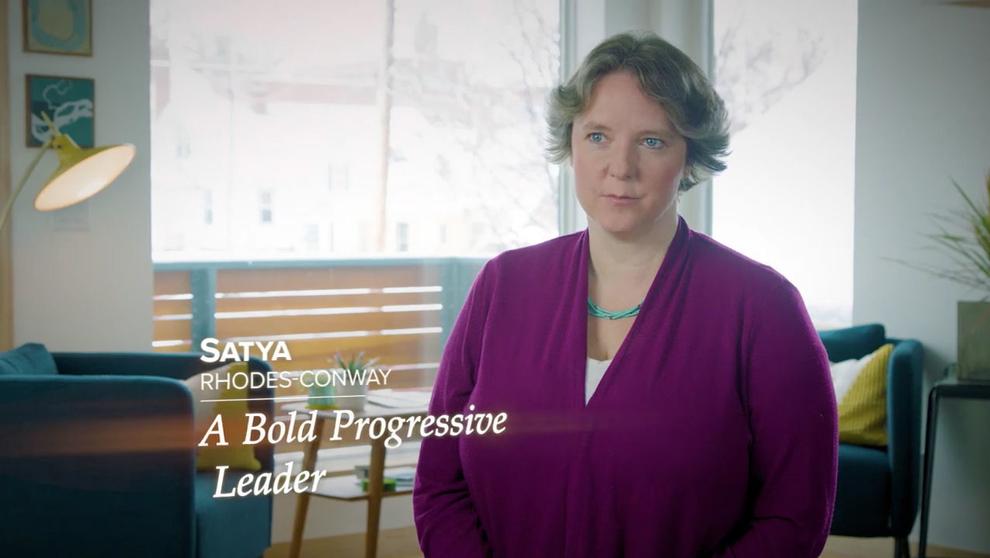 Brandon represented District 7 on the City Council from 2003 to 2008, overlapping with Rhodes-Conway's tenure, and he served as her assigned mentor on the council.
He described Rhodes-Conway's campaign, with its emphasis on data, as "flawless" and modern. During the primary, Brandon said Rhodes-Conway identified her portion of the electorate and got them to vote and employed a shrewd media strategy in the general election campaign.
Referring to the results of a Chamber of Commerce poll, Brandon said he didn't think a decisive Rhodes-Conway victory would be impossible, just improbable. The poll found that 27 percent of voters were "ride or die" Soglin supporters, 28 percent said they would never vote for him and 37 percent said they would be willing to consider another candidate.
Brandon said the election results illustrated the extreme "change mentality" of voters in this election.
"Voters came into the election ready for change and not because (Soglin) did anything wrong or because they disagreed with him," Brandon said. "They just wanted someone different." 
Throughout the campaign, Rhodes-Conway and Soglin both discussed climate change, racial disparities, transportation and affordable housing. The biggest difference between the two candidates came down to style.
A vote for Soglin could be argued as a vote for continuing Madison's successes, while Rhodes-Conway represented a different approach to the office.
"I don't think that people out there were saying Paul Soglin was doing a bad job, they just wanted to see more," said Michael Basford, chairman of the Democratic Party of Dane County. "They wanted to see more done and they wanted to see things tackled with a higher degree of urgency than what we've been seeing from city government."
Basford, who lost to Rhodes-Conway in the 2007 City Council race, was also surprised by her margin of victory over Soglin, though not by her "smartly run campaign" or her commitment to the race.
"She understands the power of organizing people to get out the vote and she has had a lot of boots on the ground," Basford said. "She worked incredibly smart and had a very detailed plan and executed it and that doesn't surprise me either because that's what she does."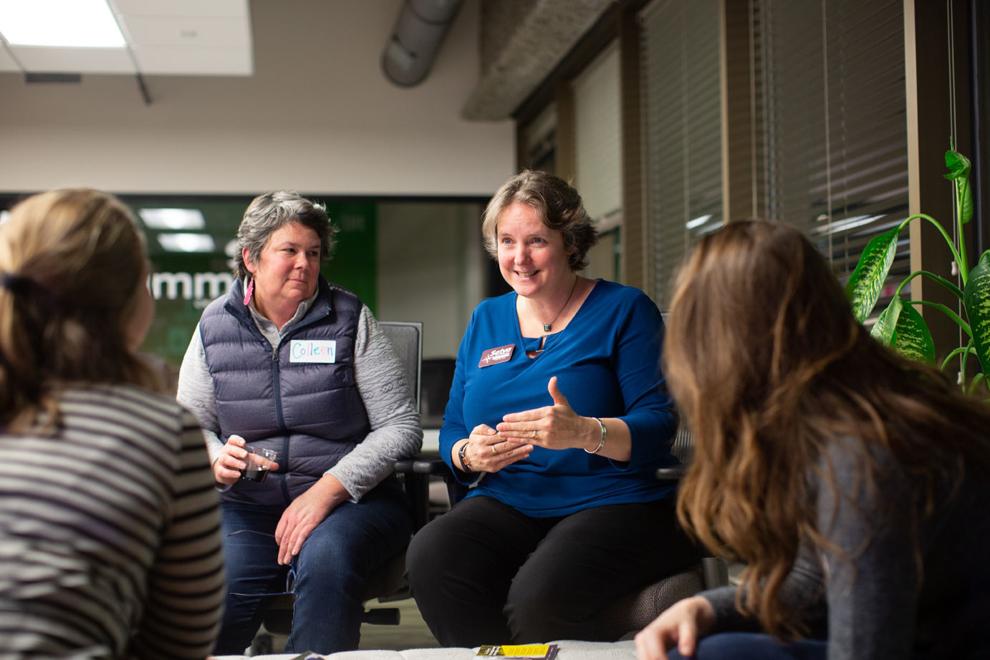 'I have a go speed'
In the course of a day on the campaign trail, Rhodes-Conway discussed thorny issues with Madison Professional Police Officers Association members over a breakfast of black tea and steel-cut oatmeal. Her answers reflected her preparation and it appeared she was never caught off guard.  
She was also not afraid to broach difficult topics. Throughout the campaign, Rhodes-Conway would say Madison is racist, explaining that the city's structures and institutions are inherently flawed. She said Madison will never able to deal with structural racism if leaders don't acknowledge it. Soglin bristled at this topic in several candidate forums, arguing that the people of Madison are not racist and the city is not racist because of its values and the progress it has made.
"I'm not going to lie to get people's votes," Rhodes-Conway said. "I specifically don't want people to vote for me based on a false assumption. I want people to know who I am and what I believe and hopefully that means that they want to vote for me, but it's OK if they don't."
Later in the morning, she got some work done in a meeting room at the Central Library before heading to the Bridge-Lakepoint-Waunona Community Center where she spoke in front of a roomful of neighbors, navigating questions that addressed police issues and drivers speeding in the neighborhood. She took a meeting with the Chamber of Commerce.
In the evening, Rhodes-Conway appeared on a live Facebook video chat with Percy Brown, the director of equity and student achievement in the Middleton school district.
Watching Rhodes-Conway on the campaign trail, it's hard to tell she's an introvert. Putting herself in front of the public on such a large stage and working a room does not come naturally to her and often required internal pep talks, she said.
"I've joked with people a couple of times that I'm so far outside of my comfort zone that I don't know where my comfort zone is," she said.
Though campaigning was "incredibly hard" and each day was scheduled down to the minute, Rhodes-Conway didn't complain.
"I signed up for this," she said.
Likewise, Rhodes-Conway does not plan on letting up now that she has been elected.
"There are a lot of incredibly hard working people who work for the city, and I don't want anyone to ever be able to say that I'm not working as hard as them," Rhodes-Conway said. "I'm going to work just as hard at this as I did the campaign. It's the same push. It's the same level of effort. … I don't have a low gear. I have a go speed."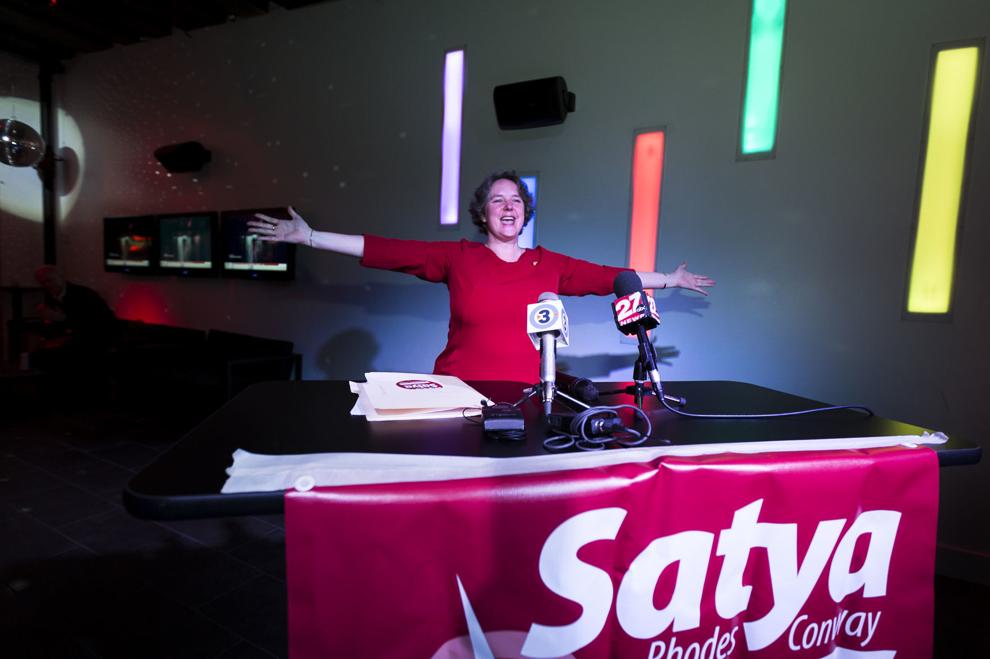 Those who know Rhodes-Conway well agree. 
"She had a relentless, positive message, emphasizing that she was running for mayor and not against an opponent," Kemble said. "I've never really seen that kind of focus and dedication, and I know that's how she's going to approach her job."
Jacob said voters recognize that Rhodes-Conway is "steady and so genuine."
"The sincerity and the genuineness that Satya brings just makes people feel comfortable and enthusiastic and confident in saying, yes, this is the right person to execute a change with," Jacob said. "Not every candidate can bring that."
Basford is confident that Rhodes-Conway will tackle complicated issues addressed in the campaign, though he cautioned voters that Madison "didn't elect a wizard with a magic wand to wave and make changes happen."
"But I strongly believe that she is going to make a lot of the right decisions," Basford said. "She is going to forward her agenda in the way that she wants to and I think her leadership skills will blend very nicely with the City Council. I think you'll see some cooperation between the City Council and the mayor that you have not seen in a long time."
Since the election, Rhodes-Conway has been working "basically nonstop" on the transition to taking office. She hired Mary Bottari as her chief of staff and is in the process of hiring four deputy mayors. She will be sworn in at noon on Tuesday, April 16, and said she wants to put herself in a position to get to work as soon as possible.
"The message that we put out resonated with people, and so I feel a responsibility to really follow through," Rhodes-Conway said.