After serving time in Adams and Columbia County jails,  Kevin Kieren decided to move to Madison, where he arrived about five years ago with $100 in his pocket and nowhere to go.
He checked into a homeless shelter and was directed to the Off the Square Club, a daytime shelter and resource center for adults living with mental illness. He has been "grinding away" ever since.
"This is basically my only resource that kept me from barely alive," Kieren said. "I've got nothing but love for this club."
The club meets in the basement of St. John's Lutheran Church at the corner of East Washington Avenue and North Hancock Street every weekday from 9 a.m. to 4 p.m. To join, members must have a verified primary diagnosis of a mental illness, be at least 18 years old and reside in Dane County.
Todd Winstrom, a case manager who runs the program, said the club provides resource assistance and referrals to Dane County mental health programs and services that can help members either begin or maintain therapy.
Some members come to eat a hot meal, watch T.V., use a phone or computer, do their laundry or take a shower. Members also make social connections and find comfort being where everyone knows their names, "like the 'Cheers' theme song," Winstrom said.
"For people who would otherwise be out struggling a lot more, at least five days a week, 9 to 4, there's a safe positive place to come, get connected to services, move on," Winstrom said.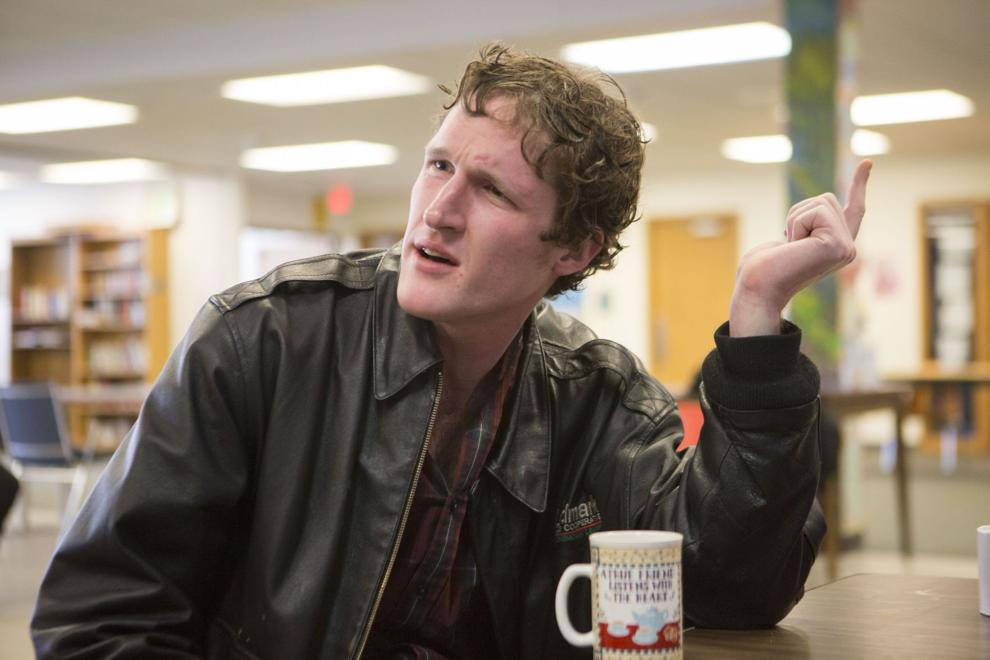 Among those hanging out at the club on a recent Wednesday was Madison police officer Andy Naylor. After mingling with some members, he grabbed some lunch and joined a table. Shortly after finishing his meal, Naylor escorted an intoxicated man out of the building.
Crises are what often bring law enforcement officers and people with mental health challenges together. Though officers may be skilled in handling emergencies, they are not licensed clinicians. Resolving a mental health crisis frequently requires collaboration between police officers and mental health professionals. The Madison Police Department has made that collaboration a higher priority in recent years, but significant challenges remain.
Winstrom said the MPD's system of assigning one specially trained officer to each district to handle mental health calls is an improvement and Naylor's dedication has helped some club members develop a more positive view of the police.
"(Naylor) will be interacting as a human being, treating them as a human being," Winstrom said. "What that can do to remove some of that past experience is enormous."
But for some, putting law enforcement officers in frequent and direct contact with those struggling with mental illness is difficult to reconcile. Kieren had only good words to say about Naylor but couldn't make sense of the dynamic between law enforcement and mental health.
"The idea of how does a person with a gun on their belt fit into a mental health situation, it's an interesting dynamic when you think about," Kieren said. "(Naylor) is the nicest guy in the world, but there is still a gun on his belt."
The Madison Police Department created a team of mental health liaisons in 2004, building off a single sergeant position created in the 1980s that was dedicated to working with mental health agencies. Combining law enforcement duties with mental health assistance is a balance, Sgt. Sarah Shimko said.
"The interaction between our job as law enforcement officers and also guardians of the community, it's difficult because we do have that job to do and ultimately we don't want to criminalize things," Shimko said.
Prior to working as a police officer, Shimko studied communication and school counseling and has always been interested in working with people who have mental illnesses. She joined the MPD's group of mental health liaisons and learned to navigate interactions with those struggling with mental illness as a police officer versus a mental health provider.
Shimko is the lead instructor for the mental health curriculum at the MPD training academy. She took over from former Capt. Kristen Roman who led the department's mental health efforts before recently taking over as the University of Wisconsin-Madison's police chief.
Shimko also coordinates the MPD's mental health liaison program. As of Feb. 20, the MPD has 29 mental health liaisons, officers interested in mental health issues who provide specialized case management and coordinate services with mental health providers.
In addition to the liaisons, the MPD assigns a specially trained mental health officer to each district. An in-house emergency crisis worker from Journey Mental Health, one of the largest outpatient mental health and substance abuse treatment clinics in Madison, is also on board. Without having to respond to calls, mental health officers can spend their days doing follow-up work and outreach with individuals and families who have had contact with law enforcement.
As a mental health officer, Naylor is able to spend part of his day every Wednesday at Off the Square Club. He establishes relationships and has occasionally leveraged his knowledge to help club members when they are involved with the police.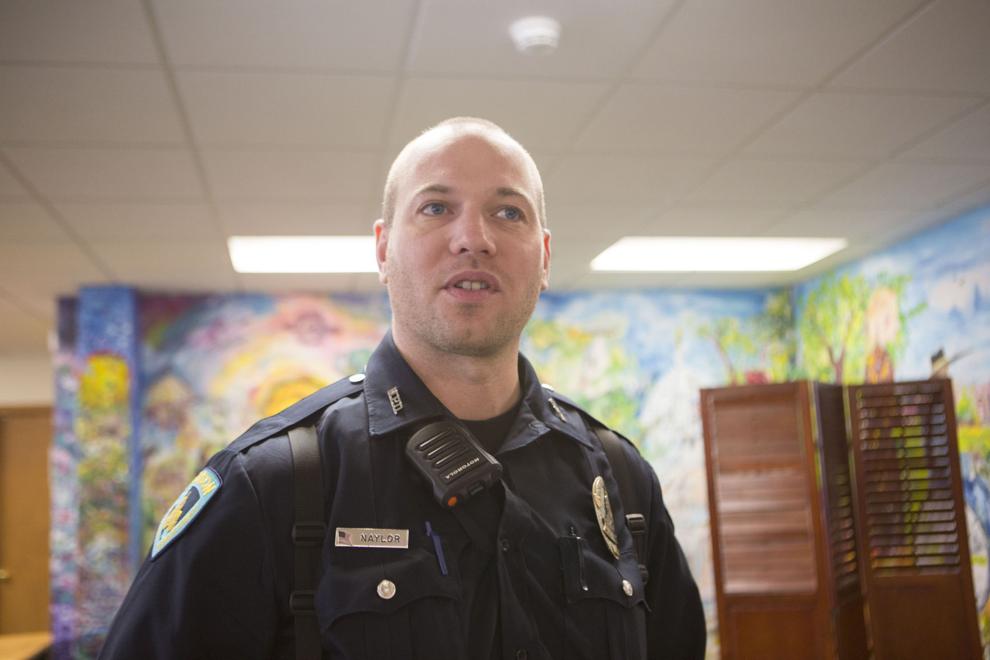 "I'll hear their name on the radio, and even if I'm not able to respond to a call they're involved in, I'm able to give officers a heads up about who the person is," Naylor said.
Fellow officers will also contact Naylor if they encounter and are unable to resolve a situation with a person facing a mental health crisis. That includes night shift officers who Naylor said are at a great disadvantage because many agencies and services are closed at that time.
"At night, if you're confronted with a mental health call, it's hospital or it's jail, essentially is what it comes down to," Naylor said.
Along with the liaisons and mental health officers, the third piece of MPD's mental health policing structure is Sarah Henrickson, the in-house Journey crisis worker. A little more than a year ago, the MPD partnered with Journey Mental Health Center to dedicate a crisis worker to work with the mental health officers and respond in the field.
"I think of myself as a satellite crisis worker," Henrickson said.
Henrickson has access to both police and Journey mental health records. While she has to respect patient privacy, she can inform police officers about those who are generating calls for service due to mental health issues.
When she can, Henrickson accompanies officers on calls they know will involve mental health crises.
"It's just absolutely not feasible on any consistent basis, so that's why we're not dispatched so much as just helping out when possible on those active calls," Henrickson said.
In January, the City Council approved an agreement with Journey that would add an additional two crisis workers who will be able to provide wider coverage.
"Frankly, we rely on them heavily for their subject matter expertise," Chief Mike Koval told the council. "We have never posed these officers as having unique ability to act as clinicians."
Though Madison's five designated mental health officers are specialists, they do have limitations on what they can do.
Naylor thinks of himself as a "connector" to other mental health resources.
"I don't consider myself a mental health expert per se in the sense that I don't diagnose people, I don't prescribe medications," Naylor said. "But I know who does."
On a call requiring mental health services, a patrol officer may be able to identify a problem while a mental health officer can identify the problem and develop the next steps quickly.
However, even well-trained police officers are no substitute for mental health professionals, Henrickson said.
"Just like I don't think we should expect our social workers to be tactically trained to disarm people from weapons, I don't think we should expect our police officers to be psychologists or clinical social workers or things like that," she said. "There has to be a balance of kind of how much we can expect people, professionals to have expertise across so many large areas."
The MPD incorporates specialized crisis management instruction when training new recruits in how to serve those with mental illnesses.
The most recent class of recruits participated in an exercise led by the Dane County chapter of the National Alliance of Mental Illness. The recruits were asked to accomplish tasks while listening to a track of voices to simulate auditory hallucinations that someone who has schizophrenia or is in psychosis may experience.
Recruit Clare Gloede struggled with the exercise.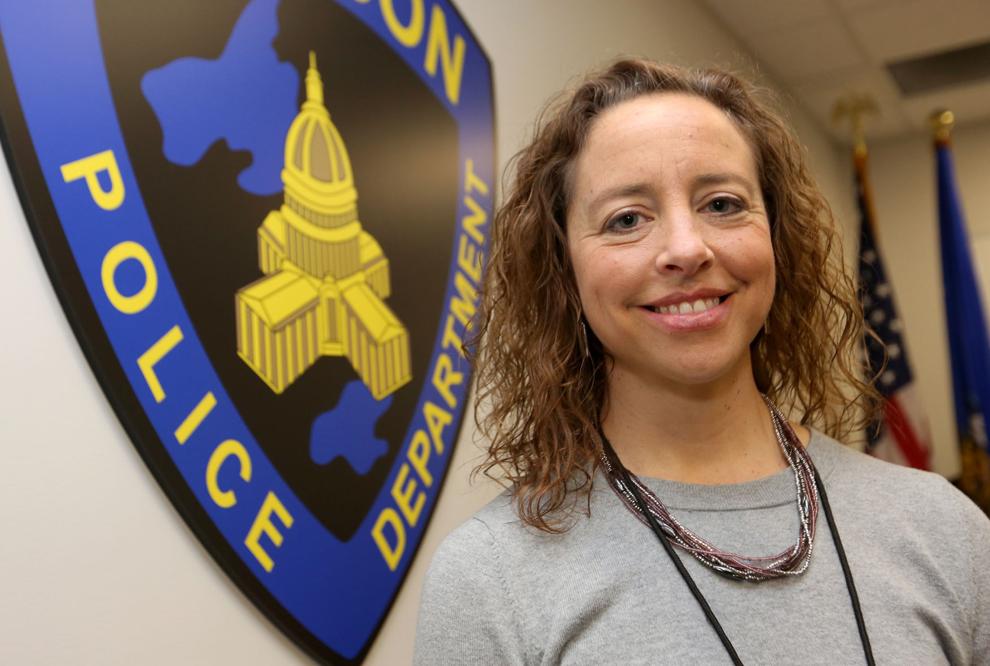 "When you don't have something like that in your life or you never had to experience that, it's a new experience and your brain is scrambling to figure out the balance," Gloede said. "When you put in an activity on top of that, you don't want to fail, but it's really hard to get through it."
After the training, Gloede said she understands more about what someone with a mental illness may be dealing with and has a greater understanding of what she as a police officer can do.
"I experienced how hard it is now, and I don't share the experience obviously, it was just an exercise, but I have a better understanding of what it may be like," Gloede said. "I only had it for 10 minutes, so to have that for a lifetime would be very difficult."
The 2016-17 class of recruits completed academy training at the end of February and are now undergoing field training.
NAMI director Lindsay Wallace, who lives with a mental illness, said the organization aims to increase understanding and break down mental health stigmas. Even experiencing 10 minutes of the "hearing voices" exercise can lead to change.
"I think part of what we're trying to do is show more empathy and compassion and the best way to do that is go through similar situations of what would it be like if someone were talking in your ear constantly, whether it was a very neutral conversation they were having or more violent thoughts," she said.
In addition to the exercise, Wallace said hosting a panel of individuals who have experienced mental illness allows new officers to put a face on the topics they're learning about. Wallace shared her own story of living with Bipolar II disorder and the mental health crisis she experienced.
"(Police are) the experts in handling crisis situations that involve a potential for violence, but we're the experts in the sense of knowing how best to interact with people who have a mental illness," Wallace said.
Despite MPD's effort to effectively handle mental health crises, Shimko acknowledges the public could be frustrated, believing police officers are not doing enough. In some ways, police officers are frustrated, too.
"We have to operate within state statutes and the law," Shimko said, referencing the state's alcohol, drug abuse, developmental disabilities and mental health act, commonly called Chapter 51.
Police cannot compel treatment unless an individual is explicitly endangering himself or someone else. Officers sometimes encounter situations where they can't do anything to help someone who refuses treatment.
Henrickson said she sees "heart- wrenching" cases on a daily basis where an individual might be acutely psychotic but refusing treatment and continuing to live with a low quality of life.
"When we have that person that's clearly suffering a mental health crisis and is either declining to get help — which they have a right to do if they're not putting themselves or others in imminent danger — or the appropriate services are not available or immediately available," Henrickson said."Then you feel stuck."
Naylor said in these cases he is forced to wait for something dangerous to happen that would allow him to intervene.
"Our job is to prevent something bad from happening and it's kind of a miserable situation to be in when you can't do anything about that," Naylor said.
An emergency detention is when someone with a mental illness needs to be detained, not for a crime, but for safety reasons. In these cases, officers typically transport subjects to the Winnebago Mental Health Institute near Oshkosh. The state stopped letting police use the Mendota Health Institute on Madison's north side for that purpose in 2014, after services had been consolidated to Winnebago in 2009.
"The current alignment of services at the state mental health institutes allows each hospital to focus primarily on one service area and address the ebbs and flows of the demand for their service area more efficiently and effectively," Department of Health Services spokeswoman Jennifer Miller said. "It also allows for consistent policy and continuity of care patients when they are discharged."
An appeals court upheld a ruling March 9 dismissing a lawsuit brought by the city of Madison against the state Department of Health Services. The city argued that the trips to Winnebago are too long for those undergoing mental health crises and they cost the city too much money.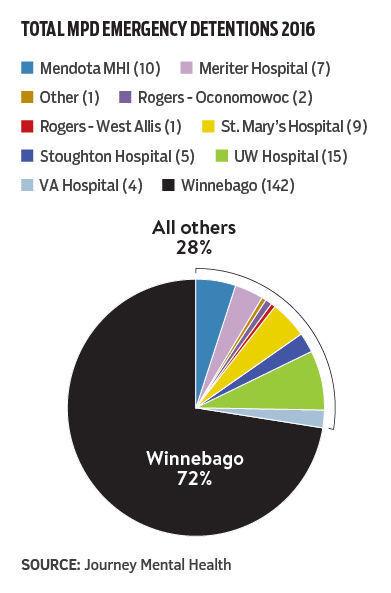 Closing the facility at Mendota has meant that subjects who previously would have been able to stabilize near their families and support networks are forced to ride in the back of a police car to an unknown facility. It also means that Madison police officers are taken off patrol to make the trip.
"It has had a drastic impact on the number of officers we have on the street," Shimko said. "I've heard from families, specifically during advocacy meetings at NAMI, that it does have drastic impacts on the consumers and their families when they're uprooted from the community."
Madison police dealt with 142 emergency detention cases in 2016 that each involved two officers traveling to WMHI, according to data from Journey Mental Health. In 54 other cases, Madison officers brought individuals to Madison hospitals including Meriter, UW and the VA Medical Center.
"That is a big barrier to them going to other calls, doing proactive work when you're taking that much time from an officer," MPD Capt. Jim Wheeler said. "It is a drain on our resources, especially with the call volume we have in the city."
Each of the trips to WMHI costs MPD about $163.58 per officer and $100 in gas expenses, according to department data. The estimated costs in 2016 for WMHI trips totaled about $60,719 compared to about $3,582 for the other 54 emergency detention cases.
Wheeler, who leads the mental health team as the new head of the MPD's Community Outreach unit, said the cost does not take into consideration overtime for officers or the differences in the officers' hourly salary based on years of service.
As a new officer, Gloede said it was hard for her to understand that police are not always able to do what they think is best for an individual due to lack of resources. Driving a person in crisis to Winnebago is a situation where she feels officers' hands are tied.
"The intentions are so good but sometimes you can only do so much," Gloede said. "Some people think police have this ultimate power and can change everything … but there's limitations and as much as an officer maybe wants to help and contribute, there's a point where they maybe can't anymore and it's not necessarily by their choice."
While police and service agencies face challenges, groups like Off the Square Club are still there for individuals who want to start plugging in to services.
"This is a place where folks who aren't strongly connected to other services can come and start and get some support," Winstrom said. "As there are more people out there who are having a harder time getting connected, we're more of a refuge for those folks. A first step, maybe a bridge."