It's Tuesday afternoon, just three days since 28-year-old Emily Ford has been back home.
Things in the real world seem fast — really, really fast. And loud. Being back inside a building all the time has her body "craving the sun." Sometimes she finds herself opening up the refrigerator door and staring inside at all the food. Airplane mode is her new favorite phone setting.
"I've noticed since coming back I remember to take pauses while I am thinking and listening to other people," Ford said from her home in Duluth, Minnesota. "We live in this fast world where quick responses are expected. We are expected to give quick responses and we expect to receive responses quickly. It's been nice to not always feel that need."
These are among the first observations Ford is noticing after spending 69 days hiking Wisconsin's Ice Age Trail. The glacier-gorged path winds its way nearly 1,200 miles, stretching from Door County's Potawatomi State Park south to Janesville and back up north, before reaching its western terminus at Polk County's Interstate State Park.
When she and her loaner-dog Diggins, an Alaskan Husky, emerged from the trailhead last Saturday morning, Ford became the first woman and first Black person to complete a solo hike of the trail during winter. Mike Summers, of Portland, Oregon, was the first person to complete a solo winter hike in 2017. Ford said she doesn't want the fact that she is a woman, Black and gay to overshadow the fact she is an avid thru-hiker, meaning she picks long-distance trails and hikes them from beginning to end.
"I want to be known as a hiker," Ford said. "But for the sake of the times we live in, people need to know that there are people of color and women who are thru-hikers. I'm willing to be on that bandwagon."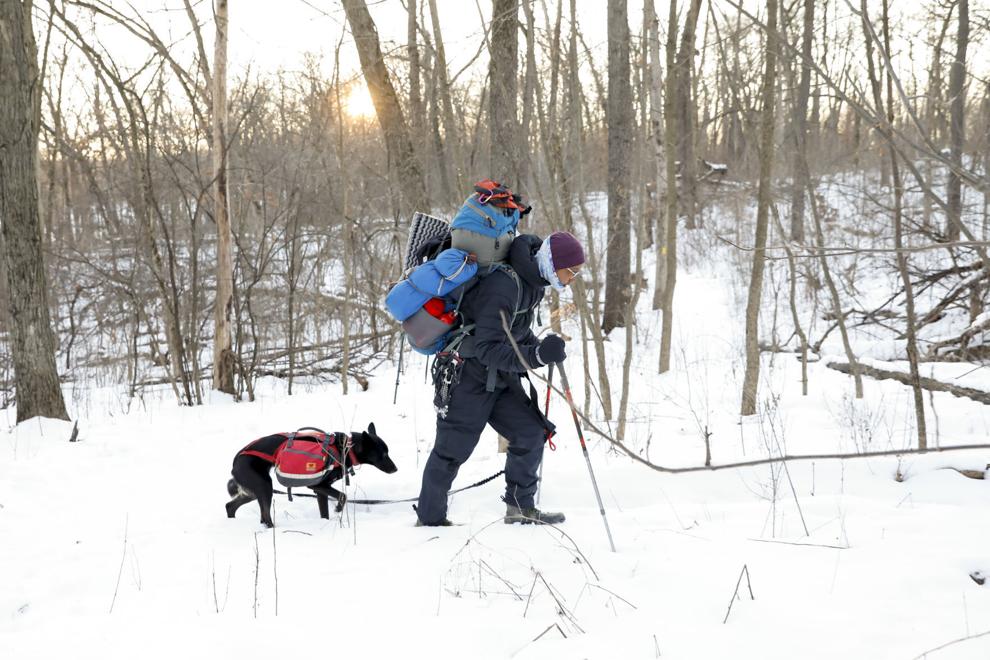 The head gardener at The Glensheen Mansion in Duluth, Ford has the winter months off. That and the fact she hates mosquitos make winter the perfect hiking season. While some may cringe at the thought of hiking for more than two months in Wisconsin's biting winter weather, Ford's description of the Ice Age Trail's changing landscape sounds almost magical.
She describes hiking through cedar forests on the eastern portion of the trail that were so dense she was hiking in near total darkness during the middle of the day.
"It was super dark, like pitch black," she said. "It was the coolest thing ever, almost mind-boggling."
She describes the beauty of the Kettle Moraine State Forest's rolling hills, Wisconsin's southern savanna landscape and the morning fog hovering over a barren, snow-covered corn field.
"Every morning I would get up and think to myself, it is so beautiful," she said. "I was trying to think of another word to use but I just kept saying the word beautiful over and over again."
Ford describes herself as a pretty fit person. Her strength is her physical strength but her cardio endurance was lacking. To train, she walked 10 to 12 miles a day with her gear to prepare for the roughly 500 miles of trail that are hiked on asphalt roadways. Hiking on roadways is harder on the body than hiking on dirt or packed snow, she said. To counter the calories her body would consume daily, she prepped enough food to consume 4,000 calories a day for 70 days.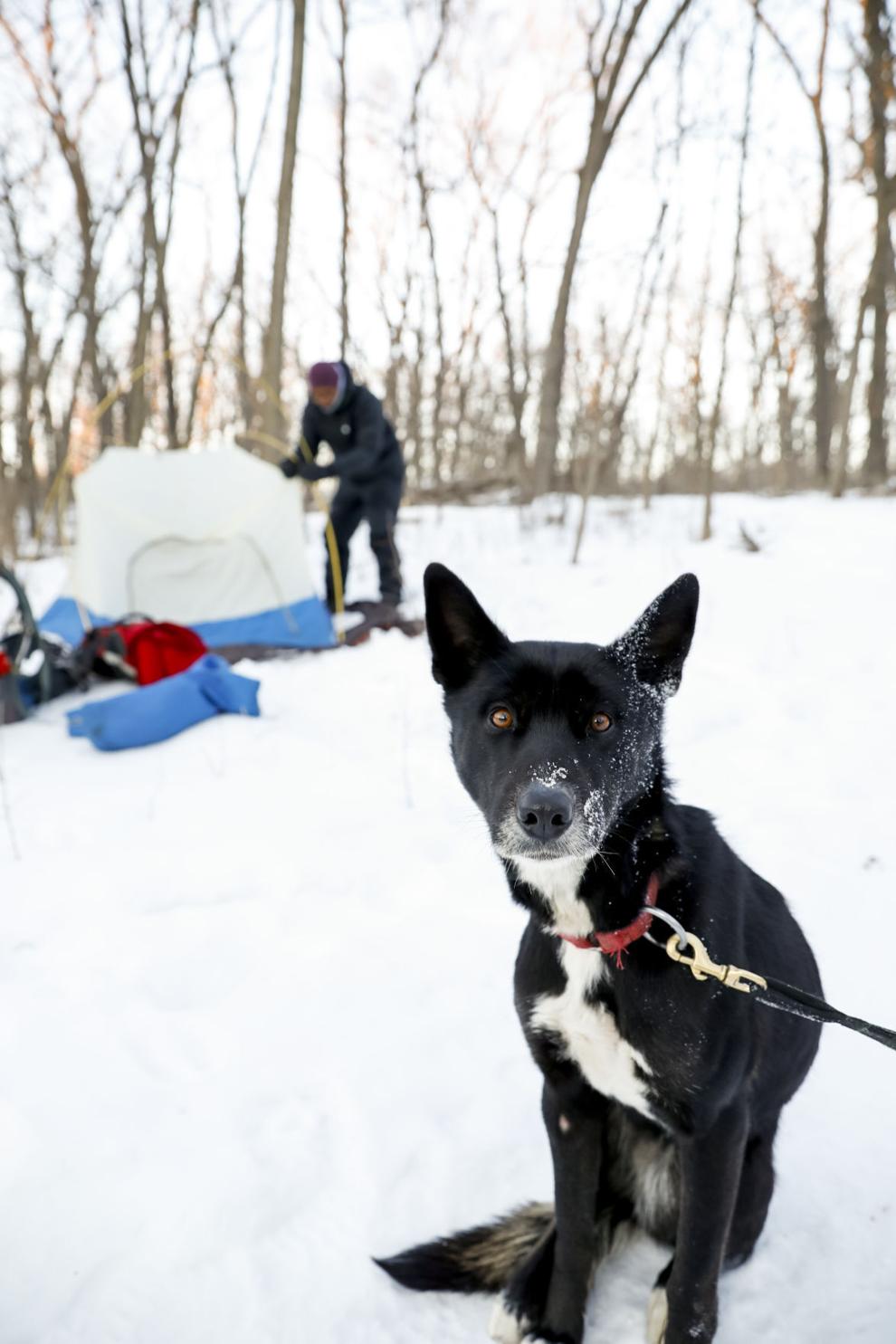 "You should check out my Instagram page. The tower of salami is pretty rad," she said of the pounds of salami her partner's employer Northern Waters Smokehouse donated to her for the trip.
Before leaving, she separated the food into eight bags. Friends met her at pre-scheduled locations to give her the bags and restock her food supply along the way. Despite the high-fat, high-protein, sugary diet, she still lost 20 pounds. Her pack weighed 65 pounds. In comparison, Diggins' pack weighed 10 pounds and included food, a first aid kit, a jacket and booties to wear when hiking through deeper snow.
Preparing for sleeping outdoors was the most expensive part of her trip. She spent $1,000 on a three-part sleep system that kept her warm on the below-freezing nights. She brought a fuel canister to melt snow, putting the water inside insulated water bottles to prevent them from freezing. At night, she would put one of the canisters by her feet inside her sleeping bag for added warmth.
It's when she reflects on the time she spends outside alone, sleeping in the dark, that the historic weight of her journey tugs at her. Her dad will not sleep in a room with windows. Her older sister loves the outdoors but has always told her she would never sleep outside.
"She's not angrily against it but I can sense her fear," Ford said.
Ford knows this fear can be traced to a belief among Black Americans that "bad things happen under the cover of night."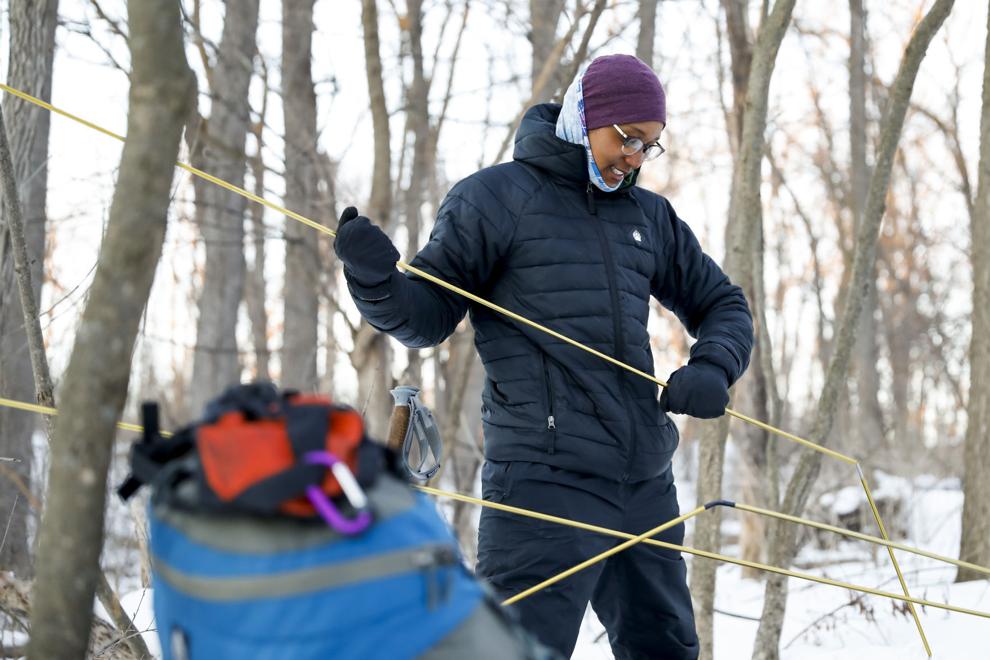 "For our history—people of color—darkness was a scary time. We were pretty much hunted like animals, dragged out of our homes and dragged to this country," she said. "If you ask most Black people, they will tell you bad things happen at nighttime. Even if they've never experienced the actual trauma and danger that our ancestors experienced, it is just passed down."
It visibly angers and saddens her that this inherited fear will prevent many from ever stepping outside a tent at 3 a.m. and looking up to see a sky full of stars.
"Everybody should experience that," she said. "Most of us here are probably from West Africa. We are the people of the outdoors. We are the hunters and gatherers. The fact that this was stolen from us is tough. I hate it."
Being seen as a role model for younger people of color to overcome this fear is a role she is willing to take on, she said. And as her more than 10,000 Instagram followers have come to expect from her signing off from videos along her journey, the sheer joy of experiencing the great outdoors can cause you to do, and say, strange things.
"Who says 'Woo-Hoo? I mean, what a weird thing to say, right? I don't think I'd ever said that before in my normal life," she said. "But that's what I started saying and it caught on. I guess it is the sound I started making outdoors, when I'm happy."