After reaching an agreement with management, nurses at UW Health have called off a planned strike, representatives from both sides said at a Monday news conference at the state Capitol. The deal was brokered by Gov. Tony Evers, who has consistently expressed support for the union effort.
The three-day strike was set to run Tuesday through Thursday this week unless management agreed to recognize the nurses' union, a goal nurses at UW Health University Hospital, American Family Children's Hospital, East Madison Hospital and Madison-area clinics have been working toward for years.
Those nurses were previously unionized through SEIU Healthcare Wisconsin, but their last contract expired in 2014. At that time, the UW Hospitals and Clinics Authority (UWHCA) said Act 10, a 2011 state law which effectively eliminated collective bargaining rights for public employees, barred it from negotiating a new contract with the union. The nurses, meanwhile, call that an "excuse," contending that management has the authority to voluntarily recognize their union regardless. 
The deal stops short of recognizing the union, instead laying out the steps that UW Health will follow to get an authoritative answer to the legal questions of whether they are required to collectively bargain with the union and whether they can voluntarily do so even if not required. According to UW Health CEO Dr. Alan Kaplan, the agreement averts not only the planned strike but also the possibility of future "work stoppages."
Members of the nurses' union approved the tentative agreement with a 97% vote, a source familiar with the matter said, though they did not respond when asked what share of members voted. The strike was initially approved by a 99% vote by hundreds of nurses, who cited burnout, unsafe working conditions and patient safety among their concerns.
"Today, we celebrate a big step forward," said Collin Gillis, a UW Health nurse who spoke on behalf of the union at the news conference. He said the move was a win for those concerned about both patient care and working conditions. 
"I have always said that our union and our executive leadership at UW Health ultimately share the same values and concerns," Gillis said. "Starting today, we have the opportunity to meet at the table, roll up our sleeves and get to work. Together, we will make our hospitals and clinics the best they can be. I cannot wait to get started."
Both parties declined Monday to provide details on the specific process they would use to answer the legal questions, but Kaplan said the first step would be to ask a state agency to officially determine whether the hospital is covered by the Peace Act, a portion of the chapter of Wisconsin law that governs collective bargaining. While state and local governments are exempt from the Peace Act, it is less clear whether an independent body like UW Health is. 
If UW Health is covered by the Peace Act, it would be required to bargain with the nurses' union. That answer would likely come in a matter of months, Kaplan said, at which point either party could appeal the decision, which could extend the process for months or years. 
Should the agency, likely the Wisconsin Employment Relations Commission, determine that UW Health is not covered by the Peace Act, there will be a subsequent process to determine whether the hospital is permitted to voluntarily recognize and bargain with the union.
"For UW Health … it's always been about the legal question: Can we or can we not, after Act 10. recognize the union, whether voluntary or involuntary for purposes of representing our employees and collective bargaining?" Kaplan said.
The nurses' union, meanwhile, believes the answer is clear, Gillis said, citing a formal opinion Wisconsin Attorney General Josh Kaul issued on the matter in June. In the non-binding opinion, Kaul did not determine whether the hospital was required to collectively bargain, but he concluded that it was allowed to do so voluntarily.
"We believe and have always believed and continue to believe that (Kaul's) argument… answers the question, and we anticipate that that's the answer we will get in an official venue," Gillis said.
With the new agreement, Kaplan said, "even though we can maybe have different opinions on the legal issue, we both recognize we have different opinions and those need to be resolved."
The union has not reached any new agreements with management regarding nurses' specific demands, including those related to pay, benefits and working conditions. The focus of the negotiations, Gillis said, was the process of getting union recognition.
"We already are resetting our relationship with UW Health from one of dispute to one of productive conversation and I can't wait to continue that."
The negotiations began last Wednesday, facilitated by the Wisconsin Employment Relations Commission, Evers said. In hopes of averting the pending strike, he invited both parties to continue talks over the weekend at the governor's mansion. 
"It wasn't easy," Evers said, but "we came to a solution that all parties could agree on, (and I) could not be prouder to have been part of the mediation of this process."
Mariah Clark, a nurse in the emergency department at UW Health's University Hospital, was one of dozens of nurses who stood behind the podium at the news conference in support of the union. Clark called the agreement "a historical win."
"While we were hoping for full recognition, this gives us a clear path forward and some official mediation to guide us, which is more than we had before when the hospital was less willing to meet," Clark said. "It makes us one of the first groups affected by Act 10 to regain any of our rights, even if it's not full recognition yet. And I just couldn't be more pleased because this happened."
A years-long union effort
For more than three years, UW Health nurses have been working to resurrect their union as cost-cutting measures have made them increasingly concerned about understaffing, overwhelming patient loads and high staff turnover rates. They say those changes not only take a toll on nurses but also put patients at risk. COVID-19 has only exacerbated those issues, leading to a crisis, nurses say. 
"I've cared for COVID patients throughout the pandemic, and my colleagues and I have seen more patient deaths than ever before in our careers," said registered nurse Tami Burns, who has been diagnosed with post-traumatic stress disorder. "We've been suffering from extreme short staffing and cuts, and there's a mass exodus of our talented nurses … UW nurses must have a union so that we can stay in this essential profession we love and continue to be there for our patients."
Though more than 1,500 of the roughly 2,600 eligible UW Health nurses had signed union cards at the time of the strike vote, according to SEIU,  hospital management continued to say it couldn't legally recognize such a union.
When the strike was announced, UW Health issued a statement calling the decision "disappointing." 
"While UW Health can appreciate the idea of social activism, whether anyone supports or opposes recognizing a union to engage in collective bargaining is irrelevant until we determine whether one is legally allowed," the statement said, noting that Kaul acknowledged that his opinion was not legally binding. "UW Health will not violate the law."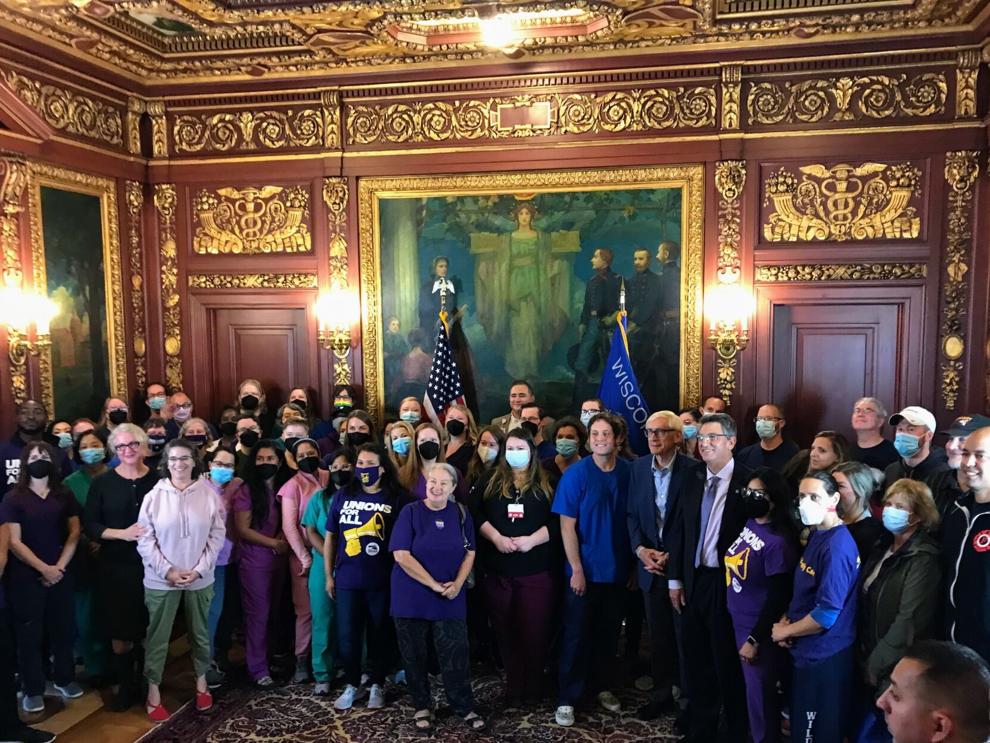 The hospital said its staffing ratios are "among the best in the nation" and its nurse turnover rate is "approximately half of the national average." It has hired more than 300 nurses, bringing its nurse vacancy rate "well below that of the majority of health systems."
The hospital called on the union to "petition the state for recognition through traditional channels." The strike, it said, would harm patients.
Meanwhile, the union has accused UW Health of launching "a toxic anti-union campaign" and threatening to fire nurses for their union activity, a move they say stresses nurses and in turn hurts patients.
Jack Kelly and Jessie Opoien contributed to this story.