Workers at 86 Madison polling locations are prepared to assist those voters who show up for Tuesday's partisan primary election, Wisconsin's second pandemic-era Election Day. But Dane County Clerk Scott McDonell expects most of their time will be spent on processing absentee ballots.
In-person absentee voting ended this weekend, but voters can turn absentee ballots in at the polls on Tuesday. Once polls open at 7 a.m. statewide, workers can begin processing the 506,709 absentee ballots returned as of Aug. 10, according to the Wisconsin Elections Commission.
While smaller municipalities may finish processing them as polls close, wards with large numbers of voters may need more time. McDonell said his office will be communicating throughout the day with polling locations across the county on their absentee ballot processing, but he warned it could be a later night.
"Everyone in the county should have confidence that the votes will get counted, and they will be accurate," McDonell said. "But I think everyone needs to set aside that we need to declare a winner by the 10 o'clock news."
As of Aug. 10, 82,107 Dane County voters submitted their absentee ballots, according to the WEC. In Madison, 46,737 voters have turned in their absentee ballots, which did not include Monday's mail delivery. To date, municipal clerks across the state have received 903,760 absentee ballot requests and sent out 894,786 ballots to voters.
Madison City Clerk Maribeth Witzel-Behl expects Tuesday's election to be more routine than April's. She said the city has a rapid response team of poll workers that will be available to help polling places process absentee ballots as needed.
"Poll workers should be calling our office if it appears that they will not be able to run the results by 9 p.m.," Witzel-Behl said.
During the April election, results from Madison were tabulated into the early hours of the morning because the clerk's office received thousands of ballots after Election Day and were under a court order not to begin counting them until the afternoon of April 13.
April's election — the first one in Wisconsin to be held during the coronavirus pandemic — saw a record 1.3 million mail-in ballots. In Dane County, an estimated 78% of the total ballots cast were absentee. In Madison, 66,997 absentee ballots, including those submitted in person, were returned to the clerk's office by Election Day to be counted.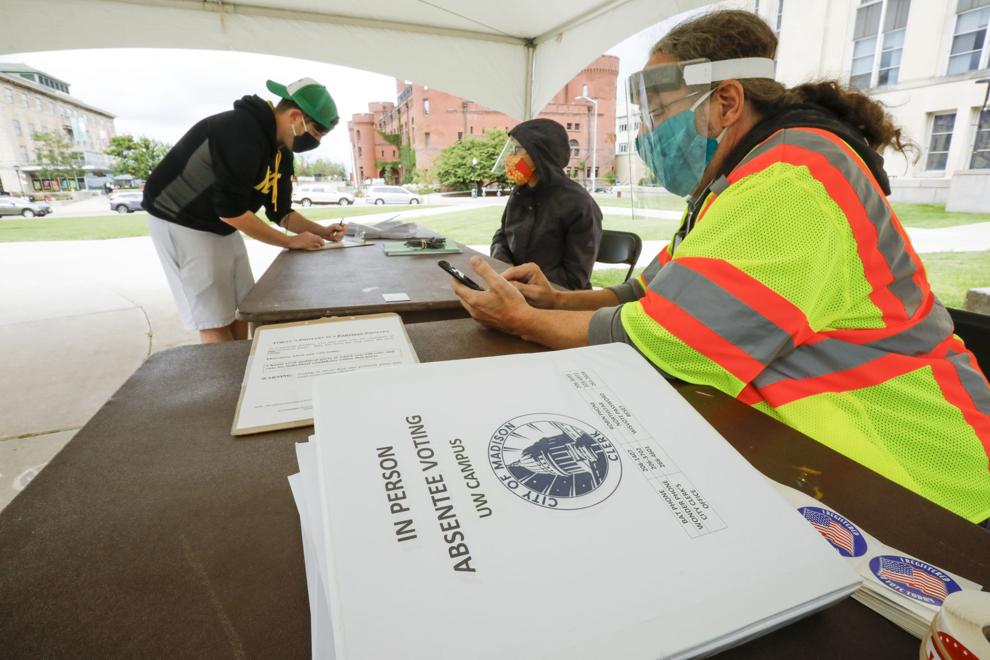 [Cap Times coverage of Madison legislative primary races]
Voting in-person
Voters who plan to vote in person at polling places Tuesday should look for hand sanitizer in multiple locations and painter's tape on the floor to maintain distance. Poll workers will be disinfecting pens, clipboards, voting booths and other high-touch surfaces after each use. Voters can bring their own ball-point black or blue pens to the polls.
Plexiglass screens will separate workers and voters at the poll book and ballot tables. Voters should hold up their IDs instead of handing them directly to poll workers.
Curbside voting is available at polling places, and voters wishing to use this option should look for large flags that say "Vote Here."
Because many polling places have changed since April, voters should confirm their polling places before heading out to vote. Voters can register to vote at the polls on Election Day, which are open from 7 a.m. to 8 p.m.
Poll workers will be split into different groups to assist voters. A "welcome team" consisting of between two and five people will facilitate the curbside voting process. Separate teams will manage the poll books and ballots, and one group will rotate through tasks.
Each team is responsible for specific cleaning duties, including disinfecting voting booths and tabulator screens.
[Wisconsin voters not required to wear masks at the polls, but strongly encouraged to do so]
If a voter is not wearing a mask, poll workers are not allowed to deny them a ballot. Witzel-Behl said some masks will be available at the polls on Election Day, but the clerk's office can't predict how many voters will take masks.
"Wearing a mask is not a voter eligibility requirement," Witzel-Behl said, though the clerk's office encourages voters to wear them. "We cannot stop someone from voting on the basis that they are not wearing a mask."
The primary election features races on the ballot for local, legislative and congressional seats that have drawn more than one Democratic or Republican candidate. Voters then narrow the field to a single contender from each of the two major parties who will appear on the Nov. 3 general election ballots.
Briana Reilly contributed to this report.