Just as the internet and startup economy irreversibly disrupted the media business, the world of political campaign advertising has been flooded with options beyond the traditional television and print options. Social media, text messaging, direct mail, YouTube and other options are all in the mix for 2020.
"The thing I'm seeing this cycle is that the candidates are employing an 'all of the above approach,'" said Barry Burden, a political science professor at the University of Wisconsin-Madison who studies campaign advertising. "They are advertising on every outlet and platform they can get access to, (but) there is a continuation of earlier trends where candidates look beyond TV outlets."
According to a 2020 spending projection report by Advertising Analytics, a national firm which tracks ad spending, political ad spending across all elections has increased 27 percent each year since 2012. In 2016, ad spending hit $1.1 billion and is projected to be $2.7 billion in 2020, according to the firm. The majority of those dollars will be spent on digital video ads placed on a variety of websites including Google, YouTube and social media platforms like Facebook and Twitter.
Those platforms continue to be a growing component of political advertising strategy, but that growth has not come at the expense of other historically successful tools, political advisers and strategists say.
Total ad spending for all races in Wisconsin is projected to be $67 million, according to Advertising Analytics, with the presidential race seeing a big share of that money. Though the state continues to be a top battleground target for the Bident and Trump campaigns, along with political groups, other states have seen more in terms of legacy ad spending on TV.
As of mid-October, Milwaukee was the 11th most targeted media market for volume and spending on presidential ads in the country, according to the Wesleyan Media Project, an academic collaboration housed at Wesleyan University that tracks federal election ads.  
In all categories of advertising, former Vice President Joe Biden has outspent President Donald Trump. Since April 9, there has been $317 million in pro-Biden ad spending compared to $252 million in pro-Trump ad spending, the Wesleyan Media Project found.
From Sept. 28 through mid-October, Biden spent nearly twice what Trump paid on TV ads in Wisconsin, a difference made more pronounced as Trump continued to pull back on TV spending throughout the month.
 On digital ads, both candidates' national spending has been more balanced. Since late September, the Biden campaign spent $34.8 million on Facebook and Google, with Trump spending $33.8 million on the same sites over the same period, according to the Wesleyan Media Project.
Facebook ads in Wisconsin alone accounted for $3.5 million in spending from Biden and $3.3 million from Trump from April 5 through Oct. 17, according to the group.
"We do know, though, that digital ads are growing in the share of election activity over time (and that total spending on advertising is increasing overall). Campaigns are constantly innovating in advertising strategies," said Erika Franklin Fowler, director of the Wesleyan Media Project and professor at Wesleyan University in Connecticut. "We've seen a big difference in the two presidential campaigns online. Even though they both spend about the same amount, they do so very differently. The Biden campaign uses larger purchases of single creatives, which are seen more widely, while the Trump campaign tends to purchase many smaller buys."
As ads across digital platforms from outside groups grow, it can be harder to track where they originated since political advocacy groups don't have to report ad spending in the same way campaigns do, said UW's Burden.
"There are all these groups that are not the campaigns themselves and their ads might not be well known," he said. "There are all these platforms where these things are happening simultaneously and a lot of these things are not reported to the federal government."
What the Trump campaign lacks in digital and TV ad spending in Wisconsin, he more than makes up for in campaign rallies where he appears in-person, unlike Biden who has visited the state far less frequently, said Brian Reisinger, a conservative political strategist who has worked on several national campaigns. Trump has also deployed campaign staffers and volunteers, who knock on doors, a proven approach that can't be replicated by digital ads, he said.
"(Democrats) are  trying to make up for lost travel and lost time with this blue tsunami of ad spending … it's very robust and aggressive and something that Republicans have to work very hard to try to match." Reisinger said.
Trump's presence and emphasis on in-person canvassing in Wisconsin shows the state remains a top priority for him, even as his campaign has pulled commercials in recent weeks, Reisinger said. The president's message has also been enhanced with a more uniform message from advocacy groups backing him up.
"It is a much more professional, full-throated message behind the president's record than you would expect in an election year. Much more so than in 2016, which was more of a rodeo," Reisinger said.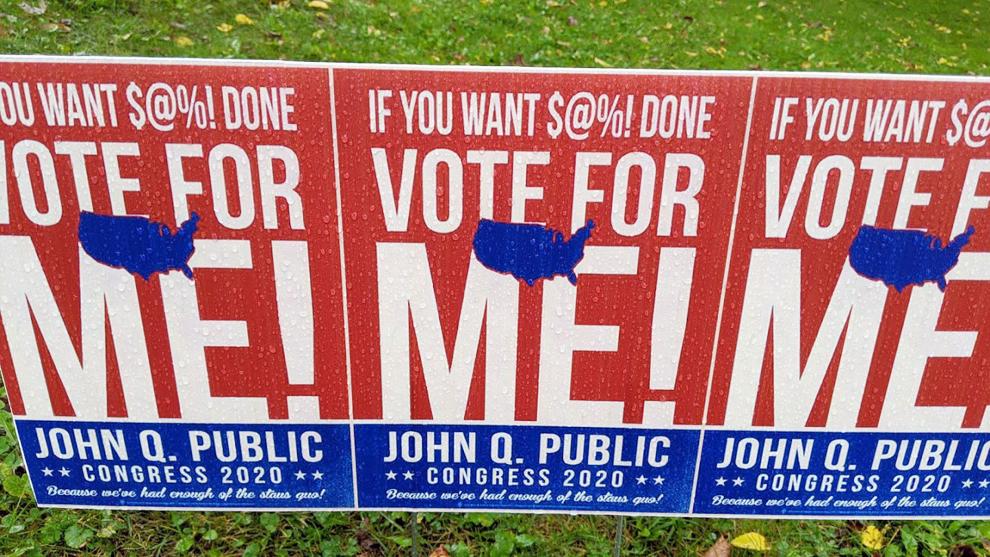 Burden agreed that Biden's lack of in-person events here makes advertising on the Democratic side more important.
Microtargeting in digital ads remains a fixture of how ad firms do business, and methodologies for how to do so have only improved, said Joel Rivlin, a partner with Pivot, a firm that works on ad strategy for progressive campaigns and groups.
Methods and models for how to target voters more effectively online continues to evolve, he said. Direct mail, though an older medium, continues to be one of the most effective ways.
With direct mail, "time and time again you can see real effects," Rivlin said. "I've been doing direct mail for over a decade and I thought it would wane over time and the effects, if anything, are starting to get bigger."
"One of the problems with the abundant data in politics is that it's not as accurate as we'd hope. It's hard to use consumer data to predict political attitudes and behavior with great precision," Rivlin said. "Microtargeting in politics is more about using individual level datapoints to target messages with broad appeal in a more efficient way."
And campaigns are getting started earlier. Wisconsin saw progressive ads before Labor Day, he said, with firms getting data based on who was requesting absentee ballots early.