Several University of Wisconsin-Madison students are registered to speak at the Monday, May 18, meeting of Madison's Plan Commission to express their opposition to The Langdon, a proposed apartment building slated for 126 Langdon St. They allege that the developer has been improperly offering special benefits to students who sign on in support of the project.
The Langdon is the latest venture in student-focused housing from Core Spaces, the development firm that built The Hub, 437 N. Frances St., and The James, 432 W. Gorham St. Core has proposed an 88-unit, five- to seven-story building.
The UW-Madison students intending to speak Monday say they have amassed over 1,800 signatures in a petition opposing the project. Many of the students who have signed are from the surrounding fraternity and sorority houses who echo the original opposition to a previous proposal from Core: they do not welcome an increase of noise and traffic.
Another concern, according to student Matthew Mitnick, is that new buildings like The Langdon, which tend to come with high rents, drive up the cost of living in the area for students who are already stretched thin financially.
"There's been a trend of high priced luxury apartments that are coming into student-oriented areas and it is raising the prices of everything all over campus," Mtinick said. "But our biggest reason is this project doesn't fit within our neighborhood. It is two floors taller than city zoning allows for. One of the signers of our petition lives in a Greek house nextdoor and this project would tower overhead. There would be noise pollution and it doesn't fit in this neighborhood."
Mitnick, a rising junior who unsuccessfully ran for City Council in 2019, alleged that a person associated with Core Spaces is telling students that if the Greek houses nearby either speak for or sign a petition in support of the development, they could enjoy special perks.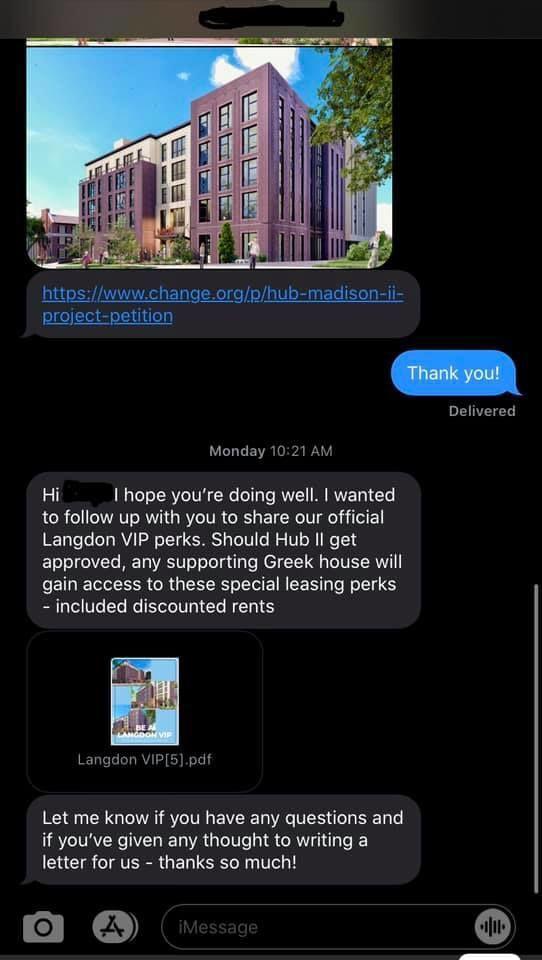 "Support for this project can't be bought," Mitnick stated. "We have the right to define what fits in our neighborhood."
Rodney King, senior vice president of development for Core Spaces, said the Greek organizations located near the proposed project inquired about bulk leasing and, in no way, was Core Spaces offering "VIP benefits to supporters."
King said that bulk leasing is offered to all the fraternities and sororities in Madison, giving the houses the ability to lease early in the cycle to ensure they could have rooms "blocked together."
"We offer this program to any group regardless of their past support or opposition," King said Monday. "Our petition for support in Madison launched in late March 2020. During the petition outreach efforts, several Greek organizations inquired about group leasing and whether it was offered at The Langdon project. After receiving several requests about group leasing, we formally launched our Greek leasing program in late April 2020. The launch of this program was in response to the Greek organizations' interest and is consistent with marketing efforts made at other properties in the market."
King said over 486 people have signed a petition of support for The Langdon and that the support Core Spaces has received for The Langdon project is "very encouraging". 
Core is making a second run at the approval process after its previous proposal, Hub II, was denied by the Plan Commission in January. That project came under scrutiny from downtown residents who feared some of the amenities would cause noise pollution as well as unwanted levels of traffic. Hub II plans included a rooftop pool deck and patio. Residents, who formed a neighborhood steering committee, also argued the design did not fit in with surrounding buildings, many of which are historic fraternity and sorority houses.
Ultimately, the Plan Commission decided not to approve the project based on those factors. The new proposal, for The Langdon, is a similar building, without the rooftop pool.
Bob Klebba, a downtown business owner who chaired the steering committee that opposed Hub II, has expressed concerns about the alleged behavior of Core Spaces representatives providing incentives for student support of the project.
In a May 16, 2020, letter to the Plan Commission, Klebba writes that Core Spaces is offering Greek community members rent discounts and preferred room selection for those who write letters of support to the Plan Commission.
"Several house directors on Langdon Street have told me that their members don't want to come out against the proposal for fear of jeopardizing Core Spaces' offered benefits for their brothers and sisters," Klebba wrote. "What greatly concerns me is that Core Spaces have likely suppressed participation in our steering committee and have definitely suppressed input to the Plan Commission."
Ald. Max Prestigiacomo, who represents Langdon Street and took office a month ago, told the Cap Times that he plans to oppose the project at Monday's Plan Commission. Prestigiacomo shared documents from Core Spaces imploring neighborhood residents to "Be a Langdon VIP! Email RichardL@Corespaces.com".
"Setting aside affordability and an enormous overall opposition from the student population, it's clear this proposal doesn't meet all development standards of approval," Prestigiacomo said. "I'm of the opinion that the facade is in diametric opposition to the historical character of Langdon and the State Street area. Now is the chance for the Plan Commission to rewrite past development mistakes that have adversely impacted the area by protecting and preserving a historical jewel of Madison."
Core is seeking a conditional use permit from the Plan Commission Monday night.