Tony Evers celebrated his second gubernatorial victory much as he did his first: an election night party at Madison's Orpheum Theater, followed by a visit the next day with Madison-area children and educators — and before all of that, a few games of euchre to pass the time as the results rolled in.
"There's a handful of things that really are bipartisan issues, and education is one of them — no question about it," the Democratic governor told reporters Wednesday afternoon in the gymnasium of Madison's O'Keeffe Middle School. 
Evers, 71, worked as a science teacher, high school principal and district superintendent in several Wisconsin communities before serving eight years at the state Department of Public Instruction as deputy superintendent of schools. In 2009, he was elected to serve as Wisconsin's superintendent of public instruction, and was reelected in 2013 and 2017. 
It was Nov. 7, 2018, that Evers and his running mate at the time, former state Rep. Mandela Barnes, toured the Dane County Boys & Girls Club as their first public appearance in the hours since they'd ousted Republican Gov. Scott Walker and Lt. Gov. Rebecca Kleefisch.
Four years and two days later, Evers was swarmed by middle school students at O'Keeffe — a school located in a ward in which he received 96.6% of votes in his reelection bid. Some shook his hand, some asked him questions — but the most popular ask was for a selfie. 
This time, Evers was accompanied by state Rep. Sara Rodriguez, D-Brookfield, who will serve as the state's next lieutenant governor (and the fourth woman to hold the position). Current Lt. Gov. Mandela Barnes, a former state representative who was elected with Evers in 2018, conceded in his effort to unseat Republican U.S. Sen. Ron Johnson earlier Wednesday afternoon, trailing the incumbent by about 1 point. 
"I've been trying to wrap my arms around that, that there are people in the state of Wisconsin that voted for me and voted for Ron Johnson. But at the end of the day, I also know that there are issues that transcend politics, and I'm representative of a great state, a resilient state. I take input from the people that voted for me and those who didn't vote for me (as) equally important," Evers told reporters on Wednesday.
Evers deflected a challenge from Republican construction magnate Tim Michels, by a 3.4-point margin — a substantial increase from his 1.1-point victory over Walker four years ago
Still, the Democratic governor faces another four years of governing with a Republican majority in the Legislature — a relationship plagued with friction during his first term, during which he vetoed hundreds of bills and often billed himself as a "goalie" against a GOP policy wish list. 
Asked about that dynamic on Wednesday, Evers said he signed two-thirds of the bills that made it to his desk last year, and could only think of one that he signed that lacked support from both parties.
"There are some things that are naturally bipartisan in nature," Evers said, naming education and infrastructure as examples.
Asked to name top priorities for his second term, Evers listed public education improvements, abortion access and broadband expansion, but said "it's hard to prioritize." Ultimately, the governor said, "you can't have inequitable outcomes or inputs" in the state's public schools. 
In September, the governor released a proposal to allocate an additional $2 billion toward public schools. A significant amount of that money would go toward expanding special education programs, and another substantial chunk would fund revenue limit increases while preventing property tax increases.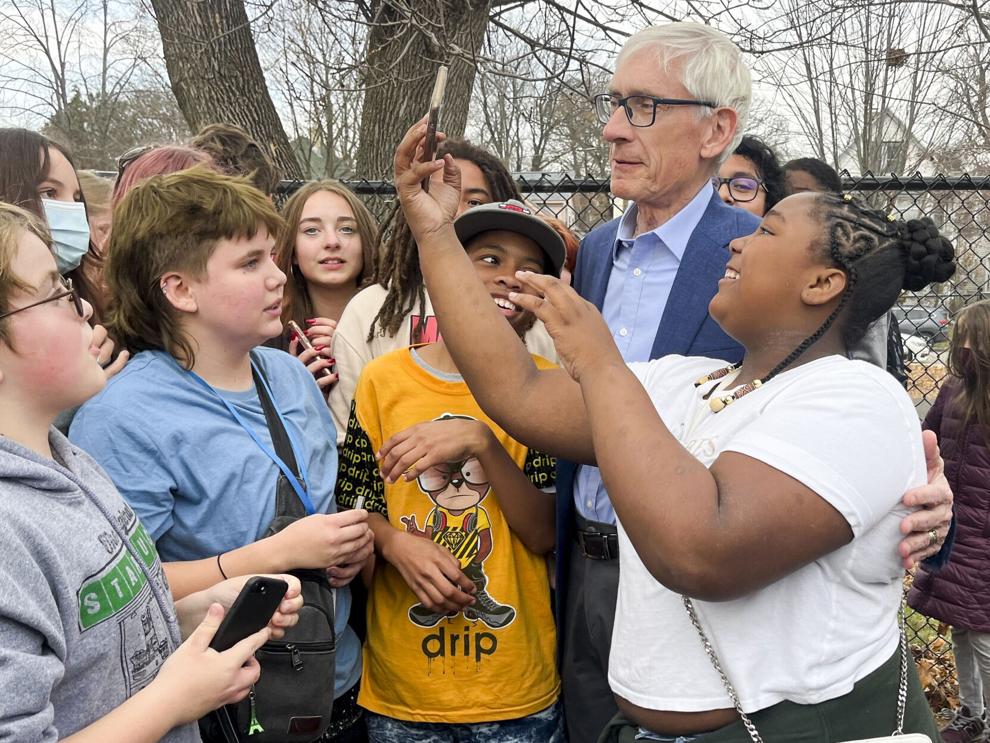 Evers ran his 2018 campaign against Walker on promises to expand access to affordable health care, invest in public schools and fund roads projects. During his first four years in office, the Democratic governor wrestled with Republicans on budget proposals, came up short in a testy redistricting process settled by the Wisconsin Supreme Court and shepherded the state through the COVID-19 pandemic.
As the Democratic governor and Republican lawmakers start considering the next state budget, they will have a $5 billion surplus to factor into their decisions. 
And what about those euchre games?
"Oh, I won a lot. I not only won this race, but I think I — as my family was telling me, I think I won every single game I played last night," Evers said. "How 'bout that?'