A quiet Gov. Tony Evers sat in the back seat of his usual blacked-out SUV, his head and shoulders outlined by the sun pouring through the car's window. The car was parked on the side of the road just blocks away from his next stump stop in Milwaukee. On one side of the street was an industrial building from yesteryear; on the other, a small, cream-colored house with an overgrown yard.
In a rare occurrence in politics, the governor was ahead of schedule during a multi-city swing for a series of canvassing and campaign events. Timing is everything in politics — so to avoid spoiling the spectacle of his arrival at the next stop, he sat, patient and silent, as his staff mused in the car's third row.
After a few moments, he ruffled through his briefcase — a worn, gray bag you'd expect to find at the feet of a schoolteacher and, maybe not, a governor (Evers, of course, began his professional career in education working as a teacher).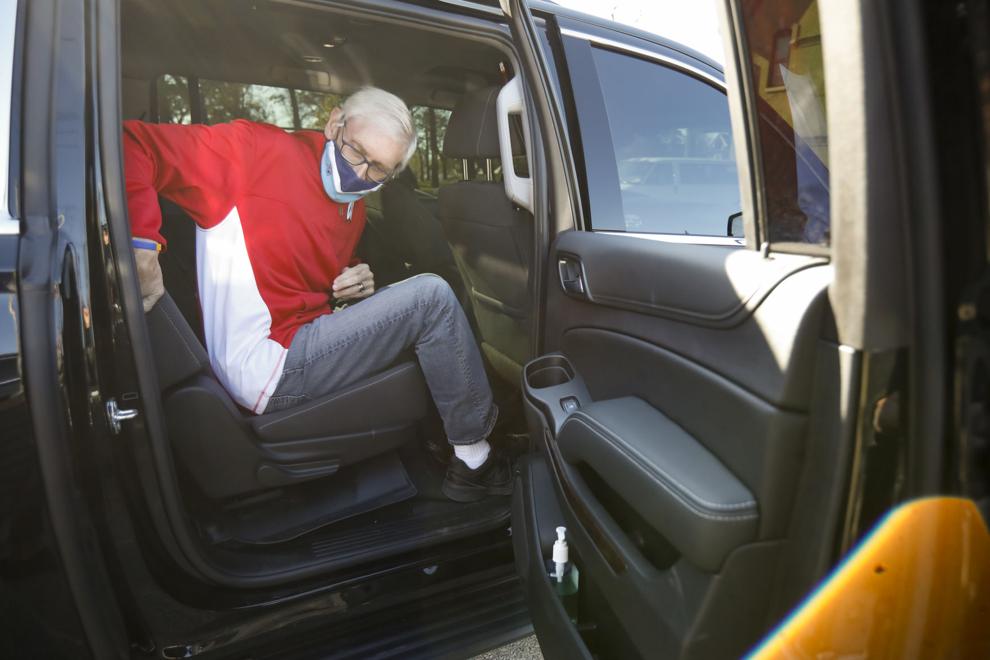 The governor pulled his iPhone from the bag.
"I have no idea what I'm expected to do here," he said in response to a message from his youngest daughter, readjusting his mask after pulling it down for a flash to trigger the phone's Face ID technology.
He read aloud: "Can you ask mom if she's giving the Mario thing to Keyton (Evers' grandson) for his birthday? I texted her and she hasn't responded. But maybe she's at pickleball?"
"I'm not sure how I fix this. Have any thoughts?" he quipped to his fellow passengers.
That moment and that day embody Evers: A grandpa and a governor who — including in this newspaper — has often been described as bland and boring. But maybe that's an oversimplification of Wisconsin's 46th governor.
That Saturday, Nov. 6, the governor sported black New Balance sneakers, worn blue jeans and a Wisconsin Badgers quarter-zip. The trip came the day after Evers' 70th birthday — a milestone that, despite birthday wishes at each campaign event, he was ready to put behind him. (At a later meeting at the governor's mansion, on Nov. 18, First Lady Kathy Evers joked that the governor was more excited that day for the 50th birthday of his beloved Egg McMuffin than he had been for his own birthday earlier in the month.)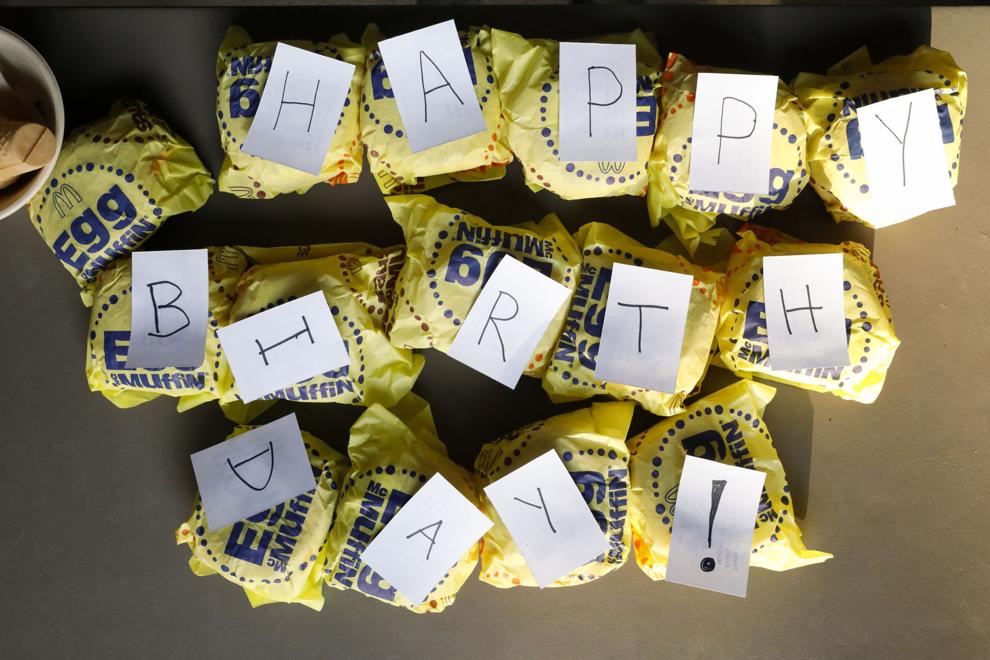 Throughout the trip, regardless of campaign stop, line of questioning or Aaron Rodgers' vaccination status, Wisconsin's supposed sleepy governor had an air of quiet determinism. Evers describes himself as "tactile," and being back on the campaign trail seemed to do the trick. At each stop, a few dozen supporters at a time, he stumped, shook hands and posed for photos — all with an energy not often seen from the governor inside the walls of the Capitol.
In between stops he took hours of questions from the Cap Times while also putting out fires about birthday gifts. He doubled down on — and later fulfilled — his pledge to veto gerrymandered voting maps; he vowed to ensure the security of Wisconsin's elections; he bashed Republican lawmakers for their seeming unwillingness to work with him on issues they both want to tackle; and he told stories about how Kathy schools him in pickleball on the driveway of the governor's mansion.
He did it all with careful consideration, mulling his words before answering each of the paper's dozens of questions. The state's soft-spoken leader may not always have the most to say, but when he does speak, people seem to listen.
Tony Evers is running for reelection. Is he ready for the fight?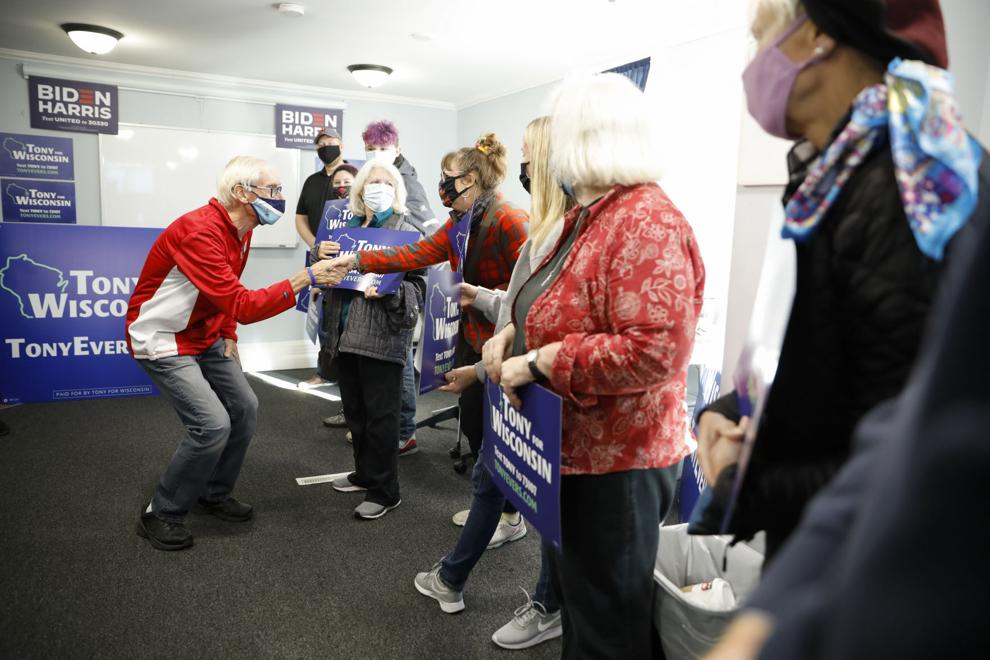 The long road traveled
By most measures, it's been a long 1,120 days for Evers since he emerged onstage at the Orpheum Theater and declared to his supporters: "Given all the results we've seen tonight, I feel confident in saying to you right now that my name is Tony Evers and I'm going to be the next governor of the state of Wisconsin!"
The governor was full of energy that night — in the early hours of the Wednesday after Election Day. That energy hasn't been as prominent since he took office, with the high fives and onstage hugs, for the most part, being replaced in the era of COVID-19 by monotone remarks at press conferences and pre-recorded videos.
Before he was even governor, Republican lawmakers acted to limit his influence, approving several laws during a lame-duck session in the waning days of the Walker administration to curb the incoming governor's powers.
Once in office, GOP legislators threw out almost all of Evers' first budget proposal, including prominent pillars of his campaign: Medicaid expansion, more than $1 billion in education spending and raising the state's gas tax for the first time in more than 10 years.
The quarrels continued, with Evers and the Legislature fighting about everything from Christmas (or holiday) trees at the Capitol to gun laws in the state.
Then came March 2020 and the onset of the COVID-19 pandemic — perhaps the worst crisis in state history.
During its height, one in seven Wisconsinites was unemployed, with many waiting weeks or months for the state's overwhelmed unemployment system to process their request for help (the backlog was so severe it eventually led to the resignation of an Evers cabinet secretary). Hospitals became inundated with COVID-19 patients, straining intensive care units across the state and leading to the construction of a field hospital at Wisconsin State Fair Park. And, of course, the worst scar of the pandemic: More than 8,900 confirmed deaths have been tied to the virus in Wisconsin since the disease gripped the country.
All the while, Evers said, his efforts to contain the virus in Wisconsin were hamstrung when Republican lawmakers sued his administration over the state's stay-at-home order and mask mandate. Both orders were struck down by the state Supreme Court, leaving municipalities on their own to implement restrictions and much of the state open as if the virus weren't raging.
GOP lawmakers, though, insisted their lawsuits were only to prevent executive overreach. In an April 2020 statement, Assembly Speaker Robin Vos and then-Senate Majority Leader Scott Fitzgerald — who now serves in the U.S. House — said they had no option but to sue "to rein in this obvious abuse of power."
They had even stronger words in their legal filing: "Purporting to act under color of State law, an unelected, unconfirmed cabinet secretary has laid claim to a suite of czar-like powers — unlimited in scope and indefinite in duration — over the people of Wisconsin," the lawmakers wrote of Andrea Palm, who led the Department of Health Services through the early months of the pandemic.
"Per her decree, everyone in the State must stay home and most businesses must remain shuttered (with exceptions for activities and companies arbitrarily deemed 'essential')," the lawmakers wrote.
 In the lawsuit, they also argued the administration's orders were unnecessary because the "Legislature is ready, willing and able to work with DHS and at the same time craft legislation (which it is drafting even now) to respond to the pandemic in a comprehensive and balanced fashion and guided by federal recommendations."
No such legislation ever materialized.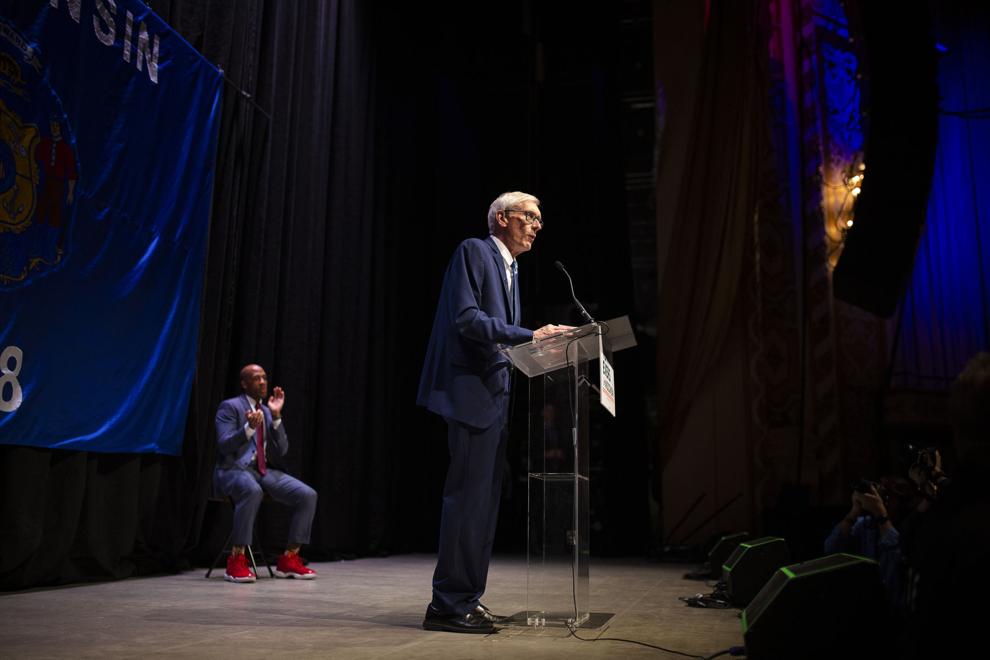 Evers recalls those weeks and months as being "weighty," telling the Cap Times that the political jostling that occurred was "God-awful." He said he worked every day to keep Wisconsinites safe from the disease, and insisted more lives could have been saved had mitigation measures been left in place.
Evers also said the pandemic had a personal effect on him, noting that he and the first lady experienced the tinges of isolation shared by residents across the state. The executive residence felt emptier than usual during the pandemic, he said, given that he, Kathy and their security detail were the only ones home. Treasured visits from their kids and grandkids were put on hold.
Those feelings of isolation were exacerbated after the July 2020 death of his personal aide, Ben Belzer, who was one of few staffers who visited the residence during the height of the pandemic.
"It was horrible," Evers said of the pain he felt after Belzer's death. "When you see an accident like that happen to someone who's only 25, it makes you question the fairness of it all — of snuffing out a life so early."
Belzer died in a tubing accident on the Sugar River, not far from Janesville.
The governor pushed on. And over the last year, Evers and legislative Republicans have continued to butt heads — including on issues, the governor said, they both want to work on.
"Some of the stuff we asked for (in the budget) is imminently possible," Evers told the Cap Times shortly before arriving at the headquarters of the Waukesha County Democratic Party. "We have the money for more broadband. We have the money for fixing roads faster. We have the money for better resources for schools. The rainy day fund is as high as it's ever been. When are we going to have a worse rainy day than right now, during the pandemic?"
Republican lawmakers have resisted tapping into the state's budget surplus, he said, because "they don't want to give Evers a win."
"So we've gone around them when we could," he said. "We've done everything in our power to make a difference. But that's why there's a lot of unfinished business. And that's why I'm running."
The long road ahead
Evers is right — there is a lot of unfinished business. There always is.
But Wisconsin's 46th governor's fight to stave off the state's 47th governor, at least for a few more years, won't be easy. While he holds the political advantage of incumbency, a recent Marquette University Law School poll found that "voters are really not charmed by their incumbents in either party," according to Charles Franklin, the poll's director.
The poll, which interviewed 805 registered voters in the state, found that just 40% of respondents would "definitely" or "probably" vote to reelect the governor. In contrast, 52% of people said they would "definitely" or "probably" vote for someone else.
Evers' job approval also dropped "slightly under water," Franklin said. Only 45% of respondents approved of the governor's work, while 46% disapproved (still within the poll's margin of error of 3.9%.) That's a 5% drop in Evers' approval rating since Marquette last polled in August.
The governor remains undeterred.
He said between stops in Madison and Waukesha that he was elected governor by running on basic issues. This time won't be any different.
"There are some basic issues that transcend Robin Vos and Tony Evers," the governor said of the Assembly speaker and his political adversary. "It is roads, health care and education. Democratic moms and dads and Republican moms and dads, they want pretty much the same thing."
Evers stuck to his script. At stops in Madison, Waukesha and Milwaukee he pushed his message about expanding access to broadband and high-speed internet in the state; he stumped for increased education spending; and he reminded voters again and again that it was time to "fix the damn roads."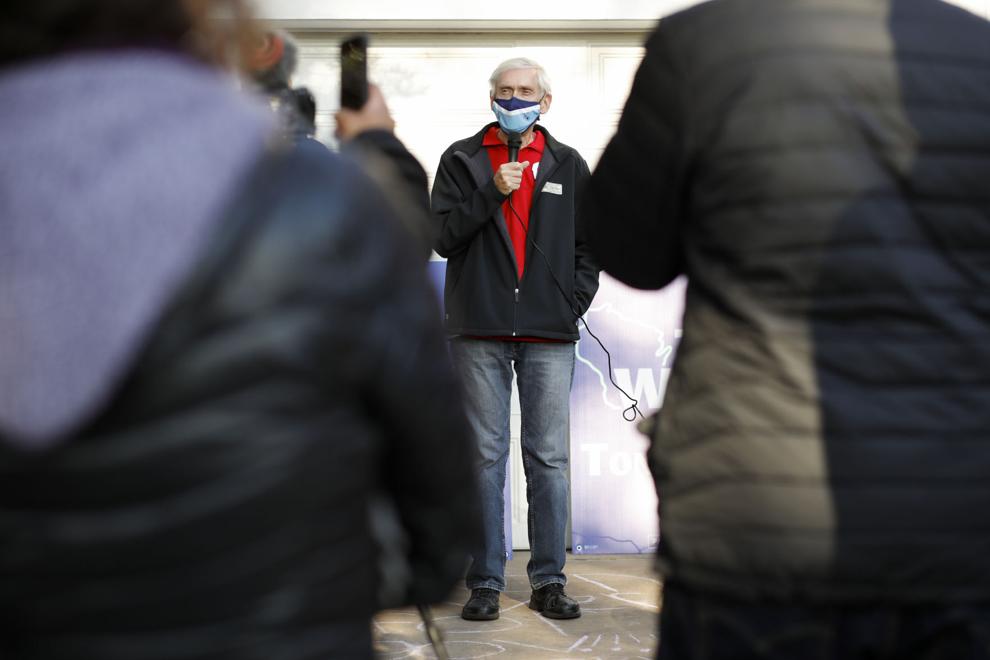 Information about the same issues was distributed by volunteers from the Democratic Party of Wisconsin while they canvassed after each of the governor's stops.
"GOVERNOR EVERS DELIVERS," declared the pamphlets, before going on to discuss the governor's pandemic recovery plan.
But unlike 2018, when he raised eyebrows in Wisconsin and nationally by defeating then-Gov. Scott Walker, Evers has a new campaign pillar: "Defending our democracy," as the leaflet describes it.
 "Without a doubt, I never in my wildest dreams believed that I'd be using the veto pen to make sure democracy still thrives," Evers said. "If you think about the things that Republicans are asking us to change (related to elections), they're the ones that put them in place. This isn't something that was dreamt up by liberals, it was a system put together by Republicans four or five years ago when they were in total power."
"I would have never guessed that there would be this weird and, frankly, dangerous attack on our democracy, especially as it relates to people's right to vote," Evers said.
In the year following the 2020 presidential election — in which President Joe Biden narrowly defeated former President Donald Trump in Wisconsin, a victory upheld by several recounts and lawsuits — Wisconsin Republicans have acted on several fronts to review or change the way the state administers elections.
The efforts have varied in scale and scope, from former state Supreme Court Justice Michael Gableman's taxpayer-funded and secretive review of the vote — which bipartisan election experts have deemed "amateurish" — to approving laws that would require election observers be placed no more than three feet from the check-in and registration tables at polling places. (Evers vetoed the bill in August, saying it would create "greater potential for observers to interfere with or intimidate election officials from performing their duties.")
Republicans have continued to press for changes. In recent weeks, following the release of another review of the election, Vos and other top GOP lawmakers called on Meagan Wolfe, the apolitical head of the bipartisan Wisconsin Elections Commission, to resign.
U.S. Sen. Ron Johnson even demanded the Legislature take over administration of federal elections in the state — advocating for lawmakers to override WEC, the agency that Republicans created only a handful of years ago.
All of these events — some of which happened after his day-long tour of the state — have left Evers concerned about the state of Wisconsin's democracy. One of his most important duties as governor, he said, is certifying the state's elections. He's not sure that would have happened in 2020 with a Republican in the governor's mansion.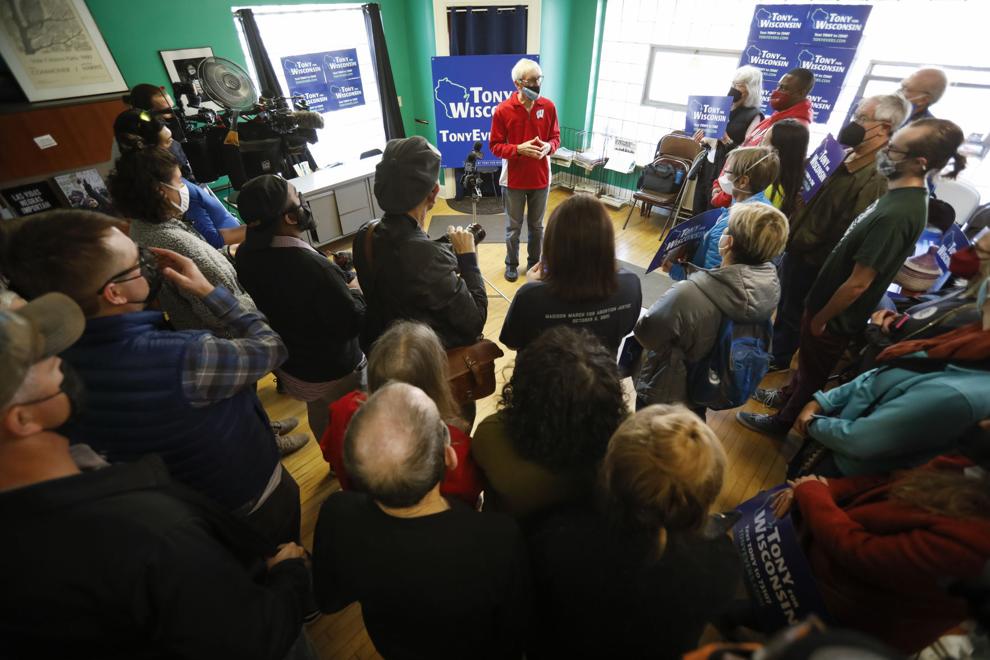 Tough political environment persists
Nonpartisan analysts and partisan political operatives alike have all drawn the same conclusion about Wisconsin's 2022 gubernatorial race: It's going to be close.
"We've had this race listed as a toss-up since we did our initial gubernatorial ratings earlier this year," said Kyle Kondik, an election analyst and managing editor of the nonpartisan election handicapping site Sabato's Crystal Ball. "And you know, nothing's really changed our minds about that."
Kondik pointed to gubernatorial races in Virginia and New Jersey — states seen in recent years as dark blue strongholds — as a wake-up call for Democrats across the country. In an interview, he said those two races, in which Republican Glenn Youngkin cruised to victory in Virginia and incumbent Democaratic Gov. Phil Murphy squeaked by in New Jersey, showed it's "a pretty poor environment" right now for Democrats.
"I think that the president's poor approval ratings and the usual trouble that the president's party has in a midterm environment plays into that," he added.
Kondik is right: In Wisconsin, the candidate of the president's party has lost the last eight races for governor, the Milwaukee Journal Sentinel reported.
"I think Evers is vulnerable," Kondik said.
Jessica Taylor, senate and governors editor at the nonpartisan Cook Political Report, also forecasted a tight race next fall. In a phone interview, she said the tough political environment for Democrats is "certainly a recipe for a truly competitive race." She also confirmed that the race would be moved from "Lean D" to "Toss up" in Cook Political's updated governor ratings, which will be released later this week.
"I think races just, bottom line, are going to be competitive in Wisconsin," Taylor said.
Driving the competition this fall will be two issues, she said: Education and how the governor handled the pandemic.
"Every single person in the country was affected by these tough decisions that governors had to make," Taylor said of governors' stay-at-home orders and mask and vaccine mandates throughout the country. A big factor in Evers' reelection campaign, she said, will be whether or not enough people supported his efforts to curb the pandemic.
Others, including state and national Republicans, agree with the handicappers' assessments. In fact, winning back the governor's mansion in Wisconsin is among the GOP's top targets nationwide, Dave Rexrode, the executive director of the Republican Governors Association, said earlier this year.
"What are the top three states for (Democrats)? Kansas, Wisconsin and Michigan," Rexrode said. "What are our big three states? Kansas, Wisconsin and Michigan."
Combine the national attention the race is going to get with a high-profile U.S. Senate race in Wisconsin and, Kondik said, "it's going to be very expensive."
Wisconsin Republicans are bullish on their chances to unseat Evers and make his four-year term a blip in the longer-term trends of Wisconsin politics. Paul Farrow, chairman of the Republican Party of Wisconsin, told the Cap Times he is "very confident" his party will occupy the east wing of the Capitol come 2023.
"When you look at the current numbers of the governor, even people on the Democratic side see him as a weak governor," Farrow said in a phone interview. "His leadership capability is hampered. His approval rating is down. The initiatives that he's bringing forward are weak. He is not driving the state forward. He is kind of just putting everything in neutral and is kind of gliding along, waiting to see what happens."
Farrow said a winning platform for a Republican candidate in 2022 is a "relatively simple approach": focus on tax cuts, combating inflation, getting people back to work and prioritizing public safety and support for law enforcement.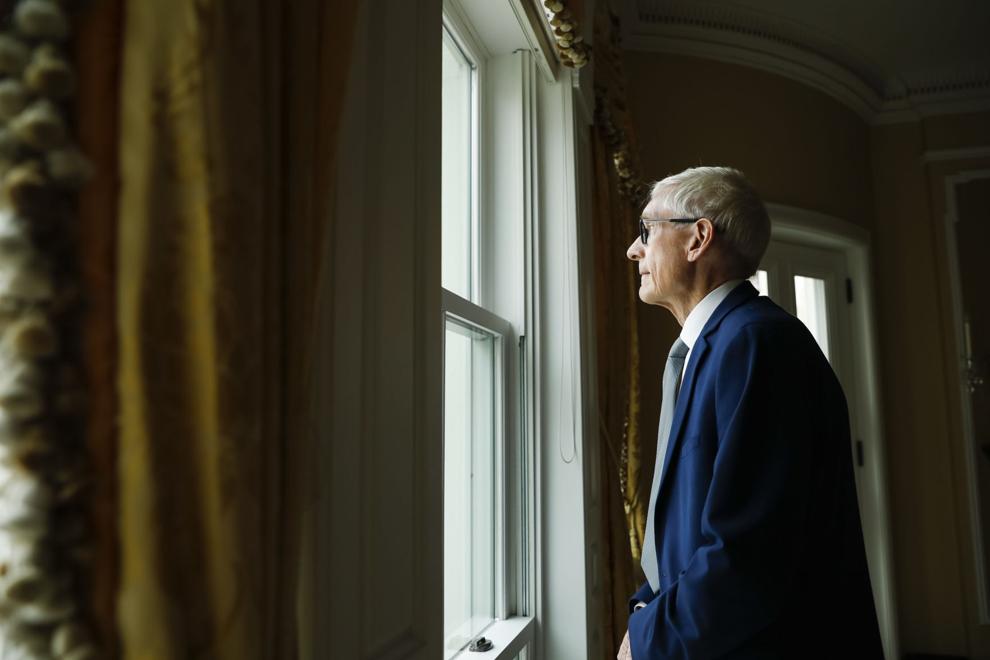 Another issue GOP candidates can win on, he said, is education — usually a subject dominated by Democrats.
"Parents are frustrated with the level of education that kids are receiving, the indecision that some districts have between, are we going to provide virtual (learning)," he said. "They're not giving the kids a consistent opportunity to be successful. And I think you can see that highlighted all across the state in school scores. The kids' scores are coming down from last year, and it's a challenge."
"What we've done in the last year-and-a-half is instead of giving all the kids a pathway forward, it's been four steps back to try to get themselves restarted," Farrow said. "I think when you put all those pieces together, you're going to realize that there's a lot of individuals that are not excited about the current governor's leadership."
Andrew Hitt, a partner at Michael Best Strategies and a former chair of the Wisconsin GOP, agreed with Farrow's assessment. He said Democrats — including Evers — have focused too much on additional funding for education and not enough on their plans to improve learning outcomes.
"That's not what the electorate, I think, wants to hear right now," he said of increased spending for education. "They want to hear, 'how are my kids' schools going to improve? How is my kid's education going to improve? … How are you going to make that happen?' I don't see Evers having a plan for that. And I think it's a jump ball right now on who wins on the education issue, where normally Republicans might struggle. This cycle, I think it can become a winning issue."
Both Farrow and Hitt said if any governor should have been able to help kids and schools get through the pandemic, it should have been Evers. Accordingly, Farrow said, kids' struggles in — and away from — the classroom will be a top issue next fall.
"Bring it on," Evers said in response to questions about a debate on education next fall.
"Do we need to have better achievement? Yes," he said. "I think we have good achievement, but I think it can be better. Do schools need more resources? Yes. But if the major complaint is about not listening to parents … bring it on. Parents are listened to in all sorts of ways."
He also punched back against Republicans' assertion that he didn't do enough for students during the pandemic.
"(Republicans) are for local control until they don't want local control — and it's not just public schools that that applies to," he said. "But the fact of the matter is (legislators) weren't in session for 300 freakin' days. They did nothing. They did absolutely nothing. And our local school boards were doing the best they could under the circumstances."
"They should be thanking those local school boards for what they've been able to do," Evers said, not trying to override them.
Despite the apparent challenges facing Democrats, the governor's senior campaign staff remain unfazed about Evers' reelection next fall. In a joint interview with the Cap Times, Cassi Fenili, the governor's campaign manager, and Sam Roecker, his campaign communications director, pointed to the governor's Wisconsin-first focus as the foundation of his reelection strategy.
"He spends his time talking to Wisconsinites and hearing what matters to them. It's just keeping grounded in what your goal is. His goal is to be here for the people in Wisconsin, and that's all he's focused on," Fenili said.
Roecker concurred, saying the governor sticks to his "bread and butter issues," with conversations about someone not having health insurance because the state hasn't expanded Medicaid sticking with the governor far longer than attacks on his character from his opponents.
The two were also unimpressed with Republicans' arguments on education.
"There's metrics showing that we're going in the right direction," Roecker said. "Does that mean Wisconsin was able to go through a pandemic without seeing the same challenges of other states? No. That's not realistic. But people see that (the governor's) out there trying to do the right thing on education and that he knows how to do it."
They also aren't deterred by the seeming trouble Kondik and Taylor outlined for Democrats. Roecker said they can't have a knee-jerk reaction to every poll and every political event around the country, and instead need to stay focused on their plan.
Fenili agreed, saying the governor's "thoughtfulness and calm confidence is a great culture-setting aspect for our team."
"We're not going to freak out. We've got a really strong campaign plan. We'll make adjustments along the way. And we're just going to do our best," she said. "We feel confident in our guy."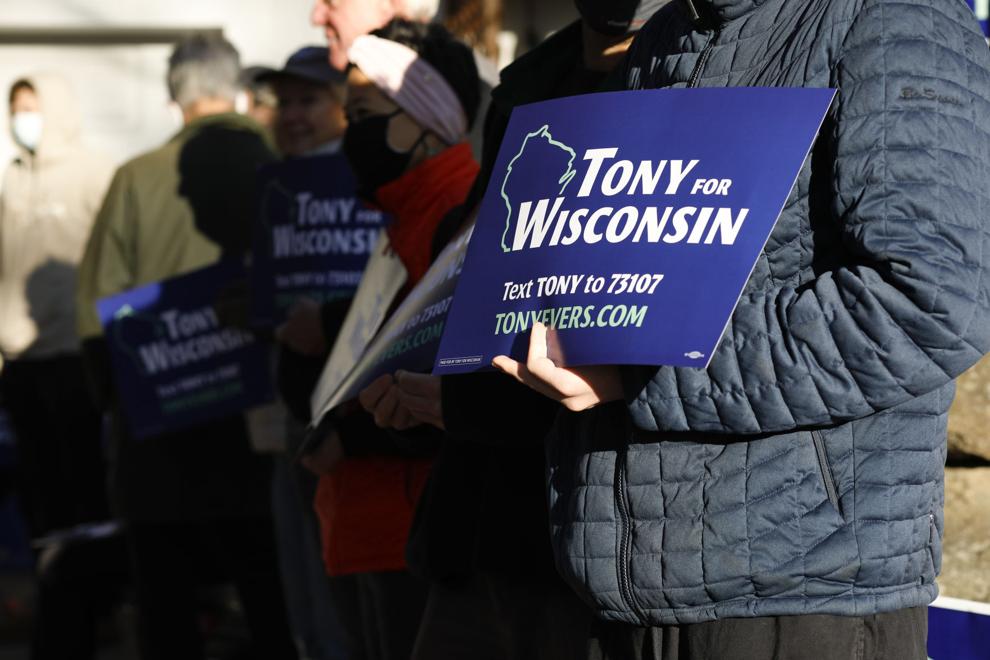 Up for the fight?
Despite Fenili and Roecker's insistence that Evers isn't "the type of person to pick a fight," the governor's words and actions in recent weeks would suggest otherwise. All day, as he snaked from Madison to Green Bay, the governor was full of quips and comments about Republican policies and players that suggest he's ready to put on the gloves.
"I'll veto that in my sleep," he told one enthusiastic supporter in Waukesha about GOP lawmakers' redistricting plan, with his feisty language continuing a few minutes later while delivering remarks to supporters.
"The most important thing that happened last week was in Mequon-Thiensville School District," he said to applause. "The kids of Mequon-Thiensville won. Democracy won,"
And, he added: "Rebecca Kleefisch lost."
Evers was referencing a failed effort to recall four members of the school board in Mequon-Thiensville — an effort championed by former Lt. Gov. Rebecca Kleefisch.
Kleefisch, the current front-runner among Republicans to challenge Evers in the fall, was all in on the recall effort, boasting on social media about how her campaign volunteers were fighting for the cause. She even seemed to be present in the area on Election Day, posing for photos with recall supporters and urging people to go vote.
The governor had other strong words about his potential Republican challenger. In the car in between stops, he called the failed recall effort "an embarrassment for the former lieutenant governor."
"She has staked out a far-right radical viewpoint, that's for sure," he said of Kleefisch. "She says she's more conservative than Scott Walker — that should tell you something."
He went on: "She's become this kind of Donald Trump acolyte that wants to make it more difficult for people to vote."
"She's staking out a far-right position, and I don't think Wisconsinites live in that world," Evers said.
Kleefisch's staff paint a different picture of her positions. In a statement, Charles Nichols, her campaign manager, said Kleefisch, unlike the governor, "actually has the backbone to get things done and stand up for what she believes in."
"She'll stand with law enforcement to safen our communities, she'll stand with parents to raise the quality of our children's education and she'll stand with workers to rebuild our once strong economy," he said.
He also punched back against Evers, calling him "one of the most ineffectual and unpopular governors in recent memory." (A recent aggregate of national polling data found that Evers is the 47th most popular governor in the country.)
The jabs will continue.
Throughout multiple conversations, Evers had a tone that one wouldn't call bland. Instead, he had the attitude of a political fighter — one that won't be pinned into a corner — and insisted that he's ready for next year's race.
"Absolutely I'm ready to run," he said. "I'm already running, frankly. We have a good record so I am looking forward to whatever they put up against me. ... I feel very confident in winning this race. So let the Republicans fight during their primary. I'm ready for them, whoever comes out of it."
When asked again if he's up to the task of reelection, he had a simple answer:
"Hell yes."