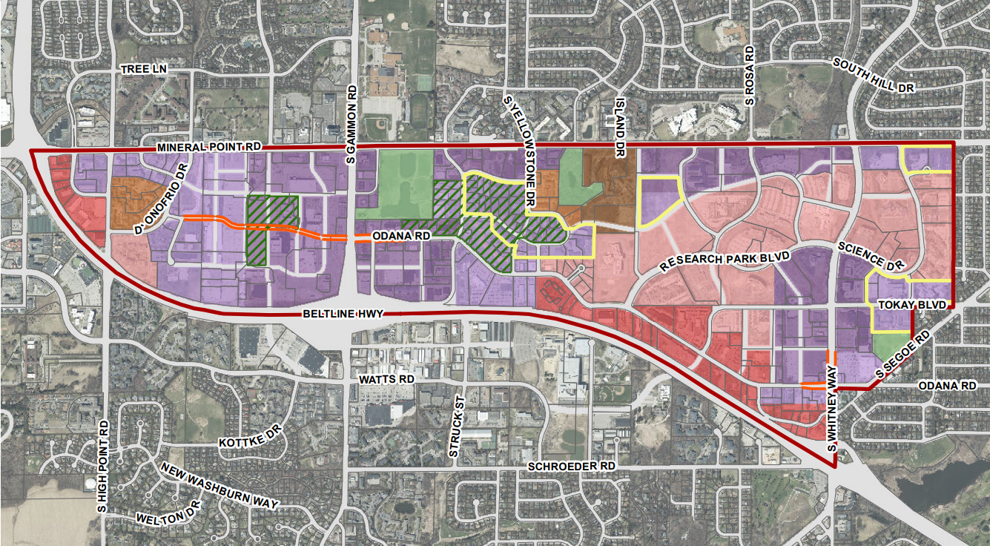 With several development proposals making their way to Madison City Council, the city's Odana Area Plan, which passed in September last year, is starting to unfold.
The Odana Area Plan boundary encompasses a large plot of land on the west side between the Beltline Highway, Mineral Point Road and University Research Park — an area 73% larger than downtown Madison.
It is primarily made up of offices and retail developments surrounded by large parking lots, which the city found can increase traffic, decrease pedestrian and bicycle activity and reduce the effectiveness of transit.
It's a portion of Madison that has not evolved over time, according to the city's plan for a total revamp of the neighborhood. In an interview, Bruce Bosben, chairman of Apex Property Management, called it "an example of what went wrong with urban planning in the '60s, '70s and '80s."
With the city expected to add over 70,000 new residents by 2040, the neighborhood provides a unique opportunity to build a significant quantity of new housing in close proximity to services, jobs and the planned bus rapid transit network, according to the Odana Area Plan. BRT will provide "backbone" service from the Odana area, through the UW Campus and downtown, out to the Madison College campus and East Towne Mall.
"The scale of, and diverse contexts within, the Odana Area allows for a wide variety of housing types to be built. This includes 'missing middle' housing types like townhomes and small multifamily, as well large scale apartments and residences in mixed-use buildings," the plan states.
The Odana area is dominated by commercial land uses, with only a few residential buildings. The goal for the city is that new housing in the area can link existing isolated areas to create a more cohesive neighborhood, and because redevelopment will primarily occur on underutilized parking areas or commercial sites, it will not result in displaced residents.
With redevelopment proposals pouring in for the area, the reality may be more complicated.
"This whole area is just rapidly changing, and, to me, it's all very exciting," said Ald. Keith Furman, who represents that area, District 19. "But I recognize anytime we talk about anywhere you get this pushback of people not wanting to see that."
"Change is always hard," he added.
6604 Odana Road, formerly Market Square Theatre
After Market Square Theatre, Madison's budget movie theater on the city's west side abruptly closed its doors permanently in February, Apex Real Estate Holdings and Walter Wayne Development put together a proposal for the site at 6604 Odana Road. 
Apex has owned the Market Square Shopping Center since 2008. When the pandemic forced the theater's closure, Bosben, the managing member of real estate holdings for the company, took what was being advocated in the Odana Area Plan as the starting point for a proposal.
"We figured the most obvious use for the site would be another apartment building," Bosben said.
The proposal is for approximately 98 residential units in five stories over two levels of parking (six stories would be above ground and one underground) and is working its way through the city's public notification process. The development at the Market Square Shopping Center would require a demolition permit and conditional use approval.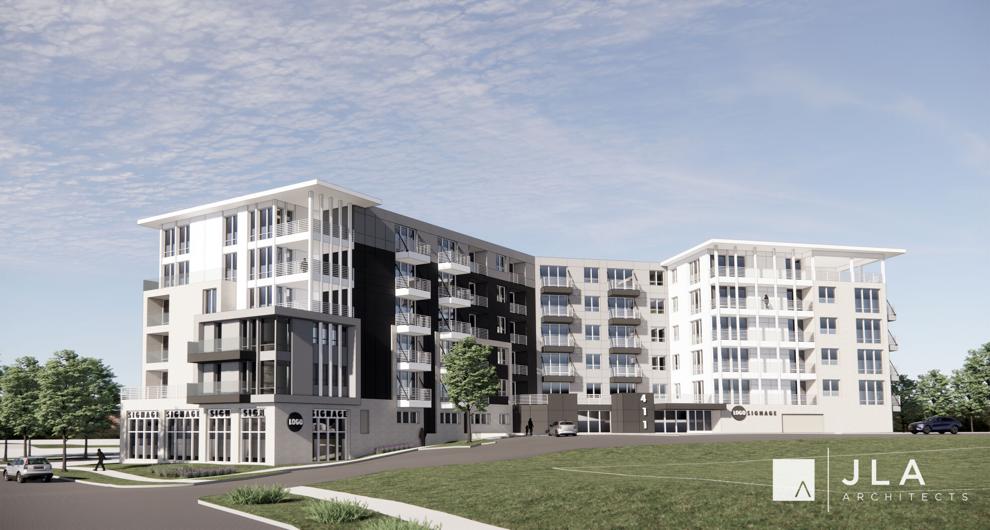 The lot is adjacent to Normandy Square Apartments, a senior independent living facility, and some of those residents have expressed concerns about what the construction of a large development will mean. 
"There's no advantage to us to have a massive housing project this close," one resident told the Cap Times, after attending a public information meeting in late July. "I asked, 'Would you want your elderly parents (or) grandparents to spend their nether years in the shadow, literally, of this behemoth?' No one answered that."
Neighboring resident concerns
Chris Wells, a development review planner for the city, has been involved in the neighborhood meetings for the development and said most of the concerns are about the noise, traffic and dust from construction. 
Bosben said that can all "be dealt with." The site has good access from multiple sides, which should lead to little construction traffic interfering with the existing apartments. The contractor can put up a large fence with fabric on it to minimize dust. City ordinances limit hours of noisy construction to between 7 a.m. and 4:30 p.m. 
Both Wells and Furman emphasized the city is taking concerns seriously. 
"The city does have strict regulations when it comes to development… so I am confident the developer will recognize that and do everything they can to minimize it," Furman said.
Neighbors mentioned another apprehension, too, Bosben said: affordable housing.
"They were worried that we might do low-income housing adjacent to their building, and they were very much afraid of that," Bosben said of some people who live in the area and oppose the new development. "It's the irony of low-income housing — everybody says that somebody else ought to build low-income housing, but nobody wants it built anywhere near them."
But it's a moot point since Apex doesn't plan on imposing income restrictions or offering subsidies for this particular building. Apex is a provider of market-rate housing, and the vast majority of their apartments rent for under $1,000 a month, according to Bobsen. 
"We are one of the biggest providers of modest-priced housing in Madison, and we're going to build this and rent it for whatever price the market dictates," Bosben said.
Yet with new construction, it can be challenging to keep costs low. 
"It's just not possible. The requirements that are imposed by the government probably add 30% to the cost of a typical building, and that price has to be dealt with in the rent," he said. "The fact is that the residents pay it." 
Apex is looking at submitting its formal application for the development in September, which would mean it would go before the city's Plan Commission in November, the full council in December and could begin construction in spring 2023.
Once Apex finalizes the design and gets it approved by the city, then it gets bid out — and if the prices of construction continue to climb, that could pose a big threat to the entire development, Bosben said.
"There's a limit to how much people can afford to pay in rent and if we can't rent it for enough to cover its costs, then we can't build it," Bosben said. "I don't expect that's going to be what happens, but I can't control it.
"There have been so many weird hiccups in the price of things that I'm nervous about it."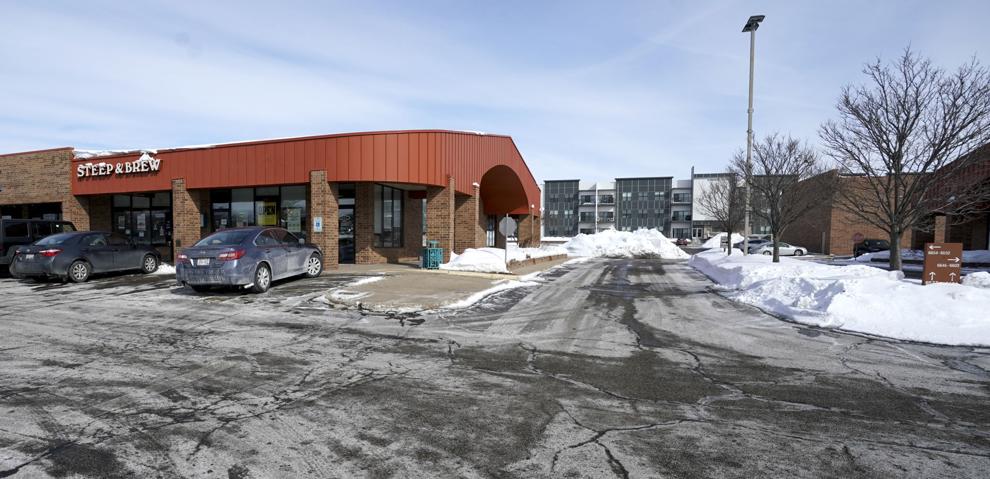 Future Odana area developments
If new developments get underway, Furman said it could clear a path for a totally revitalized Odana neighborhood.
"As far as what the neighborhood looks like after something like (the Market Square development) or looks like after these other projects, I think people should be excited about it. I think it makes the neighborhood more vibrant," Furman said. "I expect a lot of other great things to follow, including more green space and more businesses and restaurants."
More housing developments in the area are springing up rapidly.
Northpointe Development and DreamLane Real Estate are submitting a mixed-use development proposal for 6706-6714 Odana Road. The space would hold approximately 124 residential units and 5,000 square feet of commercial space. It would be four stories over one level of parking and require a demolition permit and conditional use approval.
Furman is hosting a virtual community meeting about the potential development on Aug. 10.
The city also recently met with Vivo Investment Group, a California developer that converts hotels into "naturally occurring affordable housing" — or NOAH — about the Radisson Hotel at 517 Grand Canyon Drive. NOAH refers to apartments that are affordable but unsubsidized by any federal programs. Their rents are relatively low compared to the regional housing market.
"We had a positive meeting last week with planning and zoning staff who believe the project fits within the vision and recommendations of the Odana Corridor Plan," Furman said.
The renovation will either be a conditional use under the existing zoning, transitioned to commercial zoning or need to be rezoned altogether.  
It's also likely that a new office building will go up in the next year or two where the Clock Tower Office Park currently sits at 6417 Odana Road, according to Furman.
These projects have not been formally submitted to the city and will need approval from the Plan Commission and City Council before moving forward. Furman said community feedback will be taken into account along the way.
"(Developments) need to fit with the vision of the plan, (which) says this is what we're looking for. I think the fact that they fit with the vision is certainly a positive for them, but it really comes down to the details of what they are proposing," Furman said. "That whole area is transforming."