In the hours after the U.S. Supreme Court issued its decision in Dobbs v. Jackson Women's Health Organization, Wisconsin Gov. Tony Evers pledged to turn over "every stone" he could to restore access to abortion in Wisconsin.
In the days after Evers earned a decisive victory over his Republican challenger, construction magnate Tim Michels, it became clear that the Democratic governor's promise had resonated with voters.
Democratic candidates in Wisconsin worked to elevate abortion as a central issue in their campaigns in the state's midterm elections. In competitive races in which it remained at the forefront, those candidates succeeded.
Evers defeated Michels by 90,000 votes — a margin that qualifies as a Wisconsin landslide in the context of the last six years. Democratic Attorney General Josh Kaul — who, with Evers, filed a lawsuit in June seeking to block enforcement of the state's 173-year-old abortion ban — edged his GOP challenger by 35,000 votes.
But abortion policy wasn't a panacea for Democrats. Republican U.S. Sen. Ron Johnson defeated his Democratic challenger, Lt. Gov. Mandela Barnes, by one percentage point, in a race that revolved more around crime than abortion.
"I think the abortion issue ended up mattering more in some of these governor's races," said Jessica Taylor, who tracks U.S. Senate and gubernatorial races for the nonpartisan Cook Political Report. "To me it was immediacy, because you had a trigger law (making abortion illegal) in Wisconsin that, with a Republican governor, would have looked very different."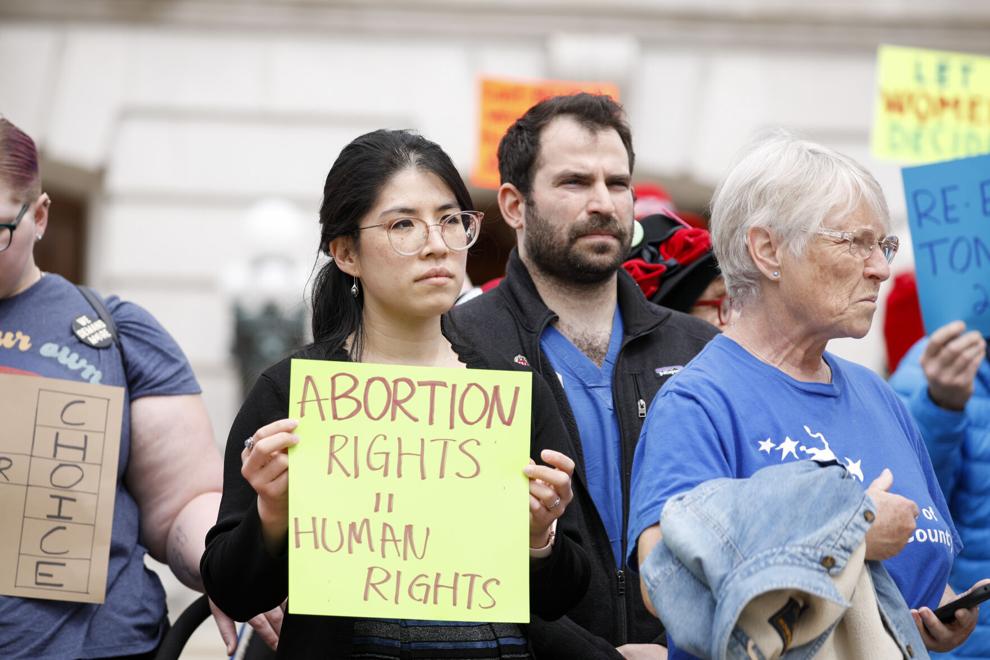 Republican strategist Brian Reisinger agreed that the Dobbs decision loomed largest in gubernatorial races.
The Dobbs decision kicked questions about abortion legality from the federal level to the states,  "so it was more difficult in governor's races across the country than in Senate races to deal with this issue," Reisinger said.
Taylor agreed: "For some people, if you're worried about abortion access in Wisconsin, who was elected governor was going to have a lot more effect on you than who was elected senator."
"Democrats went all in on the Dobbs issue, and I don't think it was the silver bullet, but it was certainly a bullet, and it was a bigger one than I think Republicans were holding," Reisinger, who worked on previous campaigns for Johnson and former Gov. Scott Walker, said. "Democrats were able to use it, not in a way that overrode the entire environment, but in a way that was maybe more effective than Republicans were prepared for."
Abortion was likely among the top three issues for voters — along with cost of living and crime — Reisinger said. That tracks with national data from the Kaiser Family Foundation and the Associated Press, which found that 51% of voters named inflation as the single most important factor in their vote, compared to 24% who named abortion. Among first-time voters, 38% named abortion as the most important factor in their vote.
Of the U.S. voters who told Kaiser/AP that the Dobbs decision was a factor in their vote, 38% said it had a major impact on their decision on whether to vote in the election, and 47% said it had a major impact on which candidates they supported.
Assembly Minority Leader Greta Neubauer, D-Racine, said abortion policy was "critical" to Democrats' success on Nov. 8.
"We talked quite a bit about abortion on the ground — with voters at their doors and in our paid communications — and we feel that that was a critical piece of our success in these elections," she said.
Neubauer pointed to "huge turnout among young people and women" during early voting as proof that abortion policy got voters to the polls.
"I believe that that was in large part due to the fact that people lost a right in Wisconsin in the last year," Neubauer said.
"When I talk to people in Racine, the people who are most motivated by the abortion issue are those who are alive and experienced life before Roe v. Wade, and those who will be directly impacted by this decision if they need access to abortion care in the years to come," Neubauer said. "So I think those long lines that we saw at universities again, the early voting numbers for young people, are directly tied to this issue."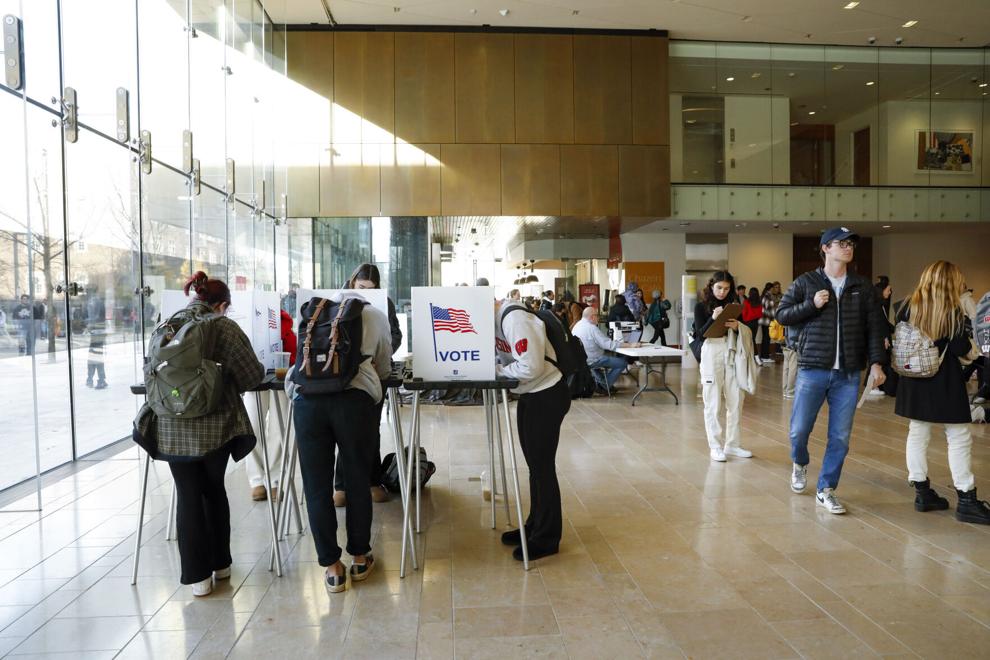 Although she had always been passionate about politics, University of Wisconsin-Madison student Molly McElligott was motivated by the Dobbs decision to take a more active role in the 2022 election.
The UW junior recalled her conversations with friends who were upset about the ruling.
"Instead of just sitting here reposting things on Instagram, you need to start making calls. You need to start texting your friends, you need to start maybe even considering canvassing or donating money to these campaigns, or anything like that," McElligott said she told them. "We need to start taking action … because nothing is going to change with all of that unless we put in the work, because no one else is going to do it for us."
McElligott started by creating a guide for young voters in a Google Doc that she could share within her sorority — one that, regardless of her personal inclinations, focused on the logistics of registration and voting for students, without any political arguments. She then shared it with people within her major — elementary education — and on social media.
She thinks it was a positive that she wasn't affiliated with any campaign or organization and that, while she shared her preferences on social media, her guide was politically neutral.
"It was really great to see that coming in not so forceful with that association, that it drove out more people and you (were able to) talk to them about their values and see how that reflects on their ballot," she said.
According to national data compiled by Tufts University's Center for Information and Research on Civic Learning and Engagement (CIRCLE), 27% of voters in the 18-29-year-old range turned out in this year's midterm elections, which the center says is "likely the second-highest youth turnout rate for a midterm election in the past 30 years."
The CIRCLE analysis found that Evers had the support of 70% of Wisconsin voters in the 18-to-29 set, compared to 28% for Michels. Voters in the 30-44 age group backed Evers 55% to Michels' 44%. CIRCLE also found that 44% of voters ages 18-29 named abortion as their top electoral issue.
"The issue of abortion plays different with different groups, but I think young people who voted at pretty high rates (this year), that was an issue for them, a huge issue," Evers told reporters during a visit to Madison's O'Keeffe Middle School the day after his reelection.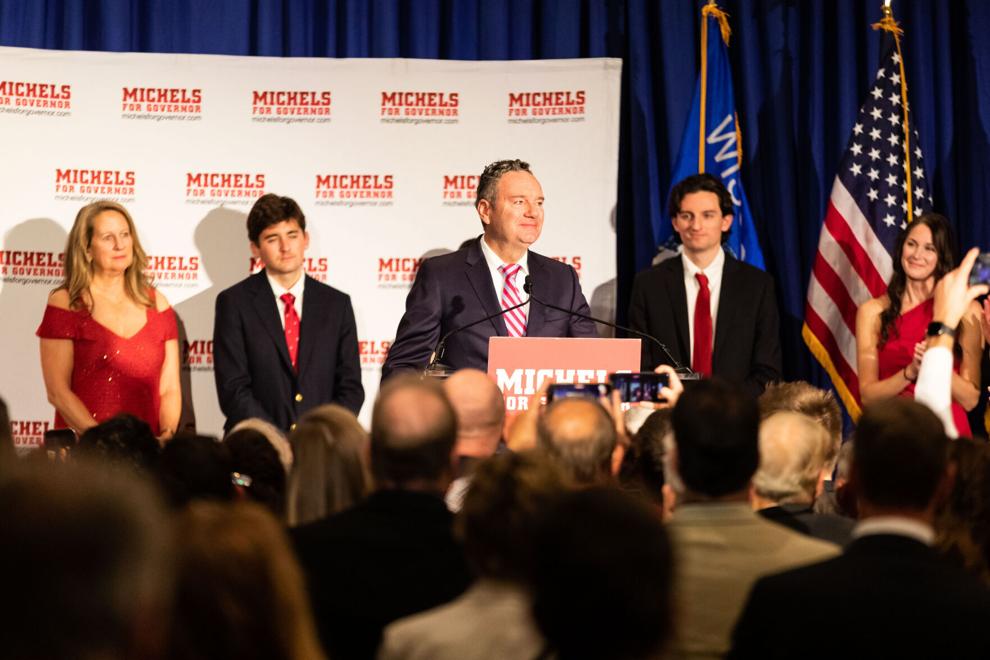 In the months ahead of the Nov. 8 election, abortion policy ranked in Wisconsin voters' top 10 issues as measured by the Marquette University Law School poll — but those polls revealed stark differences between Democrats and Republicans.
For Democrats, abortion policy was at or near the top of the list for months, since the Dobbs decision — which ended the constitutional right to end a pregnancy — activated Wisconsin's previously unenforceable 173-year-old abortion ban. In the Marquette poll released a week before the election, abortion was followed by gun violence, public schools, accurate vote count and inflation among Democratic voters.
Meanwhile, Republican voters consistently put inflation at or near the top of the list. Trailing inflation in the Nov. 2 Marquette poll were crime, illegal immigration and taxes, while accurate vote count jumped to the front for Republicans.
The Marquette poll has measured public opinion on abortion with several questions.
In the four polls conducted since August, an average of 59.5% of voters have said they oppose the U.S. Supreme Court's Dobbs decision, compared to 33.3% who have said they support it.
In the same four polls, an average of 84.5% of voters said they believe abortion should be allowed in cases of rape or incest, compared to 9.8% who said it should not be allowed in those cases.
And in the two 2022 polls that asked the question, an average of 61.5% of voters said they believe abortion should be legal in all or most cases, compared to 32.5% who believe it should be outlawed in most or all cases. That aligns with the average over the last decade — 59.8% who believe in allowing abortion in most or all cases, and 33.1% who think it should be illegal in all or most cases.
Evers said he believes the activation of Wisconsin's abortion ban — which makes an exception for cases when the mother's life is in danger, but not for other health factors or cases of rape or incest — played a role in his reelection.
Michels, during the Republican primary, called the state's previously unenforceable abortion ban an "exact mirror" of his position. Four months later, he said said he would sign a bill allowing exceptions for cases of rape and incest, regardless of his personal beliefs.
Republicans had to walk a "tricky line" to show voters their values while also trying to appeal to people who might disagree with them, Reisinger said.
"Candidates who were able to demonstrate their values and show voters who may or may not share those values … why they can still find common ground were able to weather this a little bit better. And candidates who had bigger challenges doing that ended up having bigger challenges at the ballot box," Reisinger said.
Democratic candidates' success related to abortion can likely be attributed both to turning out the party's base and appealing to moderate Republicans and swing voters, Reisinger said.
"There's … a certain class of suburban Republican voter that seems to have been uncomfortable with some Republicans — or all Republicans, depending — as a result of Dobbs," Reisinger said. "They might be pro-life or they might be somewhat neutral on the issue, but they don't want to see someone that they think is way out of line with their values in the other direction."
At the same time, he noted, high turnout in urban centers and college towns "was probably motivated in large part by pro-choice voters."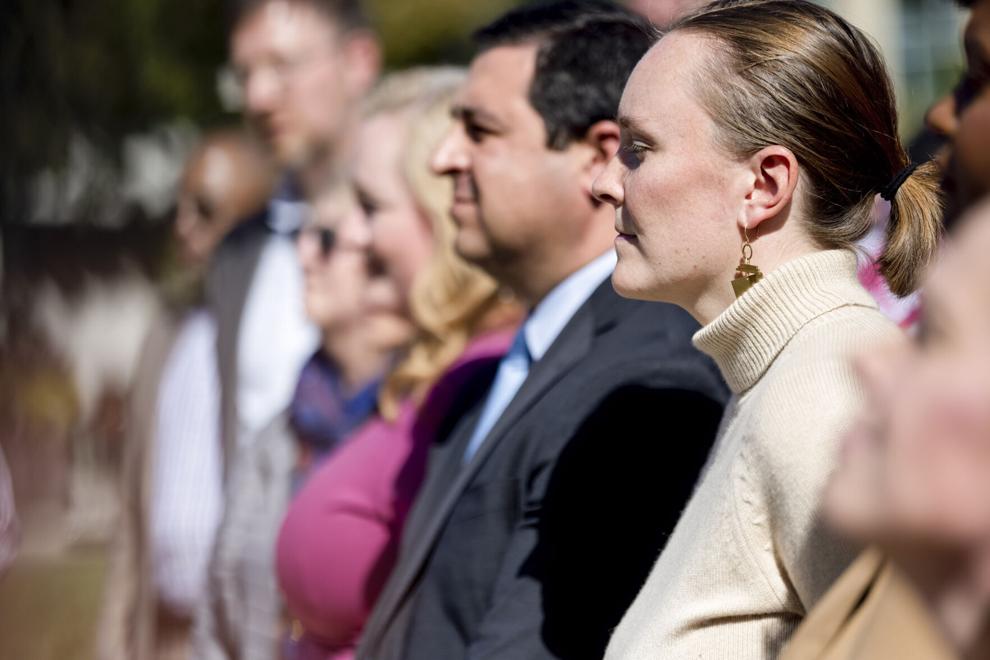 "We spent a lot of time on (University of Wisconsin) campuses, and whether it was a male student or a female student, I can tell you, (abortion access) was a big deal," Evers said at the O'Keeffe stop. "It was a big deal for young people, and I think if we look at the data on who voted in this race, that maybe changed the dynamic. I think a lot of it had to do with people that are on our campuses. They cared about that issue. They cared a lot about that issue."
Outgoing state Treasurer Sarah Godlewski, who ran in the primary for U.S. Senate but dropped out and endorsed Barnes, also said she heard abortion access was a priority no matter where she was in the state.
"Something that was clear throughout the primary process for me was how important reproductive rights, especially in the wake of Dobbs decision, are to the people of Wisconsin," Godlewski said, adding that whether she was in urban or rural areas of the state, "reproductive rights cut across everything."
"It's not even a Republican or Democratic issue," Godlewski said. "It's a Wisconsin issue, because we are focused on rights that have been taken away from half the population."
The treasurer, who launched a political action committee focused on electing candidates who support abortion access after ending her campaign, said the idea of rights being taken away from people scares them, regardless of their political affiliation.
Godlewski said she was frustrated during the campaign by people who would ask her if focusing on abortion access was the right message. Instead of running away from an issue that was once seen as controversial, she said, Democrats need to prioritize restoring abortion access as an issue in competitive races.
"I do think that we are seeing the success of this messaging, and this is what Wisconsinites believe is an important issue," Godlewski said.
Both Neubauer and Godlewski said Democrats need to seize on the momentum they've built in recent months — which came despite widespread belief that 2022 would be a strong year for Republicans.
How abortion will play in future elections is "the multimillion dollar question," Reisinger said — "not only because it's hard to answer but because there's (going to be) a lot of money spent testing that very dilemma out."
It will likely come down to how states handle the issue, he said.
 "If Democrats see that states are passing protections, they may start to lose energy on this issue, and Republicans may gain it back. If Republicans do things that make swing voters feel like they're out of step with them, then it may be the other way around," Reisinger said. "It's truly like a political kaleidoscope that's being turned right now before our eyes."
Since they were both reelected, a lawsuit from Evers and Kaul seeking to block enforcement of Wisconsin's 1849 ban will continue. Filed in late June, in the days after Roe was overturned, the lawsuit argues that a series of abortion restrictions passed by Republicans over the last several decades supersedes the ban.
"The Wisconsin statutes contain two sets of criminal laws that directly conflict with each other if both are applied to abortion. In these circumstances, it is well settled that the older law cannot be enforced," Kaul argued in the legal challenge.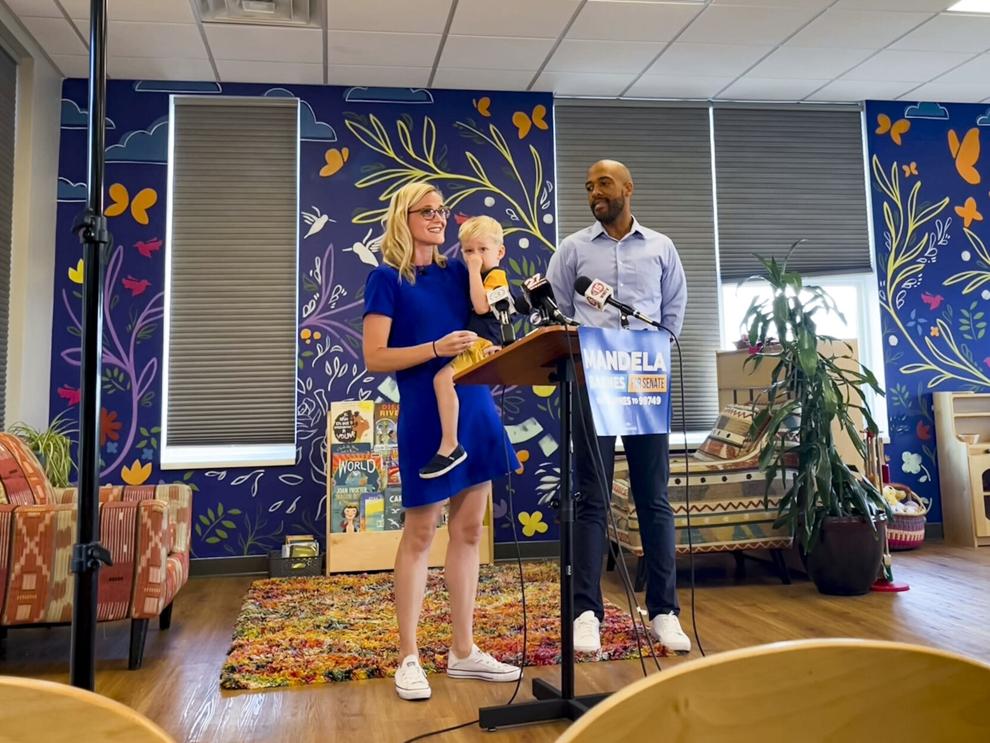 Evers said last week he believes "we can win that lawsuit," adding that "I think it's on good, solid ground."
The governor also said finding common ground with Republican legislators to repeal the ban is "going to be difficult."
"I don't see a way to solve this legislatively," Evers said of the ban. "I think it's going to have to happen in the courts. If the Legislature wants to put a proposal out we'll certainly look at it, but just listening to the comments during the campaign, I don't think it exists."
Assembly Speaker Robin Vos, one of the state's most powerful Republicans, hinted last week that he would be open to modifying the state's 1849 ban to potentially include exceptions for rape and incest. Evers said before the election he wouldn't approve those exceptions, arguing the whole law should be scrapped.
Democrats should be "on offense when it comes to reproductive rights," Godlewski said, adding that the message "resonates with the values that Wisconsinites believe in."
Godlewski also warned against candidates relying on rhetoric over action, or treating abortion as "an afterthought."
"We've also got to be showing that we are making progress on this issue," Godlewski said. "Democrats can't just take advantage of this and make this an issue of convenience. We have to also show the action that we are moving forward."
Neubauer agreed abortion "will be a critically important policy issue for us as we go forward, not only because people deserve access to this right — to bodily autonomy — but also because people will decide whether to stay in Wisconsin on the basis of the future that they see for them and their families."
Wisconsin needs young people to live and work in the state, Neubauer added, arguing that its abortion ban "undermines that."
"Every election, from here on out, is a referendum on abortion," Neubauer said. "And we will make sure that voters understand that as we go forward."