In a move to alleviate concerns from some downtown business owners, Madison is now proposing smaller bus stop stations for the future rapid transit line that will run along State Street. 
The new designs respond to worries that the original plans for the bus shelters would have been too obtrusive, blocking views of shop windows and taking up too much space.  
Mayor Satya Rhodes-Conway said at a press conference Monday that the stations would be 60% smaller than the original design and be more transparent to make it easier to see storefronts. She called them a "reasonable compromise," developed based on these worries. 
"I believe that we can — and, in fact, must — accommodate the legitimate concerns raised by business owners and, at the same time, reap the benefits of a rapid transit system for our residents, our economy and our transportation system," Rhodes-Conway said. 
The preferred shelter locations are shown in city design renderings to be located in front of the Madison Museum of Contemporary Art, 227 State St., and Fresh Market on the 300 block of State Street at the intersection of Gorham Street.
Ald. Mike Verveer, District 4, said he appreciates the attempt at compromise but doesn't believe the designs announced Monday are enough of a change.
"If we're going to accept BRT on State Street, we have to get the stations right, so we really need to reduce the size to be really equal to the current bus shelters and be as transparent as possible," said Verveer, who represents downtown.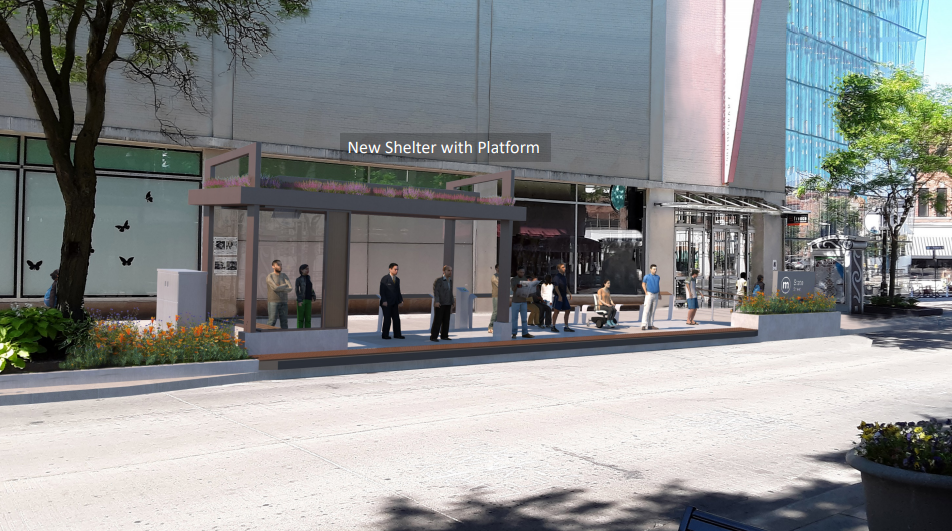 Future of State Street 
Madison has been working toward implementing a high-frequency, limited-stop service, including 60-foot-long buses and dedicated lanes, now called Metro Rapid, for years. With the federal government slated to give Madison $80 million for the project, Rhodes-Conway said the city is on the "brink of success." 
"We need to take advantage of this historic moment and finally bring rapid transit to our great city," Rhodes-Conway said. "Delays this late in the game are not only unproductive but would be foolhardy."  
While the design changes are appreciated, some downtown advocates are concerned that a route through State Street does more harm than good. In a statement in June, the Business Improvement District asked city leaders to find alternative locations for the BRT route and stations in the State Street area to minimize the negative effects on businesses. 
"What we're really concerned about is that the future of State Street is not just transportation," the BID's executive director Tiffany Kenney said. 
Kenney said she was surprised to see the design changes announced Monday though she was aware the city was working on new station sizes.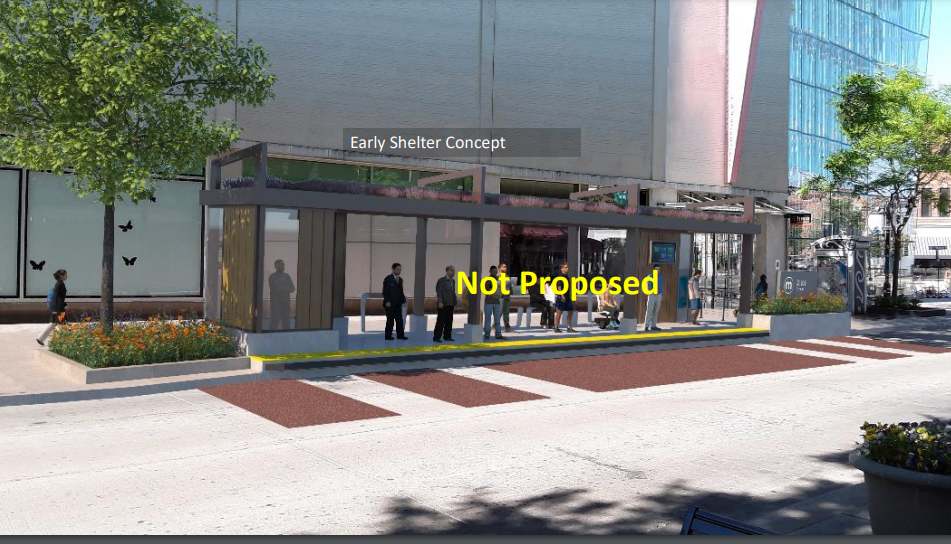 The $160 million project, which is expected to be implemented in 2024, will run from the east side of the city to the west. The route will run along East Washington Avenue, around the State Capitol, through the University of Wisconsin-Madison campus, continue west on University Avenue and Mineral Point Road and end at West Towne Mall.   
With rapid transit, upper State Street will likely have about 60% fewer buses during peak hours than in 2019, and most of the buses will be electric vehicles. Lower State Street will likely not have any buses running on it. 
When BRT is implemented, the 10 bus stops on State Street will "likely" be consolidated into two, and the line will run on the 100 to 300 blocks.
Joan Downs, a downtown resident, walks with a cane and can travel on foot for about two to three blocks. She worries fewer stops on State Street will make it more difficult for her to move around downtown. 
"Reducing bus stops from 10 to two means I can't access the restaurants or businesses on State Street," Downs said. 
For bus rapid transit to meet its goal of moving people quickly and efficiently, the stops are supposed to be less frequent and further apart from each other. 
Rhodes-Conway pointed out that the city is also redesigning existing Metro Transit bus routes as BRT is being implemented. The local routes and BRT line will work together, she said. 
"Our local system will be overlaid on that and built to encourage transfers between the rapid system and the local system to hopefully find that right compromise to meet everybody's needs," Rhodes-Conway said.   
Redesigned bus shelters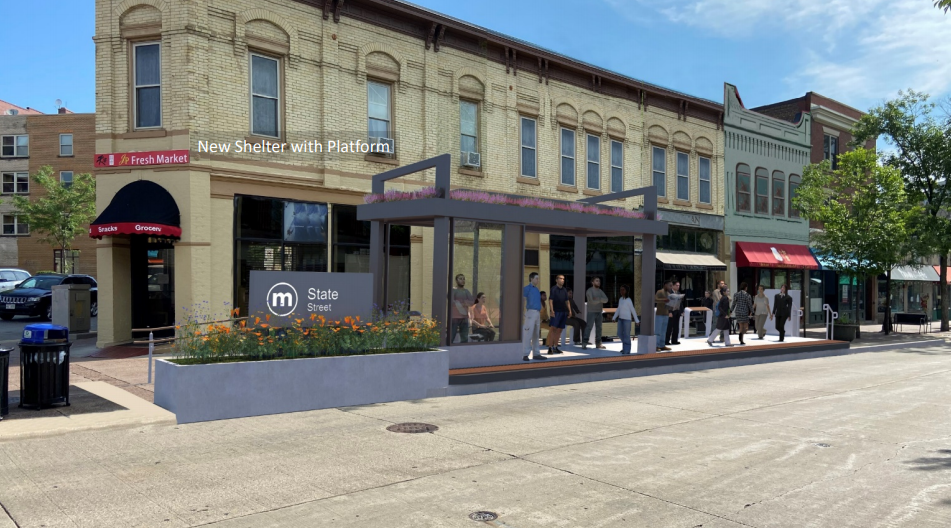 Under the redesigned plans announced Monday, the bus station platforms are expected to be 50 feet instead of 75 feet, and the shelter will be similar to those that exist today along the street. In addition to being more transparent, the shelters will also have fewer vertical elements, making it easier to see storefronts. 
They will also not interfere with sidewalk cafes and street vending. 
"We have been listening to, and working to address the concerns of, State Street businesses over the past several years," transportation director Tom Lynch said in a statement. "Today we are releasing a modified BRT station design which is more context sensitive and will improve the transit situation for the entire street." 
Laura Komai, co-owner of Anthology on the 200 block of State Street, said the new design is "definitely an improvement" but doesn't alleviate her primary concern that buses on State Street encourage people to pass through downtown. 
"As a business downtown and on State Street, we want to encourage people to come down and linger on State Street," Komai said.  
A multi-year process that resulted in the "locally preferred routing plan" for bus rapid transit identified the three blocks of State Street and the Capitol Square, which will also have two BRT stops, as optimal stops because they provide direct access to the city's economic and cultural centers. 
Rhodes-Conway emphasized how the future rapid transit line will benefit Madison's downtown. 
"State Street is part of the Metro Rapid routing not because we don't care about State Street, but because State Street is a critical destination in our city," she said.