Initial concepts for a major transformation of the Lake Monona waterfront will be presented at the Monona Terrace on Monday at 6 p.m.
The signature park, which will stretch from Blair Street at Machinery Row and include Law Park, the Monona Terrace and Lakeside Street to the south, encompasses 17 acres of public space along Lake Monona. It will include large green spaces in addition to providing a spectacular entrance into Madison from the John Nolen causeway and south Madison.
The aim of the project is to offer better, safer access to the waterfront. It aspires to tie the community together as well as connect to the city's history.
"Right now (John Nolen Drive) is just a really long driveway into our city," said Raj Shukla, a board member of Friends of Nolen Waterfront, the group that has spearheaded the project. "What we want to do is actually turn this into a red carpet."
The three finalist design teams are known nationally and internationally for their work creating welcoming and innovative public spaces. Agency Landscape + Planning is leading the design of a 10-acre public park in Sarasota, Florida. Sasaki worked on the Riverwalk in Chicago and provided the design and urban planning for the Olympic green at the 2008 Beijing Olympics. And James Corner Field Operations was the project lead for the High Line in New York City, a former elevated railway line transformed into a public park and space for art and food vendors.
In 2021, the Friends of Nolen Waterfront, an ad hoc committee made up of 13 members, selected three design teams to present a vision for the area. The project will include funding from both private sector contributors as well as the state, county and city.
The committee will choose the final design, which will be revealed Jan. 26, 2023, during an event at Olin Park. Ultimately, a final conceptual plan will be submitted to City Council and then the plan would go through the regular city government review process, including Madison's Plan Commission.
'Celebrate the lakes'
Visions of a large Lake Monona shoreline park and other architectural marvels have been explored for over 100 years by everyone from John Nolen himself to the Metcalfe family.
In 1893, John Olin led an effort to build a large public boathouse at the foot of King Street. Frank Lloyd Wright was chosen to design a circular boathouse as part of that project. That boathouse was never built due to a depression in 1894.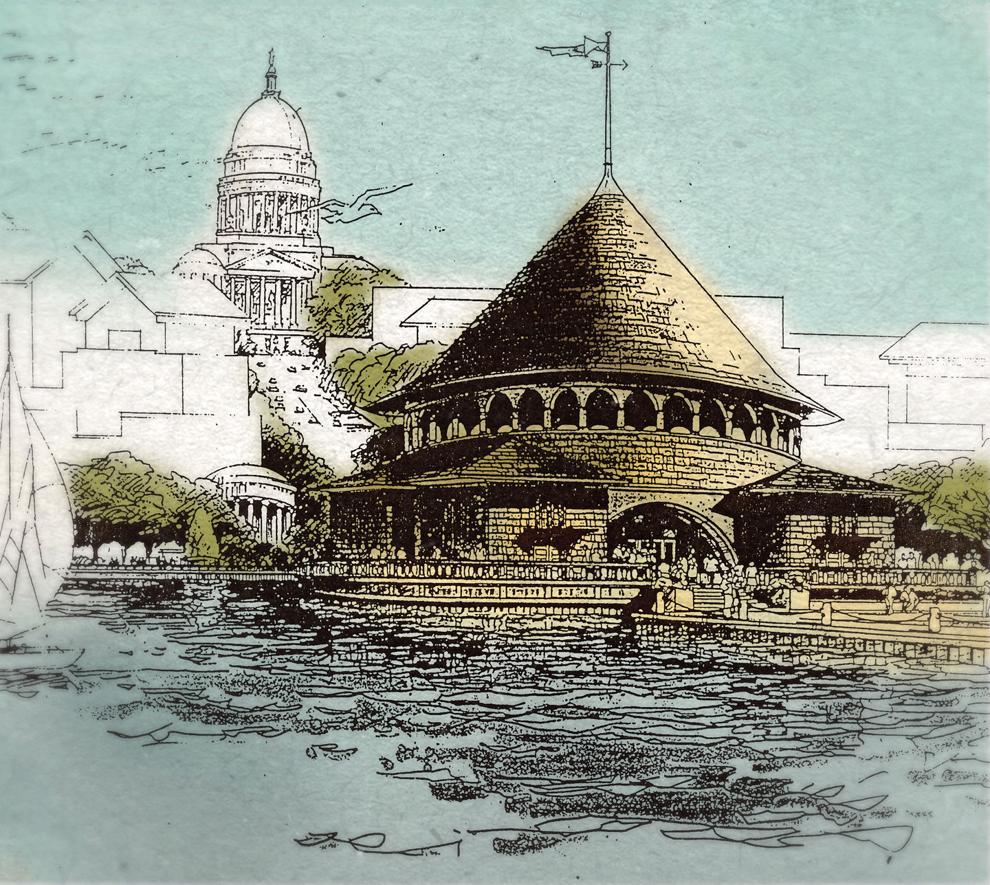 In 2014, Tim and Kevin Metcalfe came up with a vision for a pedestrian land bridge that could connect south Madison and Lake Monona.
And, of course, there is the Frank Lloyd Wright-designed Monona Terrace itself which took decades to come to fruition.
In 2008, a team of volunteers called the Madison Design Professionals formed to think about how to connect downtown and the lakefront. That coincided with an update of the Downtown Master Plan, which included concepts for an expanded Law Park.
The Downtown Master Plan was approved in 2012 and since then the group's efforts to reimagine the Lake Monona waterfront have continued. It has included working with University of Wisconsin-Madison student teams from civil and environmental engineering, and the planning and landscape architecture departments.
"The Downtown Master Plan's… number one recommendation was that we need to celebrate the lakes and we need to improve access to the lakes," said Allen Arnsten, a board member of the Friends of Nolen Waterfront.
The UW students helped develop ideas about how a park expansion could be done logistically.
"They came up with many ideas about how this could be done, not just on the land side," said Tim Anderson, vice president of the Friends of Nolen Waterfront, "but also on the water side. How can we protect water resources? The fisheries? How can we provide more access to the lakes? So this was very helpful work that they did."
'No other city that could touch this'
The formation of the park could present a second chance to showcase the boathouse designed by Frank Lloyd Wright.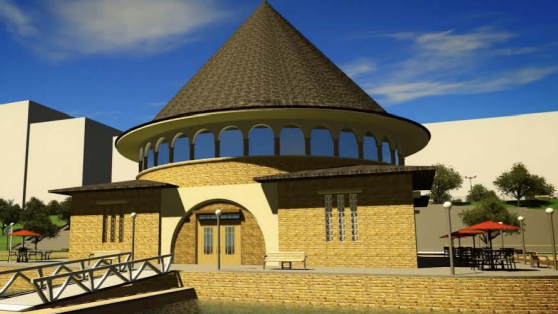 Wright's 1893 circular rendering that was never built has remained a part of the possible concepts for the expanded park.
"One of the guiding principles is to create a destination waterfront," Anderson said. "What could be more of a destination than to have two Frank Lloyd Wright buildings a thousand feet apart on one waterfront? What kind of story could that tell?"
Wright designed two boathouses in 1893 as part of a competition run by the Madison Park and Pleasure Drive Association. A boathouse he designed for Lake Mendota was constructed but was demolished in 1926. Some have contended the unbuilt Lake Monona design is even more spectacular.
And to have both the Monona Terrace — one of Wright's final architectural designs — alongside the 1893 boathouse would be unique, according to local historian David Mollenhoff, who wrote a book about the construction of the Monona Terrace.
"Here within that tiny little piece of shoreline you'd have one of the first and one of the very last buildings that (Wright) designed spanning his entire 66 year architectural career," Mollenhoff said. "That's special. There's no other city that could touch this."
But whether or not the Wright boathouse will be part of the design proposals is not known — until Monday.
Reimagined space 'sets the heart free'
Right now there is major road construction happening on Blair Street at the so-called "hairball intersection." John Nolen Drive itself has long been a slow, congested traffic nightmare. Looking out the window of one's car at a beautiful sunset over Lake Monona can be a dangerous proposition during rush hour.
According to Shukla, the view from the lake onto all of that traffic is even more depressing. Shukla recalls the Friends going out on a boat last summer to take in the sight of what an expanded park could look like. When they got to the part of the shoreline where John Nolen Drive's scale and congestion is heaviest, Shukla said everyone's heart broke over the wasted opportunity this city has been strapped with.
"That (a re-imagined waterfront park) turns this into an entirely different kind of place," Shukla said. "We could help set our hearts free by changing what this is and bringing people here and making it alive instead of just a pass-through for some cars."