A proposed Dane County Board investigation into work conditions at the zoo is causing a conflict with Dane County Executive Joe Parisi, who says it could "potentially interfere" with the county's own probe.
The Dane County Board of Supervisors approved an independent investigation into the work environment at Henry Vilas Zoo last week following allegations of racism and retaliation by zoo management.
The independent review would follow an internal probe conducted by two county employees. That report confirmed allegations in a Wisconsin State Journal article that the work environment at the county-owned zoo was "toxic" and fostered an "us vs. them mentality," by staff toward zoo management. 
Yet Dane County supervisors overwhelmingly favored an independent review into the zoo's work conditions at an executive committee meeting on May 5. The resolution for the investigation, authored by Supervisor Tim Kiefer, dedicates $50,000 from the county toward the review, which must be conducted by a retired circuit court judge and be completed by Oct. 1. 
"​​The State Journal raises some very troubling allegations, and at this point they are just allegations," Kiefer told the Cap Times. "I want there to be an impartial, independent review to get to the bottom of it and find out what is going on, and — most importantly — what can we do to fix it?"
At the meeting, Carlos Pabellon, an attorney for the county, said the legal issue of an independent review boils down to the scope of the evaluation. The county executive is charged with the management of county staff, Pabellon explained, and that authority can't be constrained in any way.
If the independent review includes a review into work environment allegations, specifically pertaining to any employees, he said there will be a conflict with the county executive's authority.
"It's a nightmare scenario for a number of reasons, one of which would be that if you have differing opinions regarding such investigations, what do we do with that?" Pabellon asked. 
If the two investigations have varying recommendations or suggest different occurrences, then the results can be used against one another and "basically petrify our ability to correct any behavior that we need to address," Pabellon said.
The independent investigation is still in committee and will need to be voted on before it can go to the full County Board in the coming weeks.
'Adversarial tone'
On May 4 — the day before the County Board executive committee meeting — Parisi sent a memo to the board which said he was troubled by what he witnessed in the first few days of the new legislative term. Specifically, he raised concerns about the "adversarial tone" new County Board Chair Patrick Miles set in his appointment message, in which Parisi says Miles asserted county managers act discriminatorily and subjectively toward employees.
Parisi said in the memo that, "given a concern about race had emerged" in two zoo employee exit interviews, civil servants conducted comprehensive one-on-one staff interviews, independent of any political influence. He specified the two authors of the investigation are both women of color. 
The internal review took place between April 14 and April 16 by Kabura Mukasa, a human resources manager in the county's employee relations division, and Carrie Braxton, an Office for Equity & Inclusion manager. 
"Two women of color — Dane County civil servants — spent weeks exploring the concerns raised in those exit interviews," Parisi wrote in the memo. "Suggestions their work could be done by others differently or better, dismisses their work, questions their professionalism and is inherently an example of an implicit bias."
Why the executive committee continues to discuss an independent review is puzzling, Parisi told the Cap Times Monday.
"The county was already in the middle of conducting an investigation at the zoo when the board chair called for an investigation of the zoo. This is exactly why we have a civil service system, to keep politics out of these things and to ensure objectivity," he said. 
Mukasa told county Department of Administration director Greg Brockmeyer that the executive committee is "undermining her and (Braxton's) efforts and the process (they) are recommending," in an email obtained by the Cap Times from Parisi's office.
She said if the executive committee had reached out to her before the meeting, "they would have discovered that since January of this year, we began looking into the Zoo exit interview allegations and were in the midst of concluding an investigation."
She said the executive committee, County Board and Personnel & Finance Committee should let zoo employees "get on with healing" and give them and the county at least one year to work on the items found in the internal investigation. 
"Starting up another investigation now is going to keep the Zoo Team and those of us who are working with them, focused on the past rather than the present and future to start improving the workplace environment for Zoo employees and animals," Mukasa said in an email dated May 6. 
"What message is the Exec Committee sending not only to the public, but also our own County employees regarding Employee Relations and Office for Equity and Inclusion not being impartial in conducting investigations and making fair determinations for all involved? Are they going to request third-party investigations for all our up-coming departmental investigations?"
Parisi said he doesn't believe an independent review is in the purview of the County Board if separation of powers is considered.
"Something like that could potentially interfere with any disciplinary action that may be planned as a result of the county investigation," Parisi said. "I've been puzzled by it. It's been an unfortunate way to start the term of the new board. We'll just have to see how it plays out."
Miles was unavailable for an interview when the Cap Times asked for more information on the independent investigation. 
Rebuilding public trust
Kiefer, who authored the resolution for the independent review, said, as a lawyer, he disagrees with the county attorney's analysis that the review is outside the board's jurisdiction. He cited a state statute which grants the County Board broad authority to "represent the county" and "have the management of the business and concerns of the county in all cases where no other provision is made."
"This claim that the County Board is somehow not allowed to do this investigation I just don't think is accurate," Kiefer said. "I don't want to have the investigation go through subpoenaing people to come to County Board committees to testify. I don't think that's the best way to do it."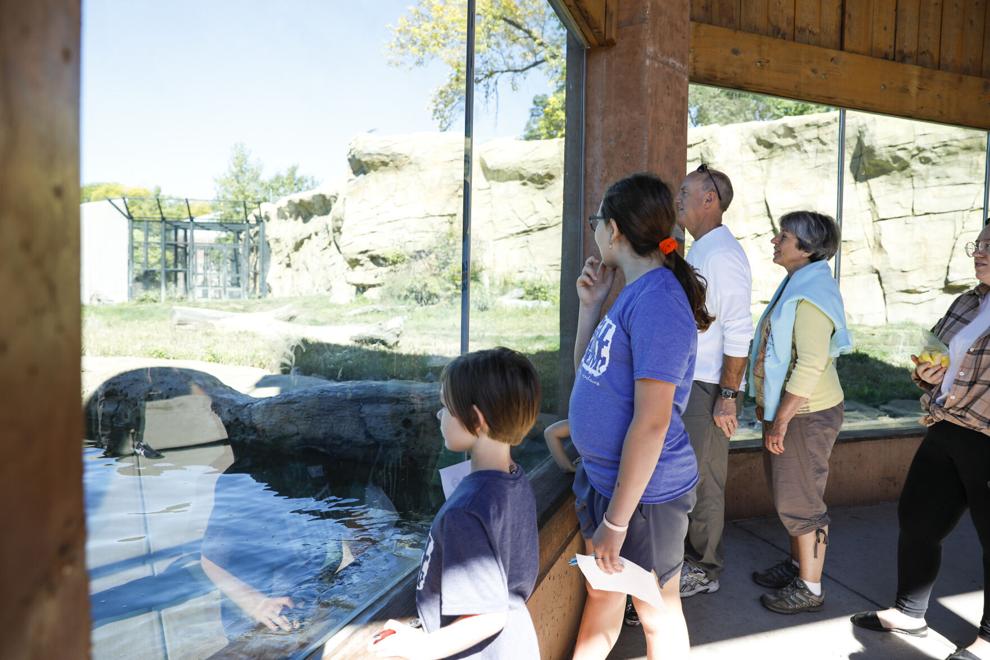 Parisi maintained that the board must not allow the integrity of objective processes be influenced by politics. Supervisors argued that an independent investigation, in some shape or form, is needed to restore public trust in the zoo.
"The only way to bring back that level of public confidence is to have someone outside the immediate situation take a look at how things have devolved so egregiously," Supervisor Anthony Gray, District 14, said at the May 5 meeting.
Kiefer said, until then, the nightmare will continue.
"Corporation counsel said there would be this supposed nightmare scenario if the independent investigation comes up with different results (than) the internal investigation does. I say, on some level, wouldn't that be the whole reason?" Kiefer said, saying a different perspective is the point of the resolution he authored. "In my view, the nightmare scenario is the situation we're in right now —  the zoo is allegedly having really major problems — and I think we need to figure out what's going on and fix it."
Vilas Zoo is is fully accredited by the Association of Zoos and Aquariums and one of 10 remaining free zoos in North America. It's home to over 650 animals, including lions, giraffes, polar bears — even a rare red panda — and has been a staple of Madison since 1911. 
Two exit interviews from January and February paint a different picture of the family spot.
Two former zookeepers describe racist behavior, discrimination, fear of retaliation and animals dying because of neglectful management decisions, according to a Wisconsin State Journal report. 
One anonymous zookeeper said, "it's a toxic waste dump here. If you speak up against it, you're labeled as a bad person (by management)."
Interviews with zoo staff and management for the county's internal report included findings such as: 
The work environment was described as toxic… primarily a result of an "us vs. them" mentality created by some staff toward zoo management

Staff not feeling represented by union group due to the "divisive, disrespectful, disparaging, acrimonious tone and manner of the communications towards management"

Some staff ostracize or ignore new or current staff (and) new staff feel unwelcome 

Poor employee work attendance or absenteeism… affects morale, leads to ill-will and is detrimental to animal welfare
The investigation also found animal welfare or care emails sometimes weren't responded to in a timely manner by management; some managers and staff exhibit microaggressions; and the zoo is "sorely lacking" in staff of color.
One of the zookeepers who resigned this year was the zoo's only Black zookeeper. 
Critics blame 'systemic problem'
This isn't a new concern for the county, though.
In fall 2021, the Dane County Board partnered with Keen Independent Research to conduct a program evaluation and recommend strategies to advance racial and social equity at Dane County Parks and at the Henry Vilas Zoo.
The study's $99,990 cost came from the county budget (allocation for audits and innovations, specifically) and the survey results will be released this summer. 
None of Vilas Zoo staff returned the Cap Times' interview requests. 
"It's quite clear from employee interviews that some are perpetuating divisiveness at the zoo, creating an unnecessarily challenging work environment," Parisi wrote in a memo May 4. "I've given clear direction to Employee Relations, Corporation Counsel, and the Department of Administration: that behavior will not be tolerated and work rules will be enforced." 
These aren't the first complaints about zoo leadership. 
Dane County's relationship with its fundraising partner, the Henry Vilas Zoological Society, came to a bitter end after a century in 2019. The split followed a county sheriff investigation into discrepancies in the amount of money collected and what was reported by the society. At the same time, the society leveled charges of harassment of society staff by the zoo's director Ronda Schwetz.  
The result was a bumpy transition to new management strategies with Dane County and a new contractor to handle finances and concessions.
And then, in June 2021, Schwetz took a leave of absence after a former University of Wisconsin-Madison assistant professor filed a civil lawsuit against her and the Association of Zoos and Aquariums following an alleged sexual assault in 2018. 
Brian Standing, President of Dane County Local 1871 — the union which represents Dane County professional employees and has a couple of members who work at the zoo — said at last week's meeting he supports a thorough review into how employees are treated.
He said what he's heard has been "distressing" and is representative of a larger trend.
"This is part of a systemic problem that extends beyond the zoo," Standing said, and described that he's heard similar reports of toxic work environments in the county's medical examiner's office and the public health department.
"It's emblematic of breakdowns in some of the institutions that are meant to serve as checks and balances on what management can do — it's been a breakdown in norms, in mutual respect and collaboration," Standing said. "And unfortunately, it's fostered a culture among some, not all, managers that they can do what they wish with impunity and no accountability."
He contended that investigations such as these need to be free of institutional bias and that when the county asks high level management to investigate themselves, it's "an inherent conflict of interest."