Despite the wait on close statewide races, several local ticket races have been called, with Dane County Sheriff Kalvin Barrett securely holding onto his role for another four years. 
Barrett, a Democrat who has served as sheriff since April 2021, faced off against Republican challenger Anthony Hamilton, a detective within the Sheriff's Office since 2008. With all precincts reporting, Barrett took 76.5% of the county vote.
He has put public safety, building trust with communities on the ground and reducing the jail population through diversion programs at the forefront of his campaign.
"I feel excited," Barrett said Tuesday night while attending Gov. Tony Evers' election watch party at the Orpheum Theater in Madison for results. "It's been an honor to receive the votes I have up to this point by earning the people's trust over the past 18 months. I will continue to represent them with dignity, respect and compassion."
For statewide races, mirroring previous years, Dane County heavily voted in favor of Democratic candidates. 
Evers collected 78.7% of votes in the county against Republican challenger Tim Michels, four points ahead of what the governor garnered in 2018. Evers gained about 17,000 more votes in Dane County from 2018 to 2022, according to County Clerk Scott McDonell.
Meanwhile, Lt. Gov. Mandela Barnes got 77% of the vote in the county in a race for a U.S. Senate seat against incumbent Republican Ron Johnson, who got 22.5% of votes. Six years ago in his last Senate race, Johnson received 26% of the Dane County vote.
Dane County voter turnout was 80.3%, a bit lower than the last midterm election in 2018 (88%) but higher than in 2014 (73%). A Democratic stronghold in Wisconsin along with Milwaukee County, Dane County's turnout will be pivotal for Evers and Barnes.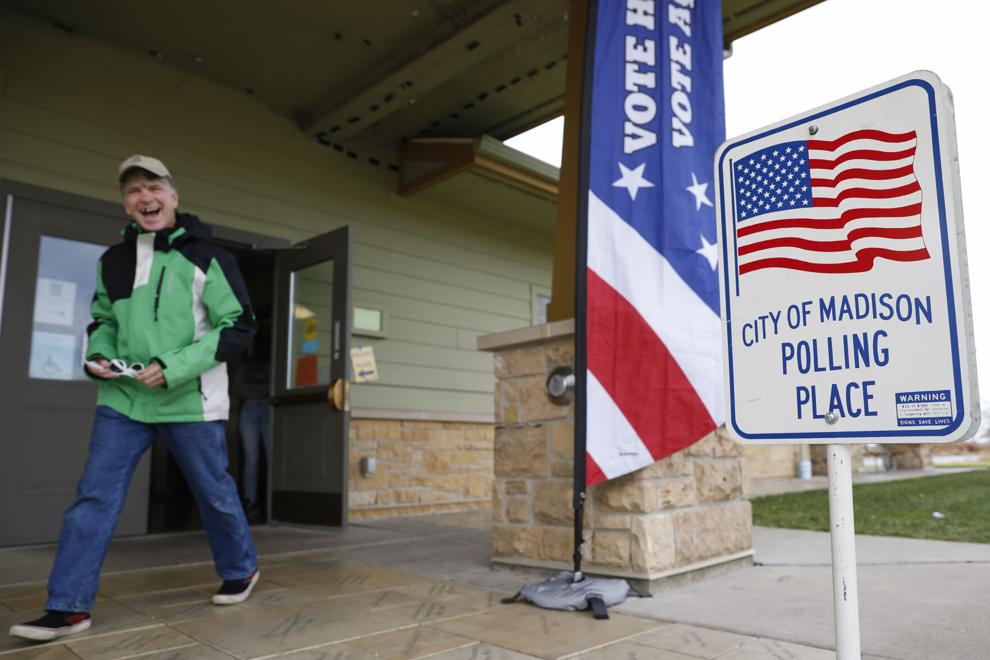 Non-binding Dane County referendums
Also on the ballot in Dane County were three referendums gauging public opinion on marijuana legalization and the state's 1849 abortion law. The questions are advisory with no action or funding attached, and the results will not change state law.
The first marijuana referendum question asked if the substance should be legalized, taxed and regulated in the same manner as alcohol for adults 21 years of age or older, to which the vast majority of voters, 82%, answered "yes." 
In a follow-up question, another referendum question asked if all records of previous convictions for marijuana possession in small amounts in Wisconsin should be expunged. Voters similarly voted "yes" with 82% of the vote.
The Dane County Board of Supervisors overwhelmingly approved the non-binding referendum questions in July, putting the same cannabis legalization question on Tuesday's ballot as appeared in 2014 and 2018 (which were approved by margins ranging from 64.5% to 76.4%.)
The intention was to keep it unchanged to obtain long-term voter opinion data on cannabis legalization, said Supervisor Aaron Collin at the time of the County Board vote in July.
"What we're trying to do here is just show the strength of support," he said. "We know the majority of people in Wisconsin, according to polling, want marijuana legalized."
The second referendum question on marijuana is new, though, and designed to focus on criminal justice reform.
The third referendum question asked voters to weigh in on Wisconsin's 1849 abortion ban, which went back into effect after the U.S. Supreme Court overturned Roe v. Wade in June. The question asked if the law, "which bans abortion at any stage of pregnancy without exception for rape, incest, or health of the patient, should be repealed to ensure legal access to abortion care."
By an even wider margin than the other referendums, 85% of voters answered "yes," that the law should be repealed.
Both Dane County District Attorney Ismael Ozanne and Sheriff Barrett have previously stated they will not prevent individuals from seeking or providing abortions since the Supreme Court's Dobbs v. Jackson Women's Health Organization decision.
Despite that, questions about enforcement will depend, too, on the outcome of the attorney general's race, which is still undecided. Incumbent Josh Kaul, a Democrat, has said he won't enforce the ban, while Republican opponent Eric Toney has suggested the attorney general should be able to prosecute abortion crimes. 
State legislative offices
Many state legislative offices were on the ballot Tuesday, including Senate seats in districts 15 and 27 west and south of Madison, and state Assembly seats in districts 37, 43, 46, 47, 78, 79, 80 and 81, located both in Madison and outside the city. Here is how those races played out:
Democrat Dianne Hesselbein won in state Senate District 27 against Republican challenger Robert Relph with 68% of the vote.
Hesselbein previously represented state Assembly District 79 beginning in 2013.  The Senate district encompasses much of west Madison, plus Mount Horeb, Waunakee, and pieces of Middleton and Fitchburg. One of the longest-serving state senators, Democrat Jon Erpenbach, has represented the district since 1999 but announced he would not run again in December.
"Thank you, voters of the 27th Senate District, for electing me to represent your values and priorities in the Wisconsin State Senate," Hesselbein said in a statement. "I am humbled and truly honored by your support, and I will not let you down."
She added, "This victory is your victory, and we will move Wisconsin forward."
Democrat Jenna Jacobson won against Republican Marisa Voelkel to represent state Assembly District 43, encompassing eastern and northern portions of Janesville, along with Edgerton and the towns of Fulton and Koshkonong. Jacobson got 67% of the vote with 58% of precincts reporting.
Democrat and Dane County Board Supervisor Melissa Ratcliff won 70% of the votes in Assembly District 46 against Republican Andrew McKinney with 76% of votes in. The narrow district east of Madison spans from Sun Prairie down to Stoughton.
In Assembly District 47 — which includes Monona, the northern half of Fitchburg and the village of McFarland — incumbent Democrat Jimmy Anderson garnered 79% of the vote with 77% of precincts reporting. He beat out newcomer Lamonte Newsom, a Republican, for the seat. 
Democratic incumbent Lisa Subeck held onto her Assembly District 78 seat against Republican Matt Neuhaus. Subeck has represented the west Madison district since 2015 and garnered 82% of the vote with 71% of precincts reporting.
Democrat and Dane County Board Supervisor Alex Joers will now represent Assembly District 79 — which mainly covers northern portions of Madison, plus Middleton, Waunakee, some of Windsor and the town of Westport. Joers beat Republican Victoria Fueger with 74% of the vote with 77% of precincts reporting.
"People across our community made their voices heard tonight and I am humbled by the support this campaign received over the past months," Joers said in a statement. "Now, we must all work together to move Wisconsin forward and ensure the will of the people is heard in our State Capitol."
After Democratic incumbent Sondy Pope stepped down as the representative for Assembly District 80, which she has held since 2003, Democrat and Dane County Board Supervisor Mike Bare was elected to the seat with 70% of the vote. He beat out Republican Jacob Luginbuhl for District 80, which includes New Glarus, Hollandale, Barneveld and Belleville.
"I thank the voters for trusting me to represent them. I won't back down from the tough fights," Bare said. "I'll strive for progress on protecting our democracy, expanding our rights and investing in our schools and communities."
Cap Times reporter Kayla Huynh contributed to this story.
---
Editor's note: This story has been updated with a corrected turnout figure for Dane County. Initial figures available on the Dane County Clerk's website on Election Night were higher than the final number.