As establishments across Wisconsin close to in-person shopping and dining, grocery stores are open for business with some modifications to protect employees and patrons during the novel coronavirus pandemic. 
Both Madison Mayor Satya Rhodes-Conway and Tim Metcalfe, president of Metcalfe's Market, urged residents to use their grocery store trips to purchase about one to two weeks of supplies and nothing more. 
"When you come in, don't be buying a month's worth of supplies," Rhodes-Conway said at the closed cafe inside of the west side Metcalfe's Market, 7455 Mineral Point Rd. "Make sure you're leaving at least a little bit on the shelf for your neighbors and, particularly, folks who are more vulnerable than you."  
Metcalfe said the store is receiving shipments daily, and employees are restocking shelves.  
"It's been a very busy last seven days that we've had. We've been hit pretty hard," Metcalfe said. "We're getting replenished. Things are kind of settling down for us."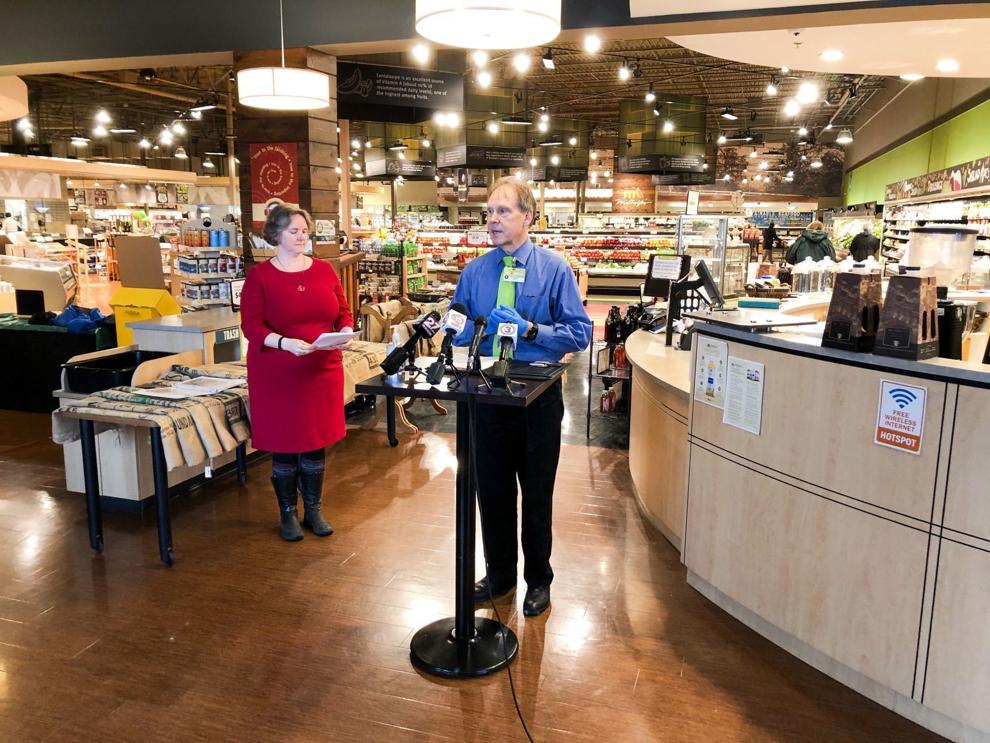 Metcalfe said grocery store patrons should be mindful of keeping distance between employees and other customers while shopping. The store has closed self-serve areas like its salad, olive and hot food bars.
Also, leave the reusable bags at home.  
"We're very much for that program, but we don't want to bring additional germs and contamination or spores that could possibly affect our employees or the public," Metcalfe said. 
In further restrictive actions to limit the spread of COVID-19, Gov. Tony Evers ordered bars and restaurants to close and mandated that any gathering must be limited to a maximum of 10 people. However, food establishments can remain open for take-out and delivery. 
Grocery stores were exempted from the governor's order. Some stores that usually operate around the clock are taking steps to make the experience of buying groceries safer and easier for people. 
Metcalfe's is open from 7 a.m. to 7 p.m. to give employees time to clean and stock shelves. Other stores, like Festival Foods, are also operating on limited hours. Festival will be close at 9 p.m. each night beginning Thursday. 
Metcalfe's, Hy-Vee, Pick 'n Save and Metro Market stores are also using designated special shopping hours for those who are at higher risk for illness. At Metcalfe's and Hy-Vee, the reserved time is from 7 a.m. to 8 a.m. Pick 'n Save and Metro Market locations will have 6 a.m. to 8 a.m. reserved beginning March 20. 
"We are asking the public to be respectful of this time," Metcalfe said. 
Rhodes-Conway said those who are food insecure may be more affected during the pandemic. She recognized the Madison Metropolitan School District for offering meals to students who qualify at pick-up sites. Also, senior meal programs are being delivered instead of picked up in person. 
"This is an unprecedented situation for our community, for our state for our country and for the whole world," Rhodes-Conway said. "I am absolutely confident that we will get through this together."