In Dane County, low-income first-time pregnant people can get a free personal nurse from pregnancy through their child's second birthday — but most people don't know the program even exists.
The Nurse-Family Partnership Program is one of three free programs Public Health Madison & Dane County offers to low-income pregnant people living in the county. It offers specially trained nurses for regular visits to first-time moms-to-be, starting early in the pregnancy and continuing through the child's second birthday, and it's completely free of cost.
For Capri Booker, 22, who got pregnant when she was a senior in high school, the program did more than just provide her with the basics of pregnancy, labor and all that comes after; she said it  taught her and her son how to be a family.
"This program helped me in so many ways, more than my own family could help me, even before I had my child," Booker said. "It can be life-changing."
'Having a baby is not easy'
Kristine Omen-Kaul works with women like Capri as a prenatal child health navigator with the health department. The prenatal programs serve around 200 clients a year, but Omen-Kaul said they could be serving more.
"We want to expand. (We) have the capacity to work with more families," she said. "There is a gap in terms of who is being referred to the program that is Latinx or Hispanic."
NFP has been around for nearly a decade, since 2012, and Omen-Kaul is helping to diversify referrals and reach families outside of Madison in other parts of the county through community partnerships.
"Being pregnant, having a baby is not easy, especially if someone is experiencing different toxic stress or racism in our county," Omen-Kaul said "(We provide) the extra support of that nurse … who makes time they might not be able to get at their clinic and is able to fit where is needed."
Eligibility for the Nurse-Family Partnership is similar to the requirements for Foodshare and Medicare, but enrollment in those programs is not necessary to participate. Anyone pregnant with their first child is eligible within a certain income bracket and anyone under 18 is welcome regardless of income. Anyone is also qualified regardless of legal immigration status.
There's also PHMDC's other prenatal programs: Women, Infants and Children Program and a Prenatal Care Coordination program both have broader eligibility and are available to people not just in their first pregnancy. (WIC works to improve the health of women, infants and children who may be nutritionally at risk by providing healthy foods and health information; Prenatal Care Coordination provides access to medical, social, educational and other services to pregnant women who are considered high risk for adverse pregnancy outcomes).
Similarly to those programs, NFP is aimed at addressing racial disparities in Wisconsin's birth outcomes, a nationwide problem that is especially pronounced across the state and in Dane County.  
Kristin Schwenn, a nurse in the program, said while her role with NFP is the most rewarding nursing job she's ever had, the biggest drawbacks come just from witnessing the disparities some families face when raising their child.
"We're not blind to systemic racism and the inequities that are all around the world and right here in Dane County," Schwenn said. "One of the challenges is walking alongside a family who is facing that and in a way feeling powerless myself and feeling inadequate as a nurse. I want to change so many inequities and just being one person that feels impossible."
In Wisconsin, Black birthing mothers are five times more likely than their white counterparts to die during or within one year of pregnancy. Additionally, Black babies' risk of death is double the state average and are also more likely to be born premature or at a low birth weight.
Recurring systemic problems that occur at far greater rates among women of color like preterm births — when a baby is born sooner than 37 weeks gestation and low birth weight — born weighing less than 5 pounds, 8 ounces — occur at lower rates among both Black and white NFP moms than other Medicaid births in Dane County.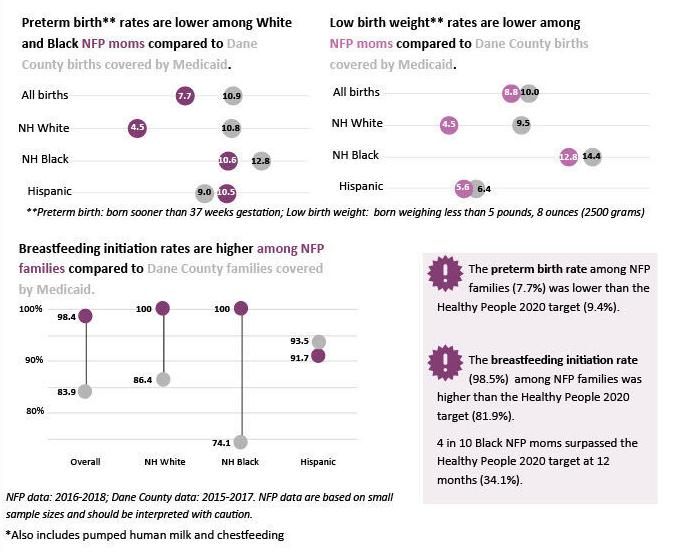 In data collected before the pandemic, from 2016 to 2018, the preterm birth rate for all births in Dane County covered by Medicaid was 10.9%. In NFP births, that number dropped to 7.7%, data from the health department shows. 
While 10% of births in the county were categorized as low birth weights, low birth weight rates were lower among NFP moms at 8.8%.
Toxic and accumulative stress from inadequate housing, income inequalities, racism or other root causes that low-income families may experience can majorly affect birth outcomes, Omen-Kaul said, especially here in Dane County.
And even facing all those things, Omen-Kaul said the families she has worked with really step up and dedicate so much of their time to the NFP program.
"The moms that we work with are just incredibly amazing and awesome," she said. "They're the ones doing the work, putting their time in, despite whatever situation they're facing."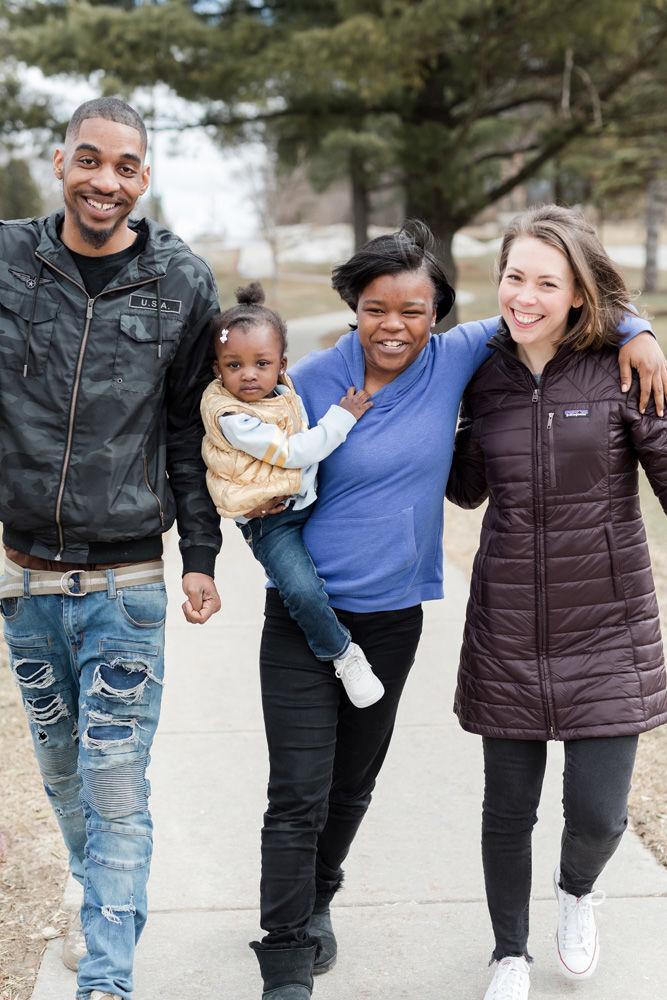 Care every day
Before Booker's son turned one, he was abused by Booker's former partner and experienced developmental setbacks. When Booker and her son were in the hospital, her NFP nurse, Meg, was there every day, she said.
 "Afterwards, everyone left but Meg was there," she said. "That was what I needed — I really needed her."
NFP nurses are not just medical caretakers — they help give personalized support to both the parent and kid they work with to help them reach their goals, whether it be learning how to breastfeed, addressing mental health challenges or connecting families to adequate housing. 
Booker explained that Meg was a nurse, a mom, a therapist to her. Meg was "everything," she said. 
"She helped me when doctors didn't listen to me, whether it was because of my age or my race," Booker said. "She helped me realize that accepting someone else to help does not mean you're crazy. She taught me to give new people a chance and hopefully in return they'll give you a chance.
"Meg was genuinely there to help, to make sure everyone heard my voice," she said. 
Schwenn said breaking down the stigma to ask for help is a big portion of what she and other NFP nurses do. She has been working at public health in the Nurse-Family Partnership Program since 2018.
She said all she wants is what's best for her clients, who are the ones in the driver's seat. Clients have complete autonomy throughout their NFP experience and decide how often they want to meet with their nurse, where those meetings happen and what they want to focus on. 
"They are the experts on their lives," Schwenn said. "We're all human. These services are here for that very reason, to support someone during a very vulnerable time."
Cassandra Griffin joined NFP in 2015 when she was pregnant with her first daughter as a junior in college and had hesitations at first about letting a stranger into her family. 
She said she was headstrong and thought everything would fall into place naturally. That wasn't quite the case.
"In society, we have really pushed this idea of independence when truly the idea of community and the need for community is so incredibly important, especially when you have a child," Griffin said. "I definitely recognize how difficult it can be to get past that stigma. There's nothing shameful about admitting you need help or admitting you don't know what to do. All of us as first time parents had no idea what to do. 
"She helped me focus on my goals not just as a parent but as a person," Griffin said.
Like Booker, Griffin said Joanne was a mother-aunt-friend-nurse figure all rolled up into one. 
Griffin struggled severely with breastfeeding and postpartum mental health and Joanne was there through every step, she said. When Griffin was experiencing anxiety about her daughter's weight, Joanne would drive to her house once a week to do a checkup.
"She remained my support person throughout everything, all the way through when I was ready to go back to college," Griffin said. "And then she wrote my recommendation letter."
Now Griffin works as a breastfeeding peer counselor for public health's WIC program, and she attributes her success to Joanne and the NFP program as a whole.
"I am the parent I am because I had that support. I now work in a role that gets to support women who went through a lot of the things I went through and it was truly because of NFP," Griffin said. "You can have all the family in the world but having that one person who is truly your advocate makes a world of a difference."
If you or someone you know are interested in the Nurse-Family Partnership program, or any of the other pregnancy programs, you can contact the local health department here.