WAUKESHA — The two Trumps found each other in the grassy expanse of the Waukesha County Fairgrounds on Friday afternoon.
Alek Dresler, an 18-year-old who made the drive from Island Lake, Illinois, wore a full black suit — his blonde hair styled into a dramatic pouf mimicking the style of the former president. Tan makeup on his face was smudged in the 80-degree heat. Dennis Lopiparo, a middle-aged Muskego man, was pulling a Trump mask over his head when they spotted each other. They both sported a signature red necktie.
Love of the former president was the common denominator, but beyond that the crowd at the event — just four days before Wisconsin's primary election — ranged from engaged Wisconsin Republicans to people like Dresler, who were there solely for the Trump experience.
Trump was there as much to castigate Assembly Speaker Robin Vos as he was to boost his chosen candidate in the Republican gubernatorial primary, Tim Michels.
Attendees included undecided Wisconsin voters, Michels supporters and Trump devotees who made the pilgrimage from their homes throughout the country — California, Arkansas, Indiana, Ohio, Michigan and more.
"We're here to support Michels," said Kandy Raether, Lopiparo's wife. "We like that he's a businessman. We like that he represents the hard-working people."
It wasn't any easy choice, though, Raether said. Michels — co-owner of the construction company Michels Corporation — will face former Lt. Gov. Rebecca Kleefisch and state Rep. Timothy Ramthun on the Tuesday ballot. The winner will challenge Democratic Gov. Tony Evers on Nov. 8.
"It was a tough one. I'm a big Rebecca Kleefisch fan. I watched her on the news," Raether said (Kleefisch is a former TV journalist). "I think she's got all the right stuff. But at the end of the day, we have to pick the one that we think is going to beat Tony Evers."
Polls have shown Michels and Kleefisch locked in a tight race. 
"I'm going to hear what Tim Michels has to say here. I'm still between him and Rebecca," said Diana Eisner, an undecided voter from the village of Randolph.
Eisner said she will decide who to support based on how the candidates "are going to support us, make it easier for the people. We are going to take this country back."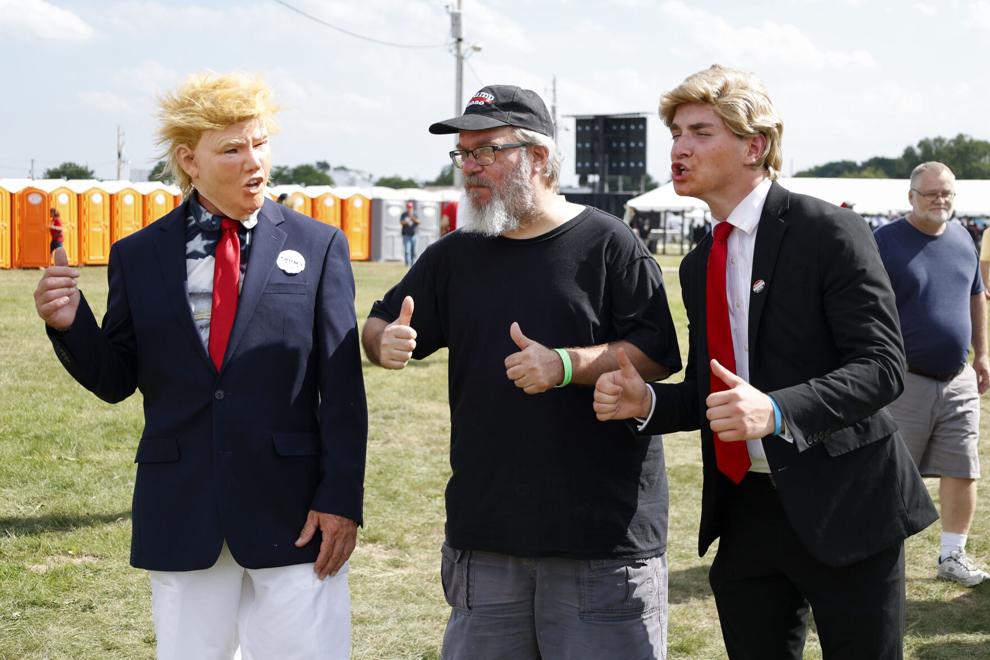 'He bores through earth'
Trump took the stage Friday night about 90 minutes later than expected, blaming inclement weather for his delayed arrival.
After some initial comments focused on his frustrations with Washington, D.C., the former president turned his focus to Michels, praising him as someone who "builds massive tunnels (and) infrastructure."
"He bores through earth, he bores through mountains," Trump said, adding that the two discussed construction more than politics when Michels traveled to Mar-a-Lago last spring. "I love construction. … He's big. He's bigtime, is the point. This is big stuff, the biggest in the world at what he does. Tim is a tremendously successful builder and runs the largest construction company in your state."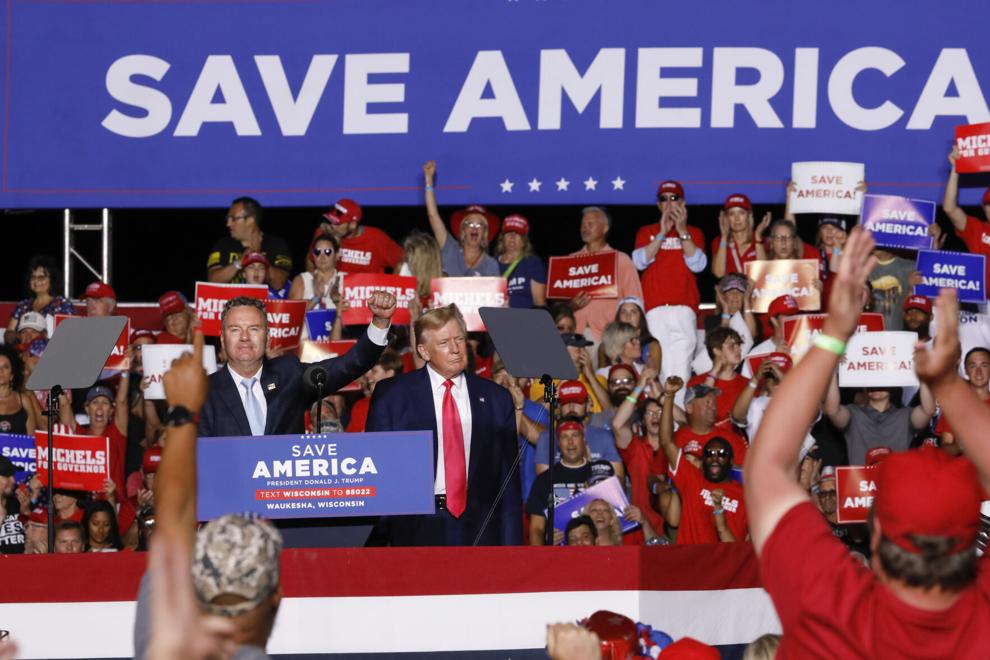 The former president said he was introduced to Michels by GOP mega-donor Diane Hendricks, a billionaire from Beloit. 
"As your governor, Tim will crack down on violent crime — he won't play games. He will fight to lower soaring energy costs, create jobs and guarantee free and fair elections," Trump said. "Tim will always defend your Second Amendment and he'll ensure that Wisconsin never closes schools or locks down businesses ever again."
He also bashed Kleefisch, calling her "a career politician and a political insider."
"She's the handpicked candidate of the failed establishment, the RINOs, the Washington swamp," Trump said of the former lieutenant governor. "Rebecca Kleefisch does not have what it takes to beat Tony Evers. Tim Michels will win the primary, he'll win it easily. And in November, he's going to win the election."
The former president and Michels also shared a moment on stage, during which the construction magnate delivered brief remarks and Trump placed his right hand on his shoulder.
"That was a good job," Trump said after Michels left the stage. "That was very good."
'Take back America together'
Speaking under the still-blazing evening sun, Michels delivered a 25-minute stump speech several hours before Trump arrived in the Badger State.
"I am running for governor of the great state of Wisconsin because our current governor, Tony Evers, is weak," Michels said. "He's been weak from COVID to Kenosha and we are going to replace him with strong, proven executive leadership and get this state headed in the right direction."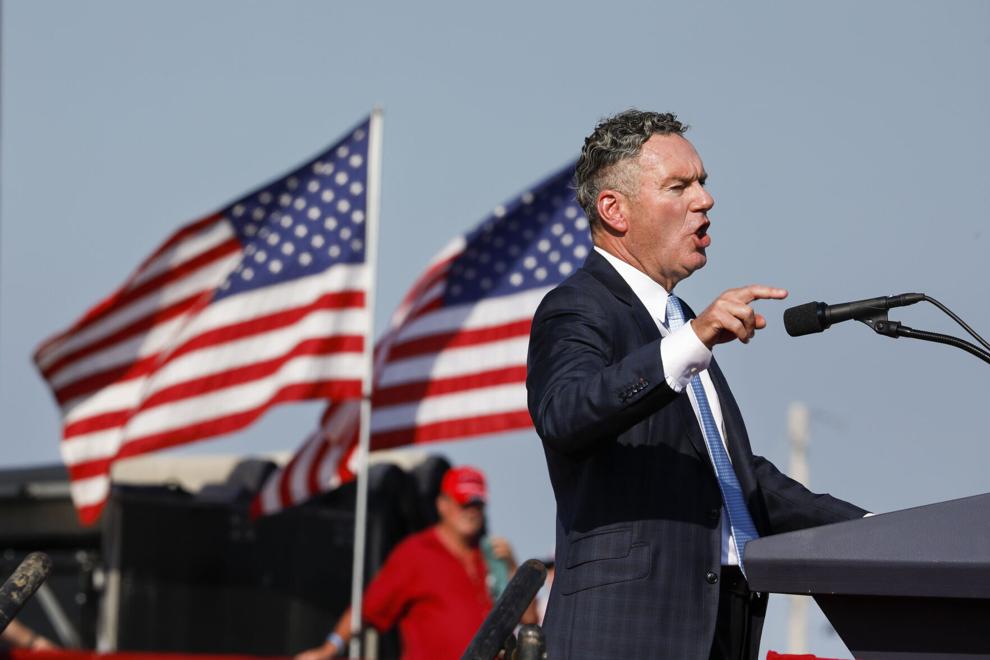 During the speech, Michels leaned heavily on his experience as an Army Ranger and as the head of Michels Corp., saying his life experiences leave him prepared to be the state's top executive.
He listed his top priorities as "election integrity," crime reduction and "education reform."
"I'm going to get rid of the Wisconsin Elections Commission," he said of the state's bipartisan election oversight body. "It should have been done a long time ago by my predecessor."
Dissolving WEC has become a top priority for some Wisconsin Republicans in recent months, despite GOP lawmakers having created the agency within the last decade. In a recent debate, Michels talked about creating a "WEC 2.0," with members from each of the state's congressional districts.
While speaking about his number two priority, reducing crime, Michels said he believed recent crime spikes in Wisconsin were "a byproduct of the 'defund the police' movement" and a result of Evers and Democratic President Joe Biden wanting to "coddle" criminals.
Finally, Michels said his third priority is reforming K-12 education in Wisconsin. Overhauling the state's K-12 education is another priority among Republicans, and is a shift from their traditional campaign playbook.
"Education is not only bad, it's getting worse," Michels said. "If there's one thing that Tony Evers should be able to do well, it's with education," alluding to Evers' past as an educator, school administrator and superintendent of public instruction.
Michels said the way to make Wisconsin schools stronger is by bringing "competition into the education marketplace" through universal school choice.
Michels' only reference to Kleefisch came toward the end of his remarks: "My opponent, her husband's a lobbyist as well. We need to get those people out of government. We need to bring some purity back into government."
Trump later echoed that criticism. Kleefisch's husband (also a former TV journalist) went into lobbying after leaving the state Legislature.
"First Tim Michels dragged Rebecca's daughter into this race for an endorsement, and now he's personally attacking her husband," said Kleefisch spokesperson Alec Zimmerman in a statement. "Perhaps that's acceptable in Connecticut, but the people of Wisconsin expect better. It's clear that Tim Michels' campaign is desperate and can't be trusted."
Michels owns homes in Wisconsin, Connecticut and New York and has split his time between Wisconsin and the East Coast. The Milwaukee Journal Sentinel reported late last month that, when Michels and Trump met in April, the former president complained about a photo of Kleefisch's daughter, then in high school, attending homecoming with the son of conservative state Supreme Court Justice Brian Hagedorn in 2019. Hagedorn has been a swing vote in several major cases, including the court's ruling against Trump in his efforts to overturn the 2020 election.
To close, Michels declared "we're going to take back America together. Together, we're going to beat Tony Evers. Together, we're going to get Wisconsin headed in the right direction and make it the greatest state that it can be."
2020 visions
During his remarks, Trump falsely claimed, as he has before, that he "won this state by a lot" in 2020. 
Several recounts, lawsuits and a nonpartisan audit have confirmed that Biden won the state by about 20,000 votes and that there was no widespread fraud in Wisconsin.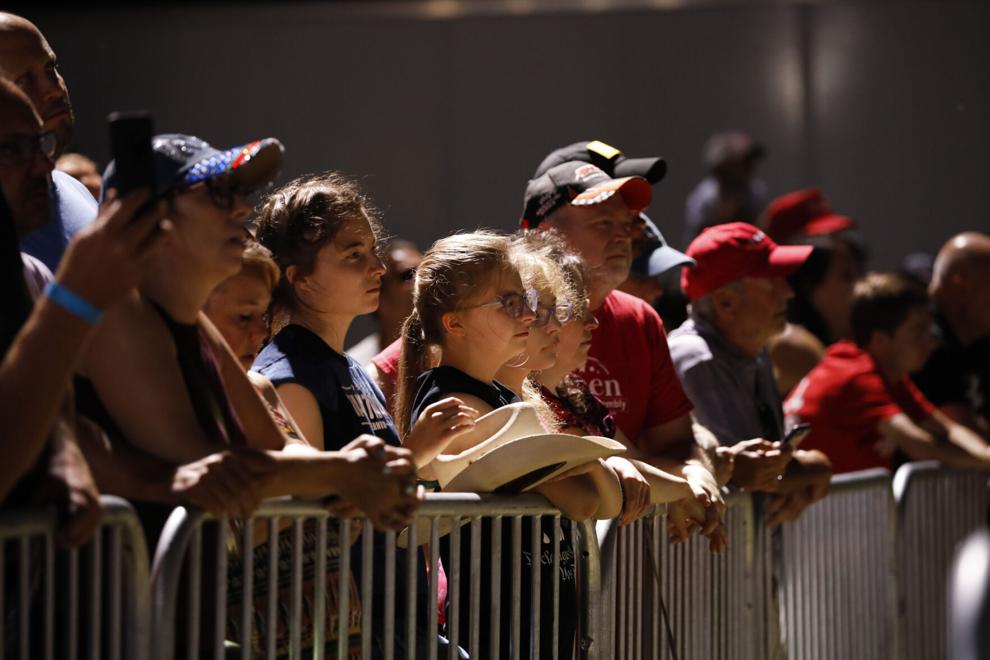 The former president praised a recent state Supreme Court ruling declaring that the use of unstaffed absentee ballot drop boxes is illegal, and suggested their use during the COVID-19 pandemic played a nefarious role in the outcome of the election.
Eileen McDermott, who traveled to Wisconsin from California to see Trump speak, agreed: "They stole the election. They did it by drop boxes."
McDermott said she wanted to hear from Trump about what's going to happen in the future, "because I know that Trump talks in code — everything's coded — and so you have to pay attention to what he's saying. But he's been pretty explicit about them that they stole the election. We all know it. I'm with him all the way."
The Californian said Trump will not run for president again in 2024 because the 2020 election would be overturned before then and he would be reinstated to the Oval Office.
Trump alluded to a possible run several times throughout his speech.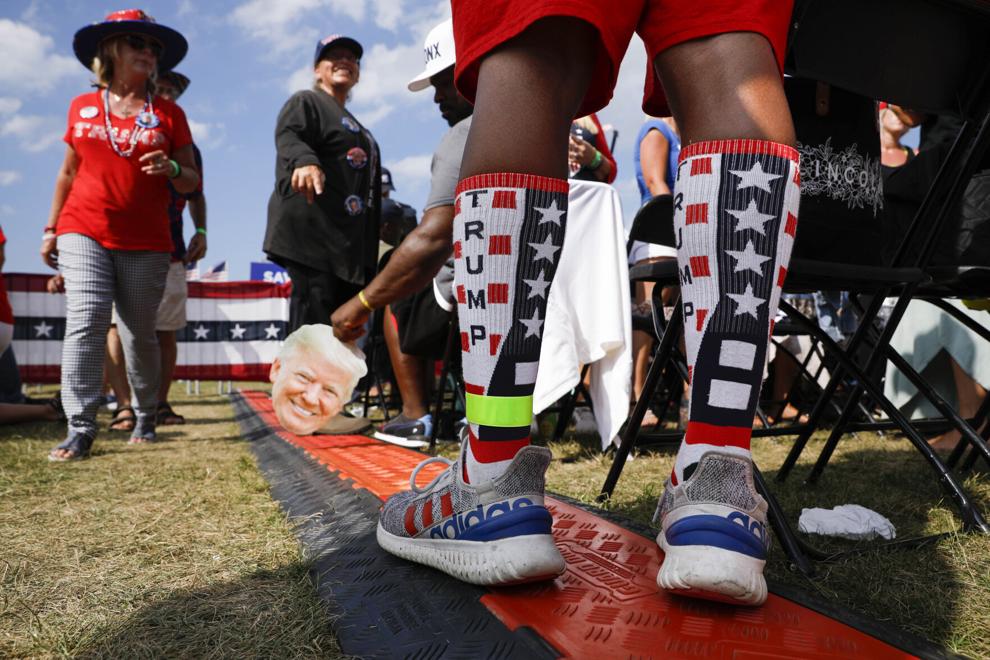 In addition to backing Michels, Trump encouraged voters to support U.S. Sen. Ron Johnson in his reelection bid, and 3rd Congressional District candidate Derrick Van Orden. He also boosted state Rep. Janel Brandtjen, who chairs the Assembly elections committee, and 63rd Assembly District candidate Adam Steen.
Steen is challenging Republican Assembly Speaker Robin Vos. Trump endorsed him several days prior, after months of unsuccessfully prodding Vos to pursue the legally impossible endeavor of decertifying the state's 2020 election results.
In a speech ahead of Trump's remarks, Steen referred to Vos as a "treasonous traitor." Trump called the longtime Republican leader a "RINO" (Republican in name only) and said "a lot of people think (Vos) is a Democrat."
Vos has represented the 63rd Assembly District (which includes much of southern Racine County) since 2005, served as a co-chair of the Legislature's powerful Joint Finance Committee in 2011, and has served as Assembly speaker since 2013. As such, he has led the Legislature through landmark conservative initiatives over the last decade including Act 10, right-to-work, tax cuts and a lame-duck session strongly curbing the powers of then-incoming Democratic Gov. Tony Evers.
"My opponent and those who endorse him continue to focus on the extreme and unconstitutional notion that we can overturn the 2020 election," Vos said in a statement. "While they campaign on the impossible, I will remain focused on the conservative principles of fighting for lower taxes, enacting real election reforms, holding criminals accountable and giving parents more control over their education."
Trump announced Friday night that Steen had also been endorsed by former state Supreme Court Justice Michael Gableman, the man Vos appointed to lead a review of the 2020 election — an endeavor that has stretched on for more than a year to the tune of more than $1 million in taxpayer dollars.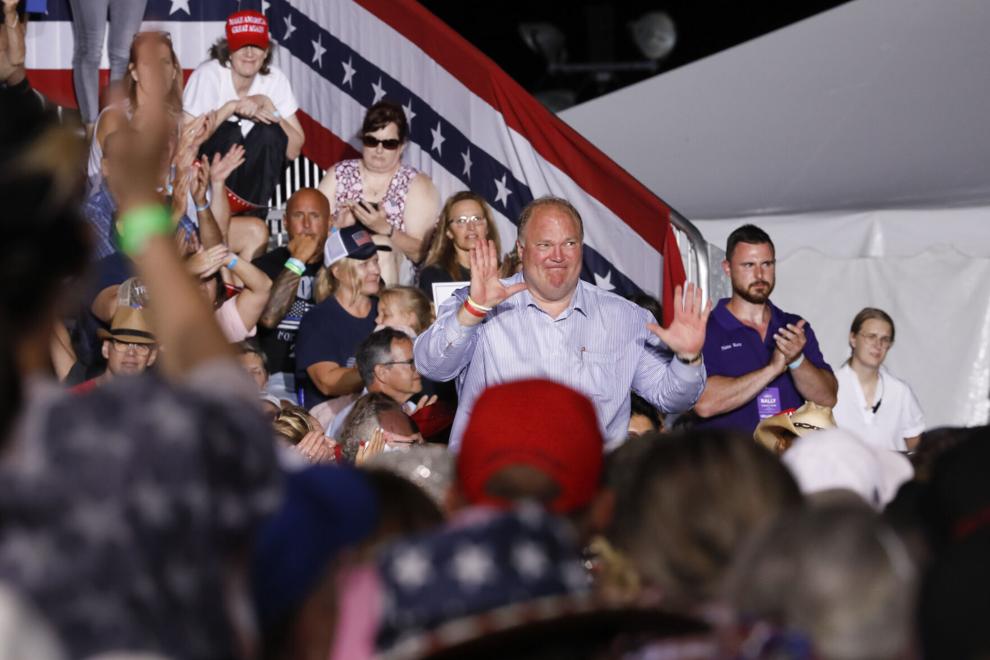 Gableman — who delivered the invocation at Friday's rally — declined to comment immediately after the event, but Steen told reporters he'd received the former justice's backing the day before.
"I think the people have spoken very clearly that we're not going to align around the party. We're going to align around the people," Steen said. "And I think that's the difference that — we talked about this division in the party. I really don't think it's a division. I think it's a focal point where the people are focused on aligning around the will of the people and the ones that have been in the party for a long time, like that power, and they want us to align with the party." 
Although Trump and Steen earned some applause for their criticism of Vos, not everyone in attendance was thrilled with the focus on 2020.
Eisner, the Randolph woman, said although she backs Trump, she would like to see Republicans turn their attention to 2024.
"I wish he'd pump the brakes a little bit. We'd like to see him pump the brakes," Raether, the Muskego woman, said referring to Trump's criticism of Vos. "Let's focus on moving forward, not looking back. What is, is — now let's move forward and win this thing."