It was a January afternoon when the Legislature wasn't in session, and the Assembly chamber was dim. Rep. Greta Neubauer sat just off of the floor of the cavernous chamber, about to make history.
For the first time, she'd sit at the desk of the Assembly minority leader. At 30 years old, the Racine Democrat is the youngest person to lead a caucus in either chamber of the Legislature since 1943. And for the first time ever, women will comprise a majority of that caucus.
"It feels a lot closer to the front," she joked when asked how it felt to settle into the brown, leather armchair of the minority leader's seat.
Just two weeks before, Neubauer was chosen by her colleagues to lead the Assembly Democratic caucus, assuming the role on Jan. 10. She ran unopposed, and after brief remarks was unanimously elected by a voice vote.
As minority leader, Neubauer will be the flagbearer for Assembly Democrats. She must corral her colleagues on policy issues, dictate committee assignments, shape messaging and work as a conduit for the caucus to the governor's office and state Senate. Outside the Capitol building, she will lead fundraising and candidate recruitment efforts as her party seeks to gain seats in the Republican-led Legislature.
Speaking to her fellow members, she said she wanted to lead "because, in the face of Republican efforts to divide and conquer, the next year will be critical to building a stronger, more equitable Wisconsin."
"We know the next year will not be easy," she added. "But it will be incredibly important. And I will put everything I have into this role."
Neubauer will lead Democrats in an uphill battle in the Legislature. It seems likely Republicans' iron grip on the branch will be cemented by the Wisconsin Supreme Court in the coming weeks, as the majority party pursues a "least-change" approach to redrawing the state's voting maps — meaning the GOP advantages drawn into the state's legislative districts in 2010 will remain largely untouched.
The Democratic caucus could also be shrinking, with members like Reps. Sara Rodriguez, D-Brookfield, and Beth Meyers, D-Bayfield, who represent competitive districts, not seeking reelection to the Assembly in an environment experts have said is bleak for Democrats. (Rodriguez and Meyers' districts get ratings of D+2.2 and R+1.6, respectively, in the Cap Times Partisan Voter Index, indicating their voting patterns forecast close races next fall.)
In just her second full term, Neubauer said in a lengthy interview with the Cap Times that she's not deterred by the challenges ahead. She said Democrats will look for common ground with Republicans (but won't be afraid to push back against perceived efforts to subvert the principles of a fair and competitive democracy); push for a more proactive response to COVID-19; and compete in all 99 Assembly elections in November.
"I didn't expect this (leadership) opportunity," Neubauer told the Cap Times. "I just felt in this moment that I had something to offer the caucus and that there were things we can make more progress on, and that we can do work that will make people's lives better in the day to day. I feel very committed to that work and excited about that work."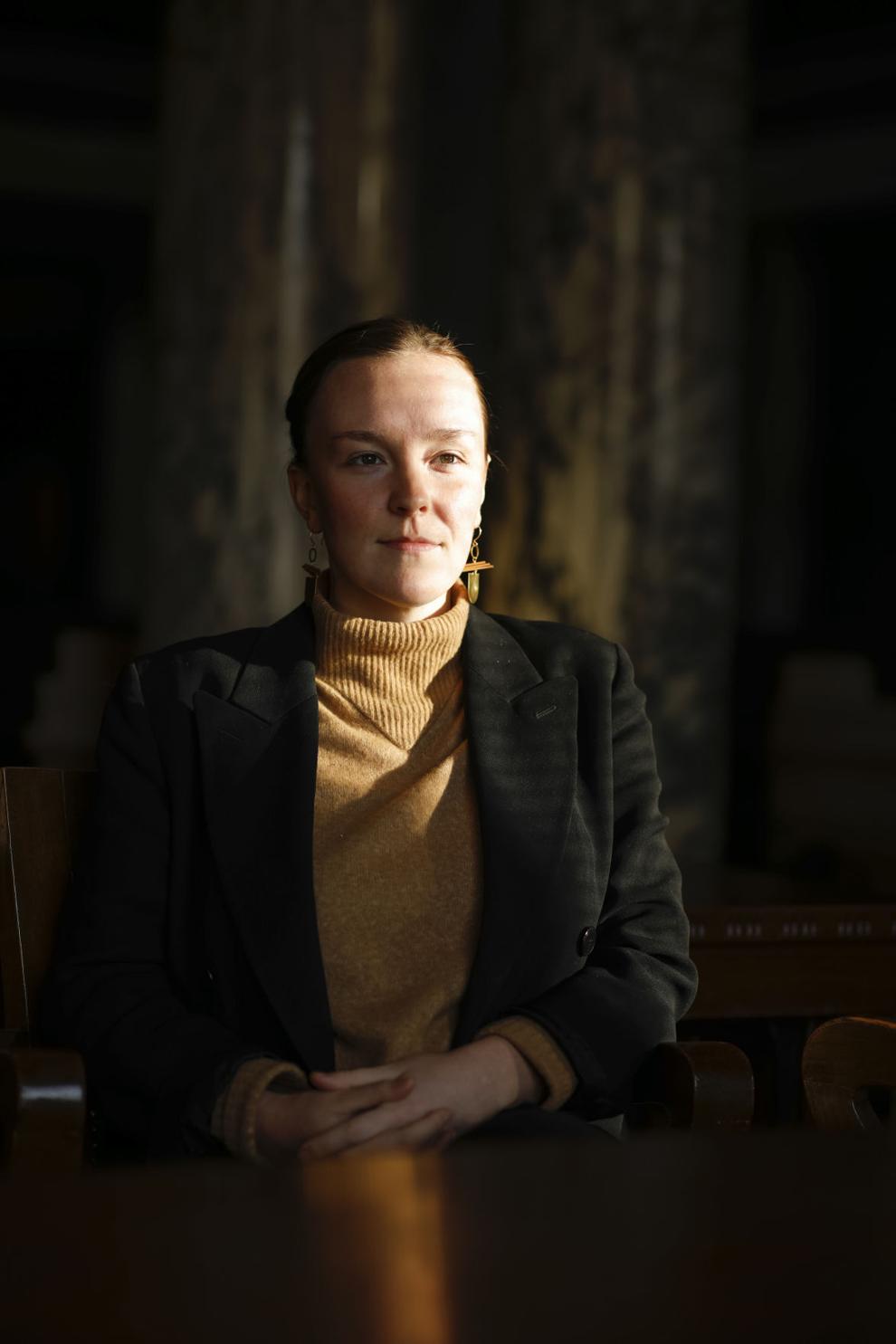 A famous name
The Neubauer name, in some ways, is as synonymous with Racine politics as kringle is with Racine breakfast; as Infusino's or DeRango's or Wells Brothers is with Racine pizza.
Both of Neubauer's parents are players in Democratic politics in the state — and they have been for decades.
Her father, Jeff, represented Racine in the Assembly for four terms during the 1980s and, according to a 1989 Capital Times story, "was known for support of environmental protection and consumer advocacy legislation." After leaving the Legislature, he was elected chair of the Democratic Party of Wisconsin in 1989, serving a four-year term.
His work leading the state party got the attention of a former Arkansas governor. In both 1992 and 1996, Jeff served as chairman of Bill Clinton's presidential campaign in Wisconsin. Clinton carried the state both times with ease.
Her mother, Lisa, has served as a judge on the Wisconsin Court of Appeals since 2007, when former Democratic Gov. Jim Doyle appointed her to fill a vacancy. In 2019 she ran for a seat on the Wisconsin Supreme Court, losing by a razor-thin margin of about 6,000 votes to now-Justice Brian Hagedorn. She is the last Democrat-backed candidate to lose a statewide election in Wisconsin.
"I didn't realize until I was a little bit older that not everyone talked about politics (at home)," Greta Neubauer said in an interview. She grew up knocking on doors for campaigns with her family.
Being raised in the day-to-day of Wisconsin politics, she said, made her realize that lawmakers can't accomplish everything while working under the dome of the Capitol. This realization pushed her to start her professional career as an organizer working on climate issues.
After earning her bachelor's degree in history from Middlebury College in Vermont, she served as director of the Fossil Fuel Divestment Student Network, an organization that, among other things, fought against the Trump administration's rollback of environmental protections.
"We train, mentor and coordinate students running nonviolent direct action campaigns for fossil fuel divestment and community reinvestment," the group's now-dormant website reads.
In the summer of 2017, Neubauer said, the organization was shutting down and she was ready for a new challenge — and she found it in a familiar place.
"It felt clear to me that the timing was right for me to come back," she said.
"When I knock on people's doors in Racine, when I'm talking to older folks, they often say, 'I want my kids to stay here, my grandkids to stay here. But I don't know if there will be an opportunity for them or if they will choose to do so,'" Neubauer said. "I really want Wisconsin to be a place where young people want to live, where people want to move."
So she got to work, moving home to Wisconsin and taking a job working for former Rep. Cory Mason, D-Racine. In short order, the puzzle pieces of her political career started falling into place.
The then-mayor of Racine, John Dickert, left his post in July 2017 to pursue a job in the private sector. Next, Mason decided to run in a mayoral special election, winning by about 1,000 votes. That created a vacancy in the Legislature, and Neubauer sought to fill it.
She found herself in the special Democratic primary against John Tate II, then a member of the Racine Common Council. It was a fierce and expensive fight — one week before the election Neubauer loaned her campaign $25,000 — that Neubauer won by about 200 votes.
Without a Republican opponent in the general election, that meant she would be the next representative from Racine. The 66th Assembly District, which gets a D+20.3 rating in the Cap Times Partisan Voter Index, is akin to the Democratic strongholds found in Madison and Milwaukee. Republicans often don't contest the districts, and Democrats cruise to victory.
On Jan. 16, 2018, Neubauer won the special general election, taking office Jan. 27.
Neubauer "won people over very quickly with her deep knowledge of the community and her very intense work ethic" after the primary, Mason told the Cap Times. "She's everywhere, and just won people over through her kindness and hard work."
Racine transit manager Trevor Jung, a former alder who supported Tate in the 2017 primary, is proof of that.
"I think the first folks that she called after she won were the people who supported her opponent," Jung said in an interview. "My recollection of that is how impressed I was with the effort that she was making to build bridges and to bring these two camps together, because it would have been very easy to discount folks who were not supportive of her primary campaign and move on. But the first thing that she did was to bring folks together, and I just remember being impressed by that."
'A new generation of leadership'
Neubauer will replace Rep. Gordon  Hintz, D-Oshkosh, who has led the caucus since 2017. Hintz announced his plans to leave the leadership post in December, citing his wishes to spend more time in his district and with his young family.
"The best advice that I got, when I took over (as minority leader), was that you don't have to do it like the previous person," Hintz said in an interview. "We all have different strengths. … When the caucus succeeds, it's because we've been able to buy into something and stick together. That's kind of the key of the minority."
Democratic politicos who have known Neubauer throughout her career as an elected official say she's well positioned to do just that. The first quality Jung noticed about Neubauer, he said, was that she's "a listener."
As a result, Jung said, "she knows a lot more about you and your pursuits than the elevator pitch that we often think about when it comes to politics and politicians." That's a testament to her sincerity and to her commitment to representing the community her family has been connected to for generations, he said.
Neubauer is "exactly the leadership that the Assembly Democrats need at this point," said Mason, who served in the Assembly for 11 years.
"It's a new generation of leadership, and she's going into the job with her eyes wide open," he added.
Many of her current colleagues agree.
Rep. Francesca Hong, D-Madison, who nominated Neubauer for minority leader, said she is "the best and ideal choice for our caucus and the work and challenges that lay ahead." She said Neubauer is the right person to oversee "a recalibration" of the caucus' priorities."
At Neubauer's side will be another young lawmaker. Rep. Kalan Haywood, D-Milwaukee, was chosen by his colleagues to serve as assistant minority leader. First elected to the Assembly at age 19, Haywood, now 22, is the youngest lawmaker in Wisconsin and one of the youngest in the nation. The two bonded over being the youngest members of their caucus, Neubauer said.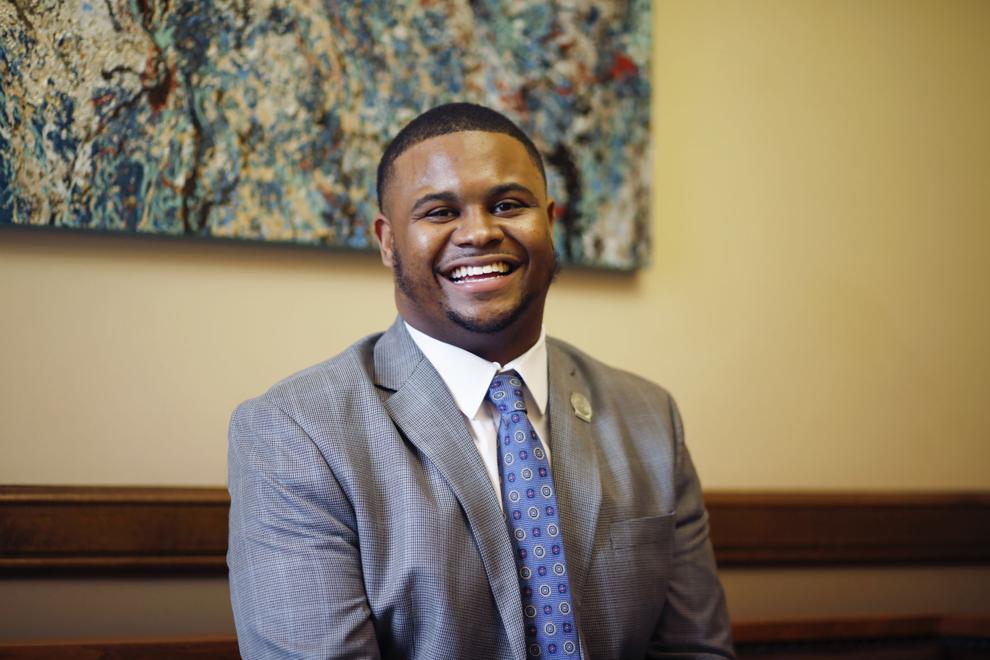 With Neubauer, Haywood said, he's excited to be "changing the narrative of what is possible."
"Being a young Black male from Milwaukee … I think the biggest goal now is to inspire other young people, no matter what your dream may be, to go out there and live that dream," Haywood said. He thinks he and Neubauer "reflect the overall change and growth" of the Democratic caucus.
Their youth brings an infusion of energy, Haywood said, but it doesn't negate the importance of institutional knowledge.
"(We'll) make sure we're playing an active role in keeping that institutional knowledge and asking those questions, learning about what happened (in the past) and marrying that with the energy we bring to the table," he said.
Mason said he's excited to see young Democratic leaders rising through the ranks.
"I think it is healthy to have the next generation of leaders emerging and moving into important positions sooner rather than later," Mason said.
'Representation matters'
As Neubauer takes the helm, women account for 21 of Democrats' 38 seats in the Assembly, and 31 of the chamber's 99 total seats. At 55%, it's the first time Assembly Democrats have had majority-women representation.
According to the latest available national data, Neubauer is one of 19 women leading the minority party in a state Assembly or House chamber, and one of 91 serving in a state legislative leadership position.
"I come from a family of feminists. My grandma worked with Planned Parenthood in a time in which they were regularly receiving bomb threats, and it was pretty controversial work. So the stakes have always been very clear to me, for the importance of women being in office," she said. "I really believe that representation matters very, very strongly."
Neubauer is also one of six openly LGBTQ state lawmakers in Wisconsin, and one of 189 in the nation.
Even in a relatively accepting environment, Neubauer struggled with her decision to come out, which she did during Pride Month in 2020. In an op-ed published in this newspaper and the Racine Journal Times, she shared her hesitations.
"As someone who has dated men more often than women, I often tell myself I'm not queer enough. As someone with supportive family and friends, I worry that my story will detract from the hardships that so many other LGBTQ+ people face," she wrote. "I've also just been scared. I have been scared to share this vulnerable and personal part of myself. I've been scared of the anonymous comments online, and what people might say to me when I knock on their doors."
That changed, she said, when she encountered protesters at Racine's Pride celebration proclaiming that LGBTQ people are destined for hell, and when she learned that a young LGBTQ+ person in the community had been assaulted because of their identity.
"Seeing the way that young people in Racine were struggling, particularly with LGBTQ+ identities, really brought home for me how important it was for people who are in leadership to talk about that part of themselves, even if it is a little vulnerable, and if it's a little scary," Neubauer said in an interview. "So that's been really powerful to be able to have that connection with young people and to actually have them say that it really mattered to them."
As she leads the caucus, Neubauer wants constituents to seem themselves reflected in it —  through diversity in age, race, faith, gender identity, sexual orientation, occupation, background and more. She feels in many ways, the group of lawmakers is more representative of Wisconsin than it has been in the past. Still, she said, there's room to grow.
"I do hope that when young people, or other people who historically haven't been represented, look at the caucus that it will make them think that it's more possible for them (to have an influence) than they did before," she said.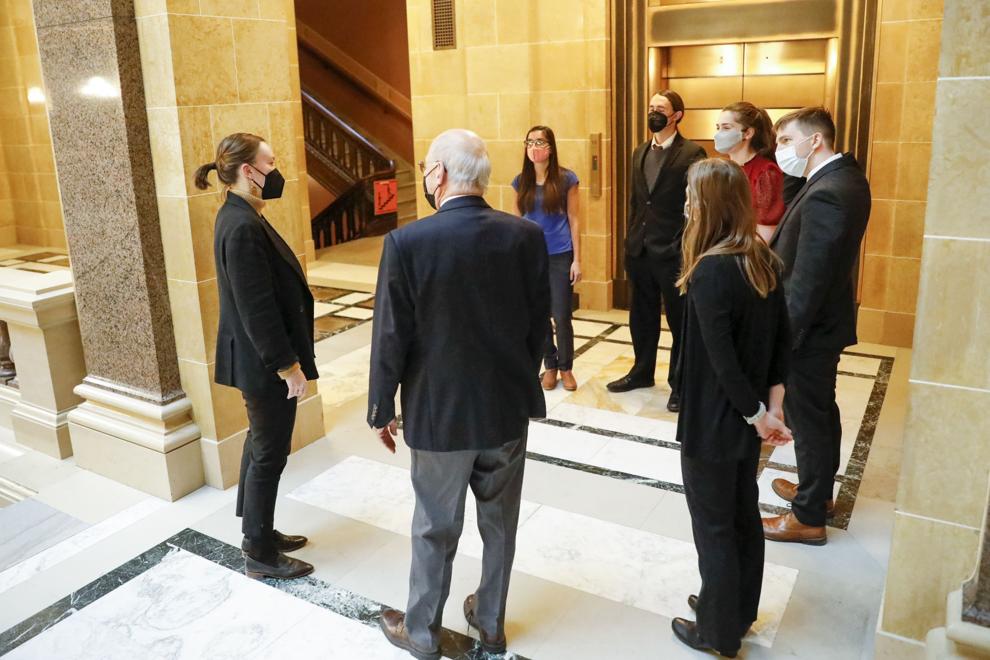 'An uphill battle'
Like any politician, Neubauer has lofty legislative plans for the Assembly Democratic caucus. She told the Cap Times the immediate goal of the Legislature should be to respond to the latest, Omicron-variant-fueled wave of COVID-19 Wisconsin is facing.
"We need to support local public health departments to have the resources that they need," Neubauer said. "We need to support our hospitals where beds are full. We need to support our schools, which are really struggling to stay open."
"We all want children to be able to be in person (at schools)," she added, "but we need the pandemic to be under control for that to be safe."
Longer-term goals for Assembly Democrats, Neubauer said, include helping Wisconsin's small businesses recover from the pandemic, bolstering health care access in the state, fixing the state's bridges and roads and ensuring that all Wisconsinites can turn on the taps in their kitchens and have water that is safe to drink.
Of course, to accomplish any of that, Assembly Democrats will need cooperation from their Republican colleagues — such is the reality of the minority.
"We have an uphill battle. We're in the minority and we have a long way to go, but it is still possible," Haywood said during an interview. "My thing is about being realistic about where we really are, being optimistic about where we can go and creating a strategic plan to get there."
Neubauer and Assembly Speaker Robin Vos, R-Rochester, both hail from Racine County — and she said she's "hopeful that we can find ways to work together in the coming year."
"Wisconsinites want to see us working together in this building," Neubauer said of lawmakers in the Capitol. "They want to see us passing popular priorities, focusing on the issues that they care about. And I hope we will be able to do that."
But Neubauer will push back against Vos and Assembly Republicans when needed, she said.
"I also have great concern about the way that (Vos) has enabled and supported the election investigation," she told the Cap Times. "And there will be times in which we need to show up with strength in response to the ways that they continue to undermine our democratic systems, divide people in our state on the basis of what they look like and where they come from and ignore the priorities that we know need to move forward in the Capitol."
While her caucus will lack the ability to advance its legislative priorities, Neubauer will still wield influence as minority leader. She will dictate committee assignments for her colleagues — and while they will often be outvoted, committee hearings provide a prominent platform for Democrats to advance their ideas.
That's something she learned working for Mason. She saw how difficult it could be for him to pass legislation in the minority, but then came to understand "the power of this role (as a legislator) to be more than just passing legislation. It's also about changing the political conversation."
Take for example Rep. Mark Spreitzer, D-Beloit, a member of the Assembly Committee on Campaigns and Elections, who has used his seat to become an effective critic of former state Supreme Court Justice Michael Gableman, the GOP-backed attorney charged with reviewing Wisconsin's 2020 presidential election at taxpayer expense.
Spreitzer has used his committee assignment to press Gableman on the details of the review, confrontations that, at times, have become fiery. (During Gableman's most recent appearance before the committee, he and Spreitzer shouted "shame on you!" at one another.)
Neubauer will also have the ability to make appointments to influential commissions and boards in Wisconsin. For example, the Assembly minority leader is tasked with appointing one of six commissioners of the Wisconsin Elections Commission, which oversees election administration in the state.
The minority leader also appoints one of six commissioners for the Wisconsin Ethics Commission, which administers campaign finance, lobbying and ethics laws in the state. She will also have the opportunity to appoint a member of the board of the Wisconsin Economic Development Corporation, which oversees economic development in the state.
In other words: while she will be guiding the minority, Neubaeur will be far from powerless.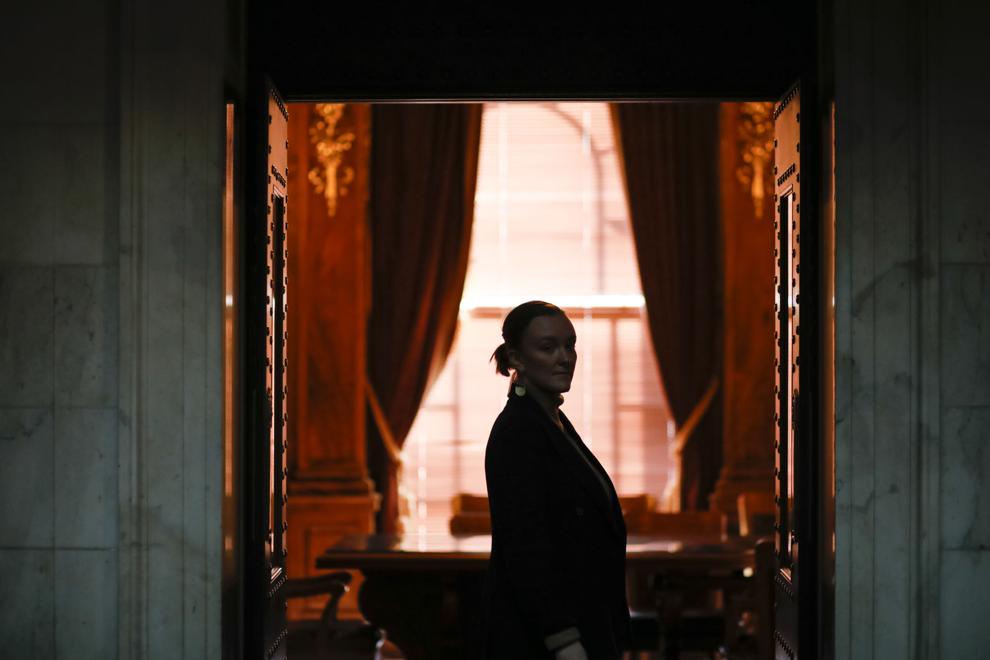 'A force for good'
Neubauer's commute from Racine to Madison is about 100 miles — a drive she often spends catching up on the phone with friends.
When she's home, she spends "quite a bit of time" with family, often taking walks together on her grandmother's farm. And, for several years, she's been listening to a podcast called "Harry Potter and the Sacred Text," which got its start as a project among Harvard Divinity School students. (Both Neubauer and the podcast's hosts have denounced recent transphobic statements made by author J.K. Rowling.)
Its creators describe it as a podcast that "creates time in your week to think about life's big questions. Because reading fiction doesn't help us escape the world, it helps us live in it." Neubauer sees it as a way to think about how to live better.
"I try to create space for reflection and sort of thinking about the bigger questions that aren't directly related to the day-to-day work," she said.
For Neubauer, those "bigger questions" revolve in large part around how she can ensure that government works as "a force for good," and how she can elevate the voices of those who share that belief.
That's what she thinks about when she walks through the doors of the 105-year-old granite shrine to democracy — an act that, for many who serve within its walls, carries deep significance no matter how routine it becomes.
"(I feel) a strong sense of responsibility and understanding that when you run for office and you're in a role as representative, and of course now in the leader's role, that it's incumbent on us to do everything that we can to work incredibly hard. You know, there are many people in Wisconsin who are really struggling, and Racine's a community that has really felt that … for many, many years; it's been my entire life," Neubauer said.
"It's our responsibility to do everything we can in this role to make people's lives better, and … I feel that every time I walk in the building."