During sometimes fiery testimony on Wednesday, former Wisconsin Supreme Court Justice Michael Gableman told an Assembly committee that he will not reveal the names of all staff working on his review of the state's 2020 presidential election.
He also told lawmakers that he had submitted an "interim report" about his review to Assembly Speaker Robin Vos, R-Rochester, who tapped the former justice to lead the probe last summer. Members of the committee received copies of the report at the hearing.
The "first interim report" offered little information about the state of the review itself. In its conclusion, it states that the review "is a healthy exercise in good government, not an attempt to overturn any election."
During the start of a combative exchange, Gableman told the committee's ranking Democrat, Rep. Mark Spreitzer of Beloit, "I'm not prepared to give you those names at this time."
The conservative former state Supreme Court justice's review is taxpayer-funded. His office has mostly concealed the names of those working on the review, and Vos has resisted releasing information about the review via an open records request.
During the hearing, Gableman did share the name of another member of his staff: Clint Lancaster, an Arkansas attorney whose website says he has litigated over 2,000 cases and represented "two reality stars from MTV's 16 and Pregnant, an NFL linebacker, a forward for a EuroLeague team and numerous high profile/high stakes cases garnering national media attention."
Lancaster, who sat to Gableman's left during a hearing before the Assembly Committee on Campaigns and Elections, spent much of the meeting sitting stone-still, staring straight ahead. Lancaster did not speak during the hearing.
Gableman offered few details to the committee about his interim report. He gave sometimes vague answers in response to questions from committee members of both parties.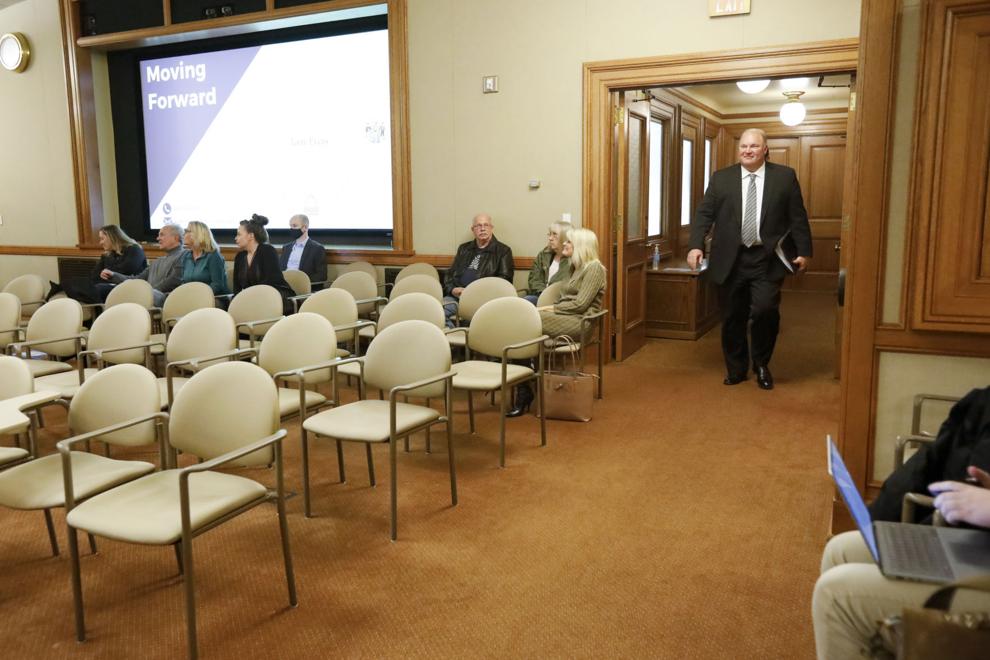 "I'm not in the business of overturning any election," Gableman said. "I'm also not in the business of claiming without evidence that anyone has hacked the voting machines."
He repeatedly said he is trying to restore confidence in the state's elections. Bipartisan election administration experts have said Gableman's actions are hurting voter confidence in Wisconsin.
"I've not made any unsubstantiated claims, nor will I," Gableman said.
Before being tapped to lead the review, Gableman claimed that "unelected bureaucrats" stole the votes of Wisconsinites, the Milwaukee Journal Sentinel reported.
During the hearing, the former state Supreme Court justice also indicated that he is interested in learning more about how mayors, election clerks and other officials interacted with the Center for Tech and Civic Life — a nonprofit backed by Facebook CEO Mark Zuckerberg and his wife, Priscilla Chan — which provided millions in grants to help facilitate elections in Wisconsin during 2020. 
The funding was split up among 216 Wisconsin communities, but the lion's share went to five Wisconsin cities that have received subpoenas from Gableman — and are also Democratic strongholds. 
Election administration experts denounce review
In addition to being decried by Democratic lawmakers as partisan — and elements of the review being challenged in court by Attorney General Josh Kaul — bipartisan experts on election administration have deemed Gableman's review "bizarre" and "amateurish."
The experts' criticism is rooted in mishaps that have riddled Gableman's work since the process began. First, there were typos in official subpoenas. Then the former state Supreme Court justice attempted to contact county clerks using an unsecured Gmail account. Most recently, Gableman's office refused to release the last name of "Carol M.," an attorney working on the review.
The Milwaukee Journal Sentinel later reported that she is Carol Matheis, a California attorney active with the Federalist Society.
"It's bizarre," Barry Burden, a UW-Madison professor and expert on election administration, told the Cap Times in an interview about the review in October. "And I think it's harmful. One of the motivations for these reviews is supposed to be to boost voter confidence in the system, to help people verify that the election was valid. But by doing this work in secret, and in a partisan way, in this kind of slipshod, amateur, on-again-off-again way, it's probably undermining confidence rather than boosting it."
Former Kentucky Secretary of State Trey Grayson, a Republican and the state's former top election official, agreed with Burden.
He told the Cap Times there "doesn't appear to be a rationale for this, other than … partisan or political purposes."
"There doesn't appear to be an interest in truly trying to understand how the last election worked, how we can improve it or how we can highlight the … good work (that was) done (so it can be replicated)," Greyson said.
Gableman's review is on-going. If it — as Vos has hinted it might — stretches beyond Dec. 31, Gableman will require a contract extension and further expense will likely be incurred by taxpayers.
Jessie Opoien contributed to this reporting.