Mandela Barnes says he's a typical Wisconsinite. 
He's not a millionaire. The son of a public school teacher and an autoworker, he grew up middle class. He knows what it's like to be eligible for FoodShare and energy assistance payments. In Barnes' own words, he's a "regular guy" — as regular as a constitutional officer with a security detail can be, at least.
On a recent Saturday in Madison, Barnes, Wisconsin's lieutenant governor and a Democratic candidate for U.S. Senate, slipped back and forth between candidate and regular guy. Wearing white Jordan sneakers, blue jeans, a T-shirt and a baseball cap, Barnes stood in the pouring rain alongside a crowd of a couple hundred people at the State Street steps of the Capitol for the March for Our Lives. He wasn't speaking at the event, but Barnes showed up to support organizers' demands that lawmakers enact stricter gun control legislation. 
Gun violence is a personal issue for Barnes, whose best friend and college roommate was killed in a shooting in Atlanta in 2018. "I do feel like I have a personal responsibility," Barnes said of preventing gun violence. "What am I doing if I'm not trying to prevent this from happening to other people?"
Barnes worked hard to blend in with the crowd. He joined in on chants, listened intently to the slate of speakers and offered a short "boo" at the mention of U.S. Sen. Ron Johnson, Barnes' would-be general election opponent if he wins the Aug. 9 primary. Even still, at least a dozen people sought him out and thanked him for being there. (One man, excited to learn that Barnes was standing in front of him, asked the lieutenant governor to sign his "BAN ASSAULT WEAPONS" sign.)
Since joining the race last July, Barnes has widely been considered the front-runner for the Democratic nomination. But recent polls have shown a tight race as voters have become more familiar with Milwaukee Bucks executive Alex Lasry, state Treasurer Sarah Godlewski and Outagamie County Executive Tom Nelson.
Even still, a Marquette Law School poll released Wednesday found Barnes in the lead among Democratic primary voters, earning support from 25% of respondents. Lasry was within the margin of error of Barnes at 21%, while Godlewski and Nelson lagged behind at 9% and 7% respectively.
As the state's electorate has started paying attention to politics again in recent weeks, Barnes has pounded his "everyman" message, seeking to draw a contrast between him and other Democratic contenders. His ads and stump speeches have highlighted his middle-class roots and personal experiences with economic challenges faced by many Wisconsinites, and his surrogates, fundraising on his behalf, have noted he doesn't have millions of dollars to spend on his own campaign.
But with six weeks to go until the primary, Barnes' task now is to solidify his lead and convince voters that a regular guy deserves a plurality of votes on Aug. 9.
'Rebuild the middle class'
Barnes started that Saturday like he starts most mornings: with a run. 
Running is a release for Barnes, he told the Cap Times as he jogged along. He originally started doing it to stay in shape, but it quickly turned into a hobby for the lieutenant governor. It serves as his alone time on days when peace and quiet is hard to come by. It also is much less time-intensive than cooking, a pandemic-times hobby of his that has gone to the wayside since the campaign started.
On that particular Saturday, Barnes jogged alongside the Yahara River, keeping a watchful eye out for Madison's infamous, dive-bombing red-winged black birds. "You've gotta look back at them," he joked as a couple of the birds fluttered overhead. "You've gotta let them know that you know."
As he trotted along the running path, he managed to flash a smile and say hi to those he ran past — even during his quiet time, he can't always stay quiet. After his morning routine came to a close, he was off for a day of events, starting with the Dane County Dairy Breakfast.
For a Milwaukee native, Barnes seems right at home on a dairy farm. Boots on, he was ready to trek through the farm's uneven fields to greet voters, shake hands and, perhaps most importantly, eat breakfast.
As he bopped up and down the rows of tables, Barnes joked with voters that he would leave them alone just as soon as he'd satisfied his staff's quota for handshakes. "Right now I'm doing OK," he told one family. "Once I start eating, I'll be doing great." 
Throughout the banter, Barnes continued to push his message: "We need to rebuild the middle class," he said over and over again, promising voters that he'll bring a "real-world perspective" to Washington.
Later that day, in a coffee shop on Madison's north side, Barnes told the Cap Times that his own middle class upbringing is "why I'm here right now, that's why I'm in this position, that's why I'm able to be a candidate for the U.S. Senate." 
"Having an opportunity to choose which direction you want to go, wherever you come from, that's not the reality for everybody," Barnes said. "It hasn't been for quite some time. But that's why I'm so committed to restoring (the middle class)."
Since getting into the race, Barnes has released a range of policy proposals he said would bolster small businesses and family farms, lower taxes for the middle class and create tax credits for companies investing in green energy.
Included among those proposals are pledges to expand the Child Tax and Earned Income Tax Credits, create an estate tax carve-out for family farmers, oppose so-called "right to work" legislation and support a bill that would prevent employers from permanently replacing striking union employees.
They also include more vague promises, like pushing to "strengthen public schools across the state so that a child's ZIP code does not determine their potential for success" and "invest in rural health care to ensure rural Wisconsinites don't get inferior care because of where they live."
When put together, regardless of specificity, Barnes' proposals reflect his campaign message of wanting to rebuild and empower Wisconsin's middle class — a sort of 21st century liberal populism.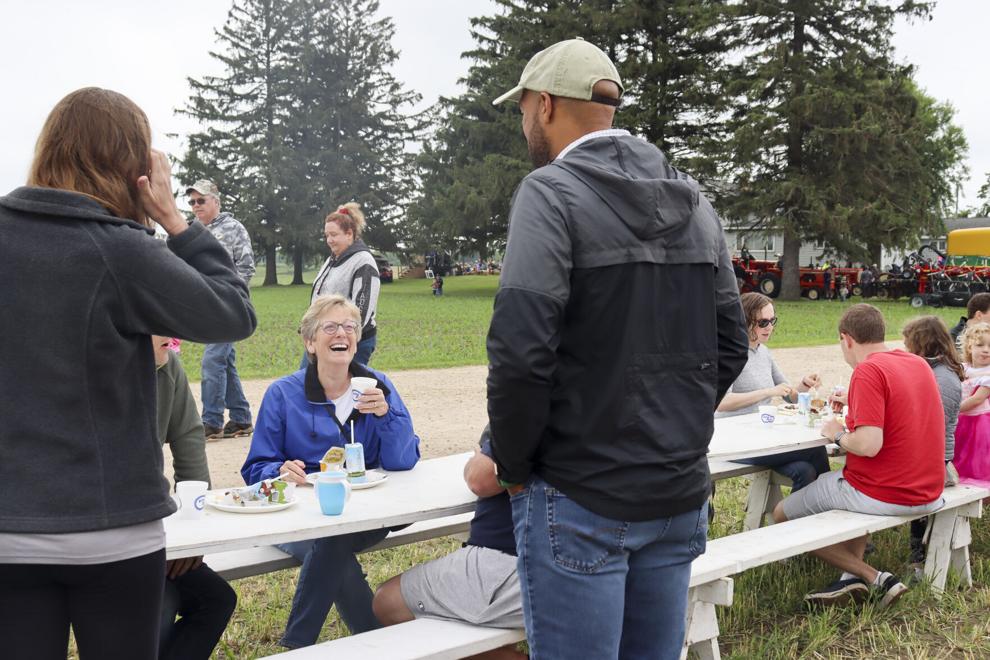 'I don't have money to lose'
Barnes' messaging that he's not like "any of the other millionaires running for Senate" is a thinly veiled criticism of both his closest Democratic rivals, Lasry and Godlewski, and his would-be general election opponent, Johnson.
"Most senators couldn't tell you the cost of a gallon of milk," he declared in the opening line of his first TV ad. "Or how much beef has gone up this year."
But, he contends, "I'm not like most senators," pointing to his middle-class upbringing.
He told the Cap Times his "not-a-millionaire" messaging is resonating with voters because when "people elect people who haven't shared their experience … people's issues continuously get swept under the rug."
Barnes said there is "a real lack of awareness" among lawmakers in Washington and candidates seeking their jobs.
"Poverty is an idea to some people; it's not an experience," Barnes said, adding that he knows what it's like to be laid off from a job and receive energy assistance payments and FoodShare benefits.
The lieutenant governor said "it's time for working people to actually have a voice. It's time for working class individuals, people who are in the lower rungs of the economic ladder, to finally have people who are going to speak out and carry their issues and not give up."
"You're not going to get it with somebody who will not take a vote that is counter to their own financial interest," Barnes said. "It never happens. It won't ever happen."
He continued: "Nobody's running for the Senate … to lose money. I don't have money to lose."
Barnes also indirectly jabbed at Godlewski for selling tens of thousands of dollars worth of pharmaceutical stocks before she started campaigning on lowering drug costs.
"People talk a big game about lowering drug costs," Barnes said. "(But) they have raked in massive profits on their investments in drug companies. That's not who working people want to send to the U.S. Senate to fight for them when they're rationing insulin."
His lived experiences, among other things, have earned him the endorsements of more than 100 elected officials from across Wisconsin, including Rep. Francesca Hong, D-Madison, who echoed Barnes' message that Wisconsinites, especially working-class people, need new representation in Washington.
"It's important to recognize the times that we're in, and the amount of crises and the amount of suffering and the amount of polarization (we're experiencing)," she said. "We need someone to meet the moment as a movement leader. And I think to be a movement leader, you have to understand how to build broad coalitions across race, gender, generation, ZIP code."
Hong said Barnes' background in organizing and "his very unique lived experiences" make him "the only candidate that I trust to build relationships to actually build a broader base for the left."
Both Lasry and Godlewski rejected Barnes' charge that they wouldn't be able to represent working-class Wisconsinites in Washington.
In a statement to the Cap Times, Carter Elliot, Lasry's press secretary, said "when (Barnes) says certain folks won't represent the best interests of working people based on their net worth, he is directly discrediting some of his biggest supporters, like Sen. Elizabeth Warren, Sen. Cory Booker, and is attacking some of Wisconsin's biggest champions like Sen. Tammy Baldwin and former Sen. Herb Kohl.
Elliot also said the lieutenant governor "knows his claim is false, and comments like these are a perfect example of the divisive and dishonest politics that Wisconsinites are tired of."
He added that Lasry has already proved he can represent working people, pointing to union labor being used to construct Fiserv Forum in Milwaukee and noting that arena employees make at least $15 per hour.
Sarah Abel, a spokesperson for Godlewski, said in a statement that the state treasurer "grew up in a union household raised by two public school teachers, she bussed tables at Pizza Hut to help pay for college, those are her values."
Abel continued: "She knows this state wants and deserves a candidate who will always stick to their word and fight for them."
Opponents lob criticism
Barnes is not immune from political snipes, with Republicans already criticizing the lieutenant governor's positions on issues like cash bail and abortion access. 
Barnes, who once served in the state Assembly, introduced a bill in 2016 that would have ended cash bail in Wisconsin.
"Barnes is trying to represent the fringe-left in the U.S. Senate — not everyday workers and families," Republican Party of Wisconsin spokesperson Anna Kelly said in a statement to the Cap Times.
But despite political headwinds and 52% of Wisconsinites expressing concerns about crime in their communities, Barnes stood by his position. Lauren Chou, a Barnes spokesperson, told the Cap Times in a statement that "Mandela Barnes believes we should decide who stays in jail before their trial based on how dangerous they are, not based on how much money they have."
"This is about keeping people safe," she said. "He believes that dangerous people should stay in jail before their trial, period."
Legal experts told the Cap Times in February, after lawmakers in the Assembly approved a constitutional amendment that would make tweaks to the state's bail system, that implementing cash bail in more criminal cases won't make Wisconsin safer, and instead will likely just result in the incarceration of more poor people.
Kelly also took aim at Barnes for posing for a photo with an "Abolish ICE" T-shirt and his support for abortion access — a particularly hot-button issue as the overturning of Roe v. Wade appears imminent.
If he wins the nomination, Republicans will try to brand him as a far-left politician by tying him to high-profile, progressive endorsers like U.S. Sen. Elizabeth Warren, D-Massachusetts. Rachel Reisener, a spokesperson for the Republican National Committee, said "Barnes isn't fooling anyone" with what she said are attempts to appear like a moderate.
Others might attack him for smaller, more personal mistakes. For example, in June 2019, Barnes had a series of unpaid parking tickets — totaling $108 — that were preventing him from renewing his vehicle registration. The incident was widely reported in Wisconsin media, and Republicans have tried to spin the apparent oversight as Barnes lacking attention to detail.
Also in 2019, it surfaced that Barnes was delinquent on $2,200 in property taxes, interest and penalties on his Milwaukee residence. He once again attributed the tardy nature of his payment to an oversight, and the issue was resolved within days of a media report. But the story seemed to push Barnes' buttons; he walked away from an interview with FOX 6 in Milwaukee after being asked about the late payment.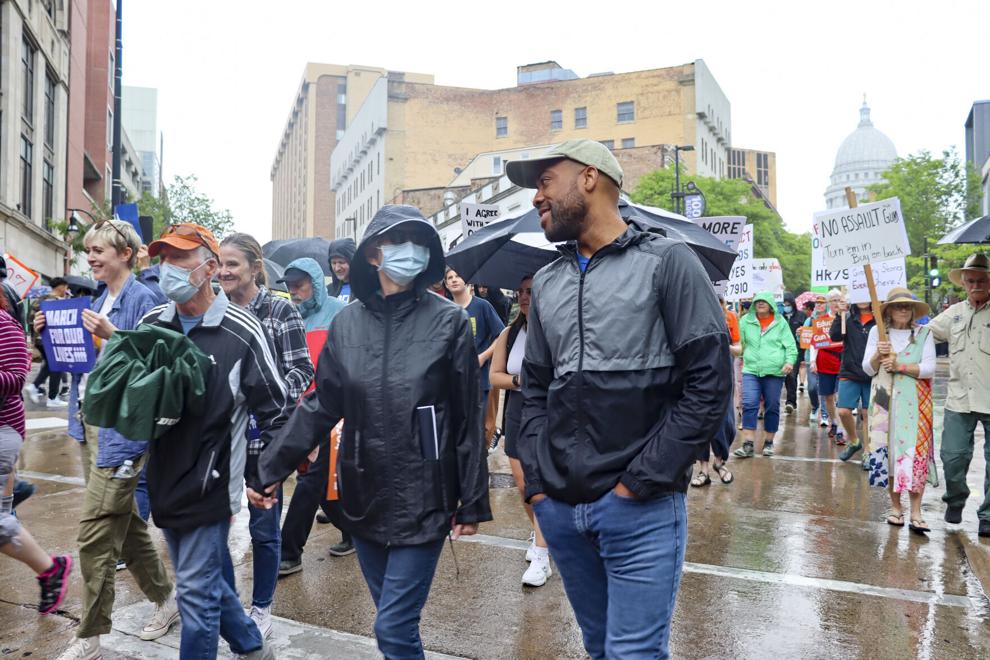 'A run for his money'
While Lasry and Godlewski are giving Barnes "a run for his money," the lieutenant governor is still the race's frontrunner, said J. Miles Coleman, an election analyst and associate editor of the nonpartisan election handicapping site Sabato's Crystal Ball.
Coleman pointed to the recent polls that showed Lasry and Godlewski gaining support as proof that the primary isn't settled, and added that the late nature of Wisconsin's primary hurts frontrunners like Barnes because it gives "challengers more time to build up momentum."
Coleman pointed to Pennsylvania Lt. Gov. John Fetterman, who cruised to victory in his commonwealth's Democratic U.S. Senate primary last month, as an example of how an earlier primary can be beneficial to candidates with high name recognition.
But, the election analyst said, Barnes' middle class messaging can be "an appealing angle in Wisconsin." Coleman pointed to former U.S. Sen. Russ Feingold, a Democrat ousted by Johnson in 2010, who ran in his own primary election in the 1990s on a similar "I'm not a millionaire" message to Barnes as proof that it can play well in the state.
Barnes said his message is connecting with voters because middle-class representation "is incredibly important" in the U.S. Senate. If there were more of it, he said, more legislation would make it through the body.
"The reason why we don't see action is because that perspective is missing," Barnes said. "There's not enough of the conversation about working class issues."
Coleman said Barnes' focus on middle-class issues "makes him less theoretical" and more "focused on concrete issues." He also said the lieutenant governor's focus on positive messaging about himself draws a contrast with the negative messaging Lasry and Godlewski have pushed about Johnson.
"How much more needs to be said about Johnson?" Coleman asked.
With six weeks to go until the primary, Barnes is going to keep the conversation focused on working class issues, which is part of the reason Coleman said Barnes is still the leading contender to win the Democratic nomination. 
But, the election analyst cautioned, primaries can be "volatile." So with voters still having six weeks to weigh their voting options, the race isn't over.