Madison activists gathered at Penn Park on Friday night for a "community speak out" in response to the acquittal of Kyle Rittenhouse, an 18-year-old who killed two men during Kenosha protests in 2020.
Rittenhouse was found not guilty Friday of the five felonies he was charged with, including homicide. Freedom, Inc. — a nonprofit serving Black, Southeast Asian and low-income communities — organized the event to bring attention to police brutality, white supremacy and patriarchal violence, the group said in a statement.
M Adams, co-executive director of Freedom, Inc., said communities of color can't depend on the government to protect them from racism and violence.
"This is exactly why we have been calling for community control over police," Adams said in the statement.
Crystal Ellis, an organizer with Freedom, Inc., said the gathering was designed to create safe spaces in Black neighborhoods "because the police are not doing so." Freedom, Inc. encouraged conversations on how communities of color can protect themselves "from violence by the police and violence protected by the police and even the courts," she said.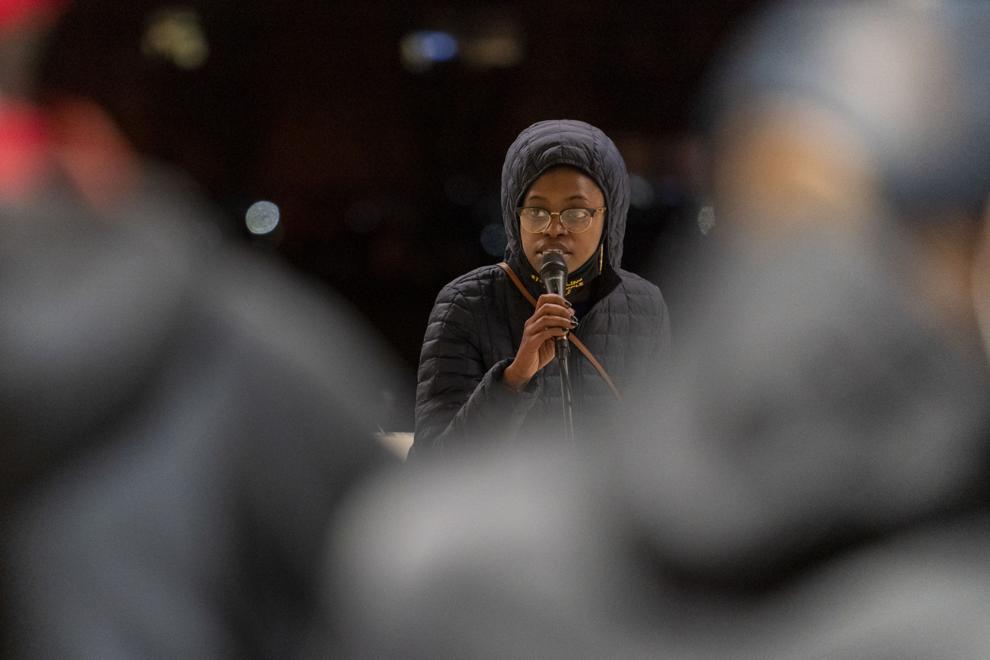 Ellis, who stood in front of a banner with the words "community control over police," spoke to the crowd of more than 30 people, saying the criminal justice system "upholds and protects white supremacy." 
"We have seen it brutalize, criminalize and murder our people in their own beds," she said, alluding to the 2020 death of Breonna Taylor, a Black woman who Louisville police officers killed in a botched raid on her apartment. "Over and over again," shouted two men from the crowd in response.  
"We know our people are frustrated with what we have seen the state do yet again: Protect a white supremacist murderer, and essentially send him home to his family," she said of Rittenhouse. "All this is not surprising. It is why we are making space to lift each other up and protect each other." 
Ian Kpachavi, who works with Freedom Action Now, a sister organization of Freedom, Inc., reminded organizers, "We're all out here because we're pissed." 
"I didn't really have any expectation that the court would deliver any sort of justice," he told the Cap Times. "As an abolitionist, I don't really look to policing or prisons or harm reduction to deliver any justice." 
Mattie Reese also spoke on behalf of Connecting the Dots, a local grassroots organization that supports residents facing economic insecurity.
"I'm super numb today," she said. "I raced down here to share this space with my community because I know that we feel — and we know — that this has been an unjust process." 
In her remarks, she explained how Freedom, Inc. helped provide funds to bail her son out of jail. She said the state is offering him eight years for gun charges. 
"My son was 17 years old when they said that he committed this crime and the weapons weren't even on him," she alleged, contrasting his fate with Rittenhouse. "So you tell me what type of justice system that we have here." 
Max Rameau, a Madison activist and author, then prompted young people in the crowd to form a circle with candles. 
"I'm asking everyone to step inside of the circle," he said, describing it as a circle of life. "The circle here is our community. We must defend and support our community — that's the only way we can protect ourselves from this kind of state violence and white supremacist violence."