University of Wisconsin-Madison will soon be the first college campus to test HEXWAVE, a new security technology that can detect many types of concealed weapons. 
The UW-Madison Police Department announced Tuesday a relaunch of its partnership with Liberty Defense, the startup developing the product, after COVID-19 put the collaboration on hiatus for more than two years. 
This year, UWPD will begin beta testing the scanner, which can detect dangerous objects using radar imaging and artificial intelligence. Bill Frain, CEO of Liberty Defense, described the "walk-through portal" as the future of security, saying it identifies weapons that traditional metal detectors cannot, like "ghost guns," plastic explosives and 3D-printed weapons. 
"Our goal was to have that wide breadth of detection capability so that a university or a stadium doesn't have an act of violence that we've been seeing over the past few years," Frain said, referring to an uptick in gun violence and mass shootings across the nation. "We started the company to be able to add that layer of protection in public spaces." 
A promotional video on Liberty Defense's website explains HEXWAVE can be "integrated to fit into walls and behind signs and screens, thus hidden from plain sight.'' The machine can also be installed at the perimeter of a building to assess potential threats without collecting private or personally identifiable information.
The technology emits a low-level radio frequency — similar to body scanners at airports — which "bounces off the body to go back to a bank of detectors," Frain said. "It's a proven, safe technology. The radio frequency levels are significantly less than even using your cell phone or WiFi." 
The machine also has a camera capturing "real-time video imaging of the individual." Combining these 3D images with deep learning AI, the portal sifts through thousands of data points to determine if there is "anything on the body that should not be there," Frain said. 
According to the video, an alert then notifies security teams of the weapon type and location "to stop the threat before it becomes an attack."
The prototype is licensed from the Massachusetts Institute of Technology and is still in the development phase, but Frain said the product will be sold commercially by the end of 2022.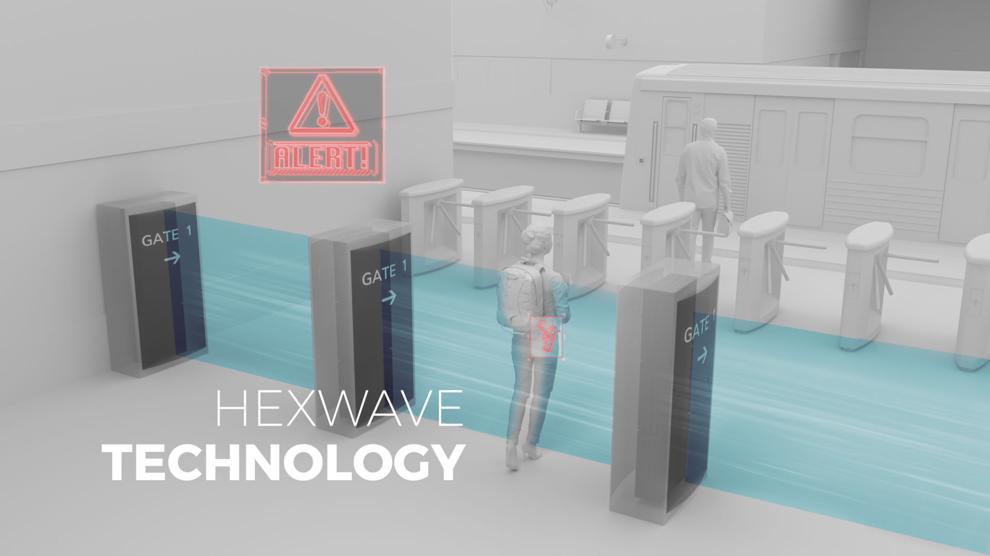 UWPD Capt. Jason Whitney said he first reached out to Liberty Defense in search of improvements to campus security for large events. 
"We have a challenging environment with Camp Randall, given its location, gate setups and proximity to the streets," he said as an example. "So we have a difficult time setting up different levels of security there." 
Though UWPD has not yet identified specific locations where the scanners will be placed, Whitney said they could go in places where metal detectors are already used, including Camp Randall and the Kohl Center, as well as sites with high traffic like Gordon Commons and the Union Theater. 
The HEXWAVE scanner will be more efficient than existing metal detectors on campus, Whitney said, because it allows multiple people to pass through at once without them having to remove their keys, wallet or other items. "And it's able to detect that it's actually a cell phone in your pocket and not a gun," he said. 
HEXWAVE also eliminates the need to pat down each individual, making for what Frain called a "seamless process." Throughout beta testing, UW-Madison will help the machine "tweak" its data collection and detection, but Frain said "the overall goal is to make sure we hit at a very high detection rate and low false alarm rate." 
"We know that the technology is effective," he said. "We are putting in thousands of hours of data collection and testing in-house. We are not going to put a product out there for beta until we're confident that it will perform."
Whitney also emphasized the technology will not be used as surveillance, nor will it "impede anyone's travels or restrict their movement or slow them down." 
"There will be minimal to zero impact on anybody's life that is coming to a potential event or going into one of the campus buildings where we'll be testing this," he said. A UWPD press release said the HEXWAVE machines will also come at no cost to UW-Madison during the beta testing phase. 
Still, Dan Fitch, a Madison activist who works in computer programming at UW-Madison, said he's concerned by the lack of transparency surrounding the technology.
"They could easily be tracking things like gait, height, body size and faces," he said, suggesting that a third-party company audit the machine to ensure it's not collecting private information. "How do we ensure that people's identities are safe?"
Since the product is not available on the market yet, Fitch is also worried about false alarms. Although the technology reduces human error in weapons detection, he said "the chances of a false detection due to machine error are greatly increased." 
"I just wonder about what happens when people get wrongly identified as having a weapon — they could be tackled or injured or whatever else happens in the fallout," he said. "We need to know more about how well it works and in what ways it fails."  
Frain, however, said the system is not invasive. "There's no health risks to it, and there's no privacy concerns," he said. "We are doing it at a high level of effectivity so that we don't have false alarms." 
Fitch encouraged UWPD to get more feedback from those on campus as well as marginalized groups, "especially people who are stereotyped as possible terrorists." He referenced how the Sept. 11, 2001 terrorist attacks brought more "security theater" in airports, offering a feeling of improved security yet doing little to actually protect people. 
Tyler Katzenberger, spokesperson for UW-Madison's student governance, said in a statement that neither Associated Students of Madison or its police advisory council were informed of UWPD's decision to implement HEXWAVE. 
"We ask that UWPD provide more details on the timeframe and locations for Hexwave's implementation as soon as possible," said ASM in its statement. "The purpose of this system is student safety; therefore, students deserve to know more information about Hexwave before it is installed."
Over the next few months, Frain said, Liberty Defense will work with UWPD to determine the timeline for the project. 
"It'll be a real-life test of their system in our environment," Whitney said. "It's giving us a chance to see if it's actually going to work the way they say it's going to work, and at the same time, giving their company a chance to get feedback from a potential customer down the road." 
With more buildings implementing security systems and automated processing, Frain said scanners like HEXWAVE will eventually become commonplace. "In some ways it's unfortunate," he said, "but it's also going to keep people safe." 
Other entities, including the state of Utah and the Baltimore Orioles' and Ravens' stadiums, have also signed on to beta test the product. 
Though Whitney said testing out new technologies like HEXWAVE is just part of the job for police officers, Fitch worries the end result will be UWPD buying a "really expensive, cool-looking toy." 
"They seem to latch on to shiny things," he said. "But those shiny things may not necessarily be good for us." 
Editor's note: This story has been updated to include comments from UW-Madison computer programmer Dan Fitch and the Associated Students of Madison.