Emmett Lockwood, 19, is the first openly transgender athlete on the University of Wisconsin-Madison men's water polo team and proud of it. But it hasn't been an easy journey.
The summer before Lockwood started at UW, Wisconsin's Republican Legislature renewed a push to bar transgender athletes from participating in girls' or women's sports from elementary school through college. He knew being on the team here would come with challenges but he's taken them all on, helping lead the team to the Big 10 Championship in 2021. (The bills never reached the governor's desk despite the GOP's firm legislative majority.)
Lockwood has broken down barriers for his team, but has broken down even more in the larger campus community as a member of student government, and also a disability rights and transgender activist. He's pushed for a Disabled Students Center and greater transgender learning opportunities. He spoke with the Cap Times about his experience on the team and as a student.
Can you tell me a bit about yourself?
I've been playing water polo since the fifth grade. It's a 10 year old's dream to play a sport where you can splash people and push people underwater and be a general nuisance to other human beings. I've loved the sport ever since. I was a four-year varsity athlete and the captain of my high school's girls water polo team my senior year. I ended up coming out right before my senior year of high school so that also made me the first male captain of my high school girls water polo team — lots of fun complexities in that statement. When I got to UW-Madison, I very quickly found the men's water polo team on campus and it has become like a second home to me over the last couple of years. I love the team. We recently placed fifth in the Big 10 division.
What made you want to come to Madison?
My college decision was hard. I had never really been to the Midwest before. I thought UW-Madison would be an accepting campus for myself as a trans student. Having a gender inclusive housing unit, having a water polo team and the prominence of the Gender and Sexuality Campus Center made me feel like if I ever needed support in athletics I could get it — which I found to be true.
What has your experience been like as a trans athlete on the team?
To my knowledge, I am at least the first out trans guy ever on the water polo team. If we back it up to high school, that's where I really started grappling with the question of myself being a trans athlete. I first came out during water polo season, and… I wanted to go through medical transition, I wanted to start hormones and there were implications of how it would change how I was viewed on the team.
At my high school, there were rules I wouldn't be allowed on the men's team until I was at least on hormones for a year. I was a little grateful COVID happened because, while it took away my senior season of water polo, it also gave me time to come out to explore my gender without having to deal with that pressure.
It's also interesting being very visibly trans because I'm not in my day to day life. I pass as male for all intents and purposes, but then I get in the pool and I'm in essentially a woman's swimsuit. It's definitely a shift for me, like "OK, now I am very radically visible."
What has it been like on the Madison team?
Coming into college, I knew me being on the team was a big learning experience for my teammates, but also for myself. For some of my teammates, I am the first trans person they've knowingly met. Some are coming from Republican-controlled counties and school districts that don't teach them about trans individuals. I'm from Connecticut and I even came from a school district that didn't teach me about trans individuals.
My team has been great. They've been more than willing to learn and more than willing to accept me as part of their team. It's been really good for me as well.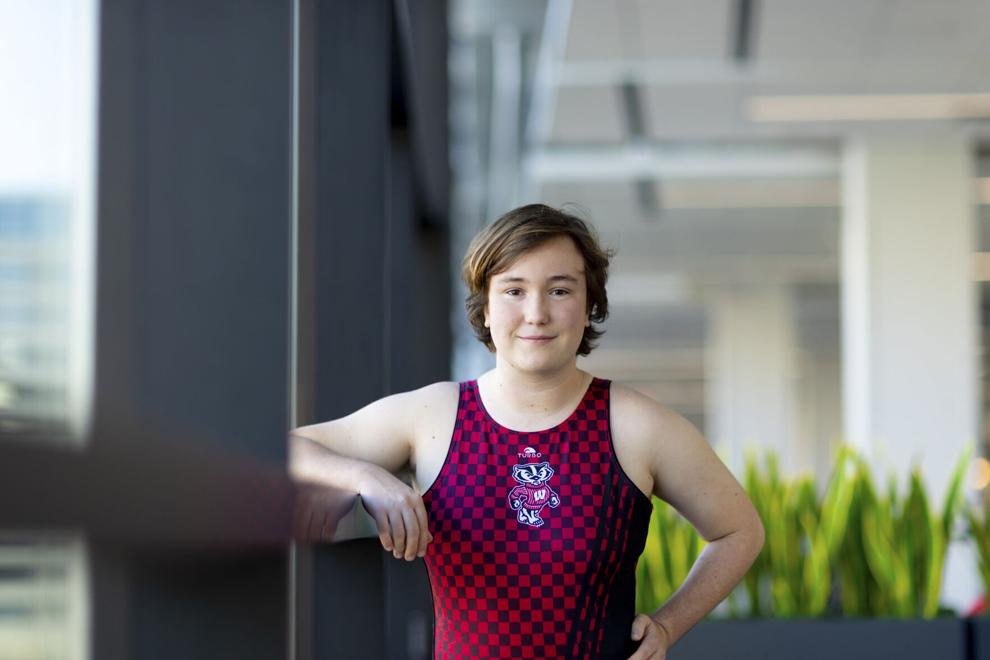 Can you tell me more about the sport of water polo?
Water polo is for most people a very out-there sport. I like to describe it as very similar to rugby: Everyone swims up the pool on defense and everyone swims down the pool on offense, with the exception of the goalie. Throughout the course of a game it's just generally in a wrestling match with each other over who can get best positioned in front of the goal. Water polo is really interesting. I like it really tactically because it has that pure physical element but also a lot of strategy, like how do you draw out a foul? How do you make it look like someone else is breaking the rules?
What have been the challenges of being a trans athlete?
Water polo still has a long way to go as a sport and understanding that there are trans athletes in the water. While we are a sport that is very visually binary, really gendered between who's wearing speedos and who's wearing a woman's water polo suit, that doesn't reflect the gender of the person in the suit.
I remember one of my first days in the pool my freshman year and one of my team members — not out of malice at all — but because I haven't had top surgery yet, so I still wear what would be considered a stereotypical women's swimsuit for practices, turned to me and was like, "Emmett, where's the girls team? Why aren't they here yet?" I said, "Well, they're over there. You know, I'm on your team, right?" And there was that moment of recognition of, "Oh, wait, this is a trans athlete." I've had guys tell me on the team that they're thankful for me being on the team because they don't think they would have got that education about trans issues otherwise.
You started at UW just months after the state Legislature tried to pass bills targeting trans athletes. What was that like?
My parents asked me the honest question of if I wanted to continue water polo in college, if I wanted to put myself under that stress of being a trans athlete. It was tough, but, for me, one of the most liberating experiences is being in the pool. I just knew I had to continue playing. I knew I would regret it if I didn't. But it was hard.
What else do you want people to know about you?
While I love the work of educating people, there are days where I just want to exist as a trans student on campus and have no one ask me about what I think of the political situation in the U.S. Often when people are thinking about trans folks, it feels like sometimes there's the loss of the sense they are talking about a person. These are people. These are the students. You are sitting next to them in class; they are probably driving next to you down the road.
Over the summer, a mom of a trans swimmer in Utah reached out to me over Facebook and asked me to talk with her because she was struggling figuring out how to parent a trans youth and athlete in a Republican-controlled state. It reminded me how hard it is to see individuals talking about how trans individuals are just trying to use their transgender identity to get ahead in sports. I hate that rhetoric. At the end of the day, I look at this kid and I just see a kid who wants to splash around in the water.