Sabrina Madison briefly walked around the room at the Progress Center for Black Women Friday morning, checking on the seven Madison Metropolitan School District students sitting on the variety of chairs and couches.
It was their temporary classroom for MMSD's second day of virtual learning amid a delayed return from winter break. Madison offered up her organization's space on the Capitol Square hours after the district's Dec. 30 announcement that winter break would be extended through Wednesday, Jan. 6, with virtual learning to close out the week.
"I didn't even really think about it — it was moreso, we have space," Madison said. "We think about kids needing tables and chairs and internet. We have tables, chairs and internet."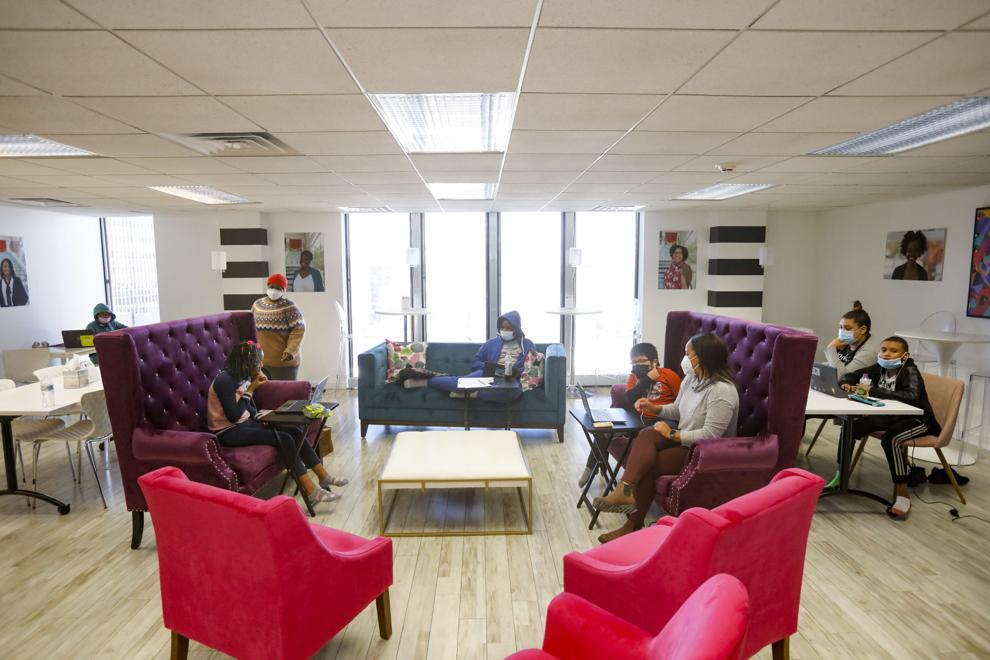 Officials announced Thursday a Jan. 10 return to in-person instruction. Most of the students at the center Friday morning — among the 18 who used the space Thursday — were looking forward to going back to school, but said they'd miss being at the center.
"It's amazing," Lincoln Elementary School fifth-grader Markayla Thomas said, clarifying that "the whole place" is what was amazing about the center. "I just love the paintings and stuff."
Madison has offered updates throughout the week on Facebook, asking for donations of snacks — they received plenty — and ideas on how to keep kids engaged for the day, especially for the days without virtual learning. She and her staff came up with a schedule for them, which was one of the most difficult parts of the week, she said.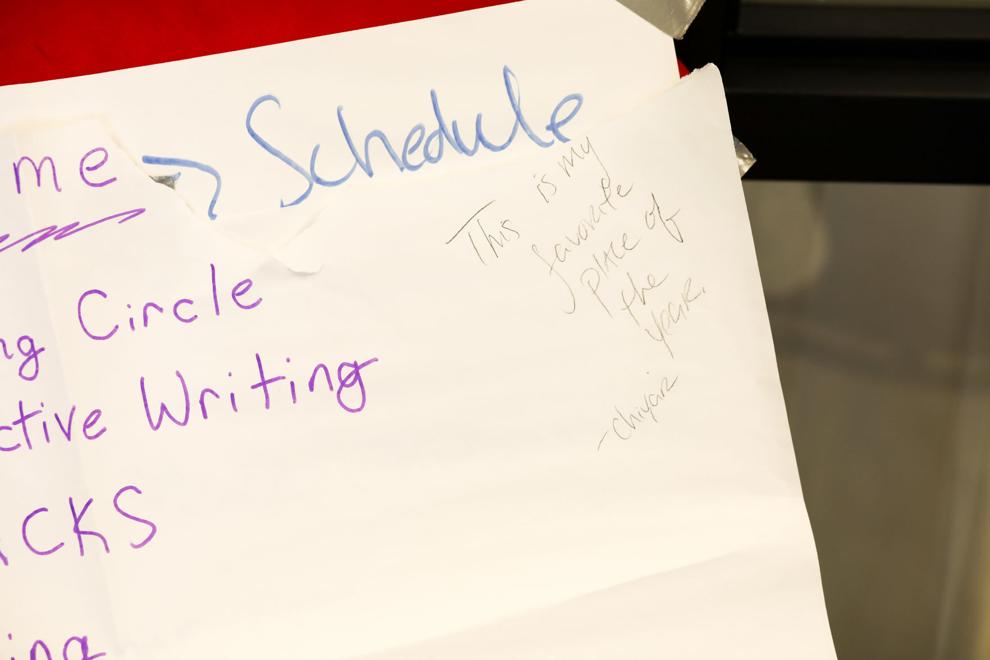 By Friday, students were working on their Chromebooks in their own areas of the room. One was going through Spanish lessons with volunteer teacher Mia Hicks while another sat in the corner under a blanket and next to the fireplace on a television working on division problems.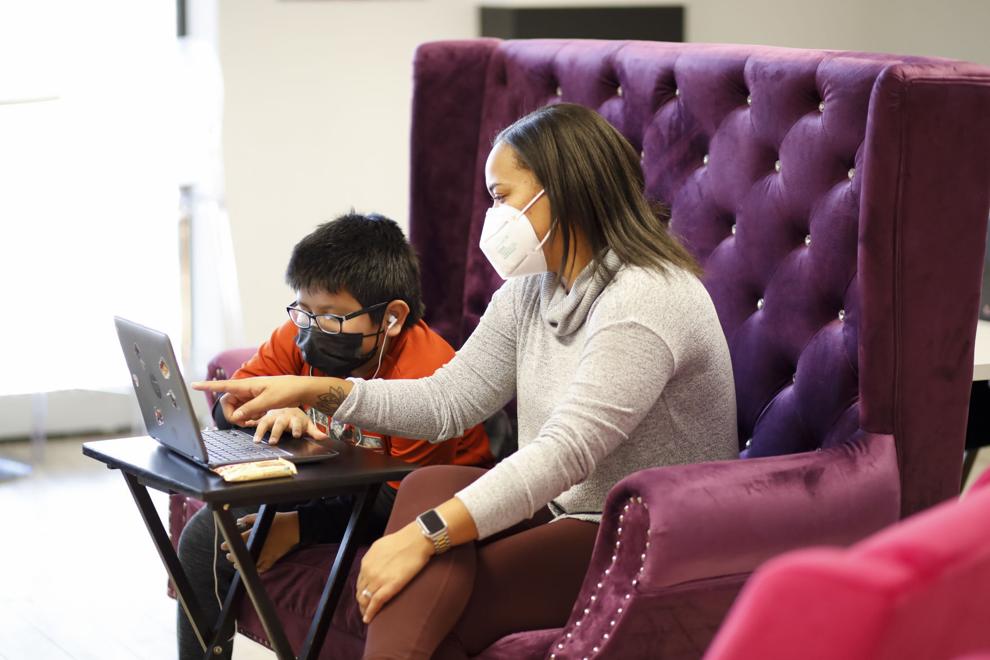 Students ranged from second-grade to ninth. West freshman Cadavion Barrett said it was a "really chill" place to do virtual learning, something he struggled with at home, and he felt he could do better at the center.
"They let you do stuff like get your snacks — they have a lot of good snacks — lay on the couches, sit wherever you want, it's a good view," Cadavion said.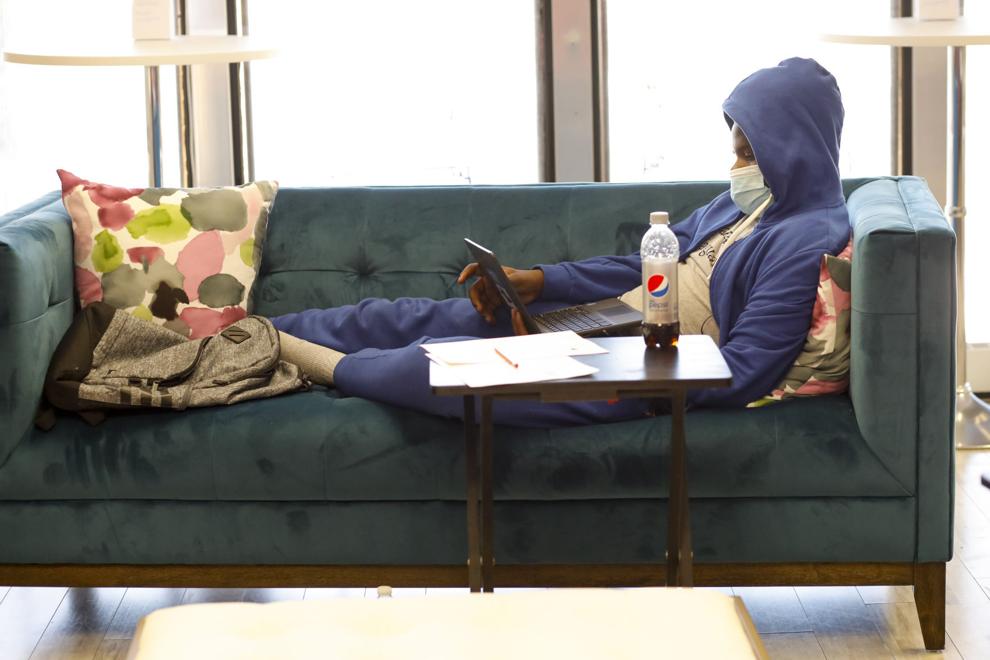 He's especially excited to return to West Monday, though, because he "absolutely hates virtual."
"I love in-person. I love to see my friends. I love to see my teachers," he said.
Hicks, who taught at Henderson Elementary School for seven years and is now a substitute teacher, was helping Henderson third-grader Isaac Romero with his Spanish Friday. Hicks said it was a "fun" few days of working with the kids.
"It's just amazing to have this space for the kids," Hicks said. "I wasn't surprised (Madison did this) because I feel like she always finds a way to make things work."
Madison said she'll miss having the students around her space, noting that she's learned a lot about snacks, juices and the Roblox online game this week.
"I'm going to try to make sure a couple of them get the parents' information because they've become really good friends," she said. They've just been so good, like hugs and the 'thank yous' and the little smiles."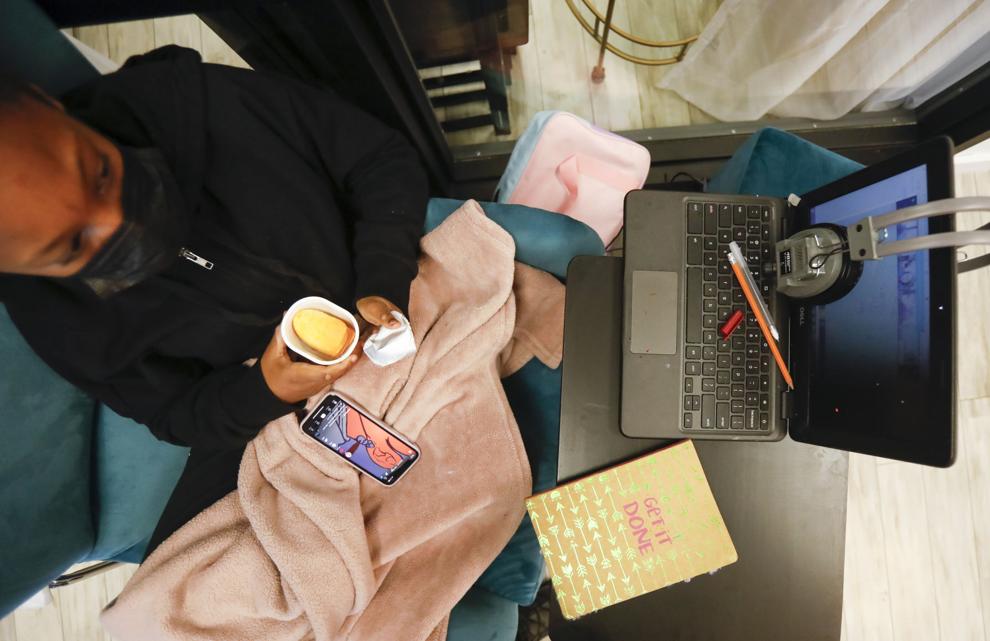 Throughout the week, she documented the effort on her Facebook page, from giving recognition to teachers for how hard their work is to sharing how sad she was on the eve of their last day at the center.
"Now I see why some teachers teach — kids will have you all in ya feelings and the relationships you build with them are really beautiful," she wrote Thursday night. "Tomorrow is going to be hard and I might have to ask their parents to bring them back for play dates soon."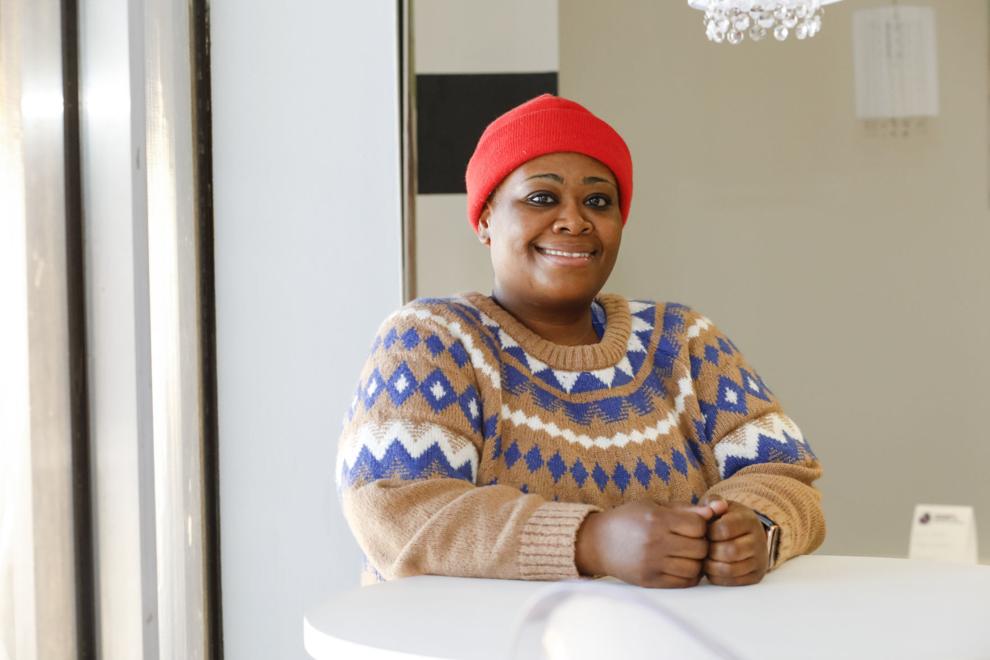 Lowell Elementary School fourth-grader Aa'lasia Batchelor, who was working on math in a corner of the center, hopes to come back after spending part of the week there, and isn't as excited as others about returning to school.
"I like it here," she said, describing it as "quiet and loud but not too loud."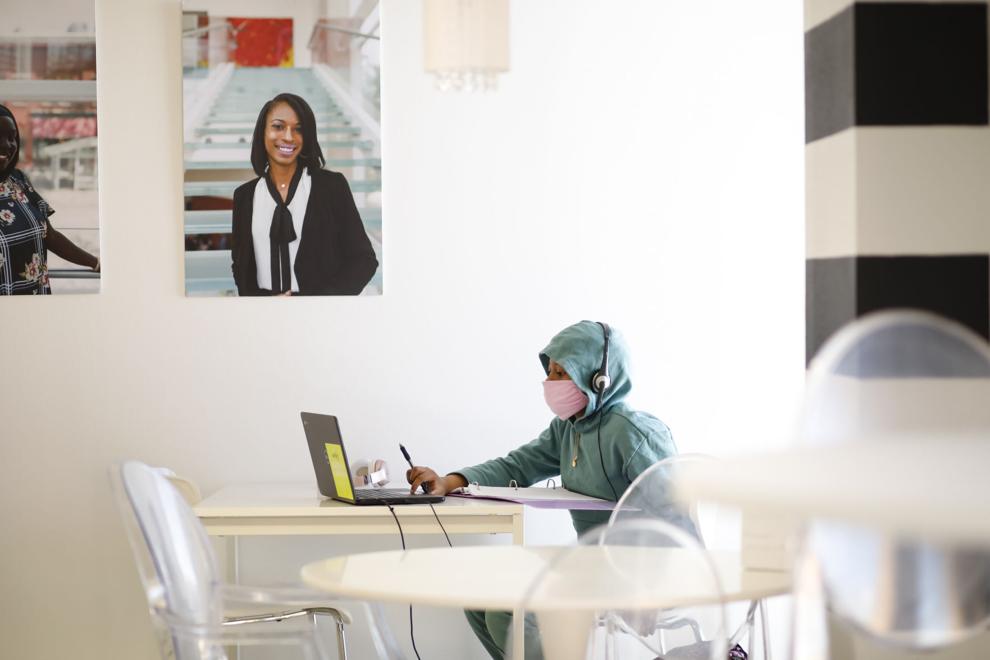 Madison is hopeful she can take what she's learned this week and put it to long-term use to expand the Progress Center's reach.
"It's going to help me create programming for young people in the summertime and just regular ongoing programming for them after school or when school is out," she said. "This is mostly a place centering adult Black women, so I didn't think the kids would want to come in here and actually want to be in this space.
"We had a couple kids that want to come here all year long."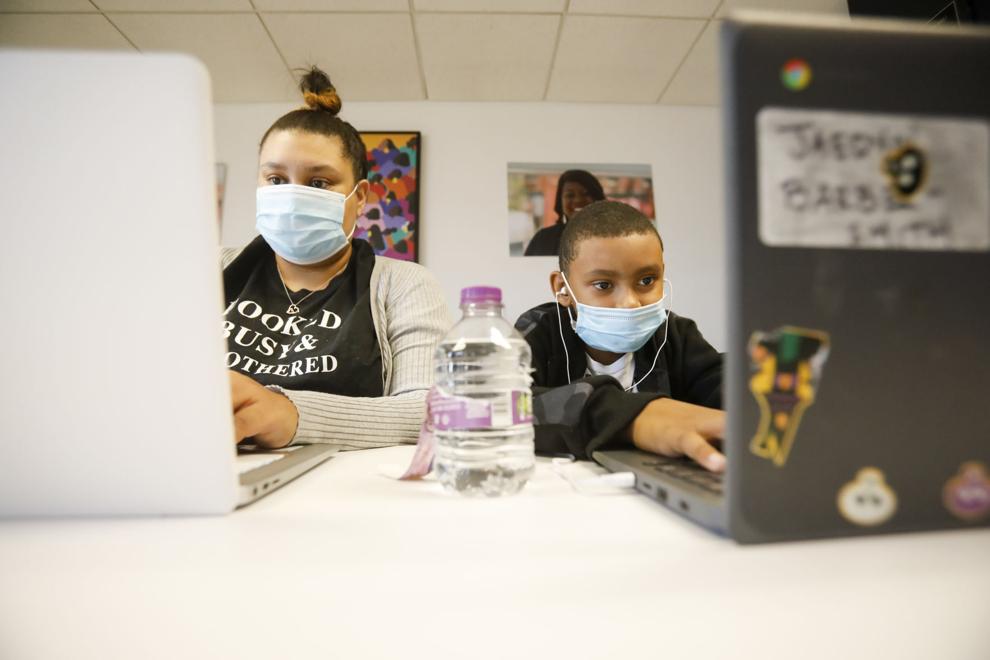 She described the gesture as "a return on the community's investment" in her and the center.
"When I created the Progress Center back in 2018, I went directly to the community," she said. "Some of these kids' moms are moms who I've known them since I've been here in Madison. Some of them have made donations or they volunteer their time or whatever, so it's just really a return on what they've already given us."