Another top Madison Metropolitan School District official is leaving the district.
Chief of Secondary Schools Nelson Render, who came to MMSD in July 2021, was appointed Executive Officer for the Bibb County School District in Georgia, according to a Friday report from GPB News.
MMSD spokesperson Tim LeMonds provided a statement from the district, including a quote from Render, in response to the Cap Times' request for comment sent to both LeMonds and Render.
"Working at MMSD, alongside Superintendent Dr. Carlton Jenkins and serving the Madison school community has been one of the highlights of my career, making this an incredibly difficult decision," Render said in the statement. "Ultimately, this was a family decision, and for family reasons, I am returning to the state of Georgia to be closer to them.
"I want to thank all our students, staff and district leaders who made my experience at MMSD something I will always cherish."
LeMonds wrote that the district "is very grateful for all Mr. Nelson Render has accomplished."
"The past few years have been very challenging, and throughout the pandemic, his leadership was instrumental in successfully guiding MMSD high schools through unprecedented times," LeMonds wrote.
Render joins recently hired incoming superintendent Dan Sims, a former colleague in Atlanta Public Schools, in Bibb County.
He's the second high-up administrator to leave the district this school year, with former Chief Academic Officer Marvin Pryor departing in March after 18 months in the district. Pryor was initially hired as a chief of secondary schools before moving into the chief academic officer role last summer.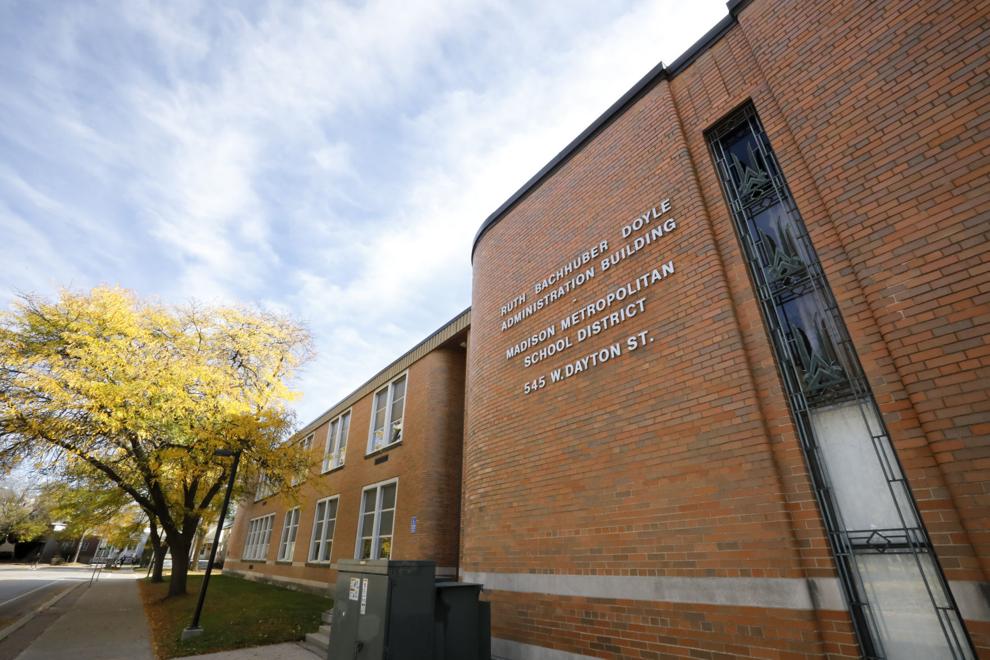 Other departures
While MMSD experienced plenty of leadership change last summer, those who left had all been part of previous administrations under superintendent Jennifer Cheatham and interim superintendent Jane Belmore. Both Pryor and Render began here after superintendent Carlton Jenkins was hired, both having worked with him previously in Atlanta.
Render was one of two chiefs of secondary schools in MMSD, with his focus on high school education. The other chief, Angie Hicks, focuses on middle schools.
Their team supports grades 6-12 schools "to ensure that every school has what they need to be a thriving school that is preparing every student, with a special focus on African American students and students with disabilities, to be college, career and community ready," according to the district's website.
They help support School Improvement Plan implementation, oversee central office resources provided to schools and manage the feedback and data review cycle for schools.
MMSD's central office has seen significant turnover since Jenkins arrived in August 2020, though most central office leaders remained amid the tumultuous summer of 2020. Not only was it just months into the COVID-19 pandemic that disrupted education, it also included the superintendent search that ended with Jenkins' hire.
That changed in summer 2021, when five leaders left for other jobs and two others retired. Those leaving for other jobs included Co-chief of Secondary Schools Mike Hernandez.
Co-chief of Elementary Schools Tremayne Clardy and Executive Director of Equity, Partnerships and Engagement Nichelle Nichols also left, with Clardy becoming the superintendent in the nearby Verona Area School District and Nichols leaving for a role with the National Equity Project. She won a seat on the Madison School Board this spring.
Chief Financial Officer Kelly Ruppel and Executive Director of Buildings and Administration Services Chad Wiese, both of whom were integral in the November 2020 referenda process, also left for other jobs.
"Every district goes through this with a new superintendent as they sort of evaluate and develop their vision," LeMonds said last summer. "There's going to be some changeover so that's to be expected, and I feel like it was exacerbated with the COVID situation as well."
In September, the district saw Director of Family, Youth and Community Engagement Angela Fitzgerald Ward leave two years into her job, as well as Director of Strategic Partnerships Briony MacPhee Lyon, who had worked in MMSD since 2016, previously as the coordinator of Summer School.
When Pryor announced his plans this spring, he explained to the School Board that he had to make a "very, very difficult decision" to leave.
He moved back to Atlanta to be with his wife and children, who remained there throughout his time in Madison. He traveled back to Atlanta every two weeks to spend a day-and-a-half there with them and determined that he needed to be there more permanently, he said.
Pryor now works as the senior director of programs for the Institute for Student Achievement, according to the organization's website. He worked for the same organization in a different position before coming to MMSD, according to his LinkedIn.