In just over a half-hour, a class of West High School students made a big dent in the warming climate.
"We all today found a menu of options that when we add them together we can reach our climate goals," Wisconsin Energy Institute outreach and events coordinator Allison Bender told them.
Bender, through a partnership with the UW-Madison La Follette School of Public Affairs, had presented the students with the En-Roads Climate Change Solutions Simulator. About 100 Advanced Placement Environmental Science students at the high school saw the presentation and got to consider their own climate solutions throughout the day Tuesday in an event funded through the Robert F. and Jean E. Holtz Center for Science and Technology Studies.
The simulator allows a user to change a variety of variables, from higher or lower taxes on coal and increased use of different energy sources to improved building energy efficiency and technological advances in carbon removal. The event, done virtually with the students in-person and presenters on Zoom, allowed students to think through the variety of options, set a goal and see what it would take to reach it.
"It will take a lot more changes to fix this than I thought," one student wrote in the Zoom chat at the end of the activity.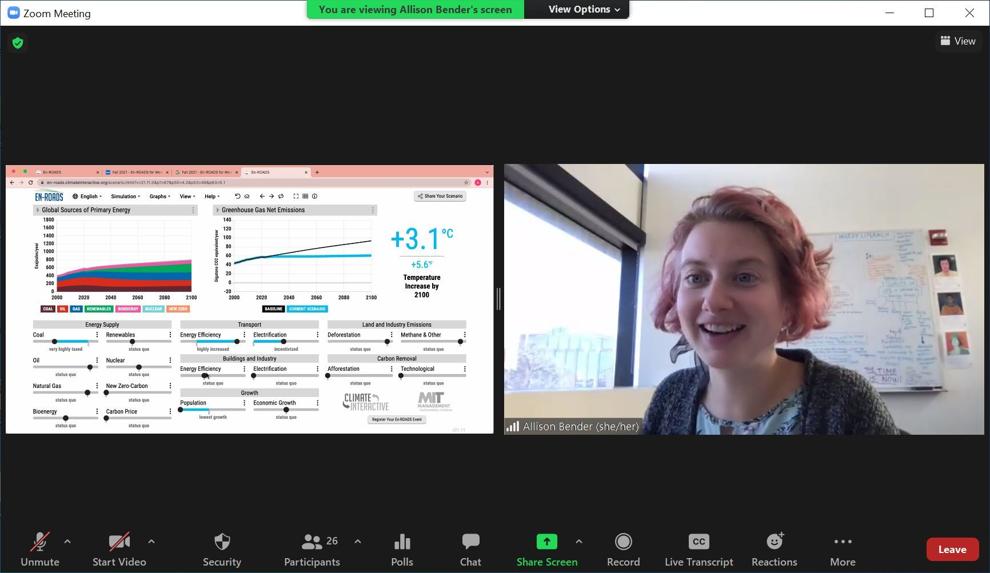 As a group, the class and Bender decided lowering the temperature increase by the year 2100 from 3.5 degrees Celsius to 2.0 degrees Celsius would be a good accomplishment in the short time they had together. Initially, they increased things like the use of electric cars and lowered the population growth.
Many of the initial changes made "subtle" differences in global sources of energy, as Bender put it. When later discussing deforestation, they considered "co-benefits" of certain changes — effects that wouldn't be directly related to energy use but could make it a better world, anyway.
"We have increased habitat for animals, increase in oxygen, increase biodiversity, exactly," Bender said, responding to students' chat messages. "These are the sorts of things that we can think about if maybe we aren't doing as much as we thought with the greenhouse gases by this action. There are these other benefits we're having."
Students broke into small groups during the activity to discuss amongst themselves what they thought the three most significant changes could be.
"For me, one of the things was just learning, wow, it's really not just one of these sliders that you might hear about, electrify everything and that's the answer, but it's really this puzzle piece with all these different actions layered on top of each other," Bender said.
Sustainability is a significant topic in the Madison Metropolitan School District. District officials added $2 million for more sustainability projects to the capital referendum in 2020 on top of the initial cost of $315 million.
The School Board also passed a resolution in 2019 to establish renewable energy goals. By 2030, the district hopes to meet 50% of all district operation energy needs with renewable energy, increasing to 75% by 2035 and 100% by 2040.