The Boys & Girls Club of Dane County is launching TOPS+, a program to support students pursuing an associate's degree at Madison College. 
It's an expansion of the AVID/TOPS program — a collaboration between the Boys & Girls Club and the Madison Metropolitan School District — which has helped underrepresented students become ready for college and careers for over a decade. 
The new TOPS+ initiative will cover tuition and fees remaining after financial aid for its first cohort of 50 Madison College students. They will also receive tutoring, one-on-one advising, career support, internship opportunities and $250 per semester for staying on track. AVID/TOPS co-founder Mary Burke is funding the program with a $1.5 million donation. 
At a Thursday event announcing TOPS+, Burke said about 90% of AVID/TOPS participants come from low income households or are students of color. And around 40% of participants eventually enroll at Madison College, said Boys & Girls Club executive vice president Richard Heinemann. 
"The odds are stacked against them," Burke said. "We need to ensure that their futures are not dependent on whether their families are in the position to provide the financial support and the college guidance necessary to be successful."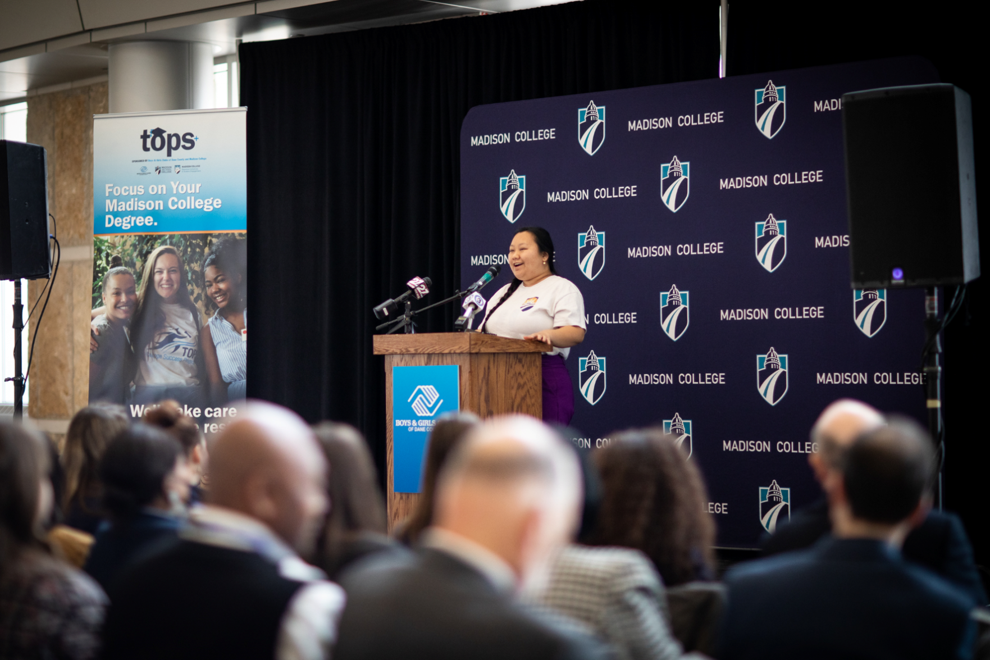 Desia Xiong, an AVID/TOPS graduate and part-time Madison College student, said the program helped her succeed in high school. 
"I'm excited that the next cohort of students coming into the TOPS+ program will be given even more support and resources," she said. "The difference this TOPS+ program will make for future students will be incredible." 
Madison College President Jack Daniels added TOPS+ will also be beneficial to employers as the program and college steer participants toward future careers.
"This evolution of our partnership will allow us to provide student participants with the support, services and guidance they need to complete a degree," he said. "And the work they do while they are here at Madison College will translate into employment opportunities." 
To be eligible for the first TOPS+ cohort, students must graduate from a MMSD high school and AVID/TOPS; have a cumulative GPA of 2.0 or above; enroll in a Madison College associate's program at 12 credits per semester; and complete the Free Application for Federal Student Aid. 
Applications are due April 1.