A small bag of chips, yogurt and string cheese.
Apple juice with a WOWBUTTER (peanut butter substitute) and jelly sandwich.
Strawberry yogurt, a banana, Goldfish graham crackers, a cheese stick and cucumbers to split among the class.
These were all lunches served at Madison Metropolitan School District schools this year as supply chain strain left officials surprised by what distributors delivered and forced last-minute menu changes.
"Trying to teach kids after this is all they have to eat is a huge challenge," one elementary school teacher, who asked to remain anonymous, told the Cap Times. "So many kids in Madison heavily rely on our meals."
The district is not alone in experiencing significant challenges amid a supply chain disruption, which extended to its vendors supplying ingredients. Nationally, shortages have caused delayed deliveries on a variety of products, leaving industries like school food in a bind given federal nutrition requirements and the logistics of feeding thousands of children two meals each day.
District food and nutrition director Nichele Smith explained in an interview with the Cap Times earlier this year that even if the district asks for delivery of specific items, they may find out five hours before they need to pack up food for schools that they're receiving just a box or two of what they anticipated.
"Now you literally pull it from inventory to create meals at that point, that's how disruptive it was this year," Smith said. "But I'm predicting that it'll be a little better next year, I really am. I'm praying it's a little better."
This year, the challenges affected thousands of students. The elementary teacher quoted above reported multiple incidents in which they received two or three packages of vegetables or fruit to share among their entire classroom.
At Allis Elementary School, the oven was broken in late April. For breakfast: Frozen waffles.
One teacher there, who asked not to be named, said their students "used their problem solving skills to heat them on the radiator." Meanwhile, for lunch, they received a sandwich described as a "California Club" that featured turkey and ham on a hamburger bun, which was similar to what they'd received for most of the week prior.
"Many are not eating and unable to focus because they are hungry," the teacher reported.
A special education teacher in the district, who also asked not to be named, called the meals this school year "inadequate" and "appalling." They said that pre-pandemic, their school had a fresh fruit and vegetable bar and students had two hot lunch options.
Since the return to in-person instruction amid the pandemic, however, "the district's idea of a 'fruit' consists of an orange or apple juice."
"Most of the time, it is extremely processed food heated in plastic with minimal to no side options," they said. "There have been countless instances where our students simply do not have enough to eat."
In one case, as the end of the school year approached, the school's lunch lady emailed staff stating that "she did not receive the appropriate amount of lunches on the delivery truck," according to the teacher. "Her options were to serve mini pizzas for the third time this week or give the students cereal."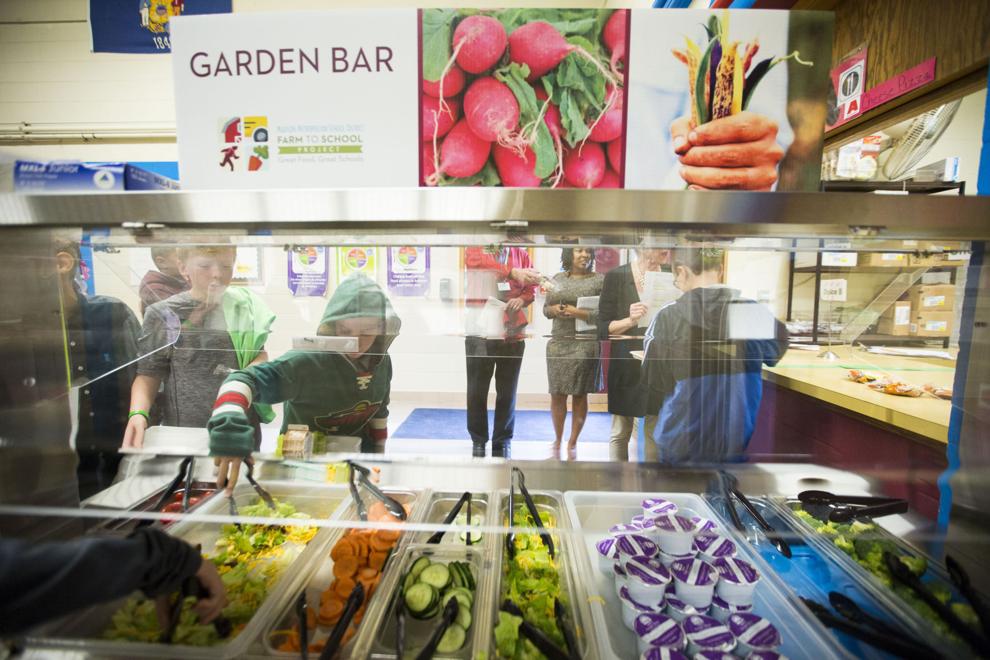 Instead, the teacher said, many staff members "resorted to outsourcing for lunch" and ordered food for their classrooms out of their own pockets.
The United States Department of Agriculture has minimum weekly requirements for school breakfast and lunch programs, including 2.5 cups of fruit and 3.75 cups of vegetables for grades K-8 and five of each for grades 9-12. No more than half of those may come in the form of juice, according to the guidelines.
There are further requirements on grains, calories, saturated fat and sodium. All of them can force schools to get creative to meet the requirements if they don't receive what they had planned.
Early challenges
The issues began immediately in the school year. The district provided an update to families on Sept. 15 outlining the challenges, from "shortages totaling hundreds of cases of product" with each delivery from its distributor and staffing shortages at vendors as they dealt with COVID causing truck route cancellations.
"Our primary food distributor, Gordon Food Service (GFS), first reported observing inventory and supply chain issues caused by material shortages, increased demand for select products, and workforce challenges in late August," the update stated. "We are continuing to partner with numerous vendors to try to always have our bases covered and solidified backup plans."
Smith promised in the update that the district "remains adaptable and ready to pivot to meet the needs of our students regardless of the obstacles we face."
"We have been working with our regulatory agencies to find new and creative ways to meet the requirements of our programs while managing the shortages we've seen already this school year," she wrote. "Some days, meals may look a little different than what students are accustomed to, but we promise that we will continue to feed any student looking for breakfast or lunch each and every school day."
A Feb. 10 memo from MMSD chief operations officer Cedric Hodo to superintendent Carlton Jenkins stated that the district's primary food distributor "continues to report that they are observing inventory and supply chain issues caused by material shortages, increased demand for select products and workforce challenges."
Improvements ahead?
Officials hope a change in where they're acquiring food and the company distributing it can help next year. This year's distributor, Gordon Food Services, elected not to seek renewal of its contract, and the School Board instead approved an emergency procurement contract with Sysco for the 2022-23 school year.
"Over the last couple months, we have been working very closely with Sysco representatives to ensure product availability moving forward," district spokesman Tim LeMonds wrote in an email.
In a March 31 weekly update shared with the School Board, Smith also pointed to the plans to use all USDA food commodities for the 2022-23 school year, which provides more of a guarantee of delivery.
"Having guaranteed (USDA) products available will help to deter some of the menu inconsistencies we've experienced this year for our food vendor," Smith wrote.