With the fall semester set to begin Wednesday, University Health Services is prepared to meet student demand for monkeypox resources at the University of Wisconsin-Madison, said UHS executive director Jake Baggott. 
While risk to the public remains low, UHS is specifically focusing on prevention awareness for students. Baggott said UW-Madison also has testing available and is one of the first higher education institutions in the nation to distribute the JYNNEOS monkeypox vaccine to students. 
UHS has vaccinated around 50 people so far and currently has a supply of over 100 doses. 
"The demand has eased a bit in recent days, but now that students are returning to campus, we expect to see increased interest," Baggott said. "I'm not worried about meeting that need. We have confidence that we have sufficient vaccine on hand and can get additional vaccine quickly if that need grows beyond our current experience." 
At UHS, the vaccine is available to those with known exposure to someone with monkeypox, as well as people with certain risk factors. That includes:  
People with sexual or intimate contact with someone in the last 14 days who was diagnosed with monkeypox — whether or not the person diagnosed had symptoms at the time of contact.

People who attended an event or venue where there was known exposure.

Gay and bisexual men, as well as nonbinary and transgender people, who have had multiple male sexual partners in the past 14 days. 
"We certainly have experience dealing with much larger public health issues," Baggott said, referring to the COVID-19 pandemic. "I feel like we're well positioned to respond if we have an increase in cases. Again, right now, we feel like that number won't be very large, but if we have a different experience, we know that we can meet that need and support our students." 
Back-to-school risk  
As of Sept. 1, the Wisconsin Department of Health Services has identified 60 cases of monkeypox in the state. Across the nation, the total number of confirmed cases is 18,989 as of Aug. 31, according to the Centers for Disease Control and Prevention. 
The overall case count in the U.S. continues to grow, but the rate of new cases per day has recently started to slow. 
Still, Jonathan Temte, a UW-Madison expert on epidemiology and management of viral outbreaks, said there could be heightened risk as students return for the school year. 
The vast majority of cases, he said, have been among males in young adulthood. The predominant type of exposure among those with monkeypox is direct skin-to-skin contact, including sexual contact. 
"Is there skin-to-skin contact on college campuses? Absolutely," Temte said. "College campuses may be a venue for additional transmission, particularly as young people are getting away from home for the first time. Young people have more liberty and more license to do things than maybe they would at home." 
He added that universities can prevent outbreaks by remaining vigilant and educating campus communities on the disease.
"Early recognition, early treatment, or provision of vaccine early on can have tremendous effects," Temte said. "What is really important is getting information out succinctly." 
According to Baggott, UHS has been planning for potential outbreaks for several weeks alongside Public Health Madison & Dane County, the School of Medicine and Public Health, and the Gender and Sexuality Campus Center. 
Getting past stigma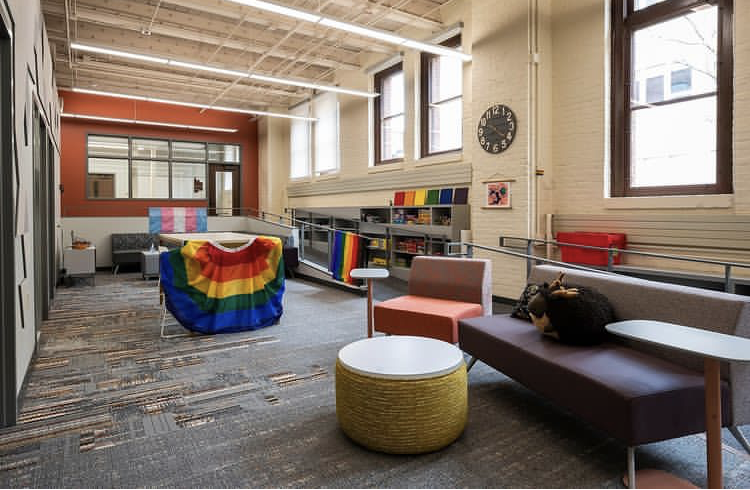 Another concern Temte said schools should consider is stigmatization of the disease, which could make some reluctant to seek help. Though men who have sex with men have been disproportionately diagnosed with monkeypox, anyone can become infected. 
"We have to really take an approach where we don't put value judgments on anyone," he said. "This is a public health emergency, albeit relatively small now, but we want to treat people with respect. We want to treat people with dignity, and we want to get on top of this." 
UW-Madison's Gender and Sexuality Campus Center, which supports LGBTQ+ students, is working to push past the stigma, said director Warren Scherer. Staff at the center have helped UHS provide appropriate messaging and support to those looking for information. 
The center, Scherer added, can be an important resource in mitigating the spread because many of its constituents are among the population with elevated risk for monkeypox. 
"The queer community has been through something comparable before," Scherer said. "HIV was incredibly stigmatized, and I think that there are some similarities that can be drawn there." 
Students have also expressed concerns about increased bias incidents, including on social media, which Scherer said the Campus Center and the university should be prepared for. 
"The desire for information from students was noticeable, and the concern about rhetoric and bias incidents was palpable," Scherer said. "Folks have made monkeypox synonymous with being queer, so there's potential for people who are observably queer to have epithets hurled at them."
Scherer added that staff at the Campus Center are continuing to have conversations with other university administrators about the concern. 
"I am hopeful that nothing will happen," Scherer said of potential bias incidents. "But if it does, I am also hopeful that people will be able to intervene and to immediately find comfort and affirmation in this community."