A few hundred Madison-area high school students gathered at the Capitol building Friday afternoon in a rally for abortion rights.
The event is one in a series of protests that have taken place in downtown Madison since the leak of a draft U.S. Supreme Court decision that would overturn Roe v. Wade, the landmark 1973 case that outlawed blanket bans on abortion. The court is expected to issue its final decision in a case involving a Mississippi law within the next two months.
Another major pro-choice rally is planned downtown on Saturday.
Amira Pierotti, a Memorial High School senior who helped organize Friday's event, said it was important for the youth voice to be part of the conversation.
"We need to really show up and try to tell them where we stand," Pierotti said. "Many of us either know someone and love someone who's had an abortion, or we ourselves have had an abortion and that's something that's talked about less."
Students from East High School marched from their building to the Capitol before the rally. After arriving at the Capitol, they chanted and shared stories on its steps before moving to the rotunda to meet students from the other schools, including West, Memorial, Middleton and Oregon.
In the rotunda, more students shared their personal stories of sexual assault, rape and abortion and implored their peers to fight for the pro-choice policies.
"My body, my choice," rang out around the building as the group chanted.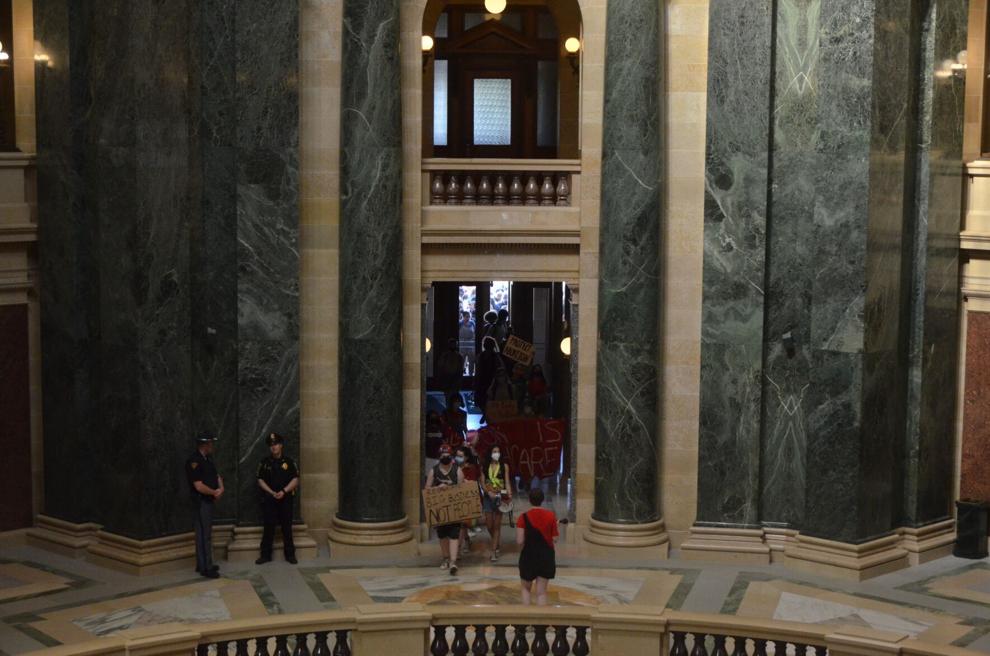 Sen. Melissa Agard, D-Madison, spoke to the group, noting that for those in attendance, Roe had been settled law for their entire lives.
"We need to fight like hell so that it stays that way," Agard said.
She, along with student speakers, suggested the way to actually reduce the number of abortions would be comprehensive sexual education, better access to birth control and Plan B pills and supporting teen dating violence education.
"Keep your bans off my body," she said, echoing one of the large signs students had made for the occasion.
Maya N.R., an advocate with the Rape Crisis Center in Madison, also spoke to the crowd, calling it a "conversation for everybody," not just those with a uterus.
"This is an incredible thing that you all are gathered here today, I know that you could be anywhere else," she said.
Collectively, she said, they can make a difference.
"There is massive power inside of every single one of you," N.R. said. "Together, we are far stronger than we would be alone. So have the audacity to show up, have the courage to be vulnerable and honest, and have the wisdom to listen and believe in each other."
Pierotti expressed a similar message before the event,
"I want this to be for us to show each other we're not backing down, we're going to continue fighting, we're going to continue caring for each other," they said.
They added that it was especially significant to have multiple schools come together for the rally at the Capitol building on a Friday evening despite high temperatures and storms in the forecast.
"Not only are we willing to show up for abortion rights when it's convenient, when we can just walk across the street to the park, but we're willing to come down to the Capitol," they said. "The fact that folks are willing to come here through all of that after two weeks of AP tests; if we can do that, there's no stopping us."