The science of cancer detection and treatment is beginning to change, but what does that mean for health care providers and patients? 
Wisconsin Institute for Discovery director Jo Handelsman moderated a discussion about how advances in science and technology are transforming the field of cancer screening and diagnostics for this year's Cap Times Idea Fest. 
Panelists included John Kisiel, associate director for Medicine & Medicine Subspecialty Research at the Mayo Clinic Cancer Center; Jake Orville, pipeline general manager at Exact Sciences and Sung Poblete, CEO of Stand Up To Cancer.
Exact Sciences sponsored and curated the session.
"Unfortunately, detection by symptoms is still the present state for many cancers that we cannot screen for," Kisiel said. "When symptoms do develop, that typically indicates that a cancer is at a more advanced stage. That means larger tumors spread of that cancer to lymph nodes or distant organs and elsewhere in the body, and when that occurs, cancer is much harder to treat, and much more difficult to cure."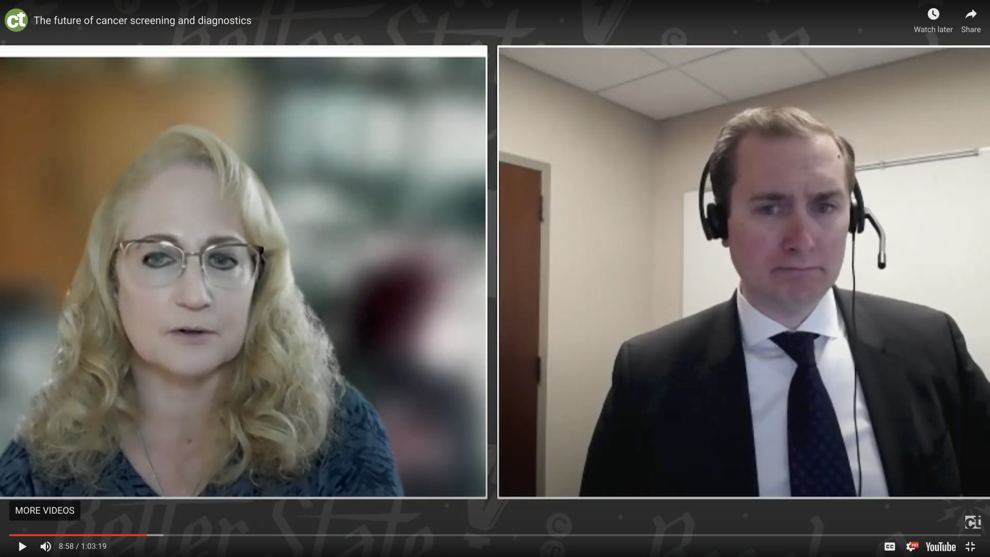 Kisiel also pointed out that this system for diagnosing cancer can prove to be tricky. At present, only the screening for colorectal, breast cancer and some lung cancers is practiced in persons who do not have symptoms because these diseases are common in the general population. 
Cancers that aren't screened for are much less common, and screening for these individual cancers in organs such as the pancreas, ovary or esophagus would find — at least with present technology — very few cancers and generate a lot of false positive tests. 
In addition, these rarer types of cancer anatomically occur in the center of our bodies. They require invasive testing like endoscopy or sometimes even surgery to adequately diagnose and evaluate them.
"So therefore we really need to get to a future state, where we're not relying on symptoms, and we can use screening tests for much more cancer types than those we currently have screening solutions for," he said.
Exact Sciences is pursuing multi-cancer, early-detection screening via liquid biopsies — more commonly known as blood-based screening tests — as a means to circumvent the issues currently associated with diagnosing cancer. Due to new advancements in technology, Orville said, we have the ability to find "a needle in a haystack." 
"If you think about the advancements over the last decade in cancer biology, technology, computing algorithms, data; this is all coming together now, in a way that we've never seen before. I think what was science fiction, just a decade ago is, is now science reality," Orville said. "We can see as little as one tumor DNA in a molecule in blood."
Kisiel and Orville echoed each other on the importance of being able to diagnose cancer as soon as possible. The five-year survival rate for those detected early is nine in 10. The survival rate for those caught late when cancer has spread is one in 10. While excellent treatments and therapies are being developed and put on the market, there's still no therapy as effective as early identification and early treatment. 
"And that's what we're after," Orville said.
Newer, non-invasive, methods of diagnostics may also bridge gaps that contribute to the disproportionate effects of cancer on certain communities. Poblete identified these populations experiencing cancer health disparities as Black Americans, Hispanic Americans, Latinx, Native Americans, Asian Americans, the socioeconomically disadvantaged, rural and LGBTQIA+ communities.
According to the Stand Up to Cancer CEO, social determinants of health, such as transportation and job opportunities, have a major effect on people's well being and quality of life. Fear and distrust of the medical system are just as significant, and can affect a person's willingness to undergo diagnostics.  
"Culturally sensitive patient engagement, training, capacity-building and multi-stakeholder collaboration around these new innovations, such as liquid biopsies, inform a health equity agenda," she said. They "are key next steps toward building a momentum to optimize the public health impact of these emerging technologies."
Poblete touched on the death of actor Chadwick Boseman in 2020, and how it brought attention to the issue of colorectal cancer in Black populations in the United States. The news elicited widespread shock in many communities affected disproportionally by colorectal cancer. 
Black and Hispanic Americans are typically diagnosed at a later stage in the disease, when it's more difficult to treat. She pointed to Kisiel and Orville's assertion that nine out of 10 people survive when cancer is detected early, as opposed to when it's detected much later. 
"There is so much more fatality, particularly in Black Americans. They are about 20% more likely to get colorectal cancer and about 40% more likely to die from it than most other racial groups," Poblete said. 
"These conditions cannot be allowed to persist, that it's really incumbent on the medical community to create a health care system that serves all patients equitably. Society has a role to play in helping this occur. Today, medical science and industry are testing or perfecting a raft of new diagnostic tools, such as non-invasive ways to detect multi-cancers.
"Our challenge, for all of us, is to make sure that these new technologies are not deployed in the same inequitable patterns of the past."