As unionization rates decline across the country, Wisconsin has been ground zero for that trend, according to a new report from the nonpartisan Wisconsin Policy Forum.
In the last 20 years, no state saw a greater decline in the share of its workforce that belonged to a union than Wisconsin did, the report released Tuesday finds. In 2000, Wisconsin had the 10th-highest union concentration in the country, with 17.8% of workers belonging to a union. By 2021, that number had fallen to 7.9% — well below the national average of 10.3% — dropping Wisconsin to 28th among U.S. states.
"This decline has been welcomed on the right as a win for taxpayers and economic growth and lamented on the left as a blow to workers and income equality. One thing both sides agree on, however, is that Wisconsin has been a leader in this national shift and these data bear that out," the authors wrote.
"Wisconsin has long been known as a leader in trends around organized labor," the report notes, explaining that the state is the birthplace of the American Federation of State, County, and Municipal Employees (AFSCME) and in 1959 became the first to let public sector unions negotiate contracts. But the state also began limiting unions' power nearly a decade before the Taft-Hartley Act barred certain union activities in 1947. 
And the state drew massive protests and national spotlight in 2011 when it passed Act 10. The legislation repealed collective bargaining for most state and local public employees, required most public sector unions to win a vote to recertify each year, and barred them from negotiating over working conditions, rules and benefits. That's likely a key reason that public sector unions have seen a much steeper drop than did private sector unions, whose membership has declined steadily for decades. 
Manufacturing declines, service sector grows
Several of the other states topping the list for unionization declines are in the Upper Midwest. Neighboring Michigan ranked second for its 7 percentage point drop — still nearly 3 points smaller than Wisconsin's — and Iowa came in third at 6.7. Those states' drops might be due in part to a major factor cutting union participation in Wisconsin: the decline of manufacturing.
Since 1983, the number of workers in Wisconsin grew by nearly 33%, said Wisconsin Policy Forum senior research associate Ari Brown, one of the authors of the report. During that time, the number of manufacturing workers in the state fell by 6.4% as companies moved to other states or countries and automated their workplaces.
"When you have such a highly unionized industry like manufacturing that's leaving the state, that's also going to significantly contribute to the overall (decline in) union concentration in the state," Brown said in an interview. More than 80% of the state's workers work in the private sector, Brown said, and the ones who belong to unions are heavily concentrated in construction and manufacturing. In those manufacturing jobs that remain, a shrinking share of workers are joining unions, Brown said.
Meanwhile, other sectors are growing – and beginning to unionize. Workers at Milwaukee-based coffee chain Colectivo voted in a union last year, while the majority of workers at Starbucks locations in Plover and Oak Creek voted to unionize this month. Nurses at UW Health have been trying to form a union since 2019. At Middleton video game studio Raven Software, quality testers last month began the process of forming what would be the first union at a major video game company.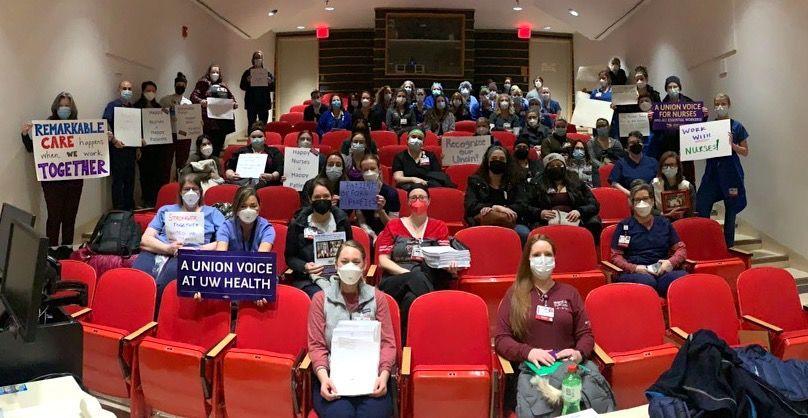 Moves like those, Brown thinks, could shape the future of the labor movement in the state. "The manufacturing jobs aren't coming back anytime soon … so if unions were to make a comeback in Wisconsin and our numbers were to reverse, you might start to see it in the service sector, which has become a much more important facet of Wisconsin's economy over the last couple decades."
With Wisconsin's unemployment rate at a record low, more workers may decide to use their leverage in the labor market to unionize, Brown said. "It'll be a really interesting story to watch over the coming months and years."
Efforts to curtail the power of labor unions don't just change workers' pay and working conditions, said Kevin Gundlach, president of the South Central Federation of Labor, a coalition of more than 80 unions in the Madison region. He said legislation like Act 10 and the state's Right to Work law — which bars unions from mandating that non-members pay dues –  have also undermined workers' power to fight for racial justice and gender equality. 
That, he said, can leave workers feeling helpless, prompting some to quit their jobs. But it can also prompt workers to organize and, in some cases, unionize, he said, calling strike-riddled 2021 "the year of the union." An August 2021 Gallup poll found 68% of Americans approve of unions, the highest rate since 1965.
"Workers now are saying enough is enough," Gundlach said. "When you keep taking away power from workers in this political game that they've been doing, then sooner or later those workers are going to fight back."