Wisconsinites who get help paying for groceries through the state's FoodShare program will soon see a drop in their monthly benefits as the federal government ends the extra assistance it offered for two years during the COVID-19 pandemic. 
The change comes as grocery prices remain high due to persistent inflation, leaving local food pantries — already strained by rising demand — bracing for a new influx of Madisonians in need.
The additional benefits offered through the federal Supplemental Nutrition Assistance Program (SNAP), were approved in spring of 2020 as a way to help families cope with financial hardships triggered by the pandemic. Under that plan, households qualified for either an additional $95 a month or the maximum allotment for their family size and income level. Eighteen states have already stopped providing the emergency funds.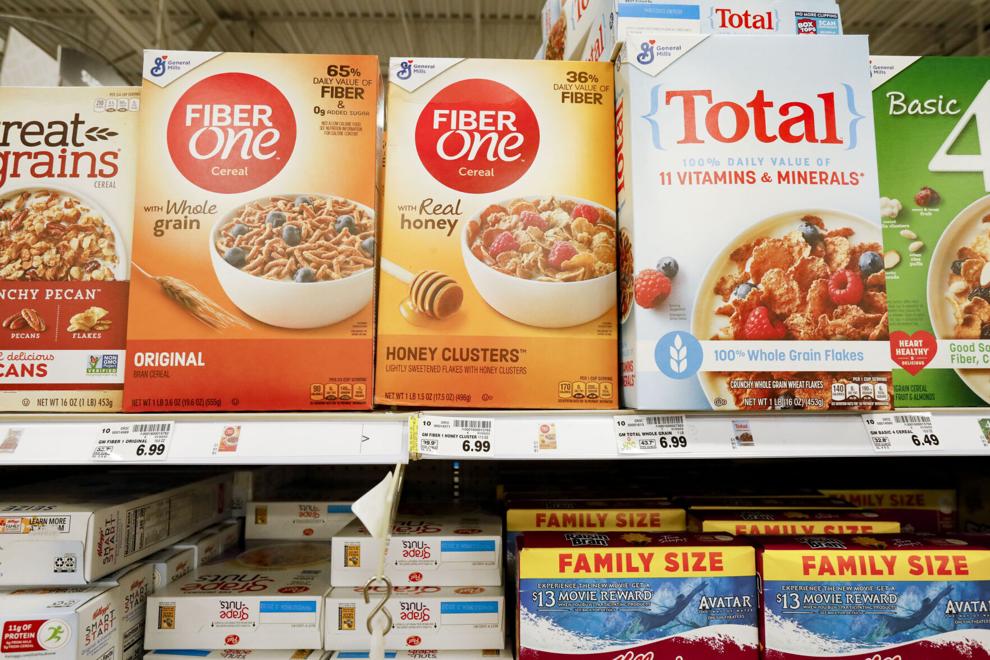 In Wisconsin, FoodShare recipients will receive their last emergency allotment in February. Though benefits will drop, the amount residents will receive beginning in March will be higher than before the pandemic, as cost-of-living increases have raised the maximum allotment by 34% since then, according to Wisconsin Department of Health Services spokesperson Elizabeth Goodsitt. 
The change may have an outsized effect on seniors, many of whom previously received the minimum FoodShare benefit of $23 each month. One 64-year-old shopper at downtown grocery store Capitol Centre Market, who spoke on condition of anonymity, said she anticipated her monthly grocery allotment would drop by around $200. 
Before the pandemic, she was receiving $23 per month but the pandemic brought that amount to more than $230. She wasn't sure exactly how much she'd receive starting in March. Recipients can expect to receive a letter with that information by the end of January. 
"I got by on that before, but prices were lower," she said, explaining that her disability payments had generally been enough to cover costs for herself and her pet rabbit. "The prices just keep going up and up. Every now and then something goes down slightly, but then they just start going up again."
The extra pandemic FoodShare benefits have helped "tremendously," she said, but she's hopeful the change won't hit her too hard. "I'm not too worried for myself because it's just me and the rabbit, and the price of hay has not gone up."
According to the federal Bureau of Labor Statistics, grocery prices in December were up 10.4% over the previous year. Prices rose 0.2% from November to December, a smaller jump than the 0.5% increase from October to November.
In recent weeks, egg prices have made headlines as the price rose 11.1% in December, in large part due to outbreaks of avian flu, which forced some producers to kill their flocks, thereby reducing supply. At the end of the year, the average price of a dozen eggs was $4.25, more than double the $1.79 price of December 2021.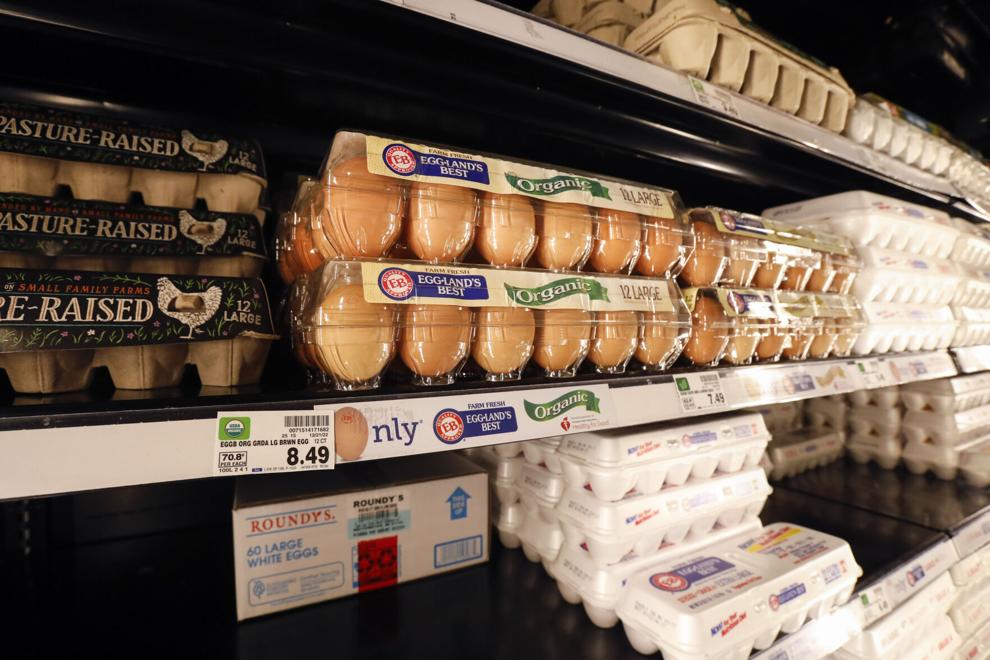 Total inflation, which measures the increase in prices for all consumer goods, reached 6.5%, the lowest figure since October 2021, a sign that the Federal Reserve's aggressive interest rate increases are slowing price growth. Still, the inflation rate remains far above the Federal Reserve's target of 2% per year, and economists warn that a drop in inflation doesn't mean prices will drop substantially anytime soon. It simply means prices are rising more slowly than they were. 
And wages haven't kept pace with rising prices. The average worker's earnings, adjusted for inflation, fell 1.7% over the year.
Food pantries predict surge
In a Wisconsin DHS press release earlier this month, deputy secretary Deb Standridge called SNAP a "crucial federal support to individuals and families." That aid is particularly important, she said, "in times like these when higher food prices are straining everyone's budgets, but especially those of our most vulnerable." 
"With Congress deciding to end these federal funds, community support for local resources like food pantries and food banks will be more important than ever," Standridge said.
At the Goodman Community Center's Fritz Food Pantry on Madison's east side, pantry manager Francesca Frisque has seen inflation's effects for nearly a year. Since prices for gas and other goods shot up in March 2022, the pantry has had a "dramatic increase" in demand each month, serving an average of 570 households each week, which take home an average of nearly 100 pounds of food each. The pantry saw 45% more visits in 2022 than in 2021. 
"Every couple of weeks, it seems like we've broken another record of how many people have come through to shop with us that day," Frisque said. That drives up the costs the pantry must pay to maintain its stock of bread, fresh fruits and vegetables, canned goods and more.
Now, as the emergency food benefits expire, she anticipates another "pretty big spike" in the number of Dane County residents who come to the three food pick-up events she, her staff and volunteers run on Tuesday mornings, Wednesday evenings and Thursday afternoons. 
"We're incredibly nervous. It's going to be a huge shock to people," Frisque said, explaining that Congress has repeatedly considered ending the program and then opted to extend it. "Even though they've known it was going to come at some point … people kind of have let their guard down a little bit.
"We're not quite sure how we're going to make it all work, but we'll find a way," Frisque said.
While demand has grown, donations from community members, who often hold canned food drives to gather donations for the Goodman Center's pantry, are down.
"People's dollars don't go as far as at the grocery store, so maybe they're not able to donate as much to us," Frisque said.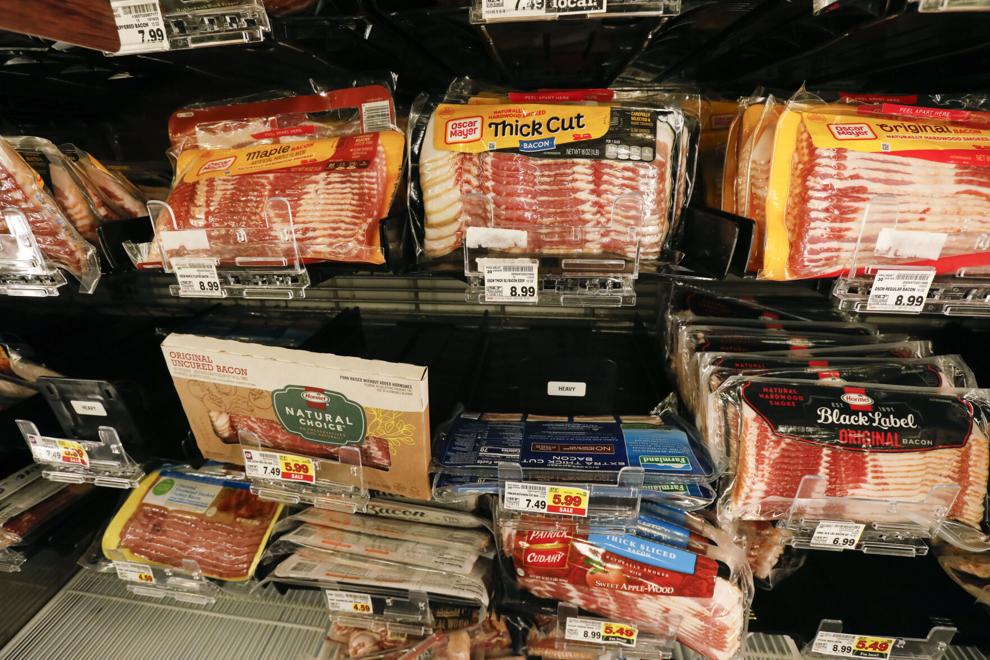 Meanwhile, as the pantry receives donations and buys inventory from partners like Second Harvest Food Bank, it's encountered some of the same shortages that affect other shoppers, making it harder to stock things like baking supplies, as well as the cleaning and hygiene products that FoodShare dollars won't cover. Compounding the problem, the recent end of pandemic funding for the federally subsidized Emergency Food Assistance Program has resulted in a "dramatic decrease" in the foods the pantry can get through that program, Frisque said. 
"Regional food banks and local food distribution organizations will work to fill the gap, despite greater demand," said Stephanie Jung Dorfman, executive director of Feeding Wisconsin's six food banks, in a press release. "Our network food banks and pantries are now gearing up to source and distribute enough food to ensure Wisconsinites have resources to turn to as they try to make ends meet."
Hanane, a nursing assistant and mother of three who asked to only use her first name, said she's been coming to the Goodman Center's pantry for food and diapers since early in the pandemic. She filled her cart on a recent Wednesday evening before heading to her 12-hour night shift at a local hospital. 
"Whenever you're working part time, it's not enough. You need to pay your rent. You need to pay your bills," she said. In recent months, she's watched prices at the grocery store climb. "Milk, eggs, fruit — everything's getting expensive." 
Sara, another food pantry visitor who gave only her first name, moved back to Madison from the West Coast last summer and found a job working part time in hospitality. Still, her bills regularly empty her bank account, so she comes to the Goodman Center a few times a month to keep her own pantry stocked. It's a position she never thought she'd be in, having grown up volunteering at food pantries. Her family doesn't know she depends on free food. 
When she has money for groceries, she goes to ALDI or Woodman's Market, buying only what she most needs. There, she sees shoppers who seem unfamiliar with the peculiarities of those discount stores, like that they need to drop in a quarter to use the carts at ALDI. 
"Clearly they're realizing their pocket book has been different, and they're walking around trying to figure out how they can save money," she said. "There's a lot of desperation … and people don't know how to be poor." 
Grocery prices could remain high
The end of the supplemental food benefits will also take a toll on store owners and farmers who accept those benefits, as FoodShare recipients will have less to spend. The size of that toll isn't clear.
Brandon Scholz, president and CEO of the Wisconsin Grocers Association, said that while his organization lobbies lawmakers on some issues, it does not typically take a stance on funding for public assistance. "A lot of people want grocers to get into the fight of increasing or decreasing benefits … but that's not our world of expertise," Scholz said.
Still, he noted that grocery store owners are already operating with thin margins, making an average net profit of only 80 cents for each $100 a customer spends. As the new change reduces sales, he anticipates grocery store owners will compensate by buying less of the products they think will see the biggest drop in demand. 
"It means they're going to make less money," Scholz said. "Those are not factors that they can necessarily control." 
Grocers have seen this change coming, as the extra pandemic benefits were never billed as permanent, Scholz said. "We always knew it was going to end … so we go with that."
Egg prices, he said, could come down sooner than prices for other goods, as many egg producers have now culled and replaced their flocks. "That does have a solution and light at the end of the tunnel," Scholz said. 
But he's not making any guesses about when prices for other goods could begin to drop, noting that ongoing worker shortages mean suppliers are still struggling to attract the workers they need to keep grocery shelves fully stocked. 
"We don't blame those folks. They're doing the best they can to deliver. But until they get fully up in workforce … this is what we're faced with," Scholz said. "You can't reduce the price of something when the cost of it is so high." 
The Department of Health Services offers the following recommendations for Wisconsinites in need of additional food:
Call 211 or 877-947-2211 to find a local food pantry.

Check if you're eligible for the Emergency Food Assistance Program (TEFAP), a federal program that provides food assistance to those with low incomes.

Check if you're eligible for the WIC (Women, Infants and Children) Program, a state program that helps Wisconsin families, including dads and other caregivers, with food benefits, nutrition education, and breastfeeding support.

More information for FoodShare members can be found on the DHS website.