Amidst an enduring shortage of skilled workers only exacerbated by the pandemic, around 150 people streamed into the Madison Labor Temple Tuesday to consider a career in construction.
It was the Apprenticeship Career Day & Fair, organized by workforce development nonprofit WRTP/Big Step of South Central Wisconsin and the Building Trades Council of South Central Wisconsin for high school students, recent graduates, job seekers and potential career changers.
In Wisconsin, the construction industry has been short of workers for years, and the pandemic has only worsened the problem. Nationwide, the industry needs 2.2 million more construction workers, according to a recent report by industry group Home Builders Institute.
On Tuesday, the upstairs hall of the Madison Labor Temple was filled with dozens of tables of representatives from labor unions, construction companies and job training programs across the region, all trying to fill that gap.
One after another, they made the case for their industry. Union reps described starting wages around $15 an hour during apprenticeships, $35 to $55 an hour after that, six-figure pensions and deductible-free health insurance paid entirely by the employer.
At the table for Heat and Frost Insulators Local 19, representatives explained their work — installing insulation around everything from walls to pipes — and cited a 2014 USA TODAY ranking that placed the career at #4 on a list of fastest-growing jobs. (The growth has since slowed, with the Bureau of Labor Statistics predicting slower than average growth for the next decade.) No experience is needed, they said, as apprentices spend four years working alongside a trained professional and get paid to attend training one day a week.
Then they handed out fake checks for $1,547.20, the amount the insulators union says a journeyman could expect to take home each week.
When 19-year-old Naomi Knowles saw the check, her eyes widened. This, she said, was what she made in two weeks at her full-time job at Dunkin' Donuts. 
Continuing their pitch, the reps explained that members earn a fixed amount of pension for every 1,000 hours they work in their career. Those who work 35 years with the union can expect to receive $10,000 each month in retirement, they said, and that doesn't include each member's individual annuity. 
At that, Traci Goll's eyes widened too. The director of Horizon High School, which serves students in recovery from substance use, she'd shown up at the event with seven students plus alum Knowles. After a year of virtual school, Goll said, she was for her students to have a chance to learn about career opportunities in person. 
"It's incredible," Goll said of the event and the reps. "They're all going into depth not only about what the job entails (and) what the hourly salary is, but explaining … to the young people (the importance of) insurance and 401 k's and retirement packages — all stuff I didn't think about when I was their age."
Knowles learned about the event from a former teacher and took off early to attend. "I'm kinda happy I came. I can see some nice career options," Knowles said, explaining that she'd been thinking about how to move from a job to a career. 
"Seeing all of them and how much they make and how much work I put into Dunkin' — I could be making so much more. So much," Knowles said.
On a stage at the end of the room, Kai Maharajh, 17, had a virtual reality headset on her head and a nozzle in her hand. She turned around, bent over and knelt down to "spray" a fireproofing treatment onto steel beams in a simulation of the work someone trained in plastering or fireproofing might do. 
Her Horizon classmates, teachers, and the union reps watched her progress on a screen, impressed by her dedication to doing the job right. 
"Have you had anybody get down on their knees and do this today?" Goll asked.
"She's the first one," said Trae James, a statewide rep with Operative Plasters' and Cement Masons' International Association Local 599.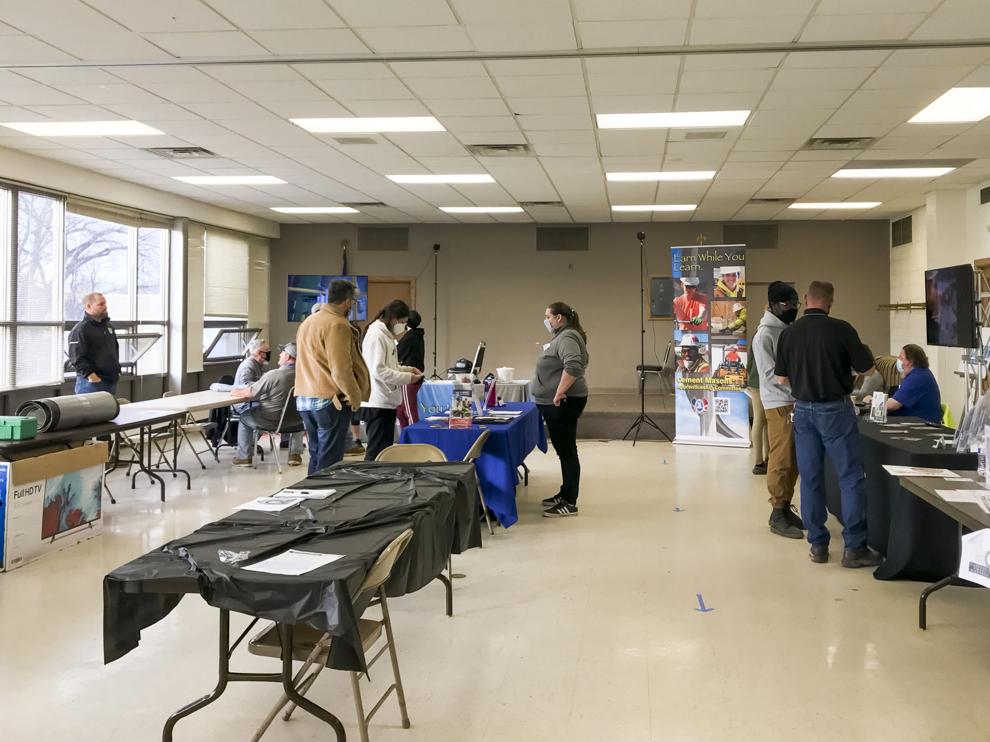 Out to change minds
Five hours in, Nate Tell was hoarse from all the talking. Back in 1994, he was 21 and making $8 an hour working for UPS when he met a man who owned a house and car. He asked the man what kind of work he did.
"He was like, 'I'm a union roofer.' I said, 'Union roofer? What's that?,'" recalled Tell, who worked his way up the ranks from roofing apprentice to his current role as a rep for the United Union of Roofers, Waterproofers and Allied Workers Local 11B. 
Asked why more people don't apply for union apprenticeships, Tell's colleague Travis Gorman jumped in. 
"A lack of knowing the opportunity exists," he said. He thinks high schools don't focus on the trades as much as they used to, he said, but it's also the union's responsibility to get the word out. 
"I put a little bit of a fault on ourselves for not doing more of this stuff," Gorman said, gesturing to the career fair. 
It's never too late to consider switching to a career in the trades, Tell said, explaining that anyone over 18 can become an apprentice if they can pass the physical exam and a drug test. In their union, the average apprentice is 27, they said, and one new apprentice is close to 50. A criminal record also isn't a barrier to union membership, they said, though it might prevent the person from working on certain job sites.
Still, there are other reasons some choose not to enter the trades. Chief among them, they said, is the stigma that often comes with construction work.
"It's not a glamorous job," Tell said. "It's not looked upon as, 'Oh, you're a lawyer, you're doctor, your banker, your financial analysts, but they've got a ton of debt behind that degree. There's no debt behind trades."