Workers at Madison's downtown Starbucks have voted overwhelmingly for a union, making their store the first unionized Starbucks in Dane County.
The votes, tallied Thursday afternoon at the National Labor Relations Board (NLRB)'s Milwaukee office, were 15 for the union and one against. A single challenged ballot was not opened or challenged, and it will not affect the outcome of the vote. Seventeen of the 22 eligible, non-managerial employees working at the store at 1 E. Main St. on the Capitol Square cast ballots. 
Starbucks has until July 8 to file objections regarding the election. If it doesn't, the election results will be certified, obligating the company to bargain in good faith with the union, Workers United, an affiliate of the Service Employees International Union. 
"I couldn't be happier right now," said Lee Marfyak, 27, a shift supervisor at the store and a member of the union organizing committee. "It feels good to win, and it feels good to win by such a substantial margin."
To date, employees at at least 299 U.S. Starbucks stores have filed union petitions, according to the NLRB. As of June 24, elections had been tallied in 208 stores, with more than 80% voting to unionize. Around 150 stores' election results have already been certified, granting union status to more than 3,400 employees.
Starbucks did not immediately respond to a request for comment about the election results. The company has consistently said that a union is unnecessary.
"From the beginning, we've been clear in our belief that we are better together as partners without a union between us, and that conviction has not changed," a spokesperson who would not provide their name said on Tuesday.
The spokesperson said the company respects its workers' right to organize and is "committed to following the NLRB process."
An alternative to 'running it up the corporate ladder'
Marfyak, who has worked for the company for about four years, said he and his coworkers had long discussed concerns about their workplace, frustrated by things like the fact that the company doesn't provide a way for customers to tip when they pay with a credit or debit card, and that the store was regularly short-staffed. 
"We weren't getting more coverage, but we certainly weren't getting more pay," Marfyak said.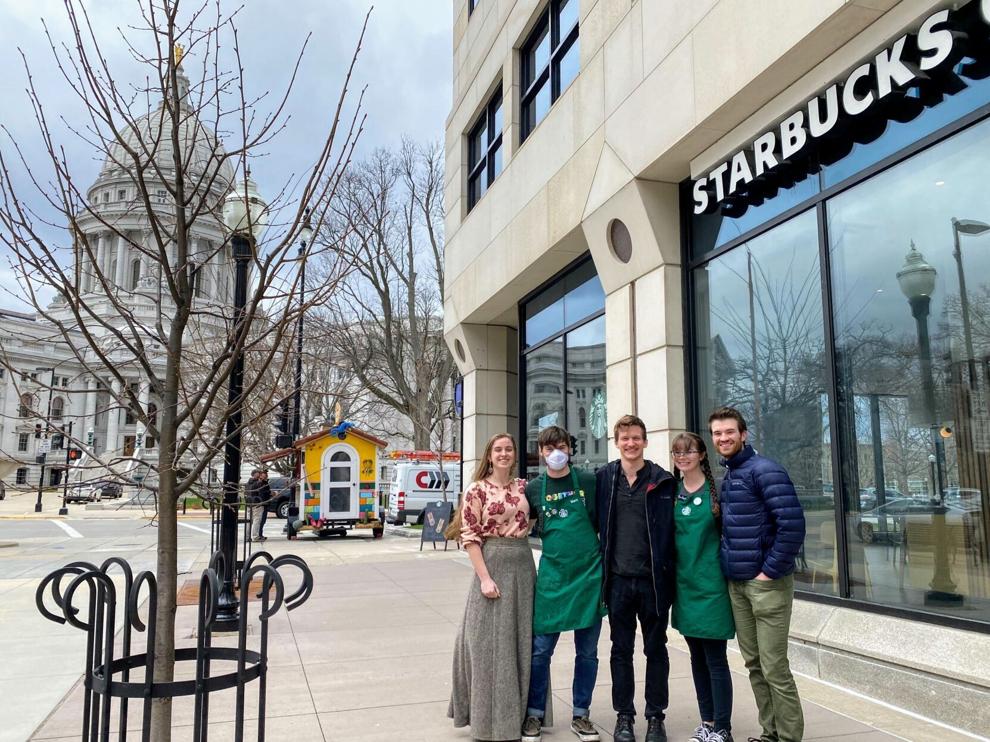 Starbucks offers benefits to employees working more than 20 hours a week, and average wages for a barista are set to rise to almost $17 an hour this summer. Still, Marfyak — who declined to say his hourly wage — estimates that as many as half of his coworkers work at least one other job in order to pay for groceries or rent. 
"That's just ridiculous because I see … how hard they work. There's no reason they shouldn't be able to afford an apartment when they're working for a company that made billions and billions of dollars last year," Marfyak said.
But it wasn't until early this year that Marfyak and coworker Evan McKenzie started getting serious about unionizing. "How do we actually solve these issues we have?" Marfyak asked himself. "Running it up the corporate ladder is not going to do anything."
They'd watched as Starbucks workers in New York state filed the chain's first union petitions, and then watched as they won their elections. They decided to contact Workers United, the same union that has organized nearly all of the Starbucks stores that have unionized so far. 
It was easy to rally support among the store's employees, Marfyak said. In about a month, they gathered enough signatures to file a petition with the NLRB requesting a union election. 
"We walk right past our state Capitol building before clocking into each shift, reminded of Wisconsin's struggle for justice at work," organizing workers wrote in a letter to Starbucks CEO Howard Schultz. "We will not give in to one-sided corporate decision-making when right outside our doors Wisconsinites have gathered for over a century to protest for what they believe in."
These local Starbucks could be next
Following the downtown store's announcement, three other Starbucks in Dane County filed union petitions too. Votes from employees at the stores in Fitchburg and Monona will be tallied on July 11, while employees at the University Avenue store are waiting for the NLRB to investigate its allegations that Starbucks illegally targeted and retaliated against employees for unionizing. 
Marfyak said employees at his store saw subtler "union busting," with management circulating "misinformation" about the union. But, he said, he and his coworkers weren't immune to the "chilling effect" caused by the firings at a store just 4 miles away. Starbucks has refuted allegations of "anti-union activity."
From customers, meanwhile, the response was almost exclusively positive, Marfyak said. On a daily basis, customers would add "union" to their names on their paper coffee cups to show their support.
Now that the votes are counted, it won't be long before Marfyak and his colleagues begin negotiating a contract with Starbucks management, just as workers at Milwaukee-based Colectivo Coffee are doing after electing a union last year. He's optimistic that others will soon find themselves in the same position.
"We're definitely hoping other Starbucks — and other workplaces in general — catch on to the unionization trend so that they can get better wages and conditions and just make their lives better," Marfyak said.