After failing to reach an agreement with management ahead of the union's deadline, more than 400 workers at Madison's CUNA Mutual Group plan to strike for a week starting Friday.
It's the first strike in the union's 80-year history. 
"CMG strike is ON, 7AM tmrw," reads a screenshot of a text message posted Thursday afternoon to the CMG United Twitter account, maintained by the company's unionized employees. 
The announcement follows more than a year of failed negotiations over health insurance, pensions and outsourcing at the company, which employs around 1,750 people at its Madison office. 
Around 450 of those workers are unionized with the Office and Professional Employees International Union (OPEIU) Local 39. In April, they voted to authorize a strike lasting up to a week, with 92% of ballots in favor of allowing the strike.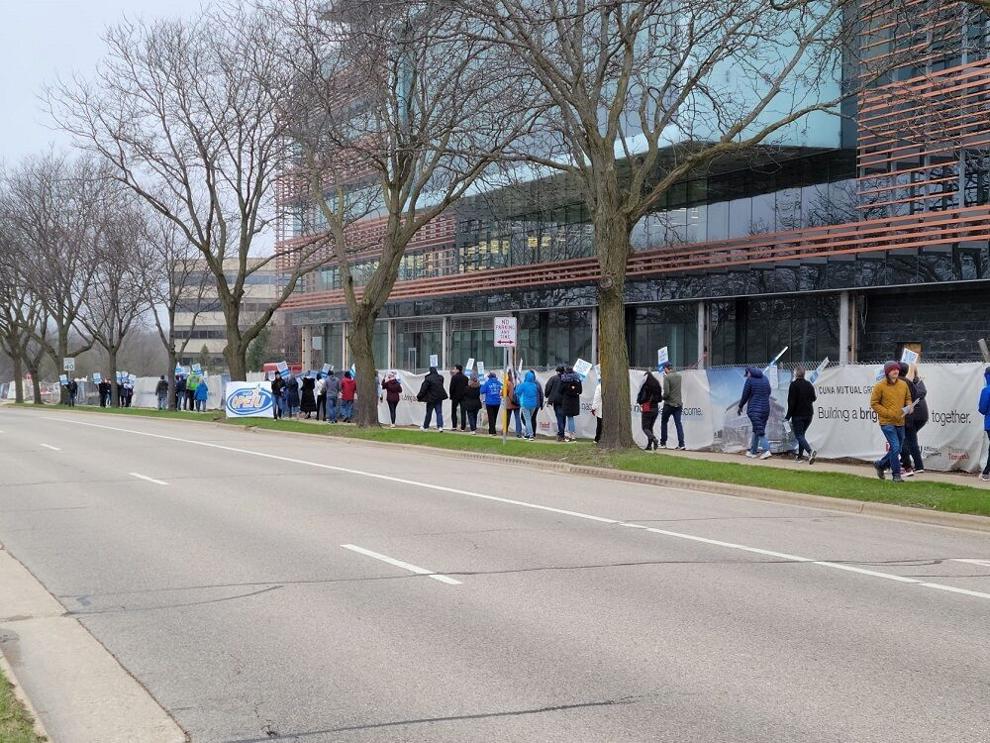 The union has filed charges of unfair labor practices against CUNA Mutual, alleging that the company illegally fired its chief steward and failed to bargain in good faith. As such, unlike workers striking only for better pay or working conditions, they cannot be permanently replaced by their employer even if the company temporarily hires other workers to do their jobs. Those charges are still pending. 
Earlier this week, the union announced that the strike would proceed if planned mediated negotiations didn't lead to sufficient progress.
The parties met for two mediated sessions prior to the strike, the union said in a Friday press release. The company requested an additional mediation session for Monday and then canceled that session.
"The Union was prepared to stay to bargain one by one through every issue until progress could not be made, but the Employer requested to end mediation after providing us their counter-proposal. We requested that they provide us additional dates of availability in the meeting and they declined," chief steward Joe Evica said. The union says its representatives are available to bargain on 10 of the next 13 days.
"We have been without a contract for more than 400 days," said Sarah Larsen, an administrative support specialist and member of the union's bargaining committee, in a Monday press release.
"We've tried by every means possible to negotiate and move the company towards our members' core priorities. We can honestly say we have exhausted every option and a strike is the only thing left to do."
"We respect the decision of our employees to strike and to voice their opinions throughout the process," CUNA Mutual spokesperson Barclay Pollak said in an email following the Thursday announcement.
"We are determined to reach a fair and market-competitive agreement that meets the needs of our employees, our customers and company. We have an 80-year relationship with the union, which has been part of our history and will be part of our future. CUNA Mutual Group will continue to bargain in good faith to reach an agreement."  
Since negotiations began in February 2022, the union has opposed the company's proposal to eliminate its HMO health insurance option and freeze its pension plan so that new employees won't be eligible. 
The company has previously declined to comment publicly on its proposals. On Thursday, Pollak told the Cap Times that its current proposal includes an immediate "double-digit percentage" pay increase, an increase to the bonus structure and a cash bonus. The proposal also "maintains the current health benefits the union said were important to employees" and "maintains policies that allows full-time employees to work remotely."
The proposal also maintains retirement benefits for current employees, Pollak said, though he did not state whether the company was moving forward with plans to eliminate the pension plan for new employees. 
"We have provided proposals that address the issues and have continued to make changes to move toward an agreement with the union," Pollak said.
The union has previously stated that the company refused to adopt its proposals to study and promote pay equity and diversity within the company's ranks, or to prevent further outsourcing. It accuses the company of weakening worker power by outsourcing or hiring contractors to fill positions that would otherwise be represented by the union, or transferring work to CUNA Mutual offices that aren't unionized. The union's membership has shrunk by about 75% since 20 years ago, when it included around 1,650 workers at the Madison office. 
The union has blasted the company for seeking to reduce employees' benefits even as the company is drawing record revenue. In early 2022, at the same time the company was proposing cuts, it issued a press release touting its 2021 numbers as its "strongest business and financial results yet," with $5 billion in revenue, $622 million in net income and $36.7 billion in assets under management. In 2022, the company broke its record yet again, bringing in $5.2 billion in revenue.
The company has not provided details on how the strike will affect operations. "We recognize this situation may present questions to our customers, business partners and community," Pollak said. "We have business resiliency plans in place to ensure uninterrupted service to our customers while we continue negotiations with the Union."