Maggie Denman knew she wanted to open a record shop, but she wasn't planning to do it right away. 
"It's something that I thought about doing for a long time … but I wasn't planning to do it for another couple of years," said Denman, a musician who's played in Madison bands No Question, Proud Parents, According to What and solo project Margerat Dryer. 
In February, Gary John Feest, her former boss at Sugar Shack Records announced that the 41-year-old shop's final location at 2301 Atwood Ave. had been sold, forcing the business out. Rather than haul all the records, cassette tapes, CDs and VHS tapes to yet another location — the shop had already had six — Feest planned to retire. 
It was an opportunity Denman couldn't pass up. She told Feest she could take the shop's remaining inventory when it closed in April. Feest, who'd planned to donate what was left to a St. Vincent de Paul thrift shop, said he'd much rather give it to her.
All she had to do was transport it, a task that took a U-Haul and a crew of friends working in shifts from morning to midnight for three days.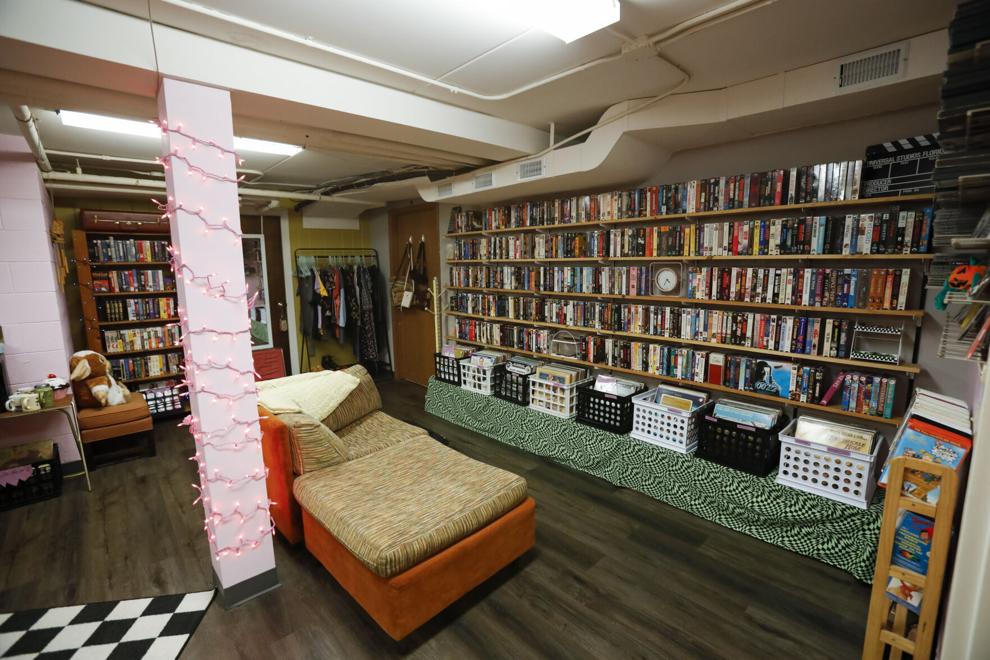 Treasures on tape
On Aug. 21, Denman opened Boneset Records in a basement at 222 North St. in Eken Park. She named it for a 2014 album by experimental folk musician Diane Cluck, who heard about Denman's plans and mailed her an autographed 10-inch copy of the record, inscribed with the message, "Best wishes to Boneset Records!"
Denman lives in Eken Park and was excited to find a shop space in her own neighborhood. Catty-corner from Dexter's Pub, the shop is located in the basement of a brick office building that houses a property management company and a probation and parole office. Just down the hall, another new tenant, Sig's Treasure Chest, sells toys and collectibles from the 80s and 90s. 
Boneset's space, which Denman describes as about the size of a comfortable living room and den, features a wall filled with hundreds of VHS tapes.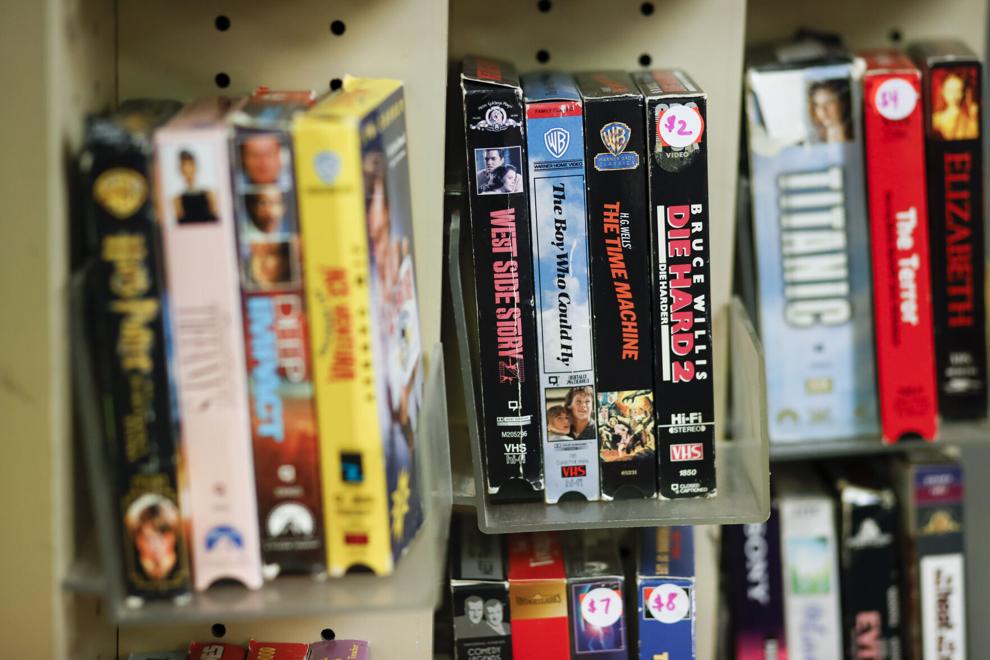 "I've got 'Armageddon' up there. I don't know how no one's bought that one," Denman said from behind the counter, where a TV silently played 2000 cheerleader comedy "Bring It On." "I have 'E.T.' … Some lucky person will get that."
There's a short wall of shelves filled with CDs (ABBA, Green Day, Matisyahu), another filled with cassette tapes (M.C. Hammer, Loverboy, Kenny Loggins), and a collection of record bins. Most of the store's inventory is used. Currently, she's got around 10,000 CDs, many of them stashed in closets. 
Denman aims to stock a wide variety of music, and she's been fleshing out the original inventory by buying from record labels, distributors and local collectors. 
"I'm trying to create a collection of records that I personally like. Obviously, I'll add other things as well," Denman said. "I want to have a lot more like post-punk, hardcore, metal, reggae and dub. It's a small shop, so I'll have to start to curate a little bit. There's only so much space."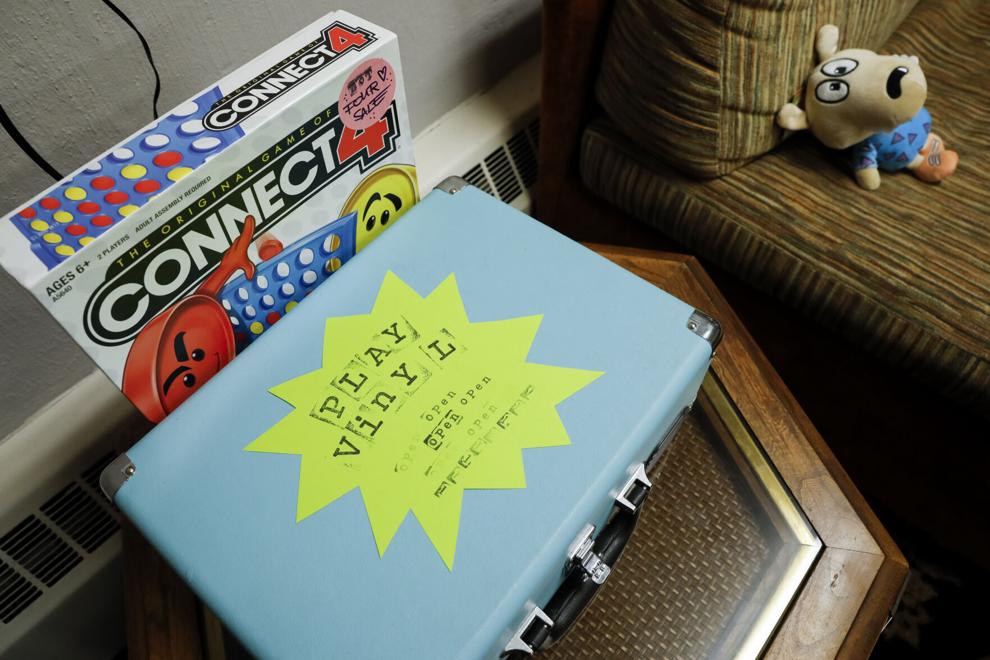 She's sought to make the shop as cozy as possible. In two corners, racks of vintage clothes hang for sale, one stocked monthly by Milwaukee-based one-woman shop Return to Odd. Nearby, a plush chair sits beside a record player where visitors are welcome to plug in their own headphones — a pandemic precaution — and listen to a record before buying it. 
For now, Boneset Records is open only on weekends, as Denman works a full-time job in customer service during the week. She also draws illustrations for local music and culture website Tone Madison and for bands across the Midwest. 
Woman-owned record shops rare
Boneset is heavily inspired by Mississippi Records, a shop in Portland, Oregon, that Denman visited for the first time earlier this year, and by Bullseye Records in Milwaukee. It's also influenced by other Madison records shops, which Denman said she loves without exception.
"There's always something that I enjoy about each record store, and so I kind of wanted to be an integration of all of them," Denman said. 
On the second weekend the shop was open, a teenage girl, mom in tow, came barreling down the steps at Boneset, excited to tell Denman that of all the record shops the two had visited, it appeared Boneset was the only one run by a woman.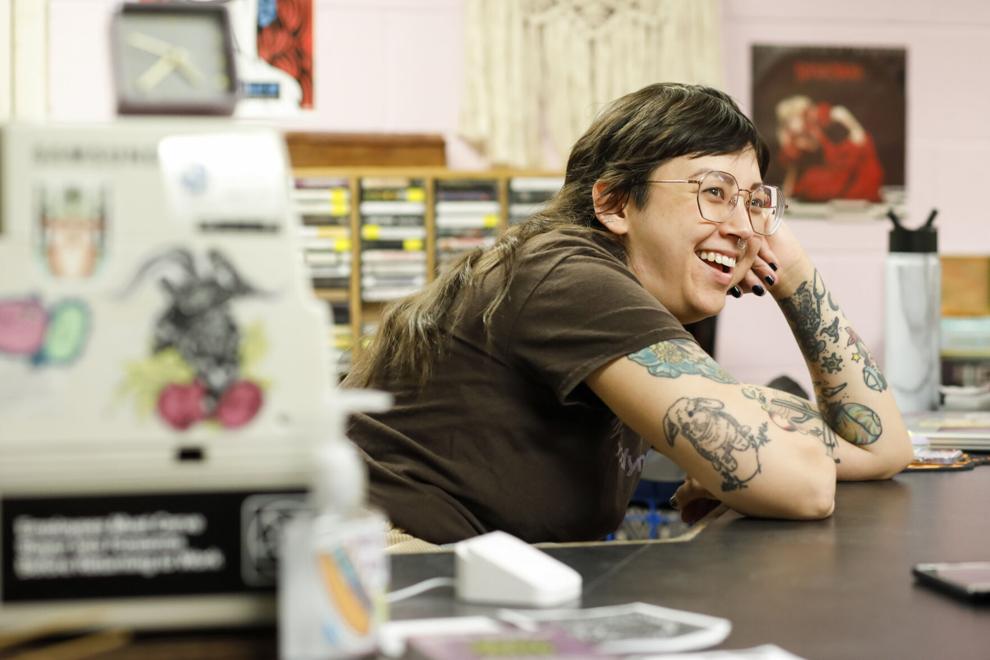 Talking with the teen and her mom about classic rock and the Van Halen album they bought reminded Denman of why she'd opened Boneset.
"As much as I love all these other shops, I've rarely been to ones that are owned by non-men. So it's nice," Denman said.
A list compiled by the blog Women in Vinyl shows just three woman-owned record stores in Wisconsin (the list doesn't yet include Boneset).
It did include Strictly Discs on Madison's Monroe Street, which is owned by husband-and-wife team Ron and Angie Roloff. Last December, the Roloffs announced plans to open a second location in Cambridge in 2022.
It's not an easy time to get into the business, Denman said. A surge in popularity led more people to buy records, while COVID-19 slowed production.
"It's very pricey to make vinyl now," Denman said. "You're not able to get new vinyl for anything less than 20 bucks."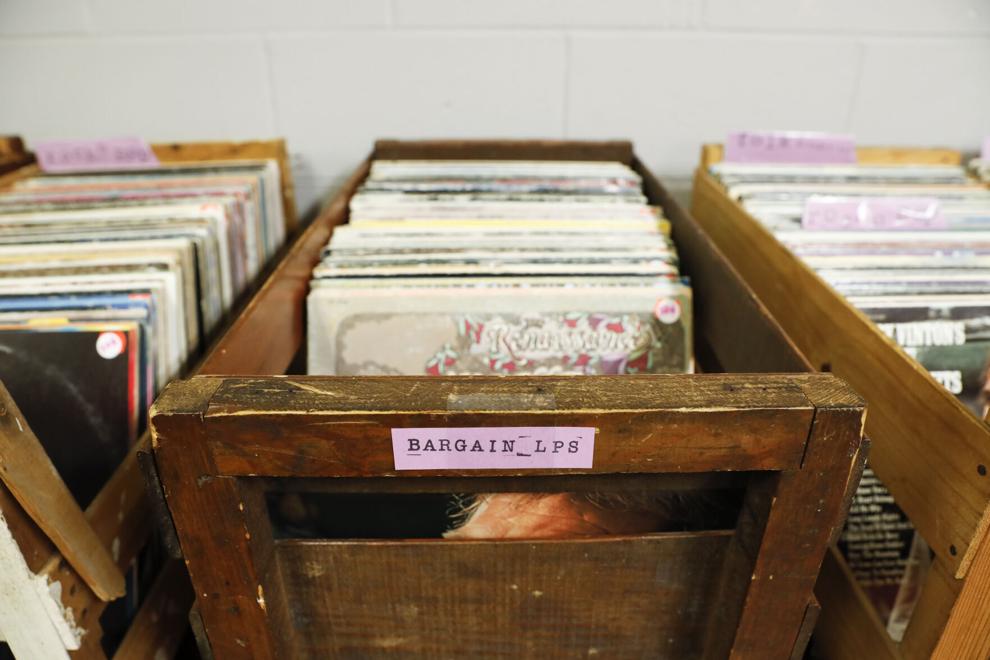 Several other record store owners have encouraged her to take her time to build inventory and curate exactly what she wants. For now, Denman's just enjoying what she's started. 
"I kind of created the store (as) a place for me to hang out," Denman said. "I hope people want to come and hang out with me."
The four questions 
What are the most important values driving your work?
Just being genuine ... not getting sucked into doing something that I don't want to. This is kind of a part of me, so I always want to be as honest as possible.
How are you creating the kind of community that you want to live in?
By making a shop that is different than the other shops. There's something great about all the shops, and now I'm just another part of the pie. I don't plan to be everything. 
What advice do you have for other would-be entrepreneurs?
Just do it. I think that's the only thing that I can say. Making an LLC is a lot easier than you think it is. You almost think that you're filling (the form) out wrong, it's that easy. You can do it. I sound like a Nike commercial.
Are you hiring?
I am not hiring. I wish I could.