It's hard to miss the signs. Headlines scream of worker shortages in restaurants and warehouses. Radio commercials plead for mechanics and manufacturing workers.
And then there are the posters in store windows, the billboards over the highways, the yard signs around college campuses: $20 to $25 an hour for movers at Badger Brothers Moving, $18.50 an hour for full-time workers at Hobby Lobby, $50,000 a year for assistant store managers at Kwik Trip.
Ben Mitchell keeps his eyes peeled for those signs, snapping photos on his phone to text to a friend. His friend does the same for him. It's a sort of inside joke, a bitter laugh over their chosen career: in-home care.
Despite two decades of experience caring for people with developmental disabilities, Mitchell earns $15.10 an hour for work that includes tube feeding, bathing and helping clients use the bathroom. With his current agency, a nonprofit called Dreamweavers, he got a 50-cent increase last year and a one-time, year-end bonus. With his last agency, he worked five years without a raise.
"I don't look at the checks. I try not to," Mitchell said. His 28-year-old son unloads trucks for $22 an hour. "He out-earns me every day of the week."
Home care work is the fastest-growing job in Wisconsin, as baby boomers age and more people choose to age at home. The U.S. will need more than 1.1 million additional personal care attendants and home health aides by 2030, according to the Bureau of Labor Statistics. No other job category is adding more jobs.
Demand will be especially acute in graying states like Wisconsin, where the number of residents over 65 is expected to nearly double by 2040. There are around 73,000 home health and personal care aides in the state, along with another 30,000 nursing assistants who work in a variety of settings, according to May 2021 data from the Bureau of Labor Statistics.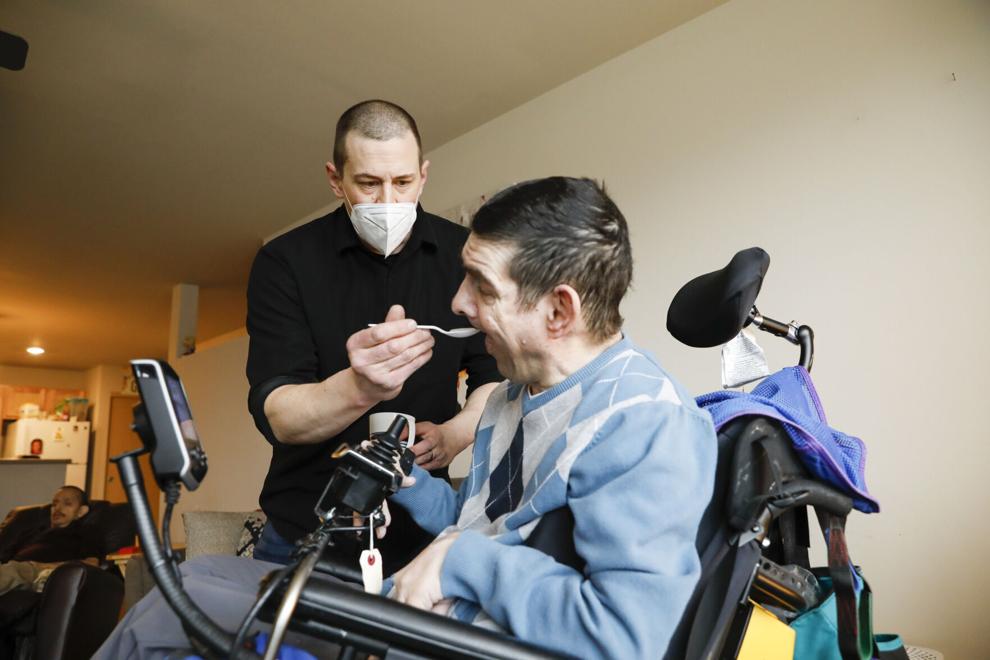 By 2028, the state will need about 15,000 more, twice the demand for new fast food workers and triple the demand for registered nurses or software developers, according to PHI, a think tank focused on elder care and disability services. And it's not just those 15,000 new jobs. Between 2018 and 2028, workers leaving the industry will trigger another 110,00 job openings, PHI estimates.
As the pandemic has pushed some workers out of the labor market and pushed others to consider new careers, employers across the country have been forced to compete for scarce workers. Those searching for work can expect to see signing bonuses, perks and higher wages. Nationally, wages and salaries rose 4.5% in 2021, according to a January report from the Bureau of Labor Statistics. With prices up 7% in that same period, those newsmaking wage hikes still haven't kept pace with inflation.
Wages for workers like Mitchell haven't seen that kind of growth, even though the sector has for years been desperate to grow its ranks. Their job titles are varied: home health aide, personal care worker, nursing assistant, direct support worker, caregiver. All have duties classified as "home care," helping clients with daily tasks like eating, bathing and dressing. Some also have "personal care" duties, like grocery shopping, cleaning and taking clients to social events.
When the Wisconsin Personal Services Association surveyed the 73 care agencies it represented in 2015 and 2016, more than 90% said they struggled to fill job openings, and 70% were unable to provide as many hours of care as clients requested. The pandemic has made hiring harder, as some potential workers fear catching COVID and others leave for better-paying industries.
In 2020, the average wage for a Wisconsin home care worker was $12.32 an hour, just 77 cents higher than in 2010, according to PHI. They average just $14,200 a year, in part because it can be hard to piece together a full-time schedule. More than half live in or near poverty, and more than half rely on some form of public assistance. The crisis is especially acute for women of color.
Those who hire care workers blame much of the problem on Wisconsin's government, which pays for more than half of the state's home care through Medicaid, according to data from the Kaiser Family Foundation. For nearly a decade, the state didn't raise its reimbursement rate, and increases since 2017 haven't been enough to pay for competitive wages and benefits, they say.
With the state's unemployment rate at a near-record low, what will it take for Wisconsin to attract and retain the care workers it needs?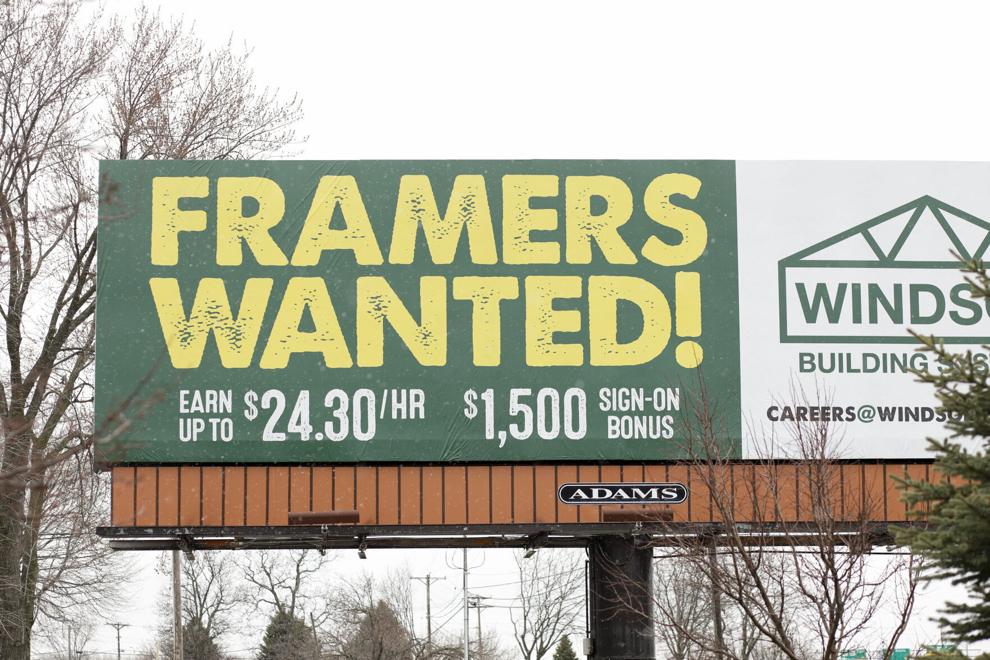 'Significant sacrifices'
Mitchell has been sold on home care work since his first weeks on the job back in 2001. Then a college student at the University of Wisconsin-Whitewater, he arrived at a duplex where he and three other direct support workers were scheduled to take care of two men with disabilities.
"I was the only one who showed up that day," Mitchell said. "So I stayed, because somebody had to. Once you see that great of a need, it's really, really hard to walk away from it."
But staying in this line of work isn't easy for the 41-year-old father of five. His wife is a manager for another support agency, and to pay the bills, he regularly works two jobs. These days, he clocks between 75 and 100 hours a week, splitting his time between a day job caring for two men with disabilities at a Madison apartment, and an overnight, on-call gig with Night Owl Support Systems, where he's a point person for dozens of people with disabilities who have remote monitoring devices instead of regular in-home care.
It's not much work compared to some home care workers, he said: Some of them work nearly every hour in the week at one job or another.
Sometimes he can earn overtime, if he's willing to give up the time with his family. "Wages such as they are, you're always one trip to the dentist away from needing to pick up some shifts," Mitchell said.
For a decade, he worked a salaried job as a supervisor for a care agency. The money was better, but the work was unpredictable. In addition to finding workers to cover more than 400 hours of open shifts in a week, it was his job to find a replacement any time a worker missed a shift. If he couldn't find a replacement, he'd fill the shift himself. 
"My phone rang nonstop," Mitchell said. One week, he got 2,000 text messages. When his wife was in labor with their youngest child, he had to step into the hallway to take a call from an injured worker before heading back in to catch the baby. "That's commonplace. It's a lifestyle," Mitchell said.
Not long after, he was in the grocery store with three of his young kids, trying to push the cart as he talked on the phone with the frantic guardian of one of his clients. "I couldn't do it anymore," Mitchell said. He traded that job for the more predictable hourly work, despite the lower pay.
"We make significant sacrifices as a family because of the work my wife and I do," Mitchell said.
So does Demetrica Shipp of Milwaukee. Growing up in Mississippi, she'd go with her mom to care for elderly clients in their homes. The clients would light up when her mom arrived, she recalls, and her mom's massages made their day.
Back then, she said, she didn't know this work was called caregiving. "She'd been doing it all my life, that's all I knew."
Forty years ago, she followed her mom into the profession. She's tried other jobs too, but none gave her the same satisfaction.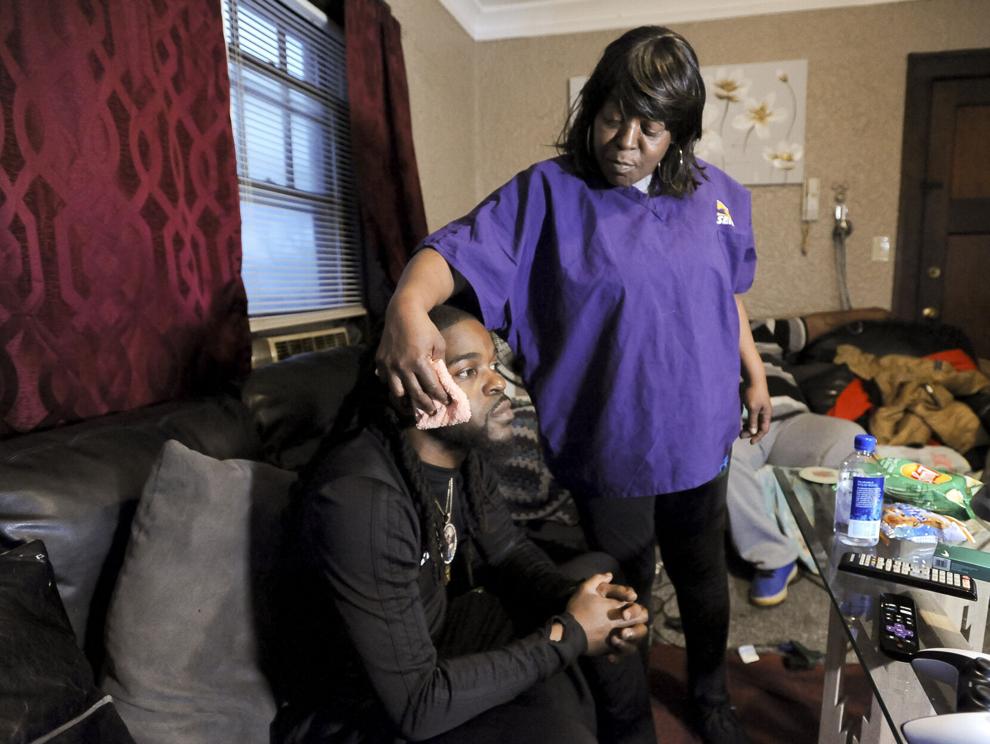 Today, Shipp is a paid home care worker for her 31-year-old son Marquis, who suffers from seizures and heart problems. For about 25 hours a week, she helps him with everything from showering and brushing his teeth to laundry and cooking.
In January, an increase in state funding bumped her wage from $11.99 to $13.10. Still, she thinks it's a "ridiculous rate," especially for someone with four decades of experience. She sees people flocking to become factory workers and truck drivers as wages rise.
"Up the caregivers' pay and give them their benefits and you will get more results. We already have it in our hearts to do what we've been doing for years. We're just asking to be paid what we're worth," Shipp said.
She loves her job, she said, but she can't "let it kill" her. "That's what it's doing to a lot of caregivers. It's breaking their spirit."
Valerie Hein Hamstra has worked as a nursing assistant on and off for 10 years. When she was laid off from a job at Macy's due to the pandemic, she "felt called" to return to caregiving – though she constantly feared bringing COVID home to her two children or her elderly clients.
She took an overnight job with Agrace, where she made around $15 an hour visiting a different elderly person nearly every night, all over Dane County. Five nights a week, she'd stay up to reposition clients in their beds, make sure their clothes were dry, or talk with them when they couldn't fall asleep.
"Don't ask me when I slept during that year," Hein Hamstra said.
But at the end of last year, Hein Hamstra left the industry again after she suffered a back injury on the job and then found herself serving as an unpaid live-in caregiver for her own grandmother.
Shorthanded
Wisconsin's seniors and people with disabilities were already struggling to find the care they needed well before the pandemic began. In 2016, the Survival Coalition, a coalition of Wisconsin disability organizations, surveyed 500 people who depend on direct care. Eighty-five percent said they had not been able to fill all their open shifts. For some, that means missing work, medical appointments, medications, meals. Sometimes, it means staying in bed all day or spending the night in a wheelchair.
The pandemic has only made things worse. The 14 agencies that responded to a January survey by the Developmental Disabilities Coalition said they were short, in total, the equivalent of 170 full-time positions, or enough staff to serve about 90 clients.
That puts clients and their families in a "pretty scary" position, said Patti Becker, co-chair of the Survival Coalition. "Families have to step in and say, 'OK, I'm going to do the care because there's no one else to do it.'"
Anna and Joel Gouker have seen the crisis worsen from their Monona condo. The siblings have spinal muscular atrophy, a genetic condition that requires them to use motorized wheelchairs and ventilators, and qualifies them to receive 24/7 in-home care through Medicaid. They each screen, hire and train their own workers through two different state programs for Medicaid recipients. It's never been easy, but it used to be easier.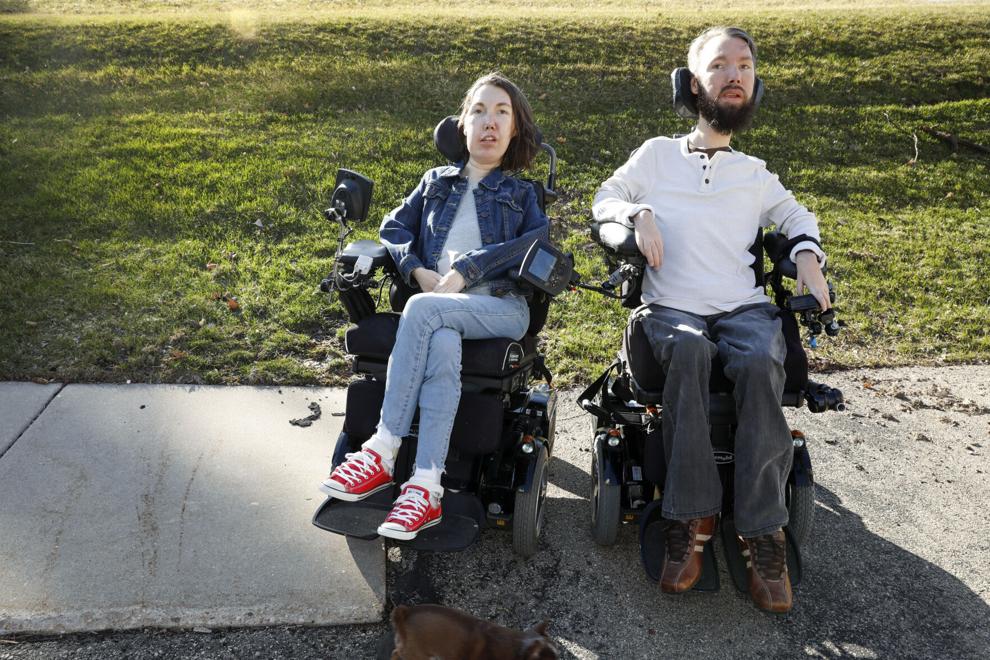 "It really wasn't that long ago that we were fully staffed. We had everything we needed," said Anna, a disability rights advocate and rehabilitation specialist who's devoted her career to ensuring people with disabilities have the opportunity to live full lives in their communities. "And then 2020 came and things just slowly but steadily deteriorated."
Though they're authorized to hire a combination of nurses – paid at $28 to $45 an hour depending on their license – and unlicensed home care workers, they've struggled to cover their shifts. To fill the gaps, their mother, who once drove up from Illinois on weekends to visit, has become one of their paid workers too.
"Ideally, Mom, my sister and I would all be able to live independent lives," Joel said in an email. "But we have had to rely on Mom much more in the last few years than any of us wanted."
For Anna, being shorthanded means adjusting daily routines – say, getting ready for bed before the nurse leaves at 7 p.m., or waking up later because there's no nurse until 7 a.m. – and making sure she's always got a stockpile of the feeding tube meals and vitamins she needs. She feels overwhelmed and more isolated than ever. She reminds herself to breathe.
"It's embarrassing to admit that I'm living such a limited life," said Anna, who ran for a seat on the Dane County Board of Supervisors in 2018. "Normally the majority of my time is spent figuring out how to achieve my goals and make an impact with my life. At this time, it's all about getting through the day."
Joel said he's regularly had candidates accept the job, sometimes even going through training, and then stop answering calls. Those who do start work often leave after a few months for higher paying jobs. Currently, he relies, in part, on two Illinois care workers who've worked for him for nearly a decade. One commutes from the Chicago suburbs, the other from Rockford. Neither gets paid mileage for the hours-long drives, Joel said.
Each participant in Family Care, the state long-term care program in which Joel is enrolled, has a budget that sets the wages they can offer. In his case, the rate for unlicensed care workers has changed only once since he joined the program in 2018: American Rescue Plan Act dollars temporarily raised the rate from $13.97 to $14.67 in January.
That's not enough, he said, to get most workers to stay, so he's often posting new ads in Facebook groups, screening new applicants and bringing strangers into his home. He's even made a website to try to attract applicants, filled with smiling photos of the siblings and their workers.
"When workers cycle through at a high rate, you're constantly building trust with new people," Joel said. "It's just a constant struggle."
Earlier this year, he asked My Choice Wisconsin, the managed care organization that sets his state-funded budget, to raise his workers' wages further. For now, he's still pushing, sending another email every few weeks to let them know he's still waiting. Those who don't advocate for themselves tend to "fall through the cracks," he said.
He'd like for people with disabilities to have more control over their own Medicaid budgets, and he's looking into whether he can get his own budget increased. The irony, he said, is that he earned a master's degree studying state policies on personal care work, and he'd like to work in that public policy arena – if he could just find the care he needs.
Ninety miles away in Oshkosh, Stacy Ellingen is also struggling to find the workers she needs. Due to athetoid spastic cerebral palsy, the self-employed graphic designer and advocacy expert uses a power wheelchair and a specialized communication device.
Like the Goukers, she's chosen to hire workers herself rather than use an agency because she's heard that if an agency can't find enough staff for a given client, the client could end up in a nursing home. For Ellingen, who does advocacy work for InControl Wisconsin and runs the Self-Determination YouTube channel and online community – all of which help people make their own decisions about their care – independence is key.
But the shortage of care workers means she's not nearly as independent as she'd like to be. She, too, relies on her aging parents to fill gaps, like when her University of Wisconsin-Oshkosh student workers are on vacation. When the pandemic first hit and college students moved back home, she moved in with her parents for months.
Her parents can't travel without taking her along, Ellingen said in an email. "Even if my shift schedule is filled, if someone calls in or doesn't show, and I can't find anyone else, I'd be stranded."
'A matter of public policy'
The home care sector owes its low wages to a few peculiarities of the industry. It's carried out by private companies and nonprofits but largely funded with public money at rates set by the state Legislature. With home care costs already at 97% of Wisconsin seniors' median income, those who pay privately are already stretched thin. Just 5% of Wisconsinites age 40 and older have long-term care insurance.
In 2017, Wisconsin's Legislature raised the Medicaid home care reimbursement rate for the first time in nearly a decade. It's increased each year since, up about 30% since 2017. It's currently set at $20.96, though the state sets no guidelines about what portion of that rate should go to workers versus overhead.
In addition, the 2021-2023 biennium budget allocated $247 million to a fund that providers are required to pass to workers, nearly double the amount spent in the prior budget. That money must be used within six months for wage increases, bonuses or additional time off.
And then there are the temporary changes. Last year, Gov. Tony Evers put $350 million of the state's one-time federal pandemic relief dollars toward a variety of services for the elderly and disabled. The plan includes an additional 5% temporary increase in the reimbursement rate, as well as measures designed to create opportunities for home care workers to advance in their careers.
But care agencies, workers and people with disabilities say the recent increases aren't enough to cover overhead costs and offer a competitive wage, much less add benefits like retirement and health insurance, which remain uncommon in the industry.
"These public programs have really choked the wages in a lot of ways," said Laura Dresser, a labor economist and associate director of UW-Madison think tank COWS who has spent decades studying low-wage work. "It's a matter of public policy that home health workers are paid so little. We haven't created good public jobs out of care work."
Wages and benefits aren't the only challenges, Dresser said. In some cases, clients need care for just a couple of hours at a time – say, getting out of bed and bathed in the morning and getting ready for bed in the evening – so a worker needing more income must shuttle from one home to another.
In the rural parts of the state, that can mean losing lots of time driving – if the worker has reliable transportation in the first place. And with thin margins, some agencies don't offer enough training for workers to feel confident or avoid injuries.
Government efforts to prevent Medicaid fraud can also make care workers feel like they're being surveilled, and some Wisconsin workers have been forced to repay tens of thousands in wages for hours the government said weren't properly documented. The state is currently implementing electronic monitoring to comply with new federal mandates, a move some worry could drive more people from the field.
Ai-jen Poo, executive director of the National Domestic Workers Alliance, doesn't think any of this is a coincidence. This work, she notes, was long the sphere of enslaved people and, later, Black workers oppressed by Jim Crow. In the 1930s, as the country was laying the foundation for its labor laws, it explicitly excluded domestic workers from the Fair Labor Standards Act, which set the 40 hour week and guaranteed a minimum wage and overtime pay.
Today, more than half of care workers are women of color, and when families can't pay for care, it's overwhelmingly women who fill the gaps.
"Our entire economic model is built on the assumption that this huge part of our economy can be assumed and taken for granted — that women will do this work," Poo told Heather McGhee in an interview on the Ezra Klein Show in December. "It is essentially a house of cards for everyone."
Dresser agreed. "There has always been a crisis in these jobs. And that crisis was carried by the workers who held jobs with wages that were insufficient to put food on their table, jobs that didn't provide strong health insurance for them and their families," she said. "In times when labor markets are tight, of course people are going to leave."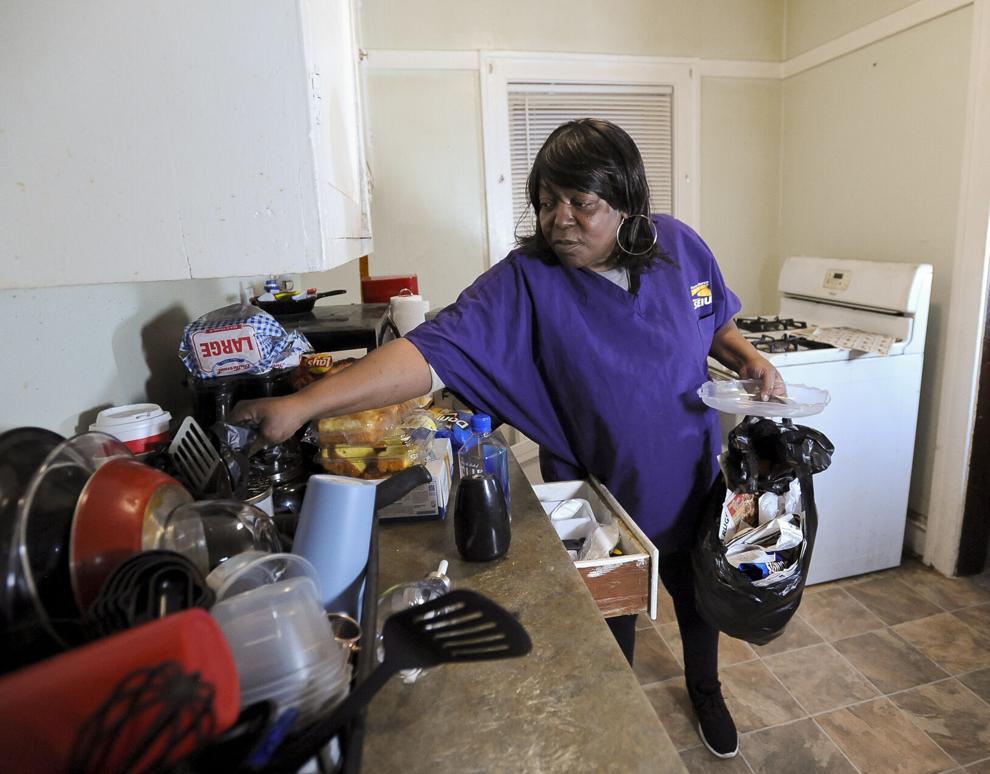 Government action 'still not enough'
The pandemic has brought the home care sector to a "pivotal moment," said Stephen McCall, a PHI data and policy analyst who's spent years studying the home care sector in every state. "The workforce crisis has never been more severe … and at the same time, we've never had more attention on this workforce."
Last year, President Joe Biden proposed a historic $150 billion investment in home and community-based care in his massive Build Back Better plan. Such services are a type of infrastructure and should be funded accordingly, Biden argued.
But the $1.9-trillion package never made it through the Senate. Biden has since announced he'll work to pass individual components of the plan as smaller bills, but it's not clear whether home care will be among them.
For now, that leaves states to address the care crisis, with voluminous reports and many-pointed plans.
In 2019, Gov. Evers appointed a Task Force on Caregiving, whose 16 recommendations included increasing the Medicaid reimbursement rate and the direct care workforce fund, and building in increases to account for inflation. The task force also recommended that the state offer additional training and credentialing for direct care workers, seen as a step toward creating a career path in the industry.
Recent increases to the reimbursement rate and workforce fund respond to some of those proposals, and the state is "currently exploring additional ways it can better capture rising costs of care," Department of Health Services spokesperson Jennifer Miller said in an email.
Todd Costello, co-chair of the task force and executive director of the Madison nonprofit Community Living Alliance, said the latest increases are a step toward acknowledging the sector's needs and recognizing the value of its workforce.
"It's an amazing start," Costello said, but with the cost of living rising quickly, he thinks it'll still be hard to attract workers. "We're still very far from hitting that target."
Patti Becker of the Survival Coalition usually thinks of herself as a Pollyanna with a can-do attitude. But on this, she agrees with Costello.
"The reality is, it's still not enough, because we're in, kind of, quicksand," Becker said. "Somebody didn't get out of bed today. Somebody's elderly mom is caring for an older kid with a disability in their home. … That's the stuff that keeps you up at night."
Care workers look to co-ops, unions
Meanwhile, some Wisconsinites aren't waiting for government action. Last year, frustrated by the lack of progress for people with disabilities, Anna Gouker founded The Rage Fund, a nonprofit that aims to channel that energy to create change. Gouker does her share of lobbying for things like a higher Medicaid reimbursement rate. But the organization is also working to raise awareness about the field of in-home care, one that Gouker thinks more people – from licensed nurses to high school students – might find appealing if they knew about it.
"I don't think our society has really held up caregivers as a vital contributor," Gouker said. "We need these (government) investments in these roles, but also a change in public perception. I think the two go hand in hand."
Shipp, meanwhile, has turned to a standby tool for improving working conditions: unions. Her Wauwatosa-based agency, Supportive Homecare Options, is unionized through Service Employees International Union (SEIU), which represents about 1,000 home care workers in Wisconsin.
In states like Minnesota, where consumer-directed home care workers paid with Medicaid dollars are treated as partial employees of the state, the union can bargain for a single contract for tens of thousands of home care workers – like the one signed last year, which will raise the minimum wage to $15.25 in July.
But in Wisconsin, where agency-based home care workers are treated as private employees, workers at each agency must organize on their own, and those who work independently can't unionize at all.
Meanwhile, at Cooperative Care in rural central Wisconsin, home care workers are running their own company. Launched in 2001 in Wautoma, it's the state's first worker-owned home care co-op, where workers elect their own board of directors each year. With about 25 voting members and 15 non-members, the co-op serves about 150 clients.
The starting wage is around $13.50, plus pay for mileage and travel time. Workers can get dental, vision and disability insurance, but not health insurance, which was cut around 2010, following years of losses. Board president Debra Schultz and executive director April Stevens both lost their own insurance then and still don't have coverage.
"It's a sad day," Schultz said. "We can't provide health care benefits to these workers because the (Medicaid) reimbursement rate is too low."
Now, a group of caregivers is trying to bring that model to Madison with Soaring Independent Cooperative, a co-op designed to provide both quality care and quality jobs.
It hasn't been easy. The founders discovered that they couldn't fix one part of the care economy without fixing another: child care. Workers can't care for the elderly or people with disabilities if they don't have a safe, affordable place to leave their own kids while they work. Many work overnight, when already-scare child care is nearly impossible to find.
The members have tried organizing their own informal system in which they pair up, each caring for the other's kids while the other is working, but state regulations limit those informal child care arrangements. In January, co-founder and CEO Georgia Allen told the Cap Times she's still looking for a solution.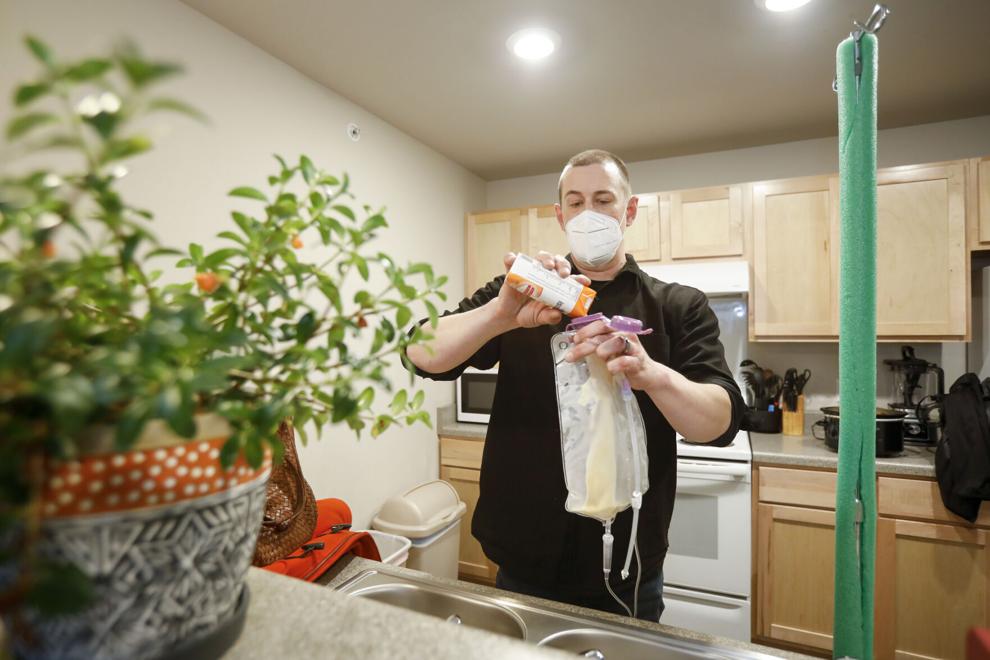 How long will they last?
As Ben Mitchell prepares lunch for a client he's cared for for seven years, he wonders aloud about the future of his profession. With the cost of living going up, he said, the care sector is "running out of truly blessed individuals" like him.
"This job basically requires a middle class lifestyle to sustain it. … I'm extremely fortunate in that I have a two-income household," Mitchell said. "If I was a single parent, I probably would not be able to afford to do this work."
He'd like to see government investment to raise wages and flesh out benefits packages, and not just for practical reasons.
"This is not glorious work," Mitchell said. "It's a low paying job and perception is kind of negative overall. So money really does fix that. If you make lawyer money, people treat you like a lawyer. If you make lemonade stand money, people treat you like a little kid."
Looking toward the two men seated in the living room, he thinks about what it would cost them if he were to leave. He's hoping not to find out.
"No matter what, I think I'll always keep at least one foot in the door," Mitchell said, explaining that he's known some clients for 20 years. Sometimes, when he goes to the mall, he runs into one of the men who lived in that first house he worked in, the one where he realized he wanted to make a career out of caregiving.
"He comes over and he shakes my hand and he talks about how I used to be his staff and now we're just friends. Those bonds are really strong," Mitchell said.
"You wouldn't want to leave a friend in the lurch. But, in a more fiscal sense, it gets harder to justify doing it."