Several Madison-area restaurants have closed since the beginning of summer.
While some establishments are relatively new, others have been in the community for years. Many of them pointed to inflation, staffing shortages and the lingering effects of the COVID-19 pandemic as reasons they've shut their doors.
But for some, it's not too late to enjoy one last meal. In this list of 11 restaurants that recently announced closures, a few are still open through September. Make sure to bid farewell before it's too late.
Lake Edge Seafood, closing before November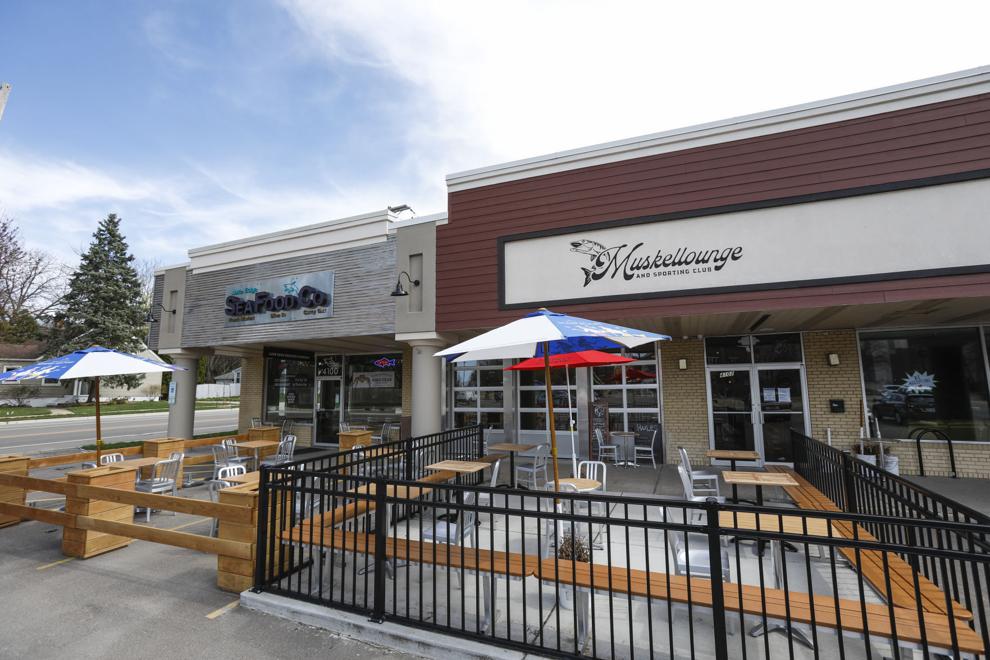 Lake Edge Seafood, which has been open since 2017, recently announced on Facebook that it will close "sometime before November." 
The fish market and eatery, located at 4100 Monona Drive, will be open from 10 a.m. to 4 p.m. "as we clear out our inventory," the restaurant wrote. Lake Edge serves seafood dishes, including fish fry and po' boys, and is closed on Sundays and Mondays. 
"Sorry to disappoint that we're not gonna be sticking around the neighborhood longer," the post read, "but (with) staffing and rising food costs of everything … I don't see a way we can continue forward." 
Cafe Brittoli, closing Sept. 12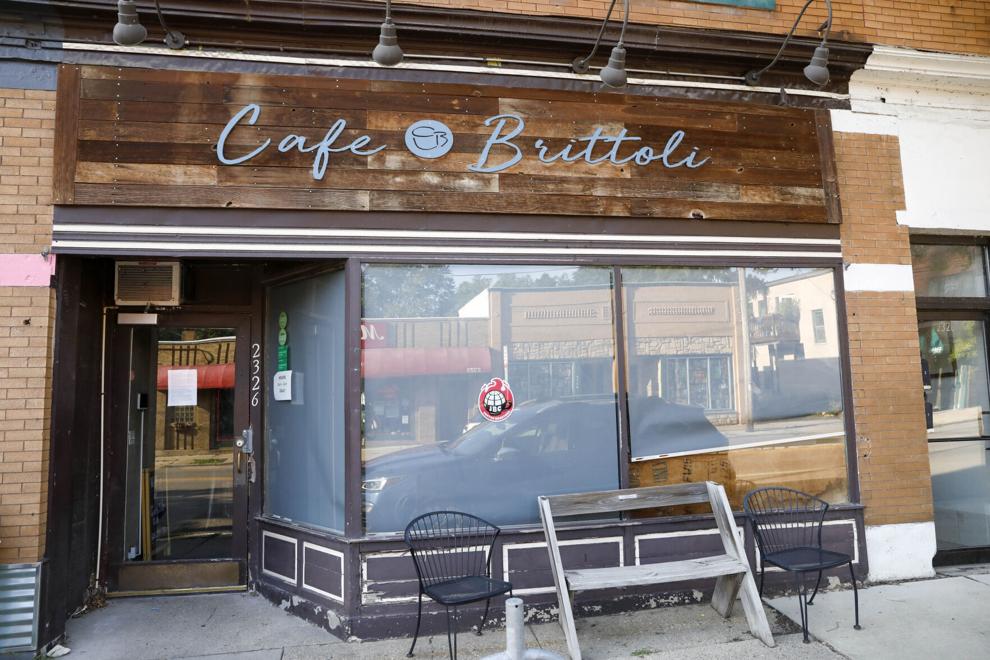 Cafe Brittoli, an east side coffee shop in Madison, is set to close Sept. 12 after nearly six years of service. The restaurant, which also serves breakfast, paninis, crepes and baked goods, will be open daily from 8 a.m. to 4 p.m. until its final day.
Brittoli made the announcement on Facebook in August. In an interview with the Cap Times, co-owner Conner Di Persio said he plans to take a year away from the industry to reflect on all that he's learned from owning the restaurant. 
The owners of Monsoon Siam, a Thai restaurant a few blocks away, have purchased the building at 2326 Atwood Ave., and said they plan to move into the space in April or May. The location also houses a Chocolate Shoppe Ice Cream store, which will remain open.
Jade Mountain Cafe, closing Sept. 3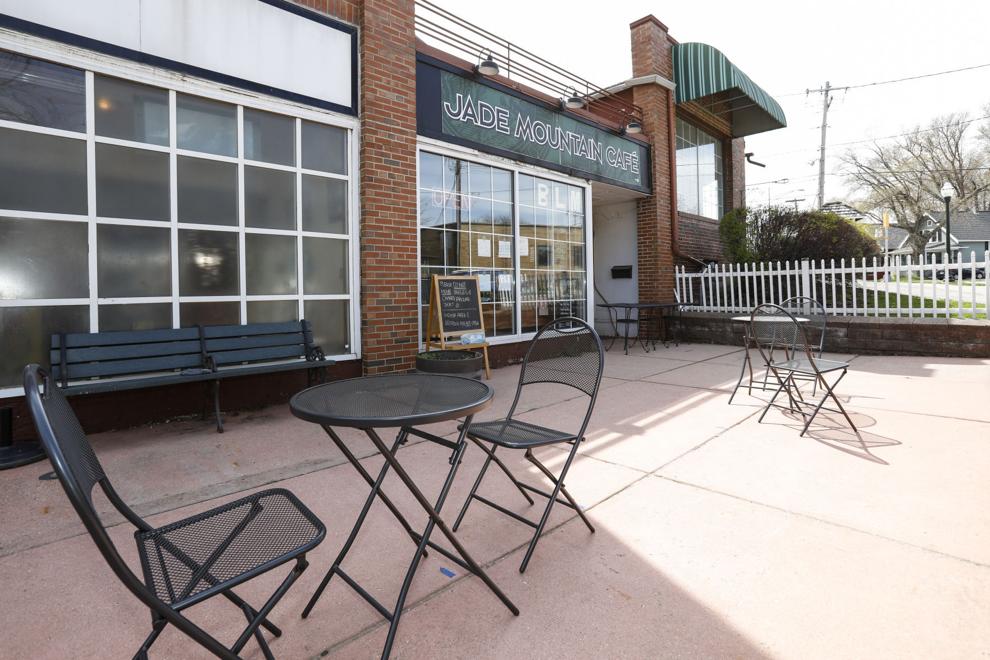 Jade Mountain Cafe, a coffee and tea spot in Eken Park, announced in August that it will close Sept. 3. It will be open from 11 a.m. to 5 p.m. on closing day. 
The cafe has served pastries, traditional Taiwanese bubble teas and occasional lunch items for the past 12 years at 2611 E. Johnson St. 
In a Facebook post, the owner said, "We are taking an indefinite break." 
"For those who are concerned, we are not closing because of any hardship or challenge (though COVID has definitely been hard for everyone), we are just exploring other opportunities in life," the announcement read. "That is also why we call this an 'indefinite break' rather than an end." 
The restaurant added "there is a possibility that we might bring back Jade Mountain in the future," so check social media for further updates. 
Doc's Smokehouse, closed without notice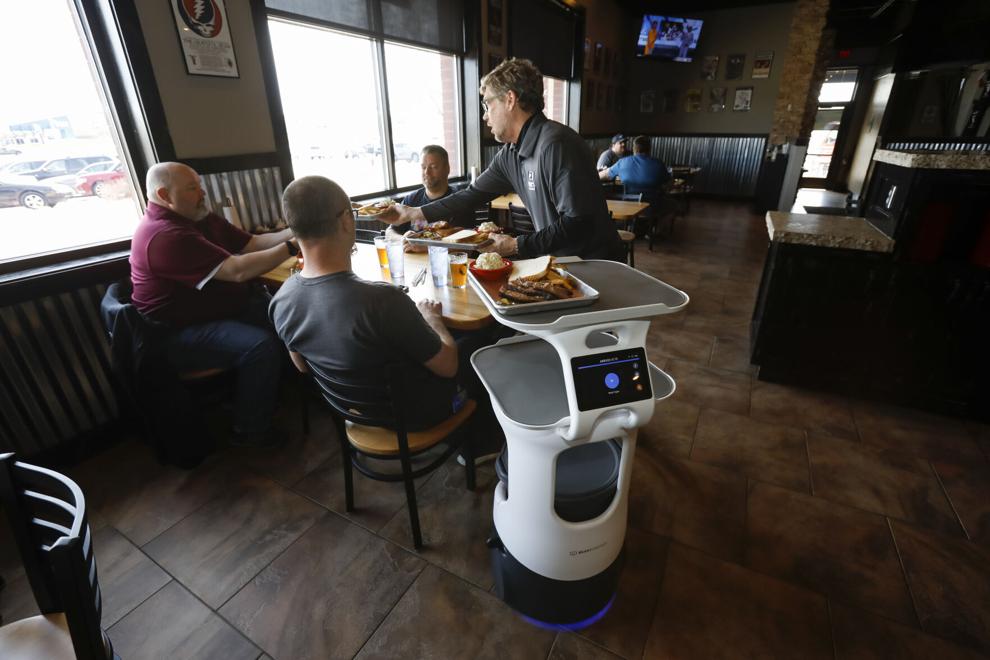 Located in Madison's West Towne Mall, Doc's Smokehouse closed abruptly this summer, leaving no notice. 
The BBQ joint, which took the place of the former Granite City restaurant, was the chain's fourth location in the Midwest. Two of those locations, including the one in Madison, have since closed. The Madison restaurant is listed as "permanently closed" on Google and has been removed from the franchise's website, though another location in Milwaukee is still open. 
Doc's Smokehouse did not immediately return calls from the Cap Times. But Jimmy Hall, general manager of the Madison location, pointed to the restaurant's struggles in a May Cap Times article. 
He told the Cap Times that Doc's had failed to hire enough employees following the pandemic. The restaurant recently sought the help of a robot food runner named BBQ-1 to cope. 
"Time is of the essence," Hall said in May. "We are in a constant state of being short-staffed … so (BBQ-1) allows us to maintain our quality control."
Eldorado Grill, closed end of August
Eldorado Grill closed its doors at 744 Williamson St. at the end of August. 
Food Fight Restaurant Group ran the Southwestern-style joint, founded in 1998 by Gerard Meurer with chef Kevin "Tex" Tubb, for 25 years.
In an August statement, Food Fight CEO Caitlin Suemnicht cited the pandemic as the root of factors that contributed to the restaurant's closure.
"We were closed for almost a year due to COVID capacity restrictions, and carryout business never took off for us leading up to that closure," she wrote. "When we reopened, we faced staffing challenges, and customer counts didn't bounce back like we had hoped they would."
Another restaurant may soon take its place, however.
"We're leaving most of the equipment in the kitchen, and obviously all the structural equipment in the dining room," said Jordan Bright, managing partner of Food Fight. "We have agreed to leave tables and chairs.
"It is fairly turnkey, in my opinion."
Brasserie V, closed Aug. 27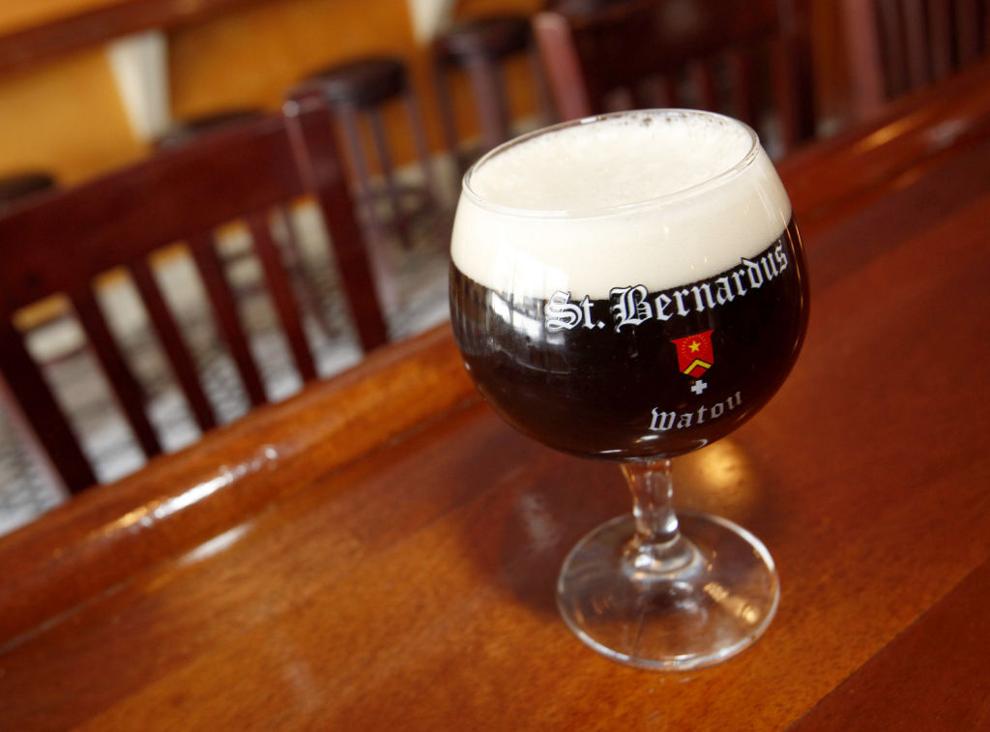 The well-loved restaurant, Madison's Brasserie V on Monroe Street, shut its doors Aug. 27. 
Open since summer 2007, the pub boasted European-inspired fare and an extensive list of beers from around the world. 
In a Facebook post, owners Andrea and Matt Van Nest said the decision was "hard and personal." They closed the business, they wrote, due to "the consistency of what we are able to deliver on a daily basis" — not necessarily due to the pandemic.
"With the staffing challenges in the current market, it has been difficult to provide a stable, consistent work environment for our staff," the Van Nests said. "We are enormously proud of our team and their hard work, but this volatility also results in an inconsistent experience for our guests due to constantly changing hours and reduced capacity." 
"We have offered medical insurance coverage for 14 years, and added dental and vision last year, as well as paid time off," they added. "But our current volume level simply cannot sustainably support these costs." 
The couple's other restaurant, Longtable Beer Cafe, remains open in Middleton. 
The Heights, closed Aug. 7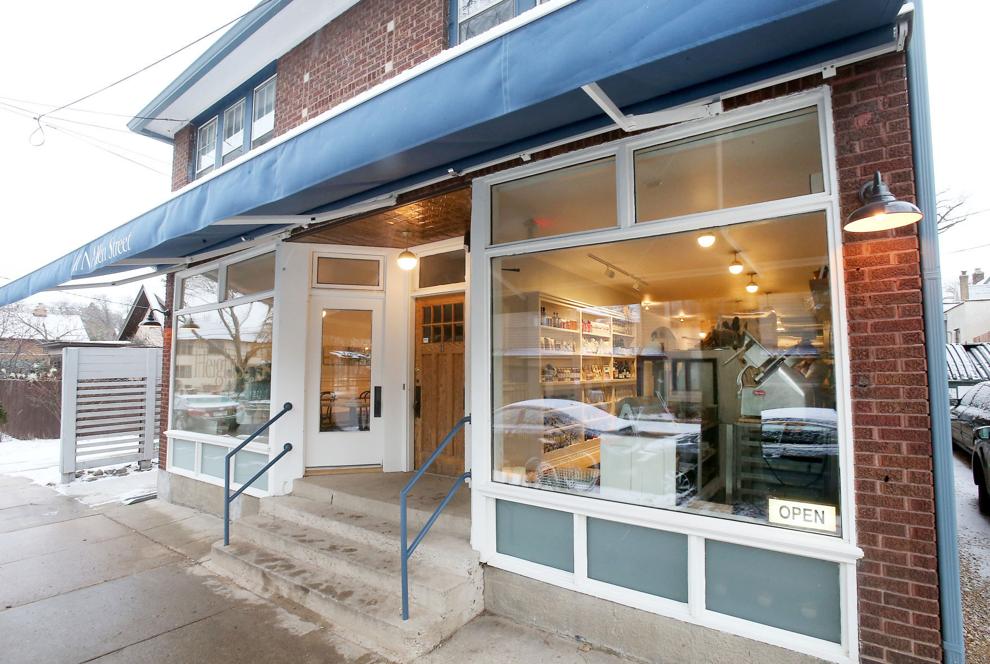 The Heights, an intimate four-year-old restaurant and shop on the near west side, had its last day as a public cafe on Aug. 7. 
The restaurant at 11 N. Allen St. struggled to find employees. 
Owners Evan Gruzis and Nicole Rogers sent out an email to customers that read, in part, "The truth of the matter is the staffing challenges in 2022 caused a trimming of services that is unsustainable. This, in concert with two years of pandemic limitations, has forced us to make this hard but prudent decision."
Gruzis told the Cap Times the owners hope to focus on their wine club and hosting events in the space.
Capital Takeout, closed Aug. 5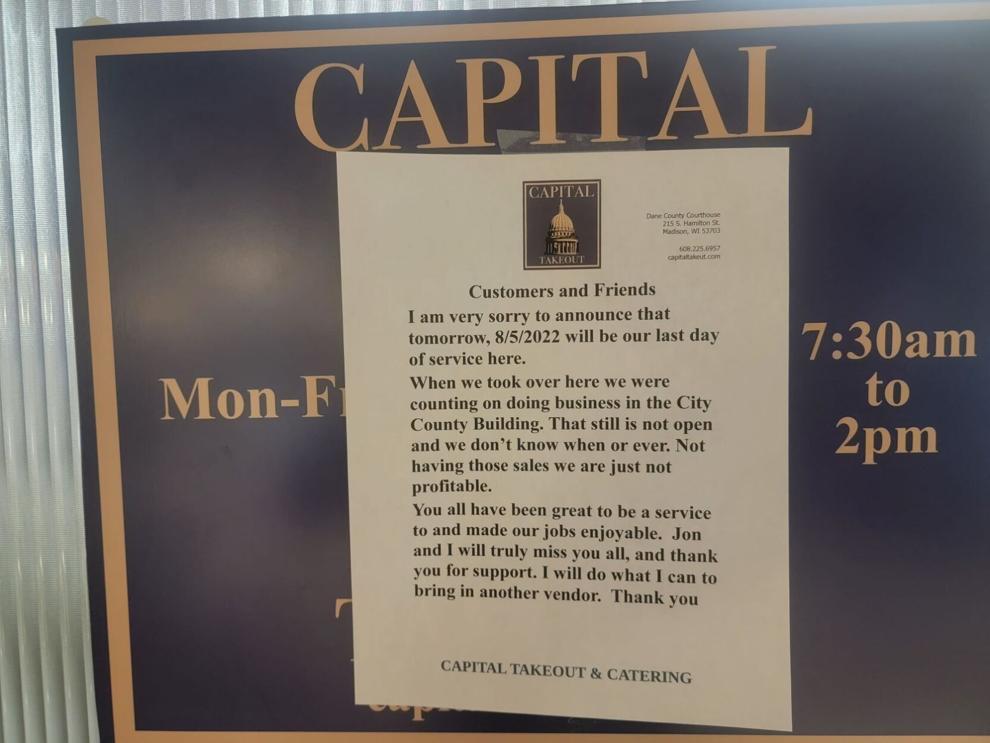 A sign at Capital Takeout, a small to-go shop for breakfast and lunch, told customers the place closed Aug. 5. 
Situated within the Dane County Courthouse at 215 S. Hamilton St., Capital Takeout said it relied on the traffic flow at the City-County Building, which has not returned after the pandemic. Public access to the government facility reopened in June, though it had been closed for over two years due to COVID-19, and many of its employees continue to work from home.
"Not having those sales, we are just not profitable," the message read. 
In a separate Facebook post, the restaurant said the decision was "very hard" after decades in business. 
"We tried our best, just not enough for me to warrant anymore time and money," the post said. "I can't really describe how I feel about this. Just know it was the right thing for me to do at this time." 
Crescendo Espresso Bar, closed July 28 
In a letter to customers, Crescendo Espresso Bar — located on Monroe Street — announced it would close July 28. 
Cait and Paul Sirianni, owners of the Madison cafe, said they were instead "looking at the bigger picture" and focusing on their other ventures. 
"Certain parts of our business need to be reanalyzed," they wrote. "While our Monroe Street location is one of the most special places we know and our team is unmatched: the hard truth is it's just not fitting into where we want to go as a business and taking up energy that is desperately needed elsewhere.
"We need to create space to grow the parts of our business that are truly flourishing: Crescendo Hilldale and the Mobile Business," they added. "We also need to be able to be the parents we want to be to our kids." 
The Hilldale location remains open Monday through Saturday from 7 a.m. to 8 p.m. and closes at 6 p.m. on Sundays. 
Ale Asylum, closed July 21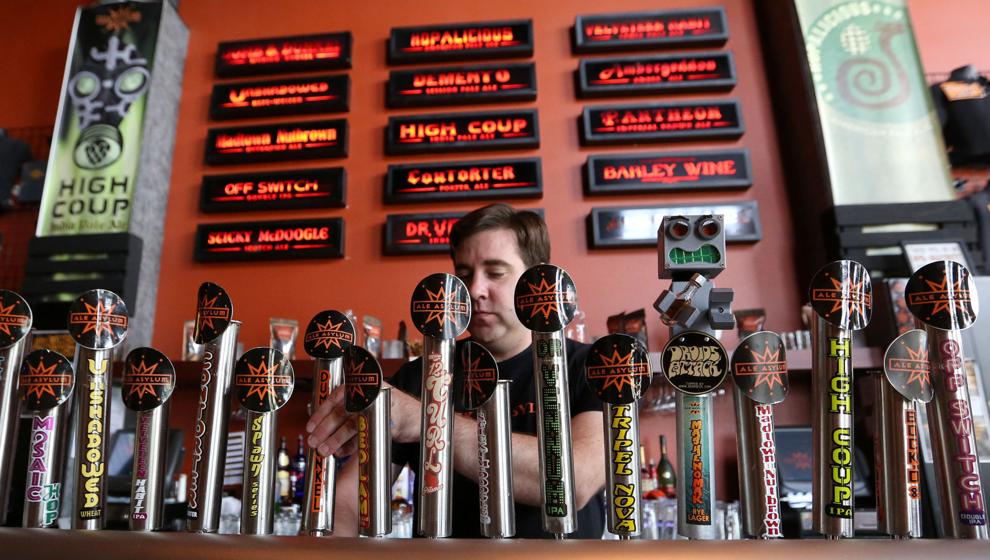 The last day for Ale Asylum, Madison's largest craft brewing company, was July 21. 
Founded in 2006, the company was located near the Dane County Regional Airport in a 45,000-square-foot brewing plant, where it also sold food. That building, according to the Wisconsin State Journal, was on the market for nearly a year. The State Journal reported the company initially had a buyer who was looking to expand the business, but the sale ultimately fell through, bringing an end to Ale Asylum. 
Owner Otto Dilba told the State Journal he is hoping to sell the brewery's brands to other brewers in an attempt to keep the recipes alive.
"We began with a dream and a bag of hops in May of 2006," Ale Asylum said on social media. "The past couple years have been difficult for all businesses but with your support we were able to weather the storm. However, under circumstances we cannot control we have made the decision to close our doors."
Carl's Cakes and Market Street Diner, closed July 1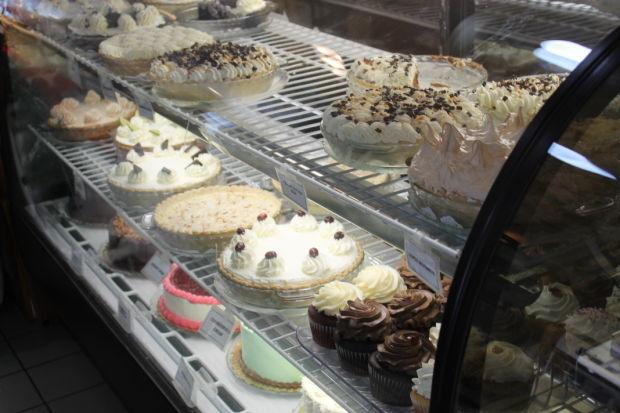 Carl's Cakes and Market Street Diner announced in June that the two businesses would close on July 1 after 13 years of joint operation at 110 Market St. in Sun Prairie.
In a Facebook post, the establishment thanked its "wonderful customers" for their business. 
Carl and Nina Loeffel opened their bakery in Monona in 2000 and moved to 4674 Cottage Grove Road in 2004. According to a story in the Wisconsin State Journal, Carl Loeffel sold his business to Sun Prairie's Market Street Diner, 110 Market St., in 2009. Market Street Diner is owned by Food Fight Restaurant Group.
When reached by phone, an employee at Food Fight's headquarters told the Cap Times in June the diner is closing because "the landlords are looking to sell the building."