In a nondescript office park south of the Beltline, Sascha Dhanjal and her team at Saffi Foods are quietly working to transform the way people buy two pantry staples: oil and vinegar. 
Bottled basics like olive oil and balsamic vinegar might not typically be the stars of the kitchen, but Dhanjal is out to convince everyone from acclaimed chefs to everyday home cooks that, with her brand, they can be. "Once people have tried it and noticed the difference, they can absolutely never go back," Dhanjal said of her company's olive oil.
Dhanjal is not only betting on the quality of her product. She's also betting that customers want less waste, opting to sell many of her products in repurposed wine bottles and grocery store bulk aisles.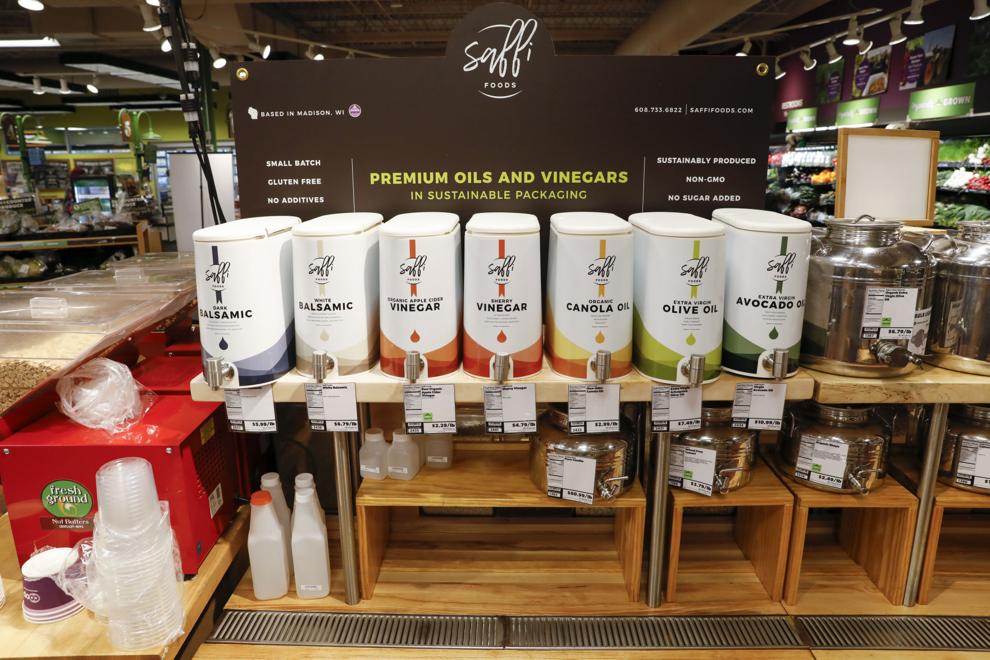 An infuriating discovery
Saffi Foods was born from Dhanjal's time working with an olive farm in Chile after college, where she saw a mismatch between the farm's production cost and the market price of olive oil. 
"We were like, 'How are all these olive oils selling so cheap in the United States?'" Dhanjal recalled. "On the farm, we couldn't even produce them for that cheap."
She began to do research, and soon she came across a 2010 study from researchers at the University of California-Davis. The study found that 69% of the imported extra virgin olive oils they sampled did not meet internationally accepted standards for the "extra virgin" designation. Some were rancid. Some had been adulterated with cheaper oils.
"For me personally, the fact that so much of the food industry is completely mislabeled and adulterated was infuriating," Dhanjal said. "So I assumed that other people would be as frustrated as I was."
Dhanjal headed back to the U.S., eager to show Americans what they were missing. She moved into her parents' home in Indianapolis and launched her own line of extra virgin olive oil in 2014.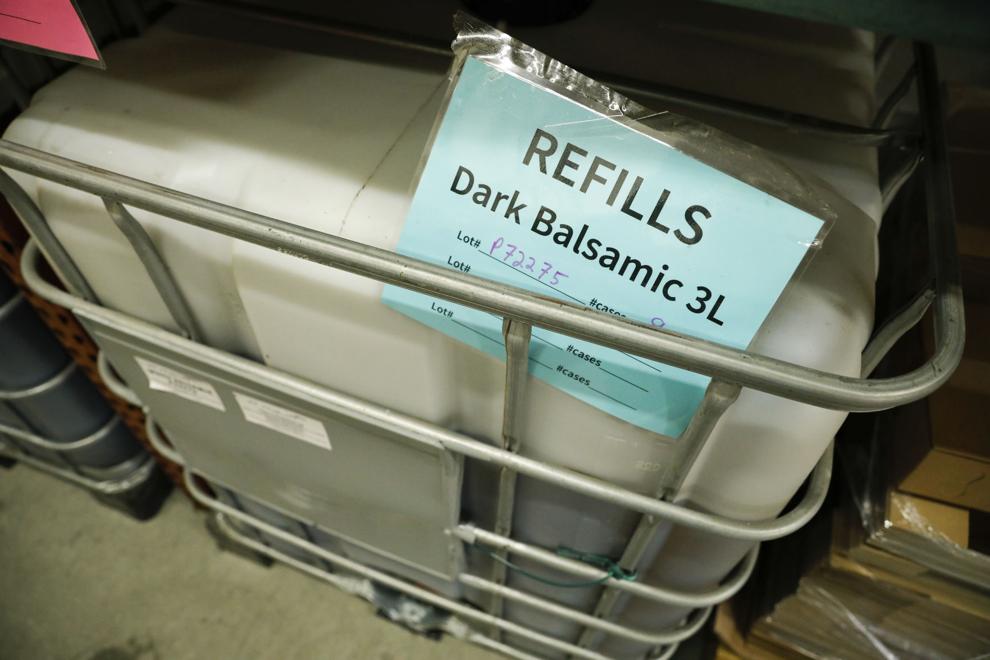 To convince chefs to switch to her product, she'd load her car with olive oil and make the rounds down the alleys behind local restaurants. Walking right up to the kitchen doors, she'd offer chefs a side-by-side taste test, comparing the oil they'd been using with her product. (A good olive oil, she says, should smell like grass or a green tomato). She'd share studies that showed many of the trusted brands didn't measure up.
"The chefs were using those products, so they were livid," Dhanjal said. "They were like, 'Oh my God, I've been lied to. I've been standing behind this brand for so long.'" 
Saffi Foods' offerings — which now include dark balsamic vinegar, white balsamic vinegar, sherry vinegar, apple cider vinegar, avocado oil and canola oil — are currently in use in more than 30 Michelin-starred or Bib Gourmand restaurants, said Dhanjal. She moved the company to Madison three years ago.
Each of the company's products is from a single producer, never blended, Dhanjal said. The company buys May-harvest olive oil from a farm in the Colchagua Valley of Chile and October-harvest olive oil from a farm in Andalusia, Spain. Avocado oil comes from a one-man avocado oil operation near Mexico City, and the balsamic and sherry vinegars come from Spain's Jerez de la Frontera region, famous for its sherry wines. There, the company buys from a family that's been making vinegar for generations using the solera aging method, in which the vinegars are rotated through progressively older barrels, so that the final product is a mixture of various ages. 
"It kind of allows you to get the complexities and characteristics of a more aged vinegar without it being super expensive," Dhanjal said.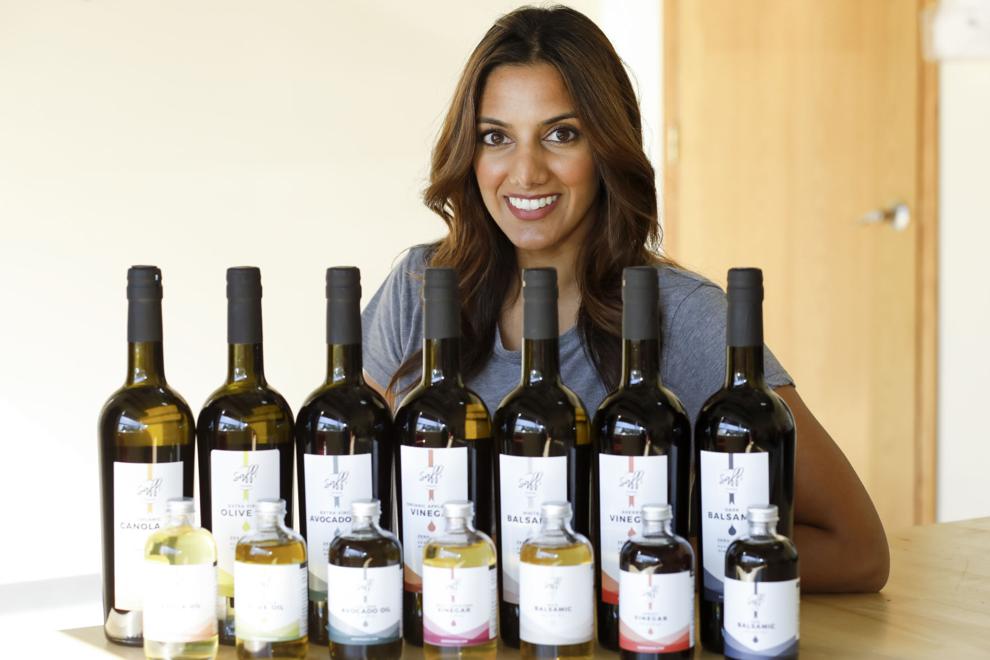 Eyes on the bulk aisle
Once the company had established itself with chefs, Dhanjal set out to bring her products to home cooks. Specifically, she wanted a spot in the bulk aisle. 
Bulk was the norm in the Indian grocery stores she was used to, and her dad, an engineer of Indian descent, had raised her to avoid throwing things out unnecessarily. "Every Indian household has a whole cupboard full of to-go cups and to-go bowls. We just don't throw anything away," Dhanjal said. "Shopping in the bulk section — it's kind of part of our culture."
Plenty of grocery stores had bins of bulk rice and flour, she noticed. Fewer had liquids. "If companies just did this better, more people would want to shop in the bulk section," Dhanjal figured. It's a set-up Madison shoppers might recognize from specialty shop Vom Fass, which offers a selection of pour-you-own oils and vinegars.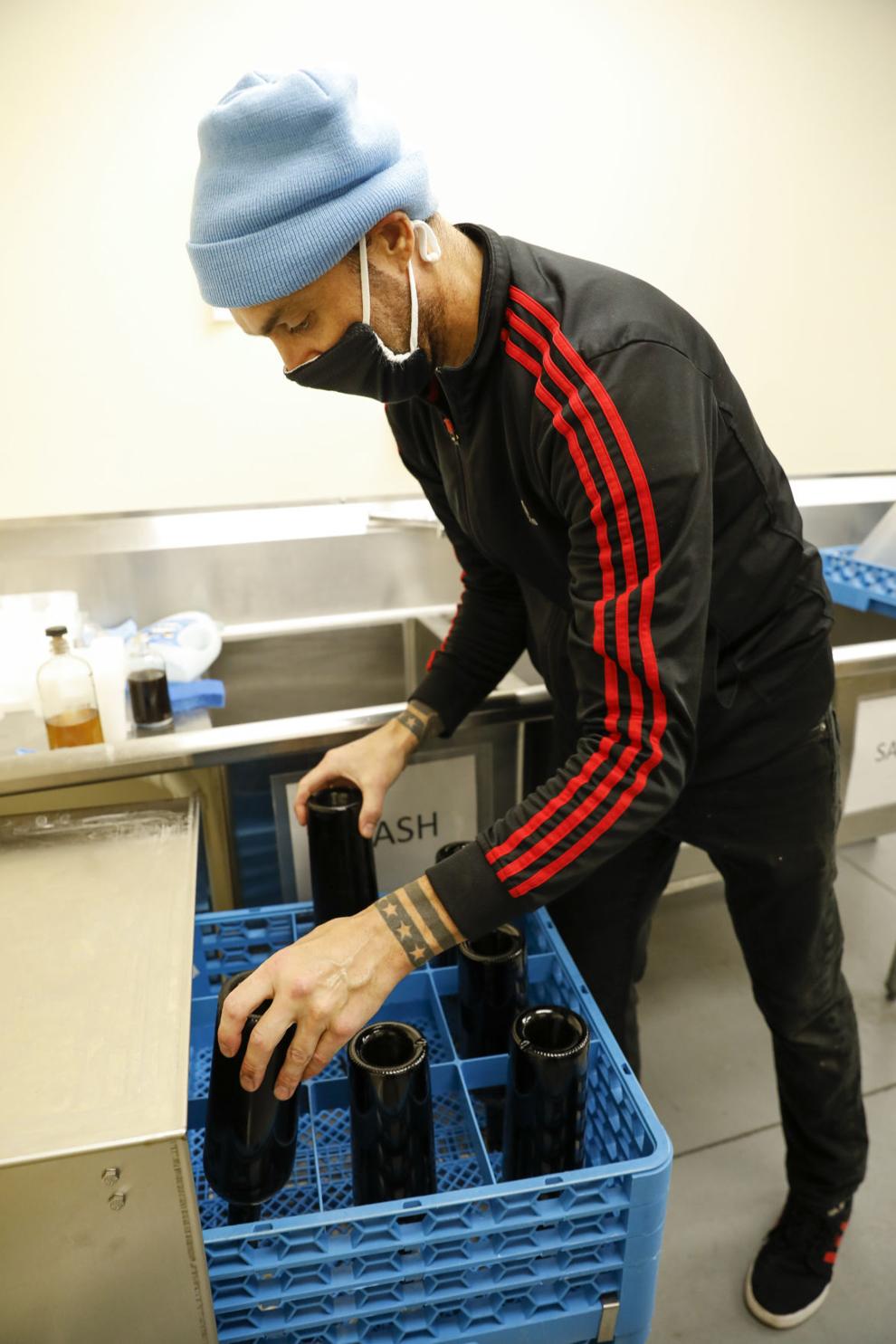 The company spent about two years designing ways to make the process easier for consumers, including selling refillable bottles and making signs that describe the products, helping customers estimate the cost of, say, half a bottle.
Saffi Foods got a spot amidst the bulk bins at Willy Street Co-op's north and west side locations. By March 2020, the company was in talks with about 100 grocery stores. But when the pandemic hit, those plans fell apart. Grocery stores across the country, including the Willy Street Co-op, quickly cordoned off their bulk sections. Meanwhile, the company's core market — food service — was in upheaval too. 
"Most food companies really thrived during the pandemic. If you were on a grocery shelf, you probably did well. But because we're in food service and the bulk aisle, those were the two that were hit really hard," Dhanjal said.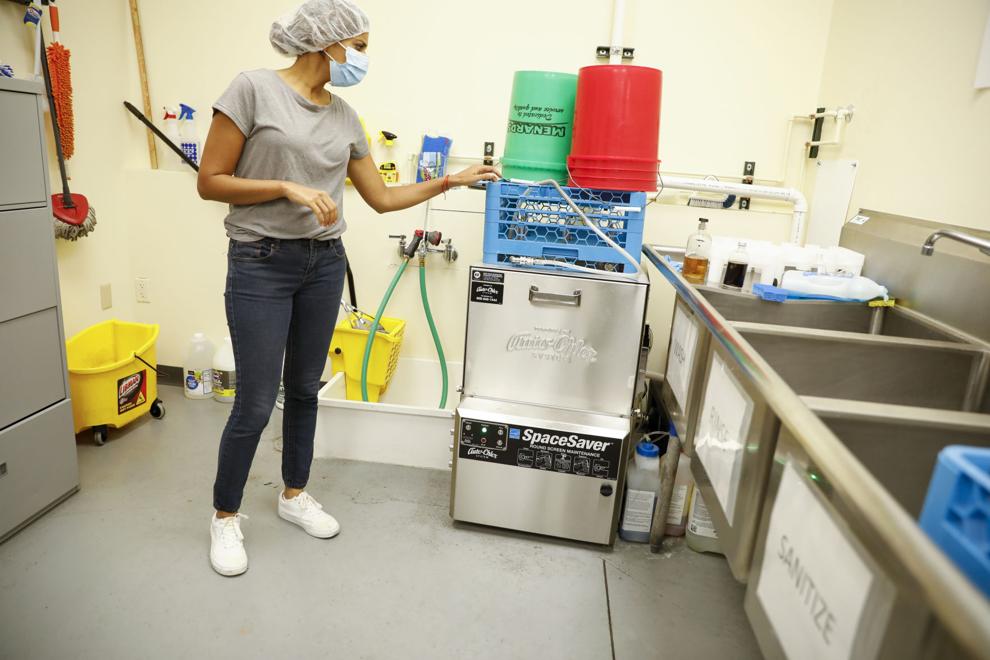 A zero-waste twist
Saffi Foods typically keeps around $80,000 worth of inventory, and needed another way to sell what it had. The team built an online store and began turning 1,000-liter totes of oil and vinegar into manageable bottles to sell online. 
Now, beside the 8-ounce bottles and Bota Box-style 3-liter bulk boxes, Saffi has an option with a "zero waste" twist. Orders of 25-ounces come in Bordeaux-style wine bottles (tall and narrow) that Dhanjal and her team collect and sanitize. Mostly they get the bottles from restaurants, which buy wine in bulk so there's no shortage of identical bottles. 
Once, Dhanjal got around 20 cases of wine bottles from a bride-to-be who'd planned to use them for floral arrangements for her now-canceled wedding. "During the pandemic, we sort of became a recycling company," Dhanjal said. To prepare the bottles, Saffi uses custom bottle sanitizer the company purchased with a $10,000 grant from the Wisconsin Economic Development Council.
Glass bottles are built to last, Dhanjal notes, and it was once common practice to return one's milk jug or soda bottle to be refilled by the manufacturer. Today, recycling — crushing and melting the glass to make new containers — is generally the best a planet-conscious consumer can hope for. 
Dhanjal understands why. "It's way cheaper for me to buy virgin glass bottles. It's way more expensive for me to get a truck to drive around and collect them, bring them back to my warehouse, sanitize them in the machine, sanitize them again in the machine, make sure that the labels are completely removed and then sanitize them again."
Too many companies, she said, saddle consumers with the task of reducing waste, rather than making it easier for customers. "It really is our responsibility," Dhanjal said. "Consumers want that and they're willing to pay for it."
Lately, things are looking up. Many restaurants have reopened, and food service again makes up the largest share of the company's sales. Saffi Foods' products are now for sale in 70 Fresh Thyme Market grocery stores and in zero-waste shops around the country. Locally, they're on tap in the bulk aisle at Willy Street Co-op's north (2817 N. Sherman Ave.) and west side locations (6825 University Ave. in Middleton), at Green Life Trading Co. (1334 Williamson St.) and in bottles at Pasture and Plenty (2433 University Ave.). Dhanjal hopes to eventually rekindle the pre-pandemic deals to get into more grocery stores' bulk sections.
While the products have a special appeal for consumers who are looking to reduce their environmental impact, Dhanjal is hoping to expand her market. She points to TOMS, the shoe company that became famous for promising that for every pair of shoes sold, it would give a pair to a child in need. At first, she said, that might have appealed primarily to consumers with humanitarian leanings. Eventually the shoes became trendy and gained a wider fanbase.
That, she hopes, will be the future of Saffi Foods' zero-waste line.
"We want it to be kind of a statement piece in someone's kitchen," she said. "Like, 'Oh, that's so beautiful. I've never seen olive oil and a wine bottle,' you know?"