The Prairie Cafe and Bakery is always busy, and that is by design. 
Adjacent to a large Middleton Hills development filled with homes built in Prairie, Craftsman and Bungalow styles, the neighborhood coffee shop and restaurant was always meant to be a community meeting place for the residents. Residents can walk to it, as well as a grocery store, a dry cleaner and other small retail shops. 
These amenities, which don't require residents to drive to access, were part of a 1990s design trend called "new urbanism." This was the vision of the neighborhood's developer, Marshall Erdman, who is most well known for working with legendary Wisconsin architect Frank Lloyd Wright on the First Unitarian Society meeting house on Madison's west side. 
Marshall Erdman passed away in 1995. His son, Dan Erdman, manages the commercial properties that augment the elegant Middleton Hills homes, and in early 2000, he couldn't find a decent cup of coffee on Middleton's west side. The Prairie Cafe and Bakery opened in January 2000, in the same storefront that housed the post office boxes for the subdivision, designed to be a pleasant stop for neighbors coming to get their morning mail.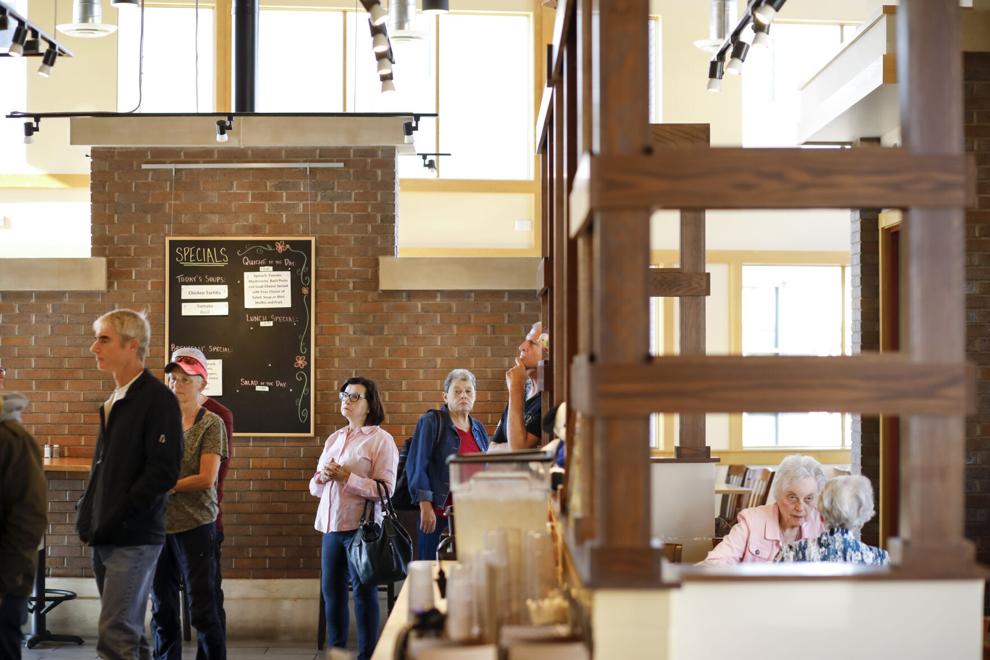 Inspired by Wright
Demand grew, so the cafe did too. In 2015, The Prairie Cafe and Bakery moved into a much larger building designed by Melissa Destree of Destree Architecture and Design, inspired on Wright's signature Prairie and Organic styles. 
The cafe struggled to break even in the first few years, but eventually business flourished in the new space, which is airy and open, composed of small seating areas that each open up to the next. 
It also features tall banks of windows so diners can engage with the natural landscape. Long horizontal lines frame the fireplace among bricks artfully arranged in Frank Lloyd Wright's signature red color, mimicking his autograph tiles. 
In addition, mobiles hanging from the ceiling echo the shape of Wright's Guggenheim Museum building, and a signature Wright-inspired stained glass window occupies the center of the space. 
Scratch cooking
According to long-time Madison restaurant veteran and cafe barista Maryellen Kerns, the quality of the food at Prairie Cafe is the result of a simple mantra: everything is made from scratch. 
"We crack the eggs. We make the pancake batter," Kerns said. "All the butter for the scones is cut in by hand. There are no mixes. We cut and boil our red potatoes, and cook huge pork roasts for carnitas.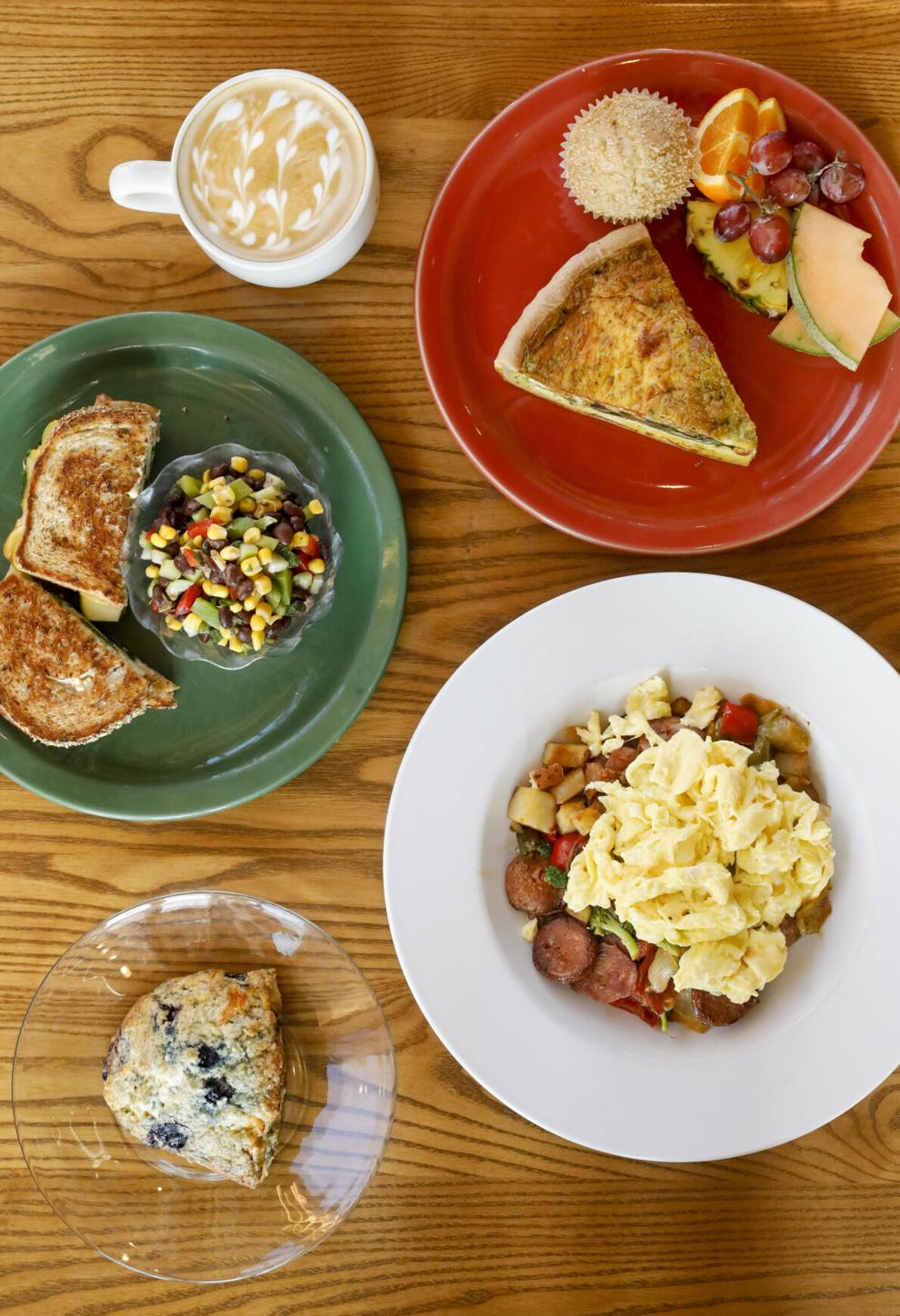 "A lot of restaurants have shortcuts in the kitchen, but this one doesn't," Kerns added. "You can taste the difference." 
Kerns credits chef/manager Alex Perez for his exacting standards, and for regularly tweaking the menu to continue innovating and improving dishes.
On the menu board posted above the registers, Wright's influence emerges again. The Wright Breakfast ($10.95) is a hearty plate of eggs, toast and a choice of meat (bacon, sausage, ham) with a red-skinned potato hash. "The Apprentice," which refers to students in Wright's architectural school, is a smaller version of this. 
For lunch, diners can try the Taliesin Turkey Club ($10.75), a nod to Wright's home in Spring Green. It features generous portions of thinly sliced ham and turkey, offset with slightly bitter, sauteed spinach, melty cheese and slices of raw Granny Smith apples that give sweetness and crunch. A dab of mustard brightens the grilled sandwich on toasted whole grain bread. 
The Wright Burger ($11.50) is also a creative step up from standard fast food fare. It pairs a half-pound beef patty with crisp bacon, cheese, lettuce, a slice of tomato and roasted garlic mayo on a brioche roll.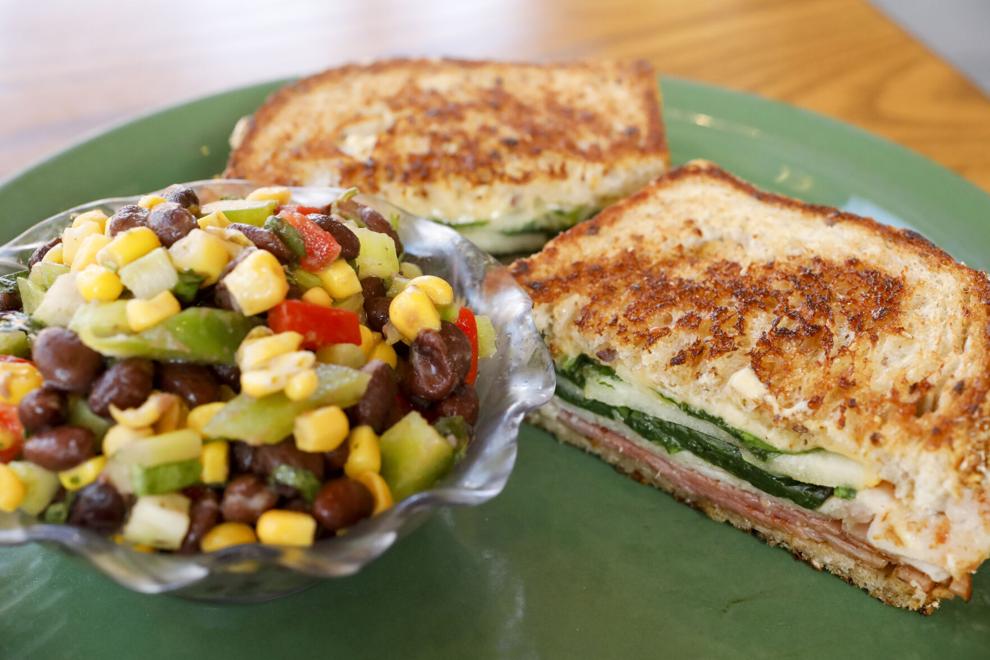 Come home for scones
Other popular dishes include the quiche of the day ($10.50, a well-balanced combination of goat cheese, fresh spinach, and tomato on the day I visited). There's a new slate of omelets ($12.50) and a C.B.L.T. ($9.95) — a traditional bacon, lettuce and tomato sandwich with the addition of Wisconsin cheese. 
A daily edition of the Priarie Scramble ($9.75) featured a generous portion of colorful hash, including browned potatoes, red onions, peppers, broccoli, mushrooms and fried coins of Cajun sausage, topped with fluffy scrambled eggs.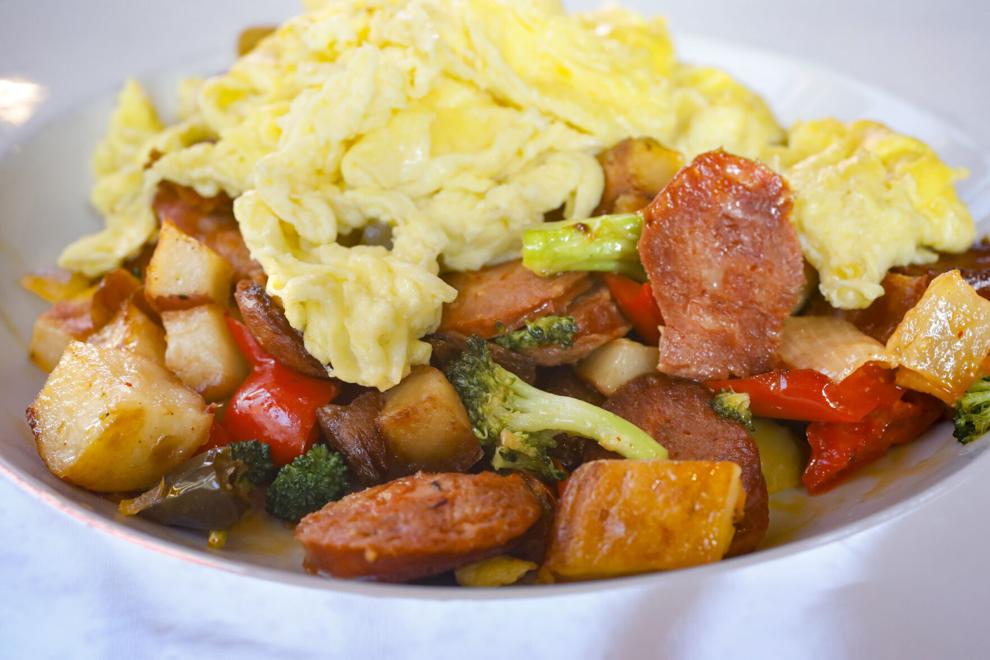 Pastries are made in house daily by a team of five bakers. Among muffins, croissants and cookies, the scones stand out and are hard to pass up. Large and filled with fruit, they have a crispy, perfectly browned outer crust with a sprinkling of sugar on top. The lemon blueberry and cranberry orange scones are particularly good. 
Dan Erdman hoped Prairie Cafe would be a gathering spot for the neighborhood, "and it's really exceeded those expectations," he said. 
"The cafe has a lot of regulars. People still come here to collect their mail and say hello to their neighbors," he added. "And while other businesses struggled during the pandemic, we never closed. Our customers continued to stop by for coffee and a scone, even when we couldn't seat people indoors."
For many, he said, Prairie Cafe is an extension of home. 
"My incredible staff has seen families grow up here over the years," he said. "And when the kids come home from college, they want to come back here."