Since last November, Shanna Pacifico has opened five restaurants in six months.
Each one has a different concept: birria tacos; grain bowls and salads; college dorm-style craving food; Italian American classics; and Latin American dishes.
The same cooks make all of the food. They toggle between pulled pork burgers and chicharrón de pollo, switching up toppings on salads and sandwiches for each theme, while another staffer takes tickets as they come in and packs each to-go bag.
Pacifico and her team designed every dish to come together fast and travel well. Based in what's known as a ghost kitchen, these virtual restaurants have no dining room or counter staff. 
But they all have Instagram pages. And they're already expanding, from a first location at 420 State St. to two more on Whitney Way and Monona Drive.
"In my head, I refer to them as restaurants," said Pacifico, director of operations at EatStreet. EatStreet owns the six-month-old HungerHub, which is an umbrella company for the five brands. Based in the same location is Forkful Market, a small, delivery-only grocer.
"It's a restaurant available for online only, delivery only," Pacifico said. "They're their own standing brands, on their own. For me, the 'ghost kitchen' terminology is just about not being open to the public. It's just virtual."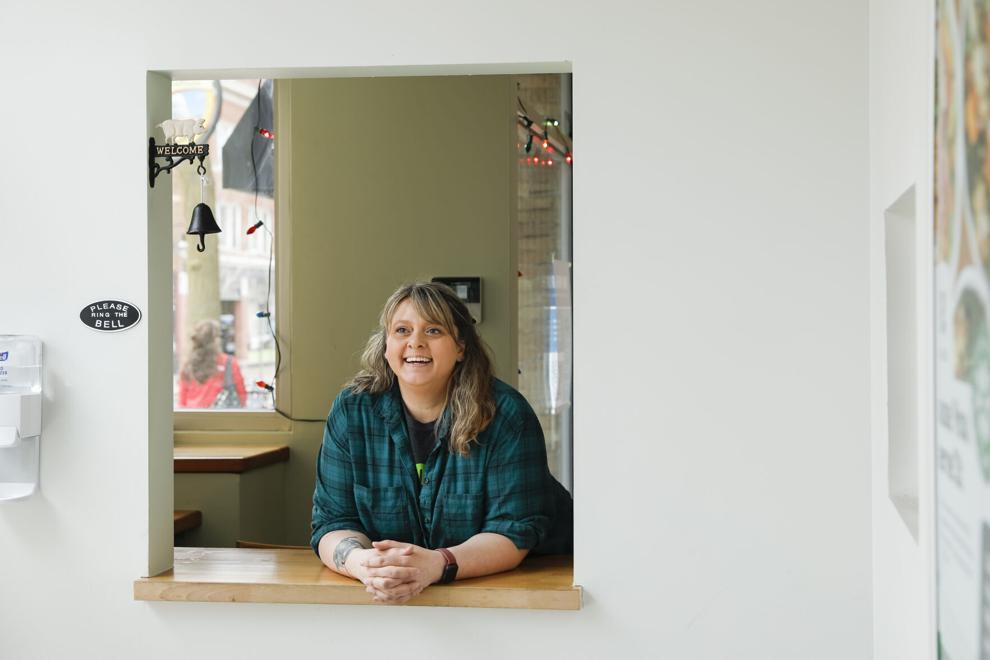 For years, one of the best places to open a new restaurant was next to another restaurant. Other successful bars and cafes point to robust foot traffic and good visibility. The couple who came downtown to get ramen may notice your new taco shop and come by next week.
Then a global pandemic tossed everyone into the fryer, flipped some hot trends and threw others in the trash. 
Now, the best location for a new restaurant might be no location at all.
Why ghost kitchens?
Ghost kitchens, also called dark kitchens, cloud kitchens or virtual kitchens, are commercial spaces that provide takeout and delivery food only. These restaurants' marketing is mostly digital, often connected to social media. Ghost kitchens are driven by, and often owned by, technology companies, and the concept is pretty new to Madison.
So are virtual brands, in which an established brick-and-mortar restaurant might take a single culinary theme — nachos, cookies or a specific style of pizza, for example — and brand it separately from the restaurant that makes it. By adding or starting a virtual brand, restaurant owners can increase their visibility on online delivery platforms and diversify product lines without adding too much equipment, space or labor.
Virtual brands proliferated during the pandemic. Monk's Bar & Grill makes WisCow Pizza and Wings, and Whoopensocker Burger & Brat Co. in Wausau is actually the Great Dane Pub and Brewing Company. In 2020-21, Merchant and Lucille, Nattspil, Brothers Three and The Nitty Gritty all launched virtual brands, though many disappeared after in-person dining returned.
Some brands make their connection to their virtual offshoots clear (Chicken n' Biscuits by Cracker Barrel) while others are more subtle (Cluck is the Nitty Gritty). Most diners probably don't notice, and if they do, a Google search of an address can quickly answer who makes Wild Burger. (It's Buffalo Wild Wings.)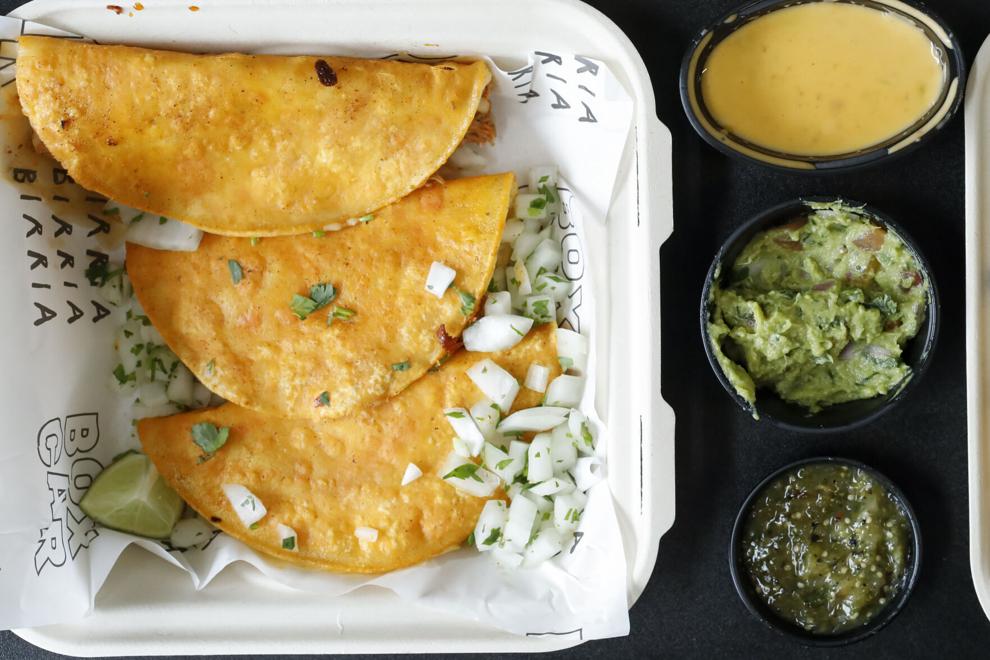 National franchises are the most likely to hook up with celebrity brands. Dozens of stars like Mariah Carey, Wiz Khalifa and Dwayne Wade have gotten into the virtual brand business, lending their names and likenesses to cookies, "mac and yellow" pasta and "D. Wade" burgers.
In Madison, two chains — Perkins and Red Robin — claim to sell MrBeast burgers, branded by online personality MrBeast. (Attempts to order these burgers locally were unsuccessful.)
Some refer to these brands as chains in themselves. They're like a fast track to a franchise. 
"Follow the money on this," said Rebecca Ryan, a Madison economist and futurist who runs NEXT Generation Consulting. "You have to have a physical location with all of your own expensive restaurant equipment, all your own staff, in order to open a franchise. It's a lot of money."
For example, it can cost $350,000-$600,000 to open a Culver's franchise. "If you, instead, can expand through a ghost kitchen," Ryan said, "it allows you to service a larger radius from one bank of stoves and one massive fryer.
"The economics of this just make sense, and now the timing of it really makes sense. Customers have become disabused from the idea that you have to drive somewhere to get food. We know, thanks to the pandemic, that food can be delivered to us.
"It's about economics for the business owner and convenience for the customer," Ryan said.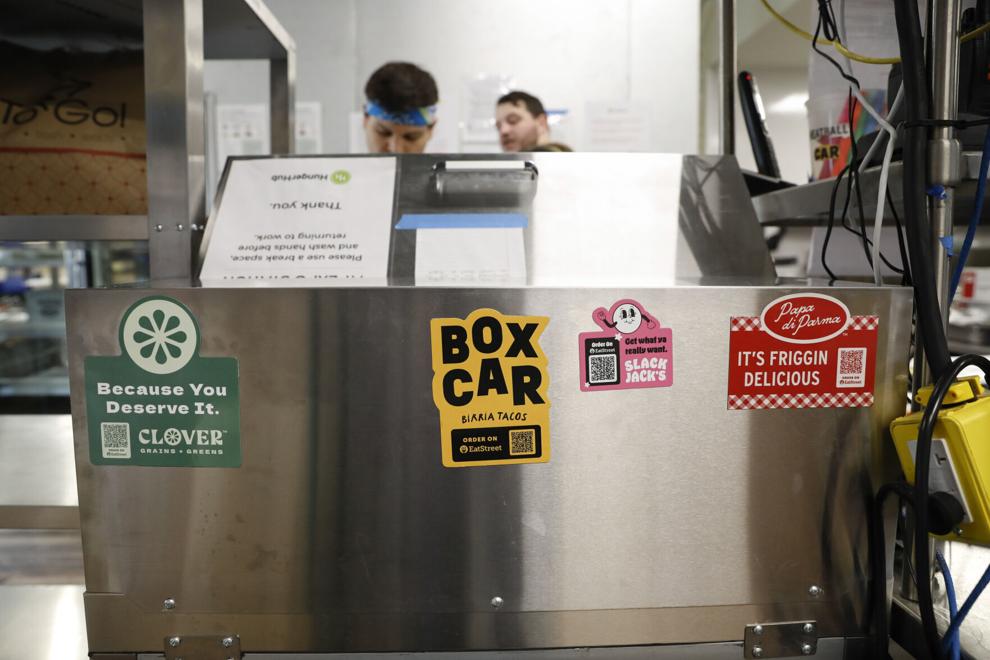 Ghost kitchens and virtual brands are growing. Launched in Europe, ghost kitchens were estimated to be a $43.1 billion industry in 2019. The market research firm Euromonitor forecasts they'll be a $1 trillion business by 2030.
Third party delivery companies and fast casual franchises have been among the first to catch on. In August 2021, Wendy's announced that it would expand its partnership with Reef Technology and open some 700 ghost kitchens across the U.S., Canada and the U.K.
Even TikTok has announced a virtual brand partnership, so existing restaurant kitchens can make and market viral recipes like baked feta pasta and "pasta chips" (cooked pasta covered in cheese, then air-fried).
"In a tight labor market, there's a big incentive to figure out how to increase efficiency, essentially doing more with less," wrote Greg Nichols in ZDNet, in "Are ghost kitchens here to stay?"
"Ghost kitchens are better able to do that by eliminating the front-of-house focus," Nichols wrote. "That simplifies the massive logistical challenges of the restaurant to a degree that creating the perfect ghost kitchen is as much an engineering challenge as a culinary or marketing one."
Paul Barron, host of the Ghost Kitchen Trends podcast, noted in an episode last year that restaurants have no choice but to think more about digital marketing.
"I hear all the time, 'restaurants don't do technology,'" Barron said. "Listen, we have to. This is where the next generation of the industry is going."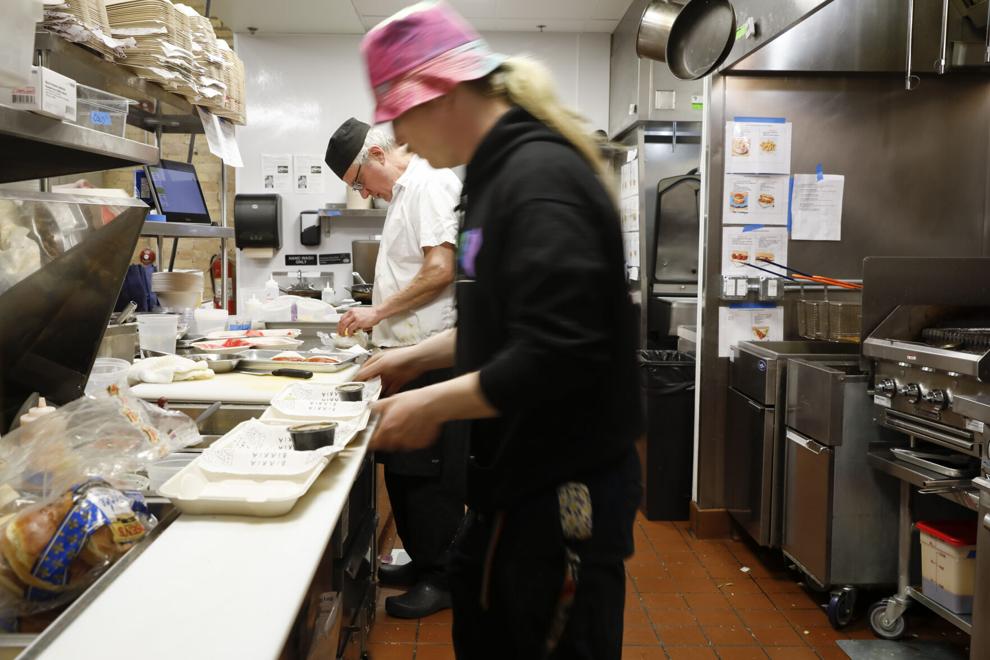 15 wing brands
Ghost kitchens and virtual brands offer financial incentives for entrepreneurs and investors, including the promise of lower rent and lower labor costs. But there are challenges.
If one MrBeast burger comes from Red Robin and one MrBeast burger is delivered from Perkins and still another is made in the kitchen at a Bravo Italian Mediterranean restaurant, how consistent will they be?
Ryan wonders about "all the quality control factors." She wondered about when restaurants license a virtual brand, if they get guidelines or just a recipe, or access to and contracts with the same suppliers. Execution could vary, brand to brand. 
With Wendy's partnership with Reef, for example, a person might use the Wendy's app to order a Wendy's burger. Reef makes it at one of their ghost kitchens. Then a third party (maybe even a robot) delivers the food. 
At no point does anyone who works for Wendy's touch the food. 
"Is it really going to be what your Wendy's burger has always been?" Ryan asked. "And if a customer logs a complaint, who do they even log it to?"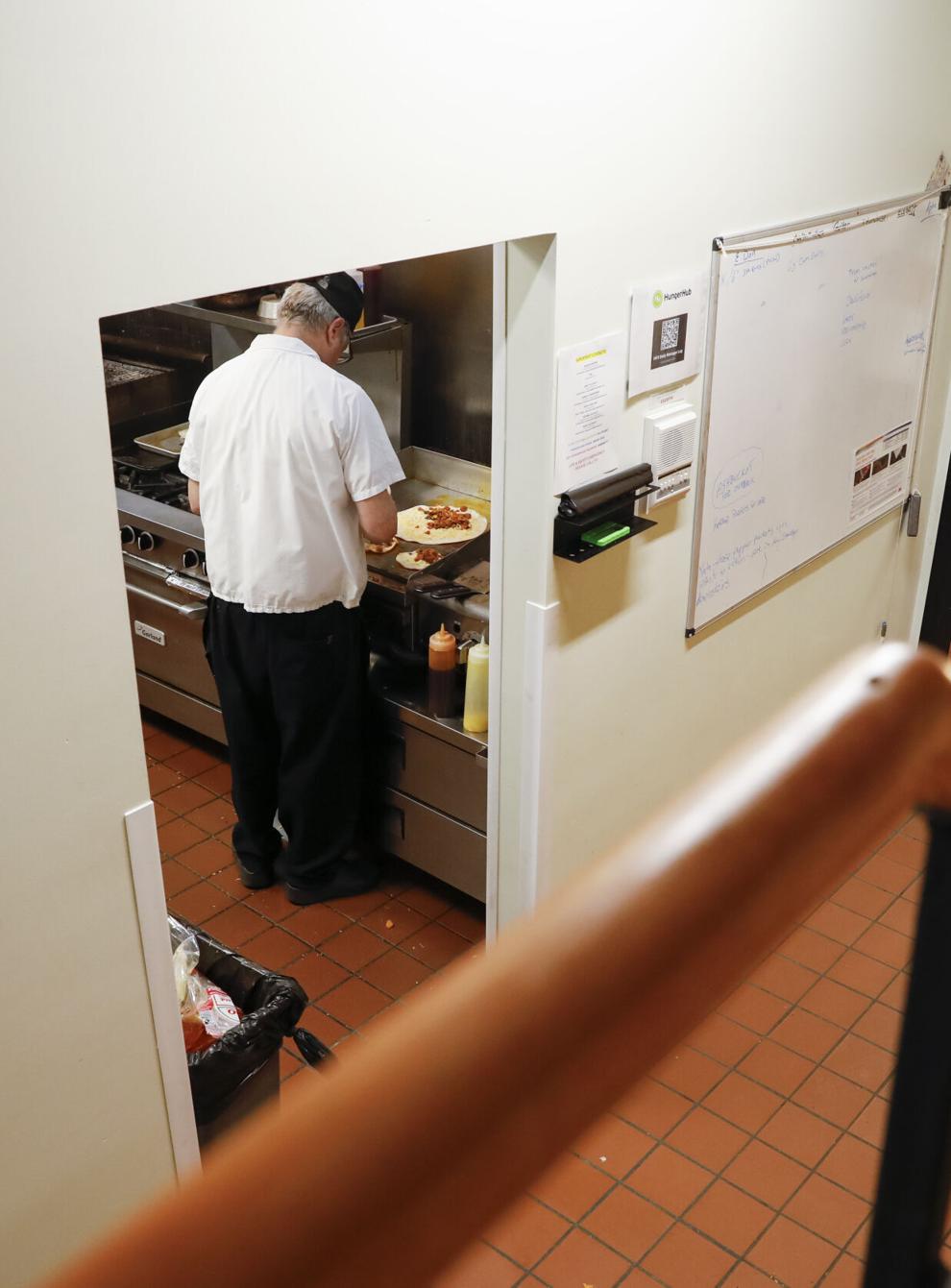 "Your burger or tacos or pizza could be cooked anywhere by anyone — which is what makes the ghost kitchen concept so lucrative and appealing to owners and investors," wrote Terrence Doyle in an August 2021 piece for Eater.
For workers, that might not be a benefit. With restaurants still trying to fill open positions, to add more concepts on top of an existing restaurant can be exhausting for the cooks whose job it is to execute them.
Doyle's piece noted that ghost kitchens put yet another barrier, this time a smartphone, between diners and the people preparing their food. This is "a workforce that was already next to invisible before anyone knew what a ghost kitchen was, one that has historically endured exploitation in the form of low wages, long hours, and various forms of abuse."
Still others say ghost kitchens and virtual brands may squash innovation and cause problems for independently owned restaurants.
"For one thing, it's caused a ridiculous amount of oversaturation and a decrease in quality," said Jason Schleip, a lead consultant with the Small Business Development Center's Wisconsin Restaurant Initiative. "For another thing, it's taken away from smaller restaurants and added more competitors in a market that's already pretty saturated. I'm not a giant fan.
"Do we need 15 wing places that deliver? Or can we do fine with five?"
Virtual brands in Madison
For restaurants that struggled to keep revenue coming in and staff employed during the earlier parts of the COVID-19 pandemic, launching a virtual brand looked like a savvy move.
In August 2020, the Great Dane Pub & Brewing Company launched one of several partnerships with EatStreet, a delivery-only brand called Midcoast Wings.
A taco brand, Taco Royale, joined a few months later. A brats-and-burgers brand called Whoopensocker, now available only in the Great Dane's non-Madison markets, started in 2021. 
"Our staff has embraced it," said Matt Pace, Great Dane's director of operations. "We want to reinforce the fact that it's still a restaurant, a product that we're producing."
At the Dane, the primary benefit was diversification and controlling overhead.
"How can we cross-utilize certain core ingredients or base recipes?" Pace asked. "How can we increase production times or batch sizes for some of our core products that can then be used on various menus?
"That is diversifying the procedures and operations that we have, in order to hopefully reach a few more guests each day."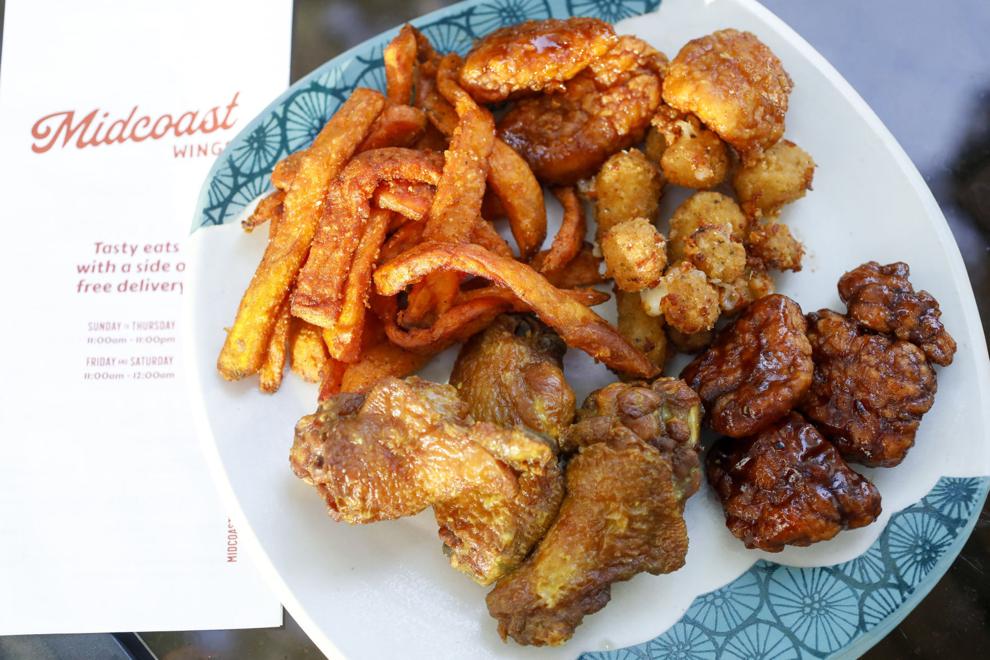 A few things have changed since that early launch. For one, when they started, Pace was happy to have a reason to keep some kitchen employees working.
"Flash back a year and a half ago, and we kept hours available, work available for everyone on our team," Pace said. "Now we find ourselves on the flip side. We would actively love to have people join our team."
Across the country, people have left the hospitality industry permanently, while others have been slow to return. According to the National Restaurant Association, "as of April 2022, eating and drinking places were still 794,000 jobs — or 6.4% — below their pre-pandemic employment levels. No other industry has a longer road to reach a full employment recovery."
Few employees to fill more orders means the restaurant has to "triage operations," Pace said.
"We put a lot of focus into efficiencies as it relates to food production, coordinating orders as they go out the door," Pace said. "We have a system of separate packaging materials, and how we brand bags and boxes things go in. We streamlined the process for our staff and delivery drivers."
The recipes used for Midcoast Wings and Taco Royale are not exactly the same as what diners will get when they order Great Dane pub wings or Brew Street tacos while sitting at the bar on East Doty. (You can order something from Midcoast while at the Dane, though, if you wanted to try it onsite.)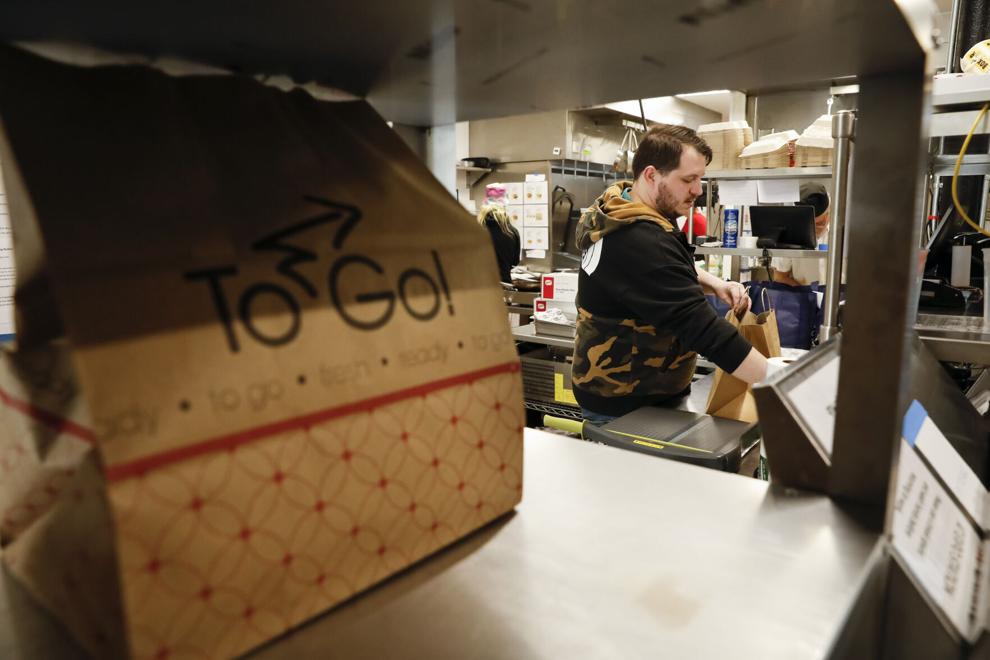 Pace said that at Midcoast Wings, when the kitchen was developing batter recipes, they took cook times and delivery times into account. With Taco Royale, they tested which corn tortillas tasted and held up best.
"We looked at the packaging as a key ingredient," Pace said. "It's not as glamorous or fun compared to looking at food products and recipe development, but it's crucial nonetheless.
"When we were testing all the recipes, even in our team tastings, we didn't touch the food until it sat for 20 minutes. And that's what we used to base our critique."
Another thing Pace and his team noticed is that certain items do better in some markets than others. Whoopensocker started at all five Great Dane kitchens, but "for some reason that brand was the least performing here in Madison."
"In Wausau it still does very well, so we decided to keep it up there," he said.
People ordering Taco Royale from Great Dane Hilldale love burritos, Pace said, more than at the other locations. Midcoast orders from Madison's east side and Fitchburg sell more boneless wings, while downtown people love the traditional, bone-in style.
Pace believes the industry is likely to evolve in response to ghost kitchens and virtual brands.
"Food innovations come from challenges or doing something you haven't put a level of detail and creative energy into before," Pace said. "How do you make food that is delivered in a box, in a car, and 20 minutes after you order it's as exciting and delicious as food you hand to somebody at their table?
"From that challenge, absolutely, innovation will come."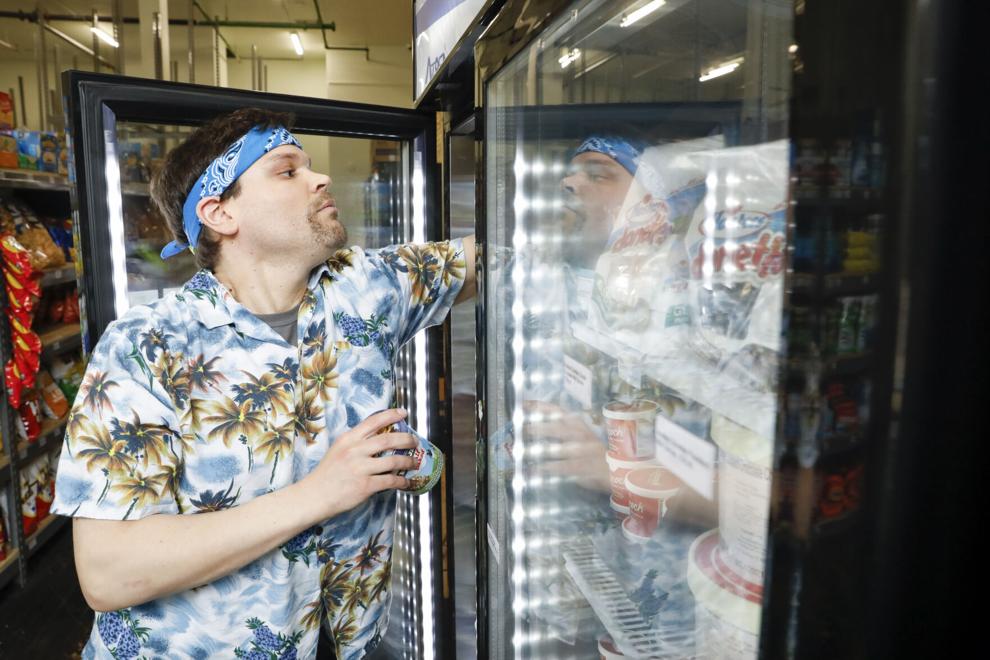 Back at the hub
EatStreet's HungerHub may be the first Madison ghost kitchen designed specifically to be one. Previous tenants included Dragon I Restaurant & Karaoke Bar, and on the second floor, a huge projector screen remains from those days. Pacifico said she gave the other 35 or so televisions away.
"This space required a lot of construction," Pacifico said during a recent tour of the market and kitchen. "It had been empty for a while, so it was definitely falling apart a little bit."
The biggest challenge for Pacifico and chef Nate Overland has been the size of the space. For a kitchen that produces dishes for five concepts, the variety the HungerHub restaurants put out is ambitious.
"At whatever station you're working, you're going to get components from at least four different restaurants," Overland said. They had to "figure out how to set up stations, and where which ingredient or which dishes should come off of which area, based on sales volume.
"Are we making a grilled cheese sandwich on the flattop? Or are we doing a toasted sub in an oven because of the spatial constraints? It's kind of a chess game."
Part of what makes it work is ingredient crossover. Italian American-style Papa di Parma makes a "chicken parm" sandwich with marinara sauce, provolone cheese, melted mozzarella and basil mayo on a crispy chicken cutlet.
Slackjack's bills itself as "couch-approved cuisine," or what college students might call "drunchies." Here, a chicken po' boy mashes up a New Orleans-style sub sandwich and spicy Buffalo chicken, topping a crispy chicken cutlet with Buffalo sauce and blue cheese dressing.
The Mexican-style crispy chicken sandwich at Cross & Ocho takes the cutlet in still another direction, with black bean spread, guacamole, pickled jalapeño and shaved cabbage.
The toppings change. The names change. But the chicken is the same.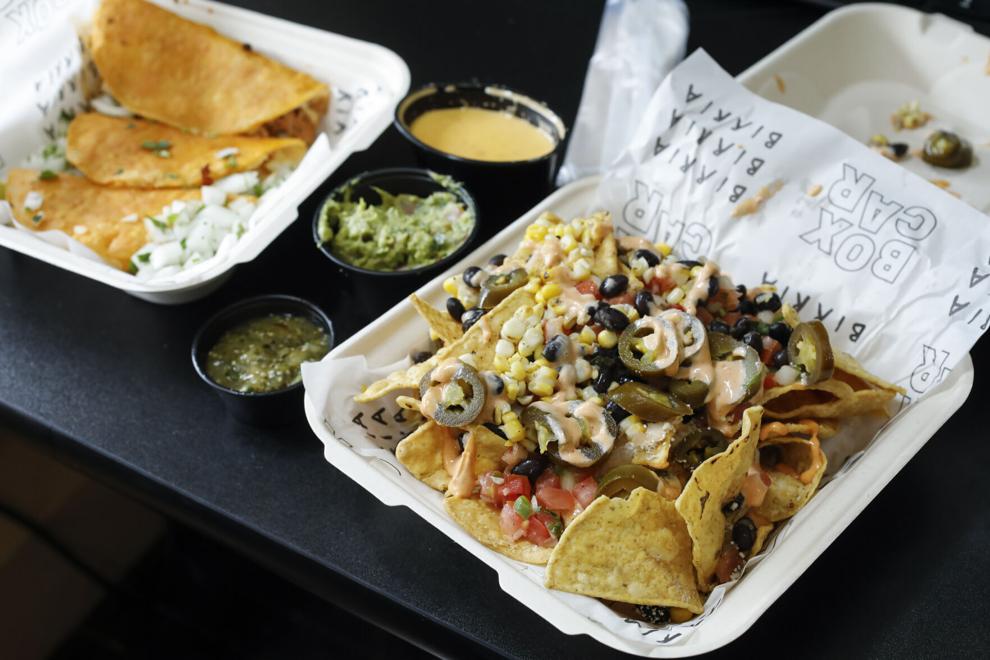 Pacifico and the opening culinary team designed dishes to be "very quick pickups." The veggie taco mix for Boxcar Birria Tacos is sweet potatoes, charred corn and poblano peppers. Now that Slackjack's has opened, the same combo appears on its Street Corn Mac 'n' Chz Bowl, A Veggie Hash A Day burrito, a skillet bowl and a side dish.
"We take something we've created for a dish and now we're applying that to a completely different dish," Pacifico said. "And they don't taste anywhere the same.
"For Clover (Grains + Greens), we have diced potatoes for one of the bowls. We only dice that potato once, and we're batching that out and somebody's taking that to make their recipe."
HungerHub solves the mushy-on-arrival problem of dressed food with a cooler near the expediter's station full of containers of sauces. There's salsa verde, pico de gallo, spicy salsa morita, chimichurri, green goddess dressing. Three vinaigrettes. Ranch, queso, sour cream, Buffalo sauce.
Still, even with sauce on the side, not everything makes sense for delivery.
"When we were doing our R&D in the very beginning for the Slackjack's menu, one of my ideas was a smothered tater tots section," Pacifico said. "We put it out on the table and we're trying it within 20 minutes, and everything just got soggy.
"The exciting challenge is constantly trying to make delicious food interesting, but made for delivery."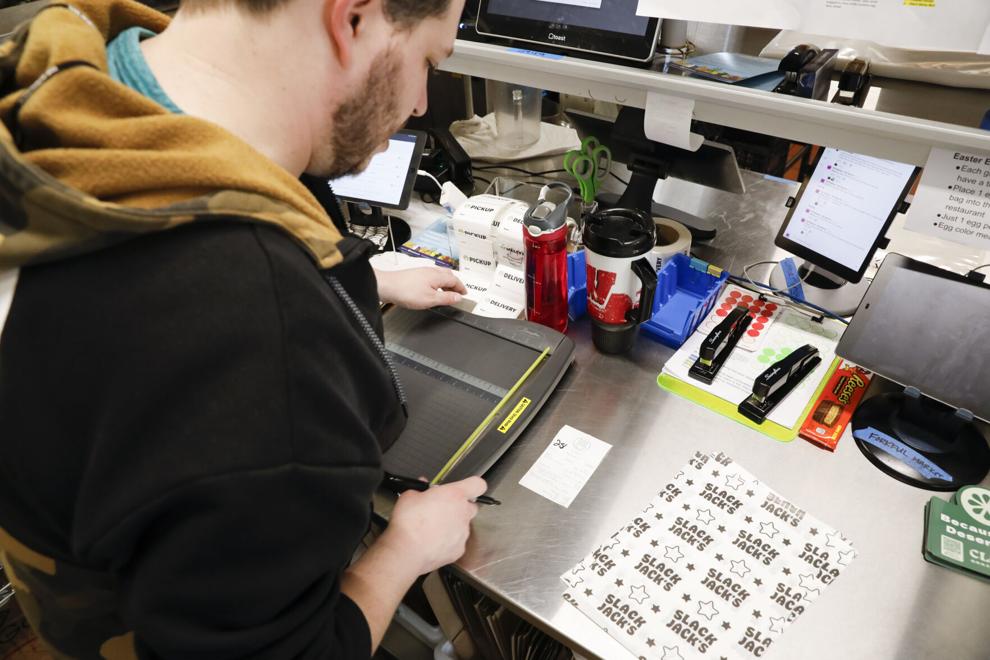 Another challenge is time. "I would love to do a pan-roasted half chicken," Pacifico said. "But I can't, because even if I pre-cook my chicken, to reheat it is going to take 25-30 minutes. It'll take 45 minutes if you grill it from raw, or sear it from raw.
"So as much as I'd want to do that, and I think that will travel well, it's also going to hold up the line."
That's part of what makes HungerHub's restaurants different, Pacifico said.
"We are operating for the customer getting home delivery," she said. "Restaurants are operating for their diners in house. We have the luxury to pay more attention to those details, as opposed to, 'I've made this dish to be plated in the restaurant, and now I'm going to put it in a box to-go.' Because that's what a lot of people had to do during the pandemic."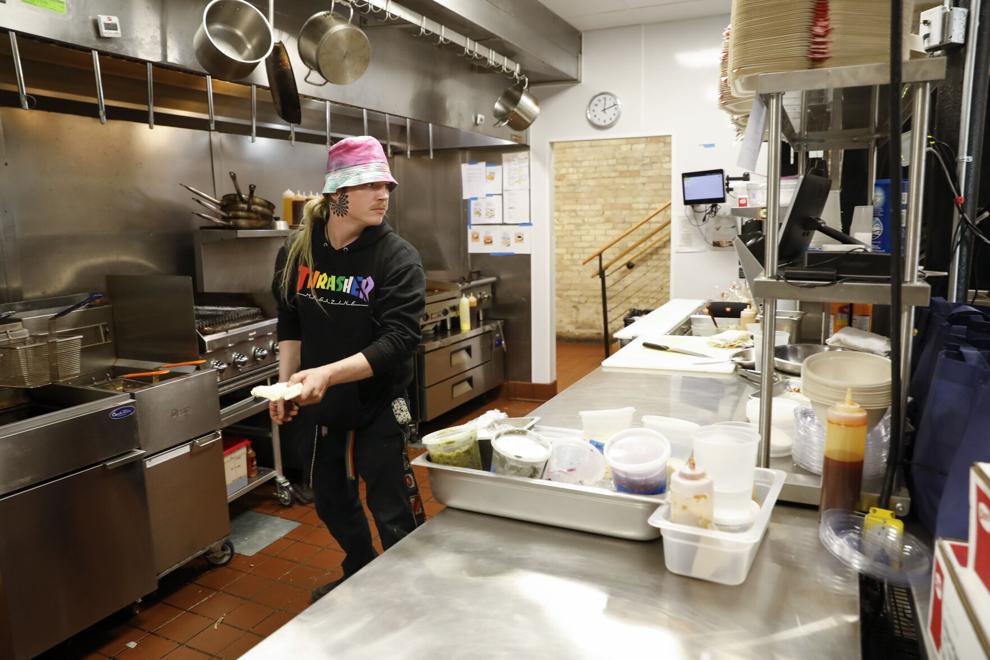 The 'Wild West'
Like meal kit services and grocery delivery companies, ghost kitchens are tech companies more than food companies.
EatStreet started by charging restaurants to set up online ordering in 2010, then expanded into delivery. It remains a tech company working in an industry that has historically been resistant to tech.
"Looking into what makes sense for us next, ghost kitchens are one big part of that," said Charity Kittler, EatStreet's program manager for new verticals, both "partnering with local restaurants to set up virtual brands, and we have our own now."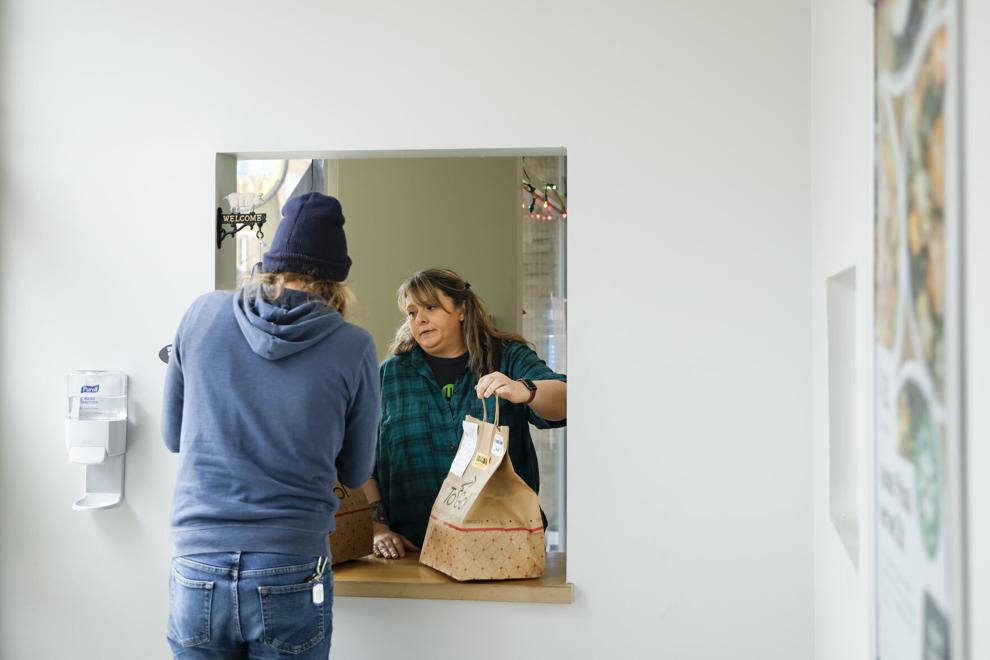 The pitch for the restaurants that might work with a virtual brand from EatStreet is that it's simple, Kittler said. It should be easy to execute and not require more equipment.
"They already have a core brand," she said. "They're not looking to add complexity to the kitchen if they can avoid it."
Pacifico likes that, at HungerHub, they can minimize waste by using one ingredient in five different applications without seeming repetitive. At the Great Dane, Pace said its virtual brands are "not by any means our highest revenue category, but still valuable enough that it makes sense for them to continue."
Schleip, at the Wisconsin Restaurant Initiative, remains pessimistic about virtual brands. They were a good idea during the pandemic,he said, but now they're cutting into the profits of "high quality, small- and medium-size independent (restaurants) … taking more money out of everybody else's pocket."  
"If someone can think of a benefit, overall, to society or to Madison — there just isn't one, in my opinion," Schleip said. "Yay, another wing place. Another burger place. There's a thousand already." 
What's next for virtual brands may be an increased push toward transparency, consistency and overall quality. In November in New York City, Kristen Barnett launched what she called an "anti-ghost kitchen" ghost kitchen, where working with local farms and getting to know the makers is the main priority. It's called Hungry House. 
"The transparency is going to need to be intense during the startup phase so it works for everybody," said Ryan, the economist. "If it doesn't work for everybody, it won't work for anybody. It's going to blow up.
"It's the Wild West," Ryan added, "and it's going to be the Wild West until things get sorted out."